Sponsored invitation
Ett Bord just opened at Vikaterrassen in Oslo, and they offer exactly what their name suggests – just one huge table that can fit 24 people. A quick google search will tell you it isn't the first restaurant of this kind, but I've certainly not seen one before. Ett Bord is social dining taken to the extreme. In the kitchen, head chef Axel Nordahl and sous chef Sanna Jakobsson are cooking up casual, modern, Nordic food with local, seasonal, and organic ingredients.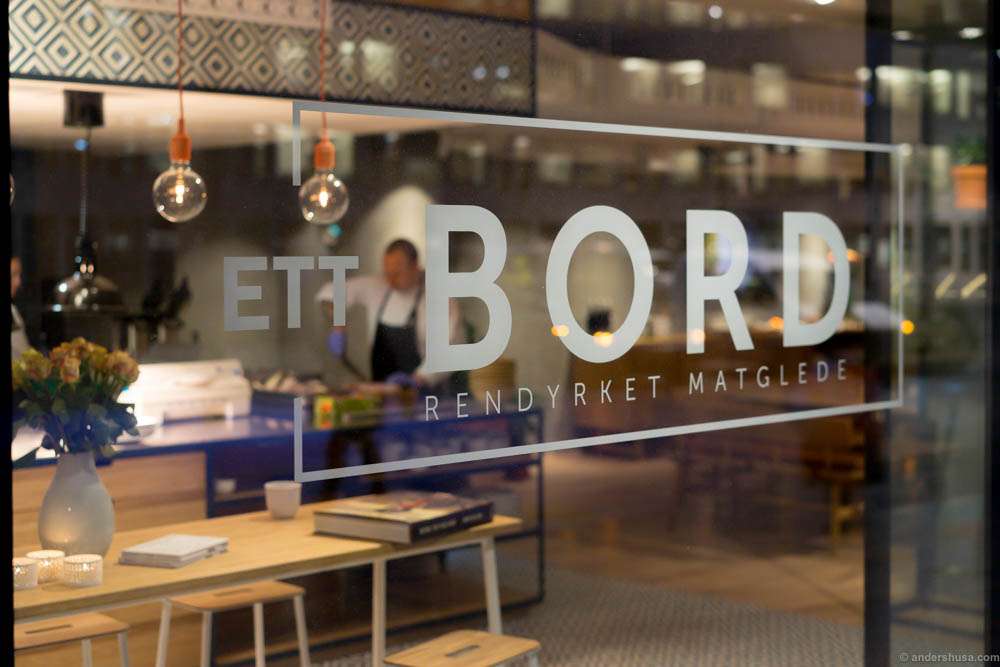 An Un-Norwegian Concept?
I asked the owner of Ett Bord, Carl Johan Bahre, how he plans to run a restaurant like this in Norway – the country where everyone prefers to have a seat row of their own when traveling with public transportation. "You'd be surprised how social people get around this table," he told me. "Also, we try to seat people next to each other, but we won't force them." As the table started filling up we noticed people chose a corner each – as expected. Mind you, this was early in the evening and the alcohol level was low. Probably things will work out just like they do on the bus: once the corners are filled up, the rest will be forced to sit next to someone and they'll be fine with that. They might even start talking. That's what happened at the IKEA Ätbar for sure!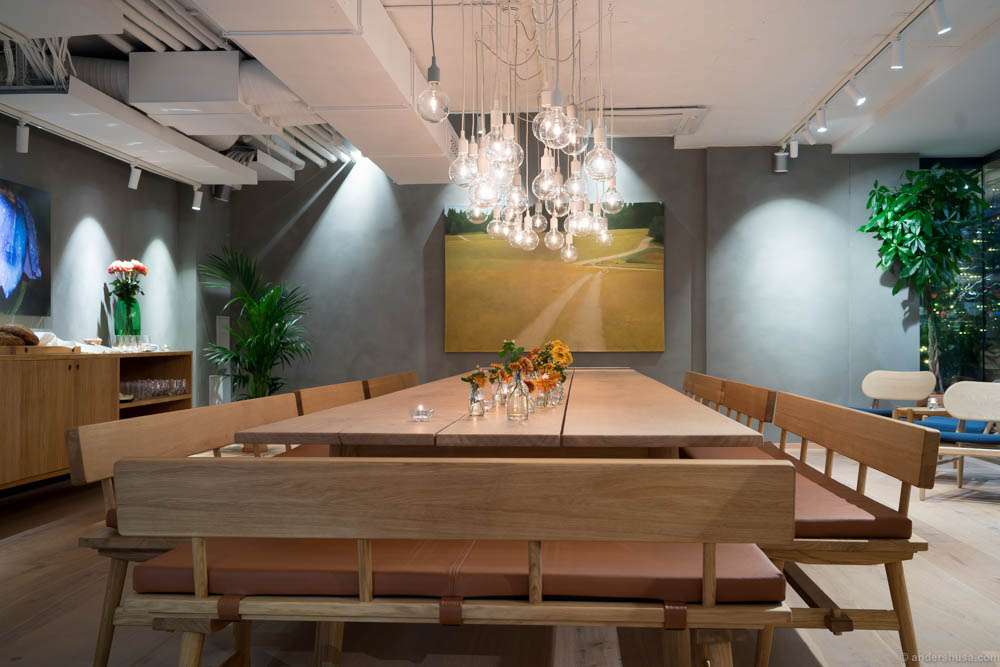 "You'd be surprised how social people get around this table" – Carl Johan Bahre
Farm to Table and All the Trends
On weekdays, Ett Bord offers just one or two lunch options and one dinner plate, but the menu changes every day. "Weekends is another story," Carl Johan explains, "people have more time then, so Axel and Sanna will create a three-course menu in addition." That's what we got served this day – starter, main course, and dessert. "Everything is made from scratch, and as much as possible of the produce is from local, organic farmers. If we want to put pork on the menu, we order the whole animal and use every part of it," the proud owner told us. Farm to table? Check. Nose to tail? Check. The bread hit the table first. "This is organic sourdough bread from a passionate guy called Martin at Bygdøy. The butter is from Røros."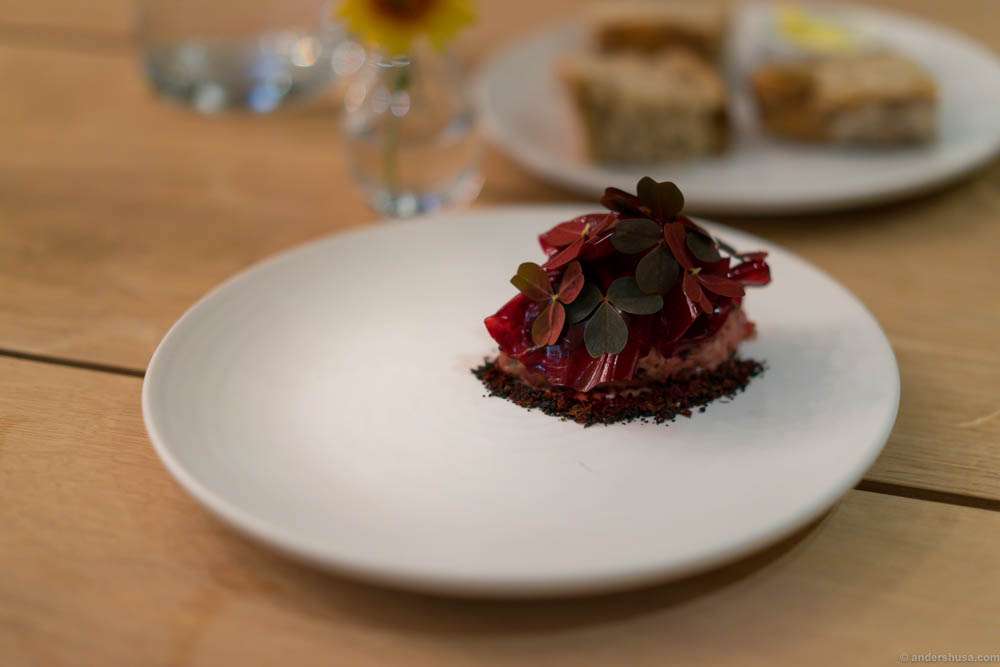 The Humble Cooking of Axel Nordahl
The tartare sets the standard straight away. Axel Nordahl knows what he's doing. Beef sirloin mixed with the oil from the peel of black garlic, shallots, chives, and salt, served with a paper-thin sheet of red beet gel from reduced beet juice, a crumble of black garlic and dried beet meat, black garlic mayo, and red oxalis. Boom! Fresh, acidic, and packed with umami flavor. An elegant presentation that reveals a lot about Nordahl's technical skills and his ability to balance flavors and textures. "Was it good?" the humble chef asked after we finished. No, it was great!
Next up was the main dish of flaky pike-perch with a sweet sauce of romano salad. It was served with potatoes in butter, smoked mussels, romano salad, samphire, and turnip kale. Topped with a winged kelp powder. One of the best uses of seaweed that I've experienced – it actually added a lot to the dish. A hearty and rustic serving, where each element played a significant role. The earthiness of the potatoes combined with the smoked flavor of the mussels and the kelp powder added umami, the salad and turnip gave it a sweet element and the salt and richness came from the butter and samphire. "Anything you didn't like?" Nordahl asked. Sorry chef, I loved it. It's just what I needed on a cold winter evening.
Simple and Delicious Nordic Food
When I was invited to try the menu at Ett Bord I answered like I always do: I am happy to test and give my feedback, but I won't necessarily publish anything. My concept is all about recommendations. I write about the places I want others to try. Well, you're reading this now – I easily recommend to give Ett Bord a try. It's simple and delicous Nordic food. We ended with a dessert called "Et lite stykke Norge" – a small piece of Norway. Milk chocolate mousse and blueberry ice cream. So tasty. I could have done without the fluffy, green sponge cakes, but I guess they represented moss on the plate. Once again, we were in Vika to catch a movie at the cinema. This time we saw Woody Allen's "Café Society. I highly recommend that too.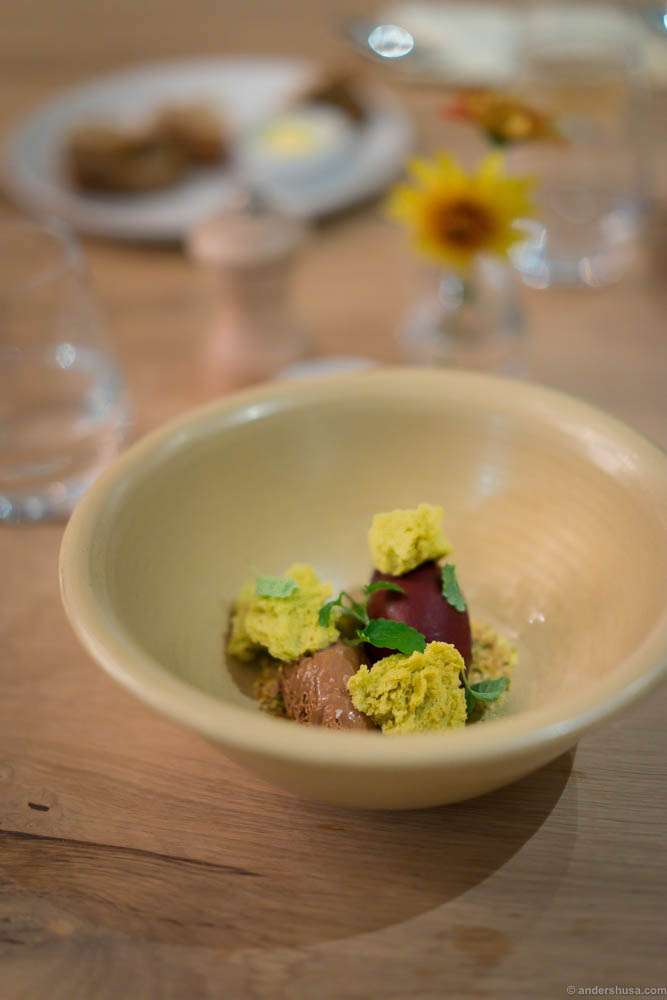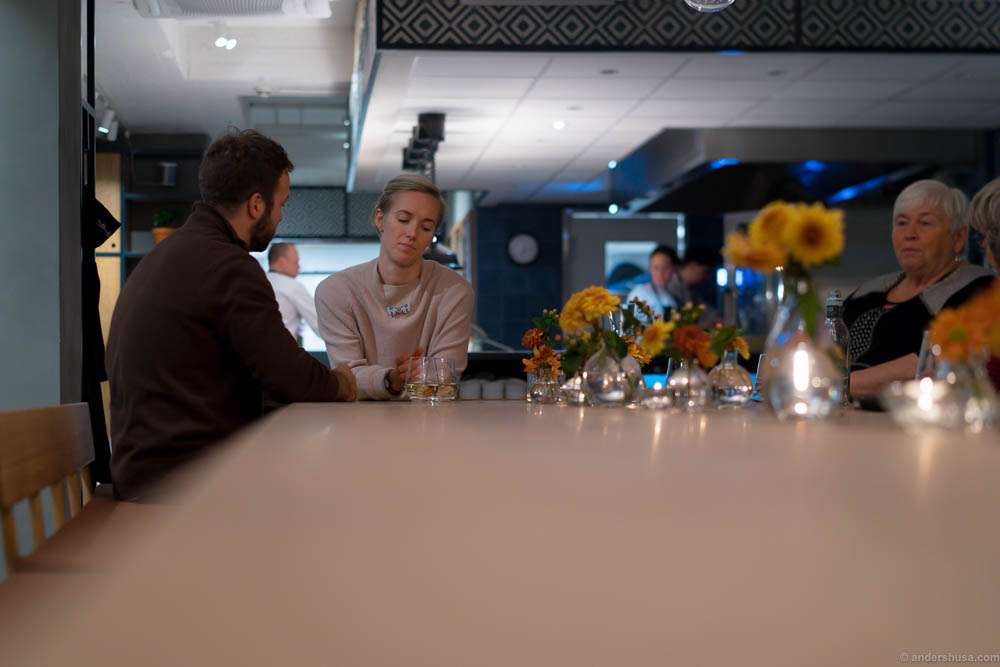 Have you been to Ett Bord? I would love to hear about your experience. Please share in a comment below.
Lagre
Lagre
Lagre
Lagre
Lagre
Lagre
Lagre
Disclaimer
This was a sponsored invitation (the food was comped) by Ett Bord. The restaurant had no influence on the content of this article, there is no form of cooperation between us, I was not obliged to publish anything, and I received no monetary payment.
Become a Patron!