At Grøndalen Gård every cow and calf has a name. Most of them are named after Norwegian chefs, but there are a few exceptions. Like Bowie, a black calf named after the Black Star – David Bowie. You may not have heard about Grøndalen Gård, but you might have seen the product that farmer Hans Arild Grøndahl produces – a soft, acidic, fresh cheese called Nýr. Grøndalen Gård is a story about animal welfare, environmental awareness, and how happy animals result in better products. We went to visit this farm, located about a 40 minutes drive outside of Oslo. To our great fortune, we were allowed to borrow a Tesla Model S for the journey. What better way to arrive at an environmentally friendly farm than in a green car?
I don't own a car, so getting to drive a Tesla Model S to Grøndalen Gård was like a dream. I can't remember ever experiencing a smoother ride. The car hardly makes any sounds, and it responds so easily. Tesla Model S feels more like it's floating on the road than rolling. When you're on the highway the car can literally drive on its own. All you have to do is sit back, relax, and keep an eye on the road. Meanwhile, the auto-pilot uses the road stripes to stay on track and monitors the speed and movements of all the other cars around you. The future of cars is already here.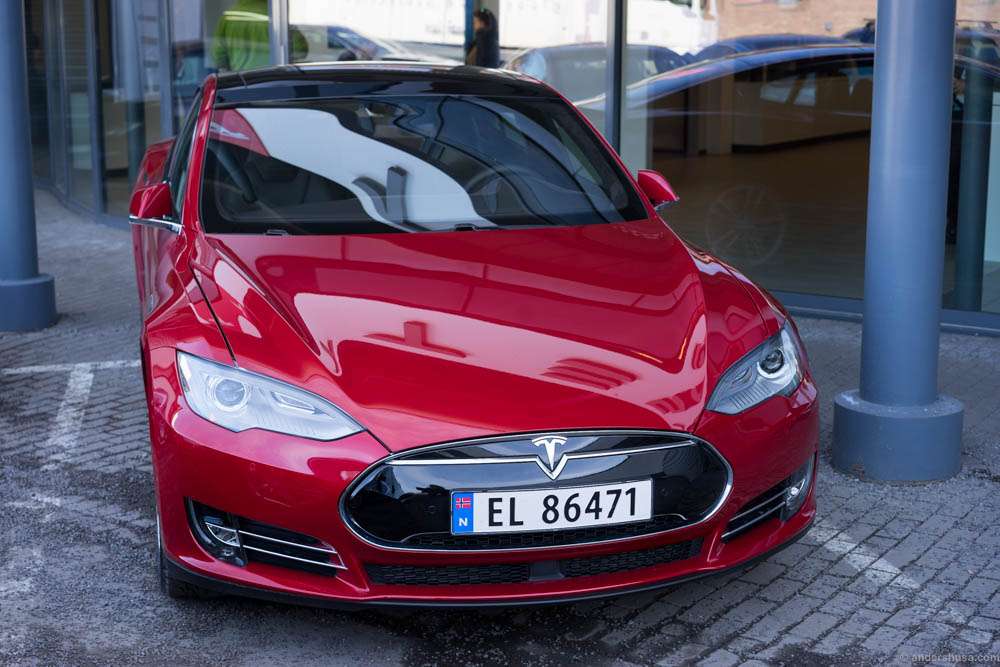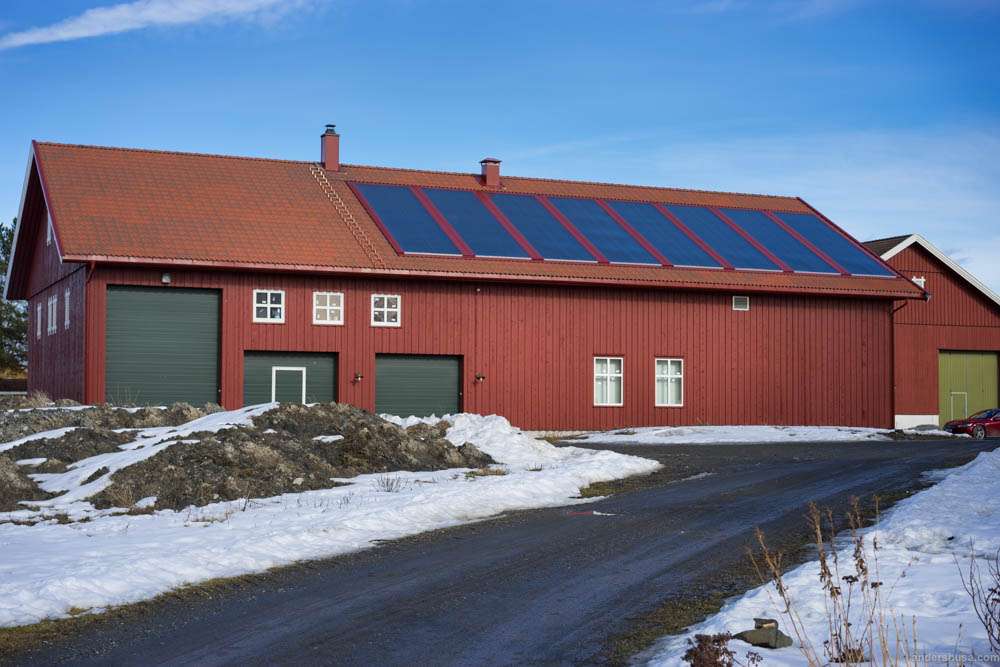 Solar Panels & Animal Welfare
Hans Arild Grøndahl welcomed us as we rolled into his driveway. He was excited to see that we arrived in an electric car. This wonderful farmer cares deeply about three things: his family, his animals, and the environment. The rooftops of both his barns are covered in solar collectors and solar cells. Grøndalen Gård is self-sufficient during daytime and all they would need to be sorted throughout the night is an old Tesla battery. That way Hans Arild could store some of the excess energy that he produces on the battery instead of feeding it back into the power grid.

Grøndalen Gård is an organic farm, and animal welfare is a core issue for Hans Arild. He wants his animals to be satisfied, and he believes that a happy cow will become a much tastier source of food one day. The cows are allowed to walk freely in and out of the barn as they please. The most controversial practice at Grøndalen Gård is that they allow the mother cow and baby calf to spend two months together. Cows are known for their deep maternal instincts, and it's as painful for the mother as it is for the baby to be parted. Despite this, the conventional way at basically any other farm is to separate the calf from the cow just a few days after birth. This is called weaning and makes sure that more milk can be sold, instead of feeding it to the calf. Hans Arild's experience is that calves which are fed with their mother's milk instead of industrial replacements, get stronger, have fewer health issues, and produce better quality meat.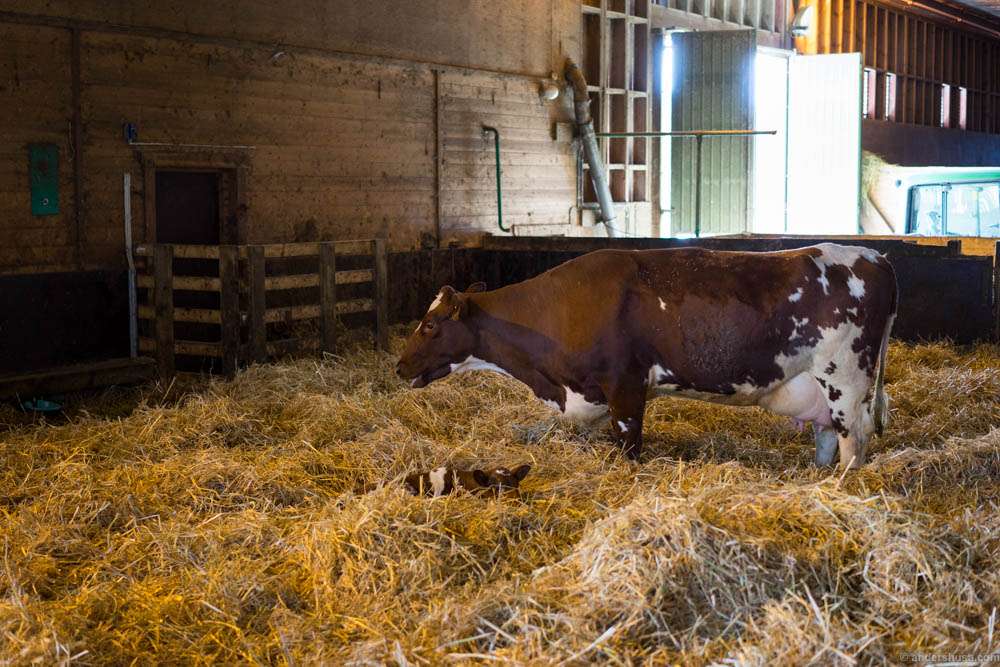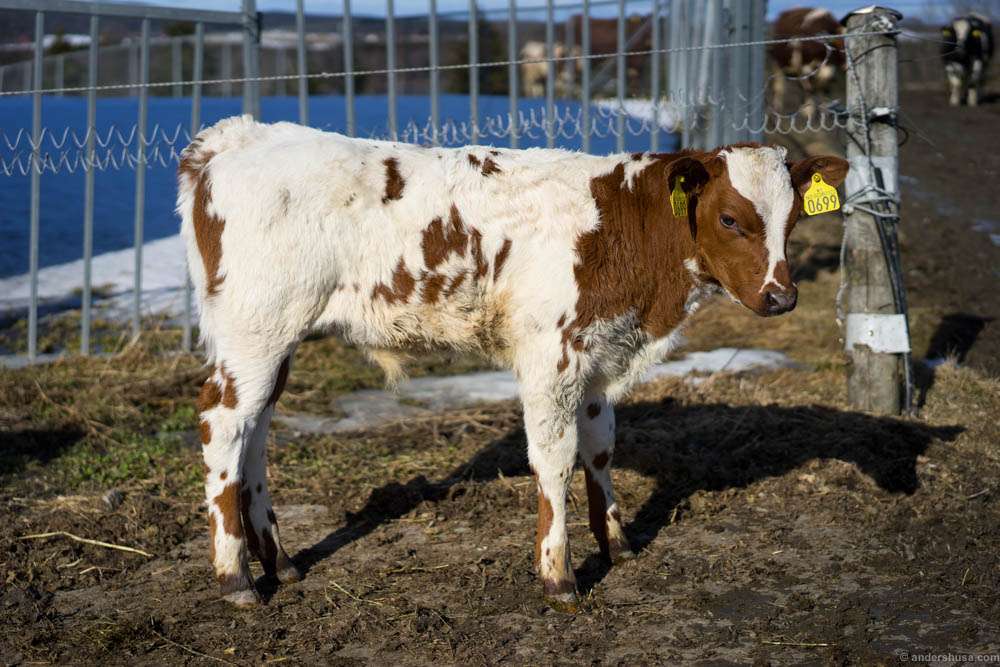 The Nýr Production at Grøndalen Gård
Grøndalen Gård makes one product that you can buy as a consumer: the fresh cheese Nýr. Hans Arild brought us to the production room to show us how Nýr is produced by using organic pasteurized milk and no additives. It's an acid cheese, made without adding rennet. Once the milk is curdled it's hung in cheese cloths to drain off the whey. This gives Nýr a unique consistency and flavor, like something in-between sour cream and yogurt. That makes it a very interesting product to use in cooking, which some of the best chefs in Norway have discovered. You'll find Nýr being used in most top restaurants in Norway. You can get it too, just ask for it at your local deli or grocery store!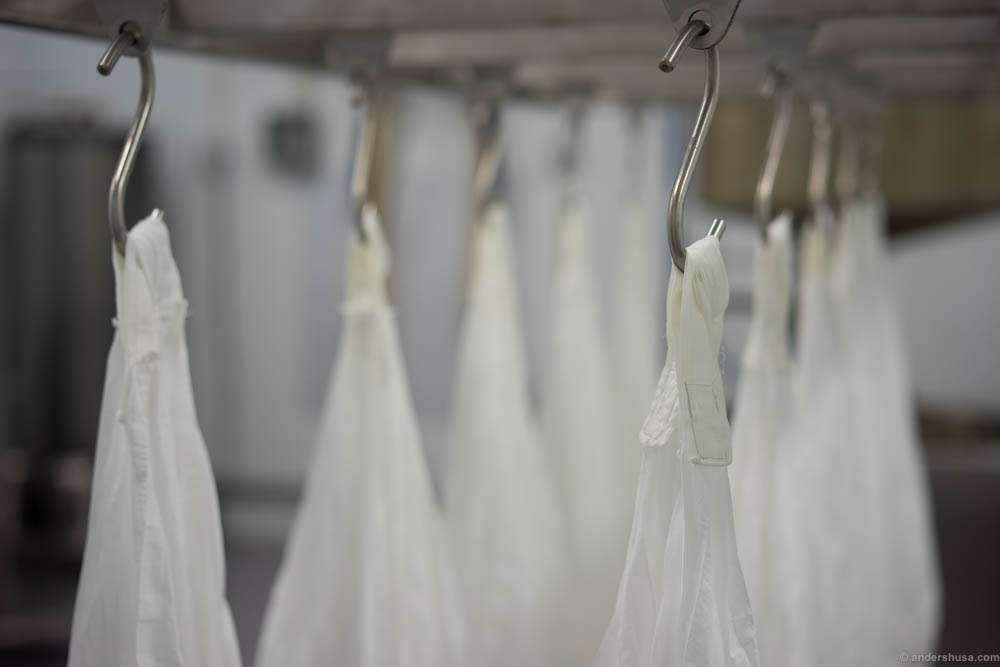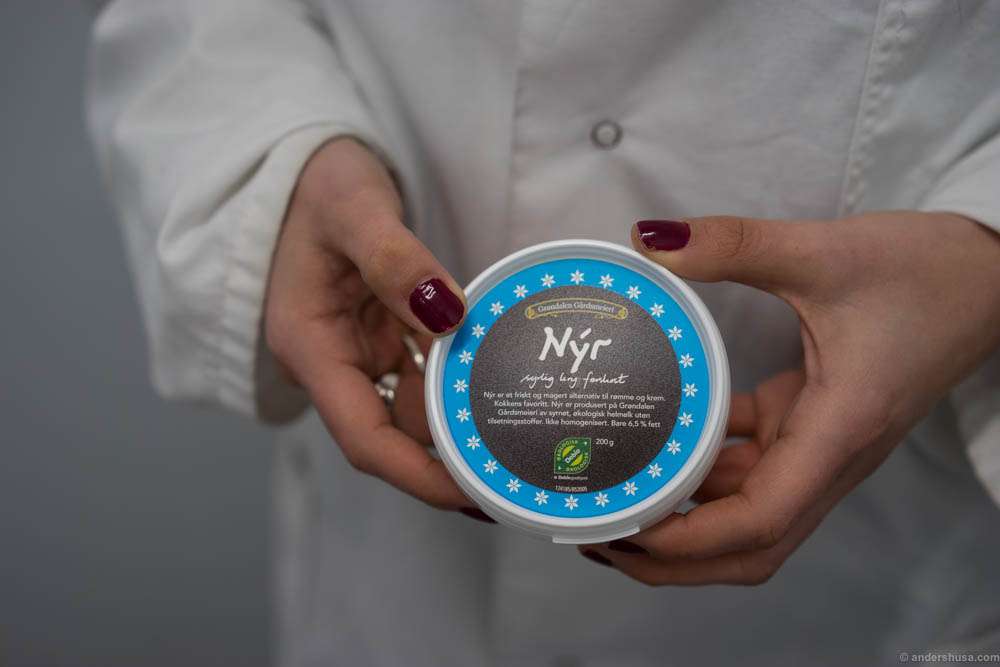 A Nýr Lunch at Grøndalen Gård
After a long, but very rewarding day, spent among happy animals at Grøndalen Gård, Hans Arild invited us inside for a lunch. Obviously, he had prepared a lot of toppings made with Nýr. A cream of Nýr and lingonberries was wonderful along with classic Norwegian meatballs of elk. We also got to taste unpasteurized milk, which I have only ever tried before at restaurant Fäviken in Sweden. Hedda grew up on a farm and has even drunk warm milk straight from the cow, but she still enjoyed it a lot. The most incredible part of the lunch, however, was the Nýr cheesecake that Hans Arild had baked. It's the closest thing I have ever tasted to my favorite cheesecake in the whole world: My mother's recipe. I could never admit that it was better, of course, but it was very close. Hans Arild was kind enough to share his recipe, so please give it a try. You'll find the recipe below.
After lunch, we went back out to have a look at some of the other animals at the farm. The pigs, the chickens, and the farm's dog, Tarzan.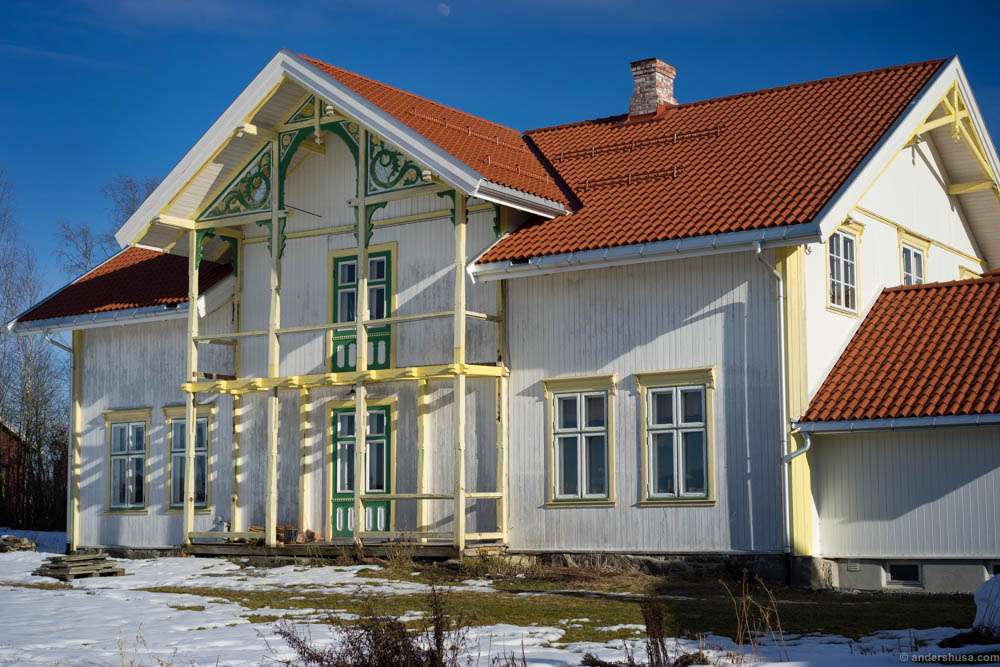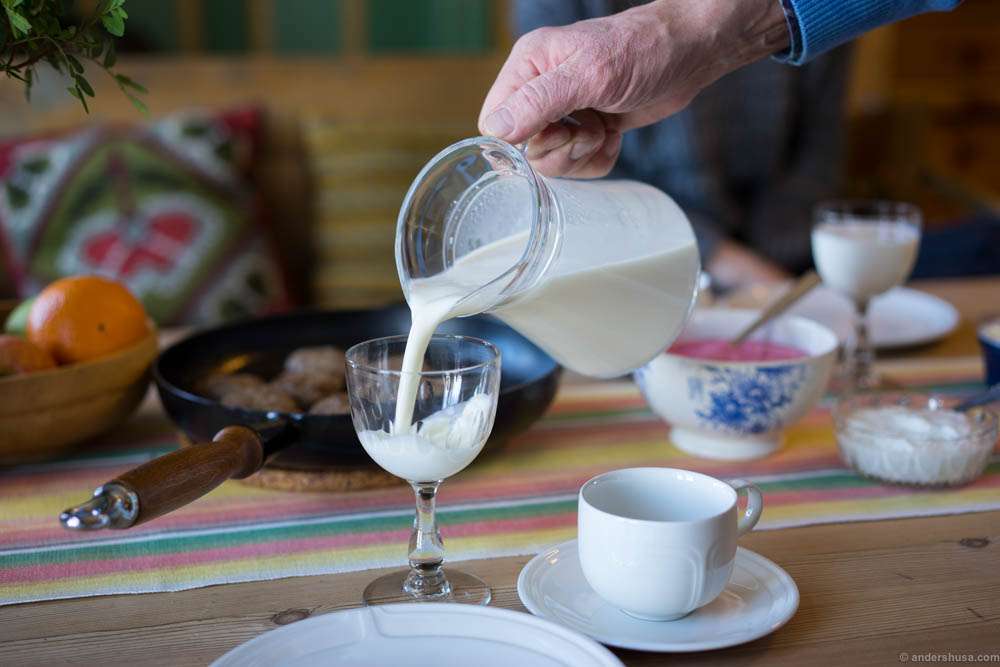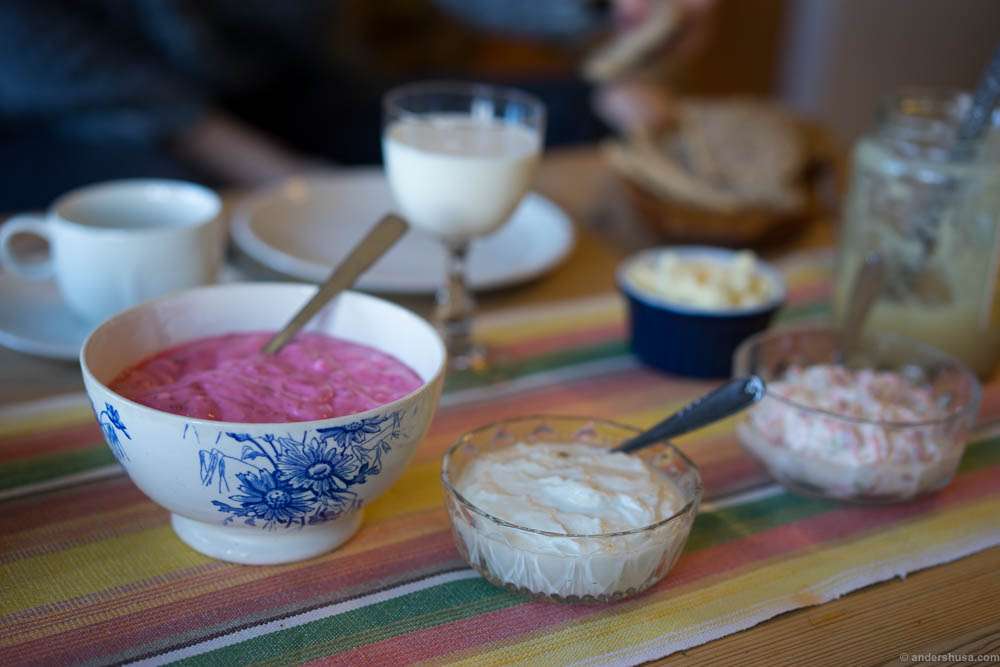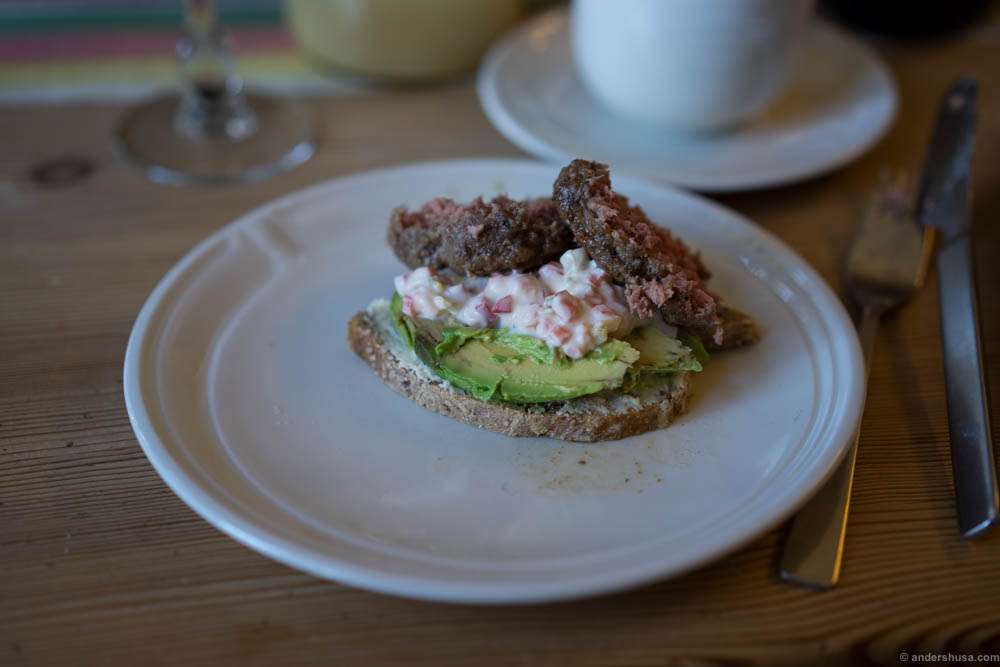 Nýr Cheese Cake Recipe
(4 persons)
Base:
300 g Bixit or Digestive crackers
100 grams melted butter
1 tsp of spice mix (cinnamon, cloves, and allspice)
Filling:
500 grams Nýr
180 grams icing sugar
1 vanilla pod
4 eggs
Topping:
1 cup heavy cream
3 tbsp Nýr
1 egg yolk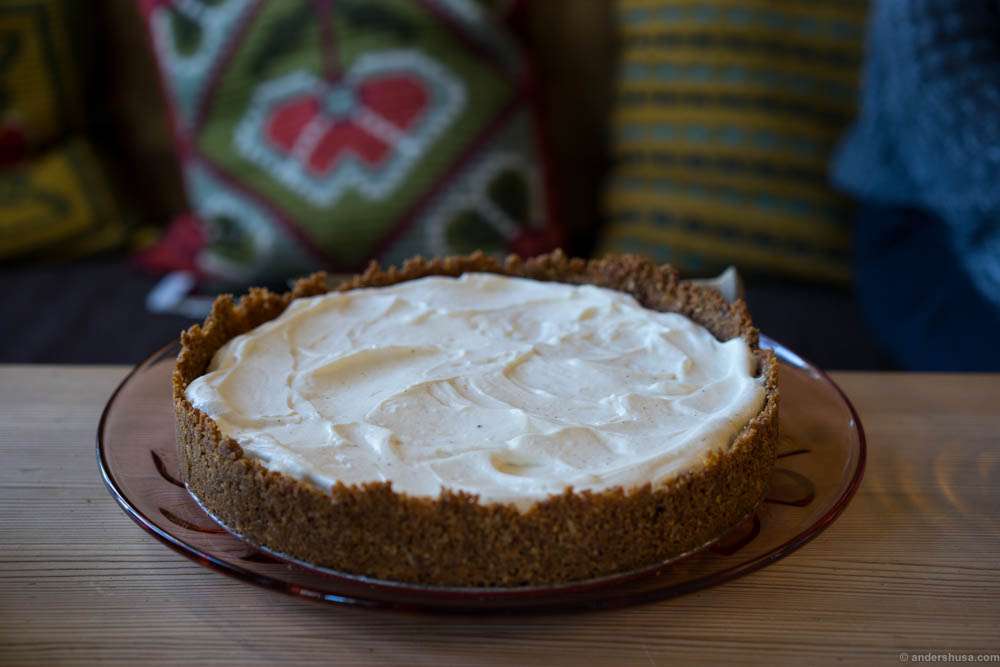 Crush the biscuits into crumbs and mix in the spices and butter. Press it into a buttered cake tin and make sure you cover the base as well as the edges of the tin. Chill in the fridge for 1 hour to set firmly.
Mix all the ingredients of the filling together. Whisk in the eggs one by one. Spoon the cream mixture onto the biscuit base. Bake in the oven for 30 minutes at 140 ° C until the mixture has set. Don't bake it too long. Take it out of the oven and let it cool down to room temperature.
Whisk the cream for the topping until desired consistency. Mix in Nýr and egg yolks. Bake again at 170 degrees for 7-8 minutes. Set in the fridge to cool down and enjoy later.
Click here for the recipe in Norwegian.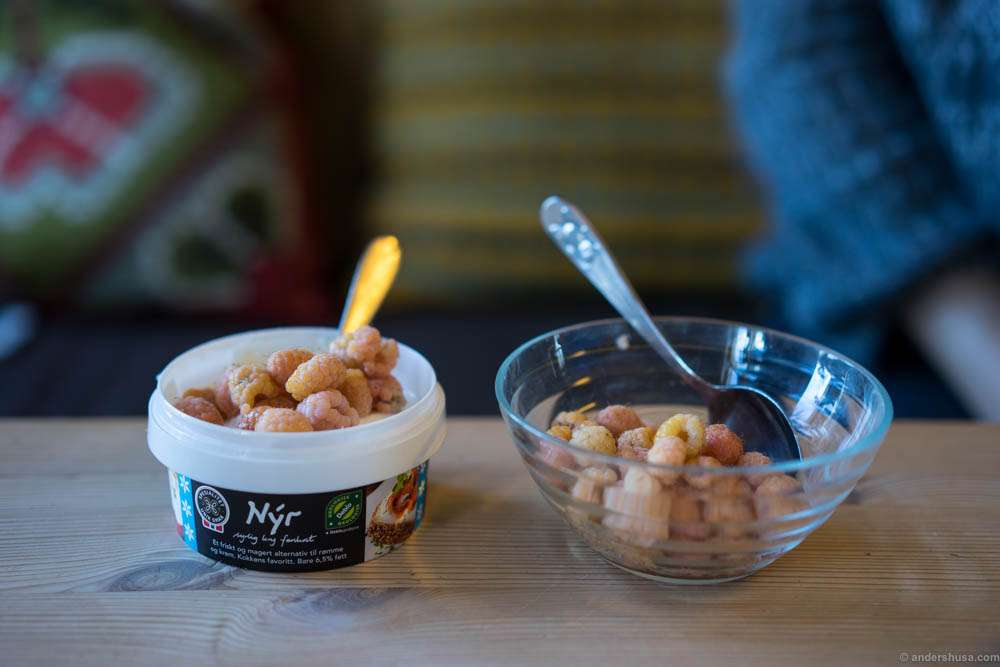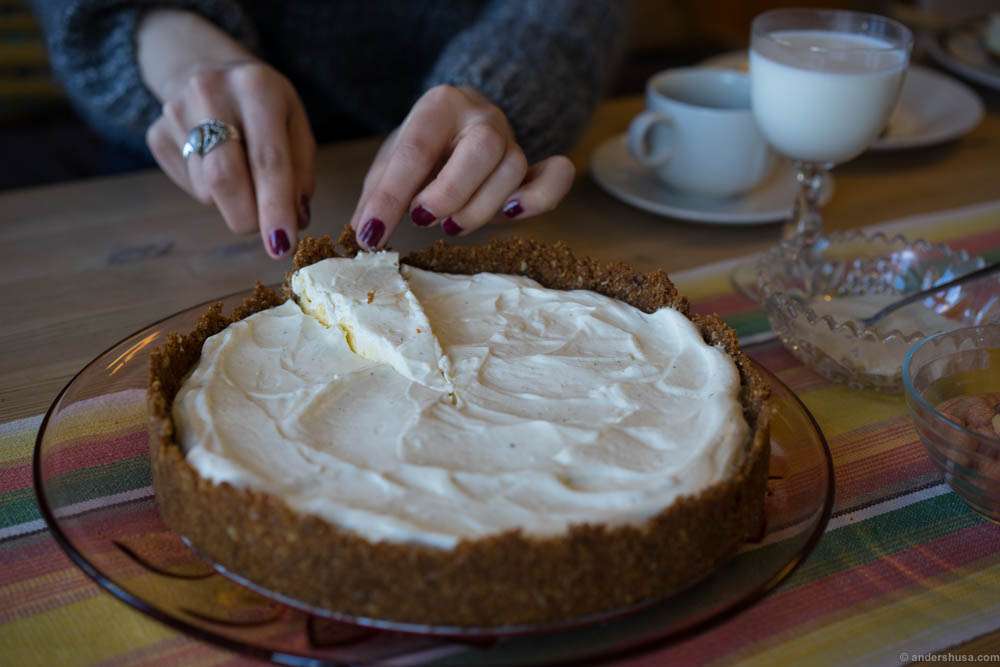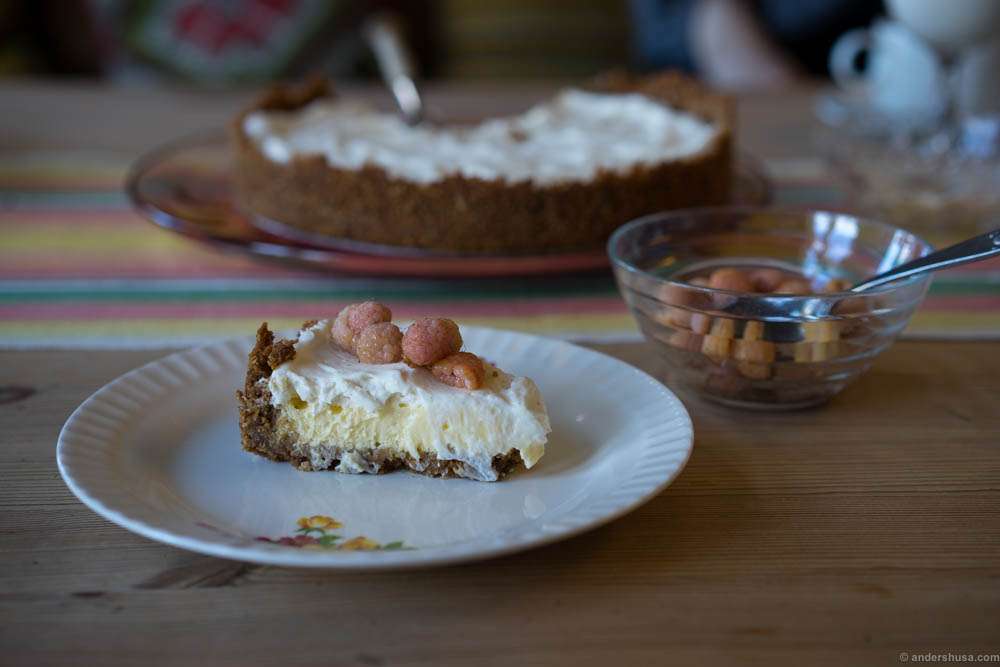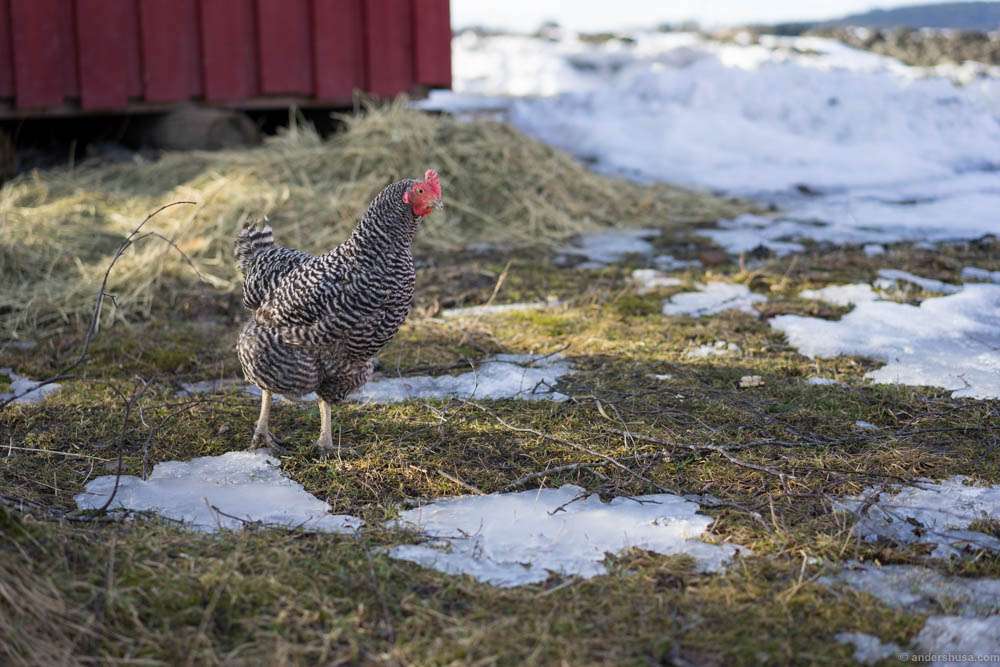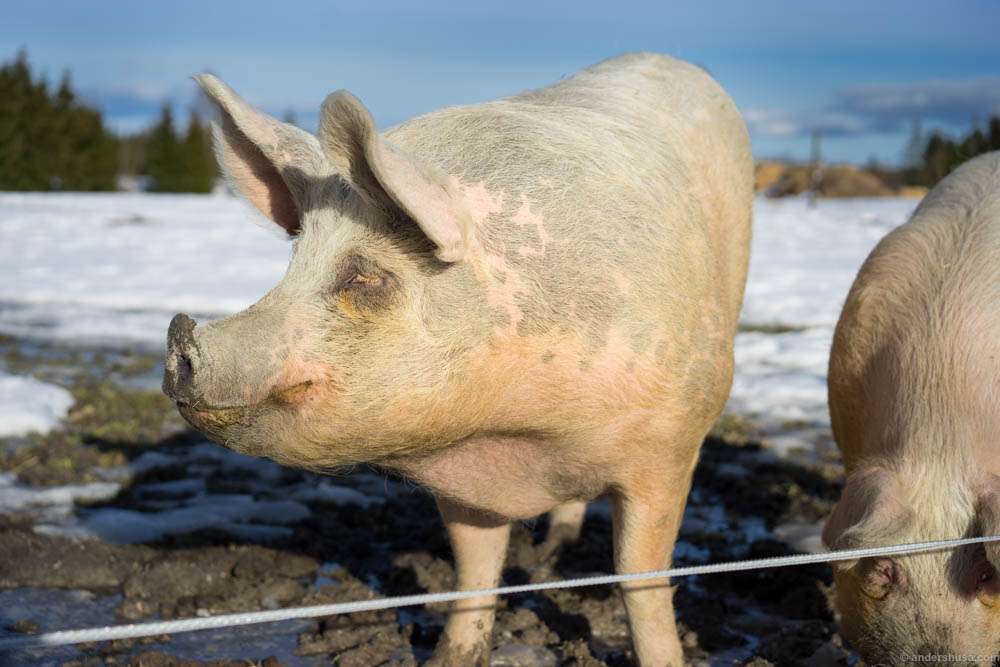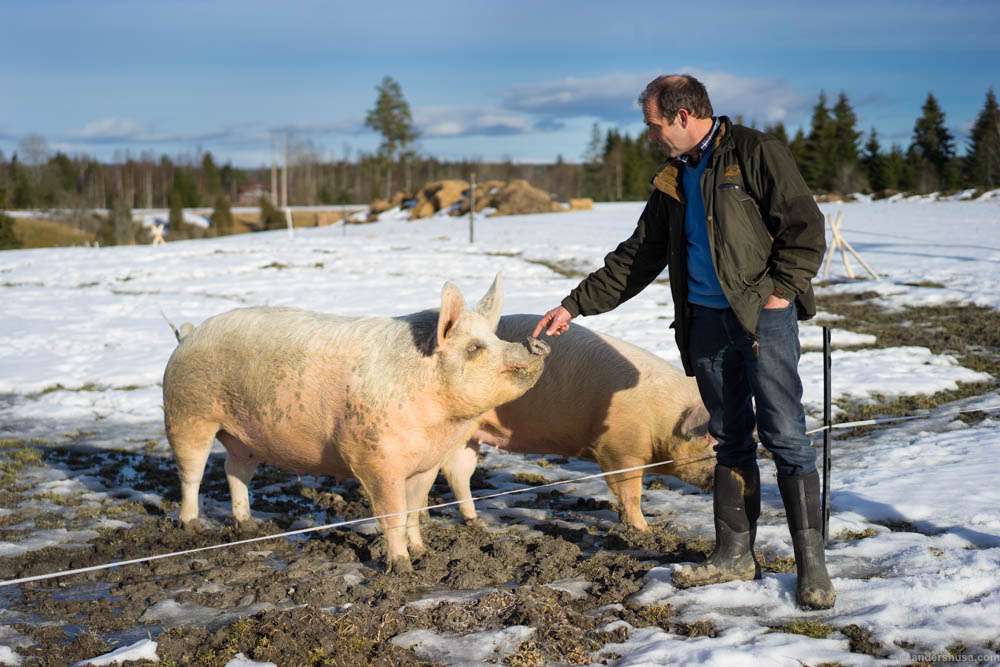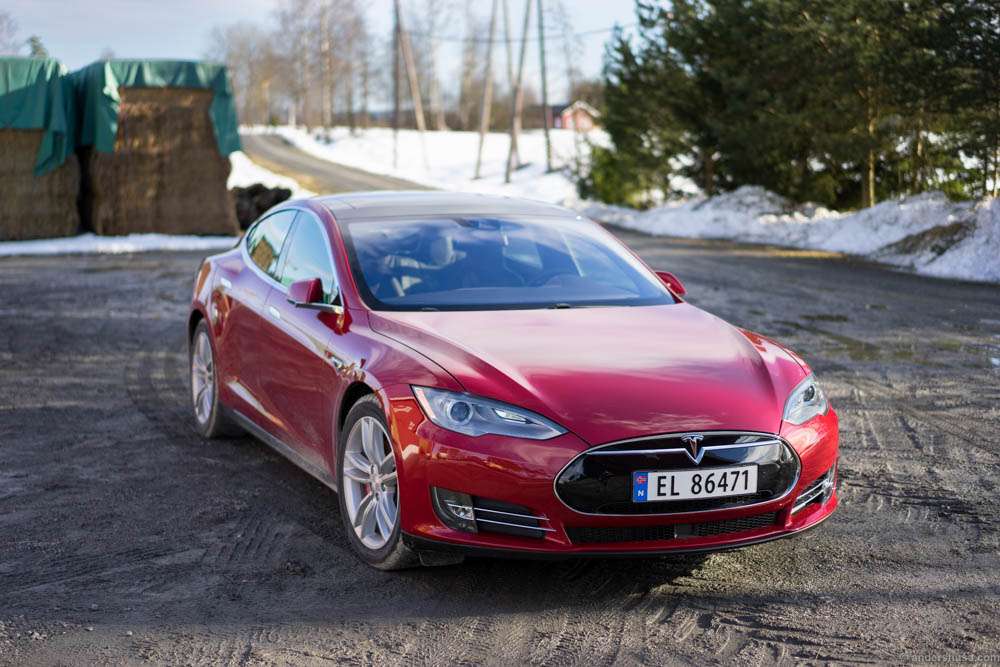 Have you ever cooked with Nýr? Please share your recipe or experience in the comments.
Disclaimer
The vehicle is a borrowed press car from Tesla. I received no monetary compensation for mentioning the brand in this article.
Follow Us on Social Media

YouTube
Anders Husa & Kaitlin Orr

Instagram
@andershusa
@carnivorr

Facebook
Anders Husa & Kaitlin Orr

Join Our Food Community
The Hungries
Become a Patron!