Sponsored by Lakrids
This week I did a photo assignment for Lakrids by Johan Bülow at an event that took place in restaurant Feinschmecker in Oslo. Head chef Vinay Tangen cooked six amazing dishes for us, which all included an element of the dark matter. If you haven't yet discovered Lakrids by Johan Bülow, then now is the time. It is simply the best liquorice in the world! That's coming from someone who doesn't really like liquorice that much, yet can't resist a box of Bülow when it's opened. Last year I was fortunate enough to visit Willy Wonka-land twice, so check out my look inside the Lakrids factory for more on the story of this Danish candy adventure.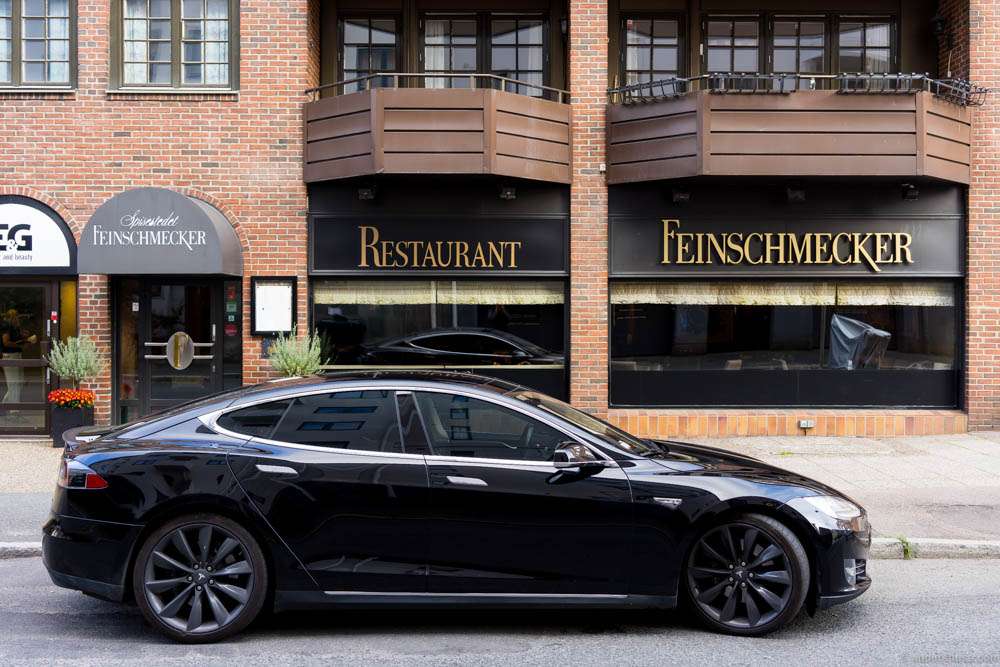 Restaurant Feinschemecker in Oslo held one Michelin star for 19 consecutive years – but lost it in 2012. Sadly, I've never had the pleasure of dining here myself. However, judging from the cooking of head chef Vinay Tangen this day, it's certainly not the lack of techniques or great flavors that cost them their standing. It could simply be that other restaurants in Oslo managed to evolve further and update the entire dining experience to satisfy a more modern gourmand. Not to forget: the restaurant is still in the Michelin Nordic Guide 2016 with three knives and forks, which signals a "very good restaurant." All recipes in this article are from Vinay Tangen.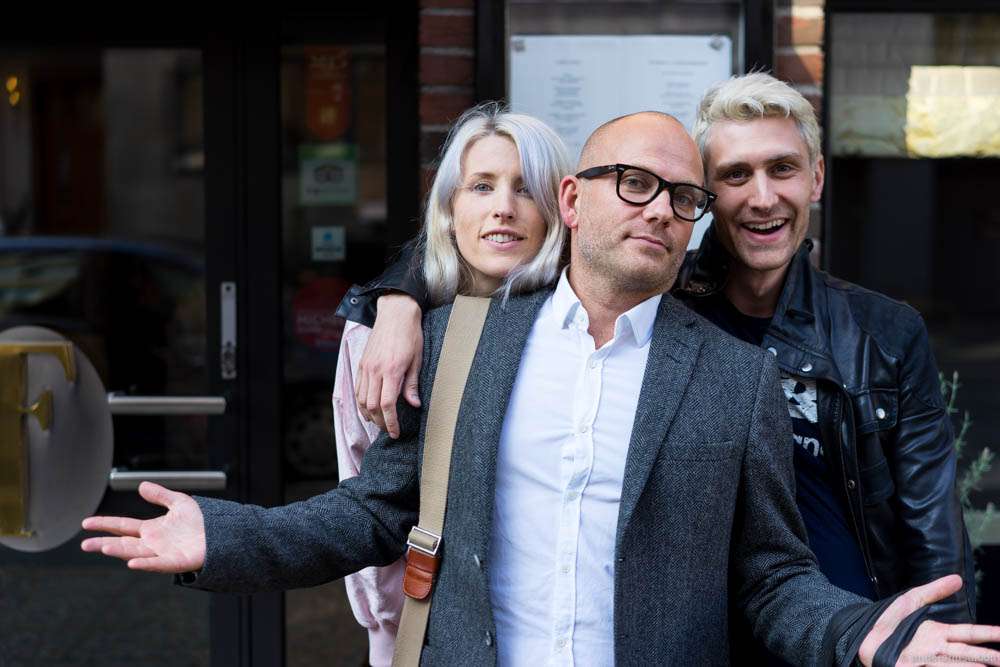 We had some magnificent guests to partake in the event: Lars from Lars Spiser, Helle from Helle's Kitchen, Maj-Britt from Spiselandslaget, Gitte & Filip from 52 More Years, Kaayne & Anniken from Nasjonal Gastro, Tjodunn from Smaken av Oslo, Cecilie from Bord for To and Martine from Martine Matstyling. If that's not Norway's best food writers gathered right there, then I don't know. In addition, Kia from Howard was present and Hege from Gaia-Gruppen was there to pair all the dishes with matching wines.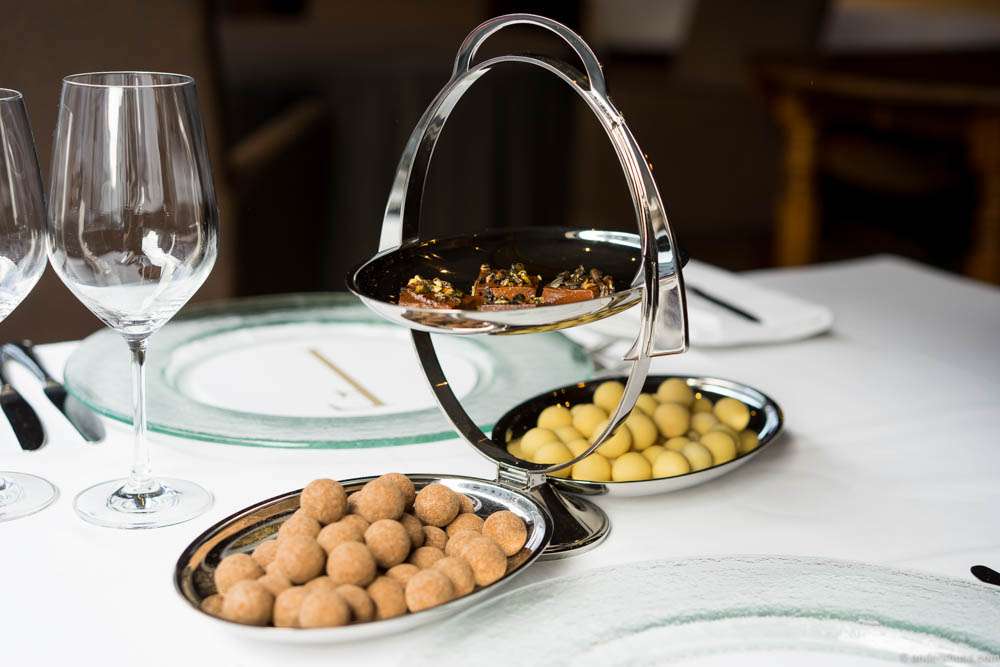 Foie Gras with Liquorice Ice Cream
Hot meets cold in the first dish. One of the best foie gras servings I've tasted, and a dish that can be regularly found on the menu of restaurant Feinschmecker. A pan fried piece of foie gras is served with a small scoop of liquorice ice cream. The dish is topped with raspberries, chervil and a sauce of oxtail broth and vanilla seeds. A great example of how vanilla can enhance flavors – also in savory dishes. Lars and I agreed that you could probably eat too much of this, but right there and then I wanted ten more.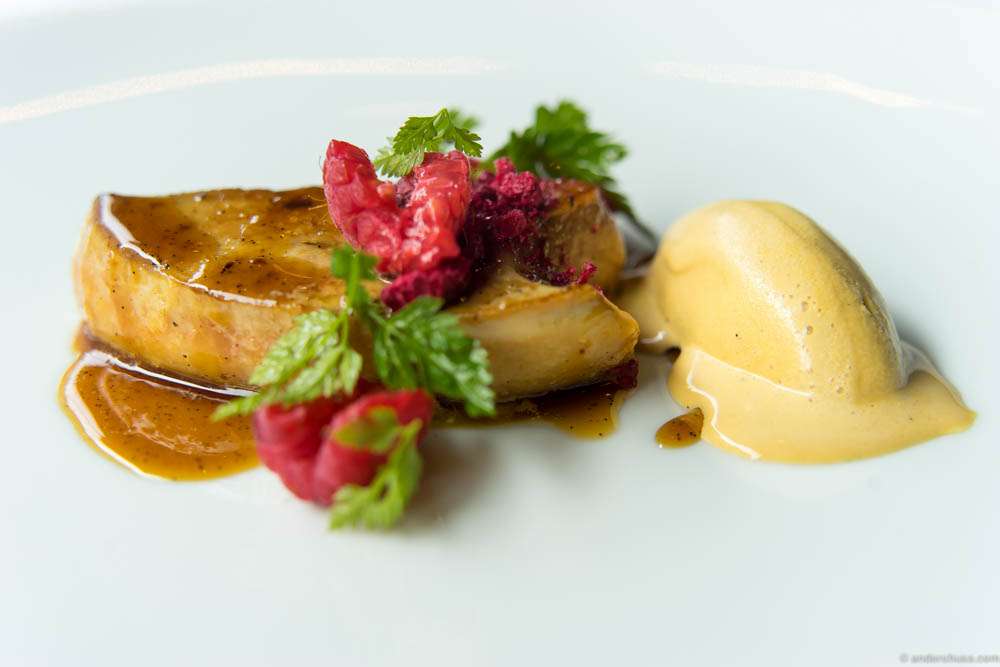 Recipe
Season the foie gras with salt and freshly ground pepper. Sear in a dry pan, then bake in the oven at 180 degrees for 1 minute.
Liquorice ice cream:
2 dl heavy cream
8 dl regular milk
100 g sugar
1 dl Lakrids paste
8 egg yolks
Heat the cream, milk and sugar to 75 degrees C. In a separate bowl gently whisk the egg yolks together and then incorporate the milk mixture while you stir constantly. Pour everything back into the pot, stir with a spatula until the mixture has thickened and reaches 78 degrees C. Important: it must not boil. Sift, cool, and season with Lakrids paste, then pour into an ice cream maker.
Optional: Make an oxtail broth and infuse it with vanilla seeds, and use as a sauce. Raspberries and chervil for decoration.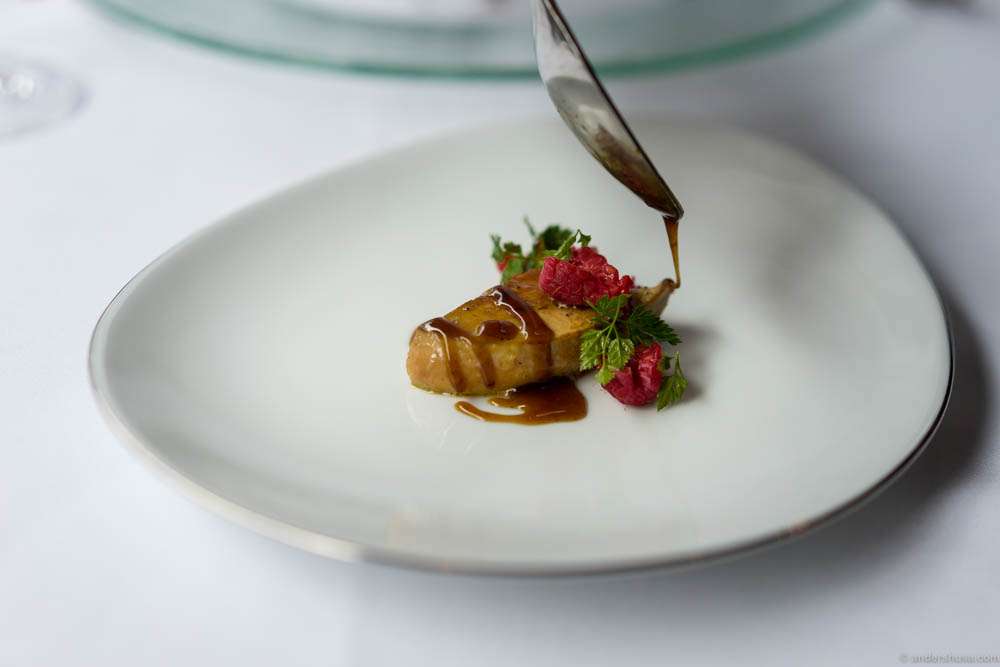 Mountain Trout with Liquorice White Asparagus
At first sight, I thought this was the dish I would feel most comfortable about cooking myself. It seems fairly simple, but there's actually quite a few elements that go into it. A light starter of poached mountain trout served with a poached quail egg, white asparagus fried with liquorice, fennel, and rye bread.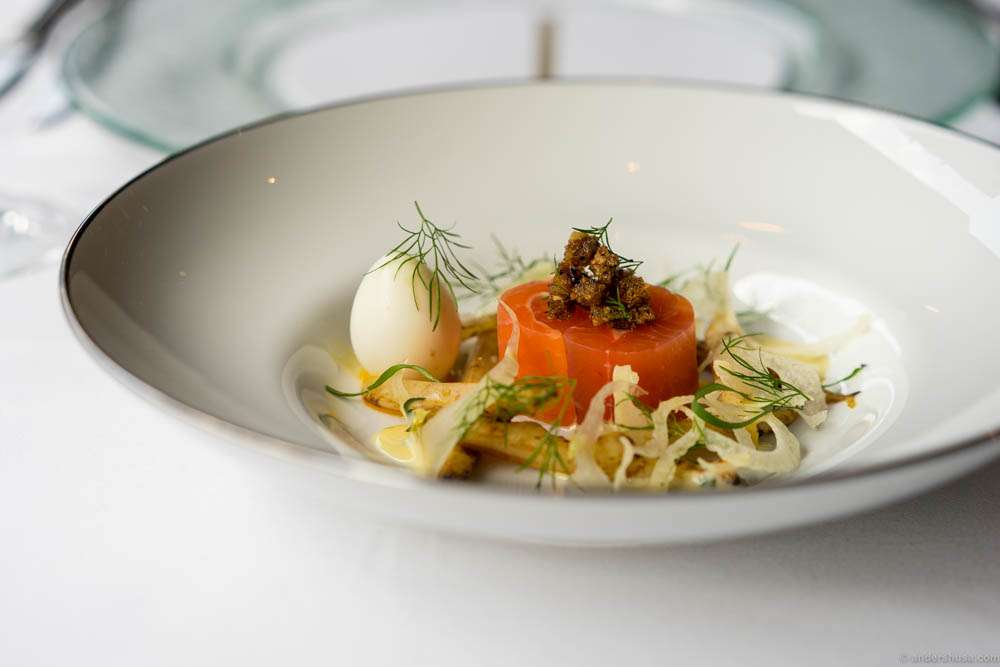 Recipe
Lay two trout fillets against one another, roll in cling film to the desired shape and then poach at 65 degrees C for 10 minutes. The fish should still be firm.
The white asparagus is peeled and blanched in salted water with some sugar for 4 minutes. Cool in cold water, then cut into desired pieces. Cook them in a frying pan with sunflower oil, 1 tablespoon of butter and fine Lakrids powder.
To make rye chips cut the rye bread into smaller pieces. Bake in an oven at 160 degrees C until they are crispy. Take them out of the oven, cool and sprinkle with Lakrids powder.
Poach the quail egg at 65 degrees with the peel on for about 20 minutes. Cool and peel.
Make fennel crudité either with the use of a sharp knife or a mandoline. Place in cold water to keep fresh and mix with olive oil just before serving. Decorate the dish with fennel grass!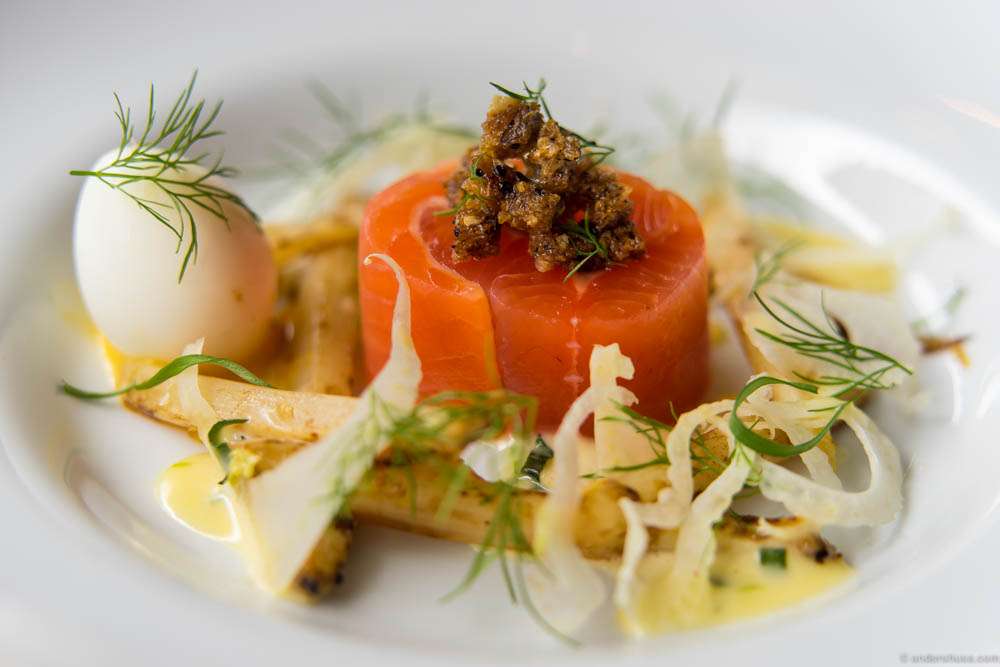 Langoustine with Liquorice Mayo
Is there a more delectable Nordic ingredient than the langoustine? I can't think of one. It's hard to make a mediocre dish with this amazing ingredient, and the one we got from Vinay was definitely approved. Served with liquorice mayo and citrus salad. Lars and I ended up eating the leftover langoustines like lollipops.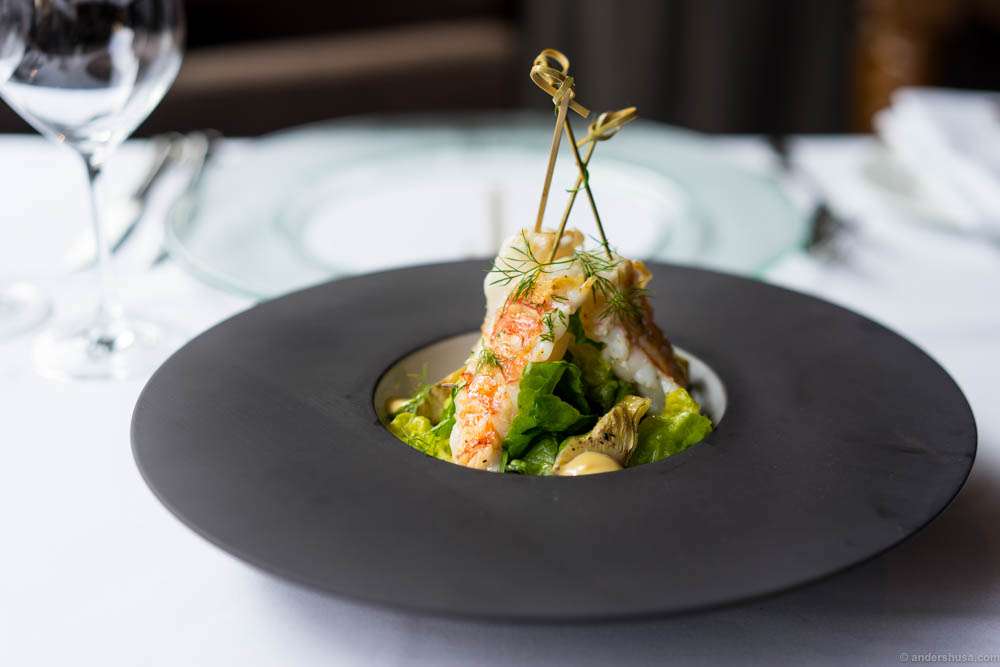 Recipe
Clean the langoustine and make a cut along the back to open it up. Drizzle with sunflower oil and season with salt and freshly ground pepper. Grill or fry in a pan on both sides.
Liquorice mayonnaise:
0.5 dl olive oil
2 dl sunflower oil
1 egg yolk
1 tsp Dijon mustard
1 tbsp Lakrids paste
2 tbsp lemon juice
Clean the little gem salad and drizzle with good olive oil, lemon juice and zest and a sprinkle of salt.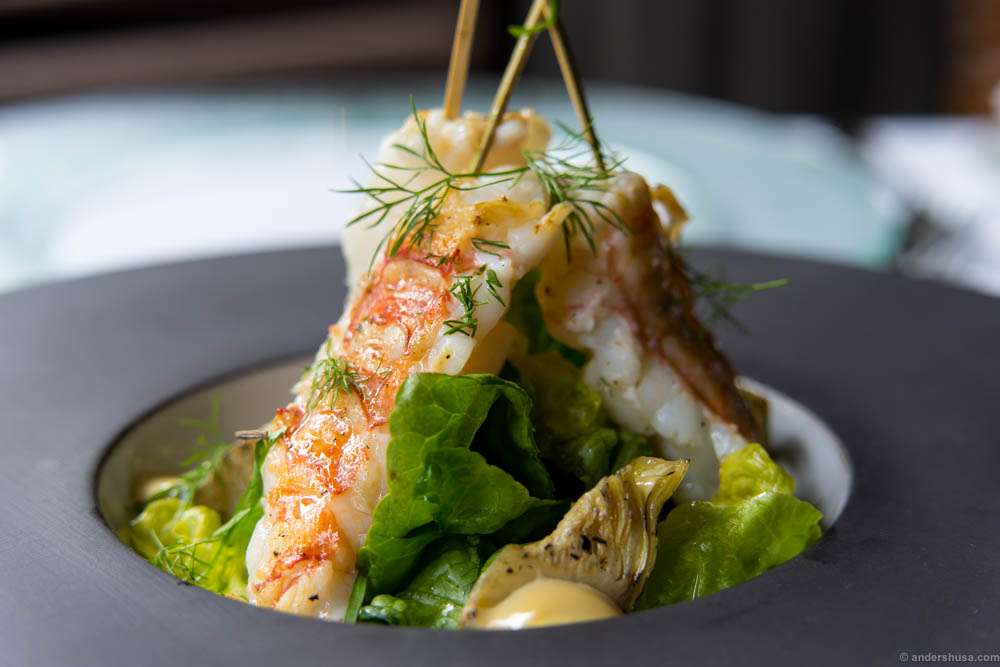 Tenderloin of Wild Boar With Liquorized Cauliflower
The tenderloin of wild boar was my favorite dish of this fantastic six-course meal. It was served with potato chips, cranberries, a sauce of sherry and chicken broth and liquoriced cauliflower. Is liquorized even a word? If not, I just made it one.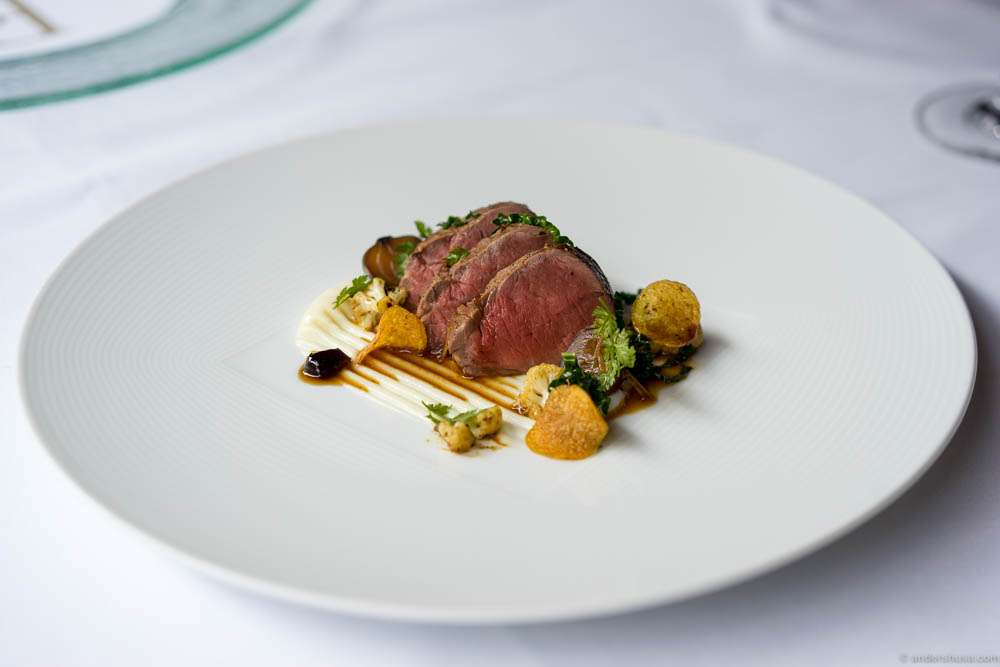 Recipe
Fry the tenderloin in a pan with sunflower oil, salt, and pepper. Bake in the oven at 180 degrees C for 5-6 minutes. Leave to rest for at least 15 minutes. Bake for another 2-3 minutes in the oven, rest for 1 minute and then cut the meat into appropriate pieces for serving.
Sauce of sherry and chicken broth:
3 dl chicken broth
4 dl sherry
2 shallots
50 g dried cranberries
1 orange
4 cl Cointreau
Reduce the chicken stock to 1 dl, reduce the sherry to 1 dl, mix together along with minced shallots. Leave to simmer for 5-10 minutes on low heat. Place 50 g dried cranberries in a saucepan with the zest of 1 orange and 4 cl Cointreau. Bring to a boil and then leave it on the kitchen counter for 1 hour. Add to the sauce just before serving.
Clean and cut the cauliflower into small florets. Toast lightly in a pan and add chopped shallots. Add raw Lakrids powder, salt and pepper just before serving. Potatoes are cut into thin slices and fried in sunflower oil until golden and crispy at about 160 degrees C.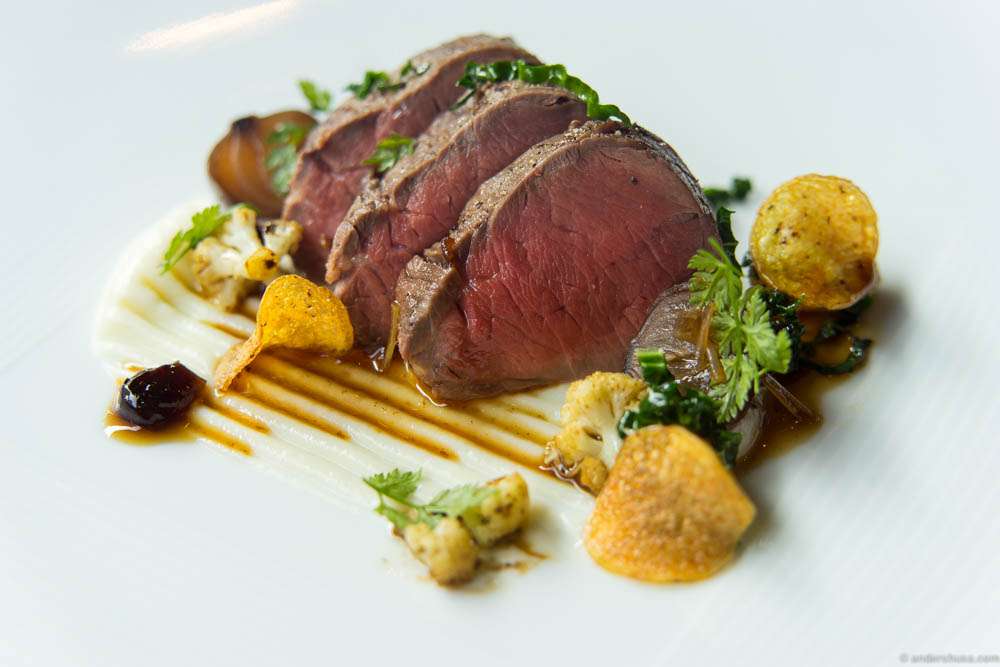 Raw Cake with Lakrids Dust
My experience with raw cakes is limited, but I loved the nutty consistency of the raw cake with Lakrids dust that Vinay served us. Believe it or not, but this one is free of sugar, gluten, lactose, and eggs. I might try this at home …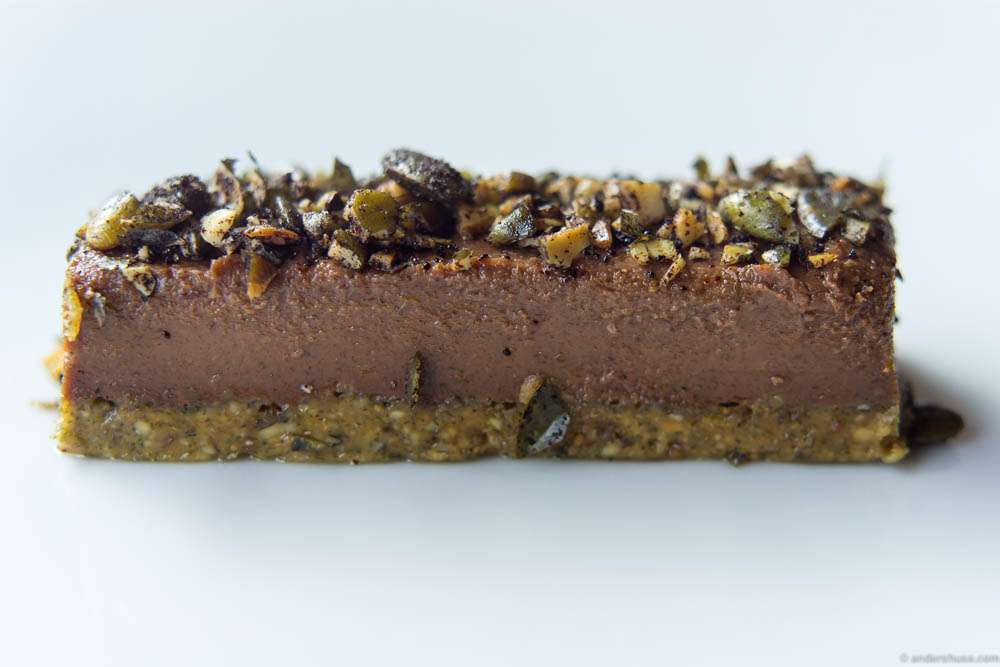 Recipe
2 dl pumpkin seeds
2 dl walnuts
3 tbsp coconut oil (2 for the base, 1 for the filling)
2 pinches salt (1 for the base, 1 for the filling)
11 big dates
1.5 ml of water (or orange juice)
2 tbsp cocoa powder
Orange zest is optional
The base:
Toast the pumpkin seeds and walnuts in a dry, hot frying pan until lightly golden. Put half (about 2 dl) of the roasted seeds and nuts in a food processor. Ground into tiny crumbs. Add 2 tablespoons of coconut oil and 1 pinch of salt. Continue until you have a coarse, cohesive mass, like the base of a cheesecake. Cover the bottom of a cake tin with cling film and make a cake base of your mix. Put in the freezer.
The chocolate filling:
Remove the stones from the dates. Put the remaining toasted pumpkin seeds and nuts into the food processor. Grind to a fine powder. Add the dates and water (or orange juice). Power the food processor again while you add 1 tablespoon of coconut oil, the cocoa powder and a pinch of salt. Mix well. Pour the filling onto the frozen base. The cake should be stored in the freezer to keep a creamy consistency.
The topping:
Deep fry pumpkin seeds in sunflower oil until they are golden and puffed. Place in a strainer and sprinkle with salt and sugar immediately. Coarsley chop the seeds and roll them in fine Lakrids powder. Use to decorate the cake before serving it.
Christmas Cookies with Liquorice Paste
Wait, what? Christmas cookies in September? I guess the Christmas season came extremely early this year. Anyway, now you know what to bake in December already.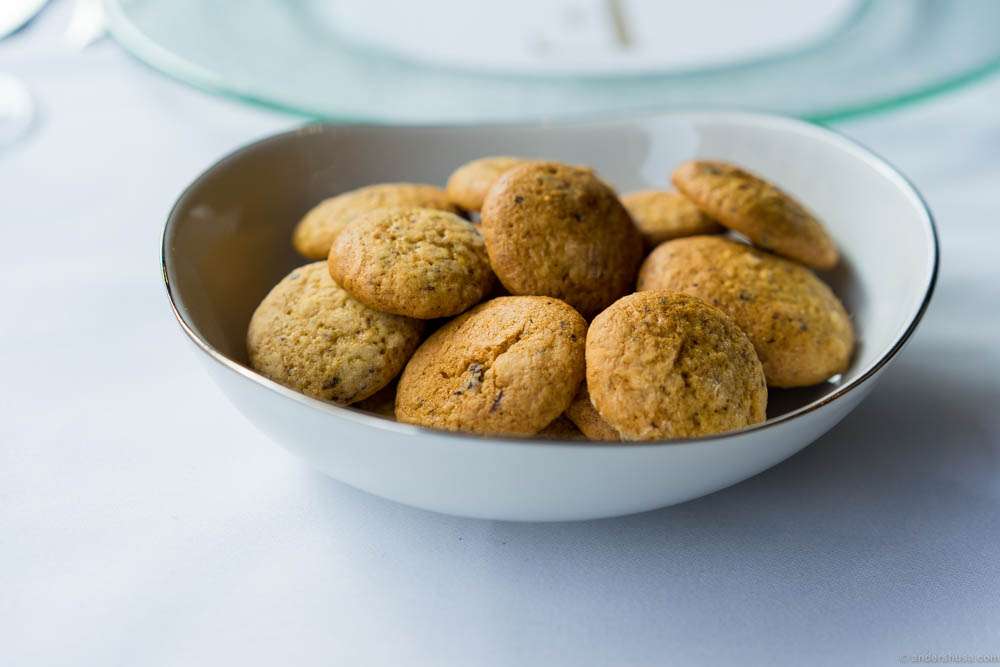 Recipe
200 g butter
200 g sugar
400 g eggs
250 g brown sugar
650 g flour
4 tsp salt
4 tsp baking powder
100 g chopped dark chocolate
100 g walnuts
3 cl cointreau
Zest of 2 oranges
50 g salty Lakrids paste
Whisk butter and sugar until white, then slowly incorporate one egg at a time. Add brown sugar, flour, salt and baking powder. Lastly, fold in the chocolate, walnuts, liquorice, orange zest and cointreau. Place the dough in the fridge for 2 hours.
Roll tiny balls and place them on a greased baking tray. Bake in the oven at 180 degrees C for 8-12 minutes until they are golden. Leave the cookies to cool down. For more recipes check out Lakrids by Johan Bülow.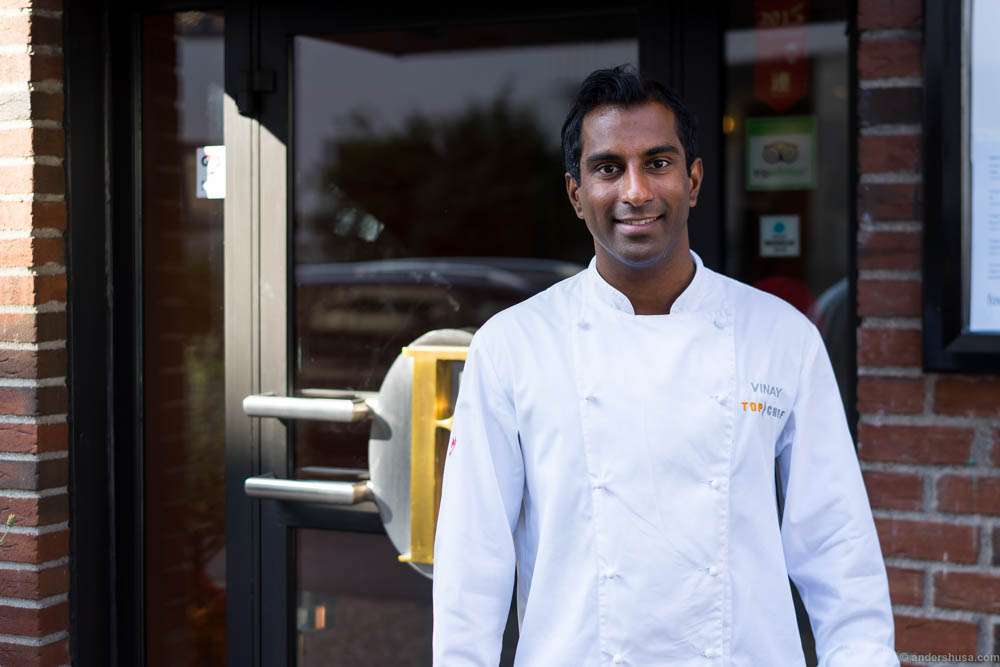 Did you try any of the recipes? Please leave a comment below.
Lagre
Lagre
Lagre
Lagre
Disclaimer
This was a sponsored press event with Lakrids. They had no influence on the content of this article.
Follow Us on Social Media

YouTube
Anders Husa & Kaitlin Orr

Instagram
@andershusa
@carnivorr

Facebook
Anders Husa & Kaitlin Orr

Join Our Food Community
The Hungries
Become a Patron!