Sponsored
One of my favorite places to hang out in Oslo, whether it's a warm summer day or a crisp winter morning, is in and around the Astrup Fearnley Museum and its accompanying café Vingen Bar. This combined restaurant, coffee shop, and cocktail bar is now run by the guys from Fuglen coffee bar in Oslo. First of all, the location is a dream for any photographer, with the most astonishing light a few hours after sunrise and before sunset, when the sun sits low in the sky. Even better if you add some beautiful objects. That's why I brought my girlfriend Hedda and her sister Sara to watch the current Matias Faldbakken exhibition and try the associated menu at Vingen Bar. On our previous visit here, the artist was Takashi Murakami and the food was Japanese. This time, the art was Norwegian, and so was the cuisine. Apparently, Vingen Bar is pairing food with art. An interesting idea!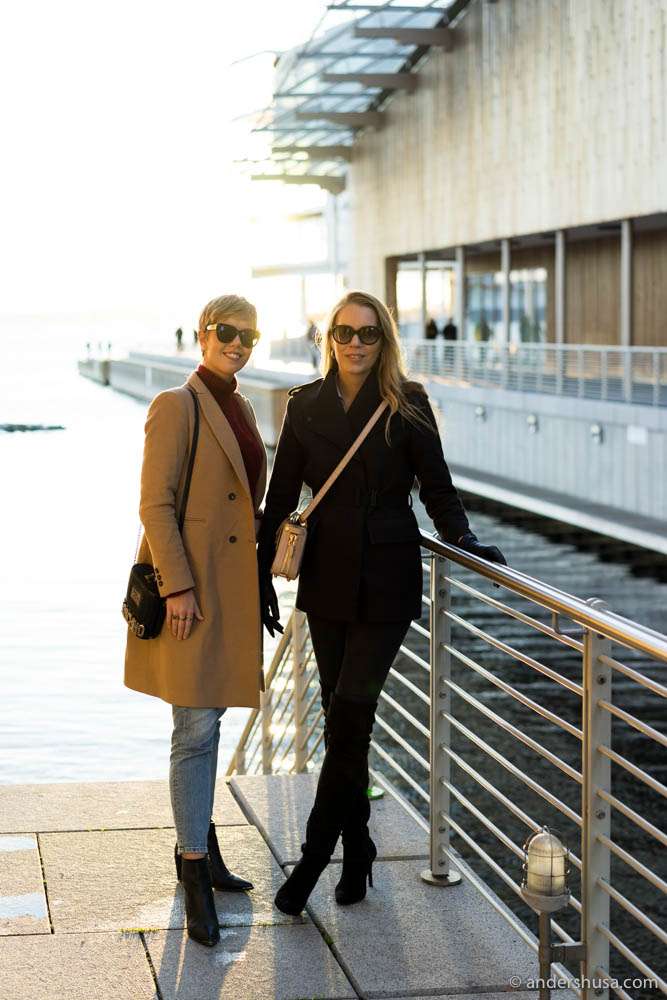 The Link Between Food & Art
Food and art are closely connected. We tend to describe food as art when it speaks to several of our senses. Not only taste and aroma, but also aesthetics and even sound. Just look at the magnificent dishes of chef Kristian Baumann at restaurant 108 in Copenhagen, and you will understand what I mean. Both at Alchemist in Copenhagen, and The Fat Duck outside London, one of the dishes involve guests putting on a headset to get the right sound effects as they eat.
Massimo Bottura of restaurant Osteria Francescana believes that a chef can never be a true artist, because he is restricted by the fact that the food always has to taste good. Yet, a lot of his dishes are still inspired by the work of famous artists, and there is certainly no lack of creativity or artistic expression, neither in his cooking nor plating. Dishes like Oops! I Dropped the Lemon Tart, Autumn in New York, and Beautiful, Psychedelic Spin-Painted Veal, not Flame Grilled have become iconic dishes that are recognizable across cultures and continents – similar to famous paintings.
In San Francisco, we visited the museum restaurant of the SFMOMA (San Francisco Museum of Modern Art). At In Situ, the head chef, Corey Lee, is also an art curator in a sense, through his replications of well-known dishes from other restaurants around the world. His main challenge is to make sure the different styles of cooking are integrated into a menu that still makes sense for the guests.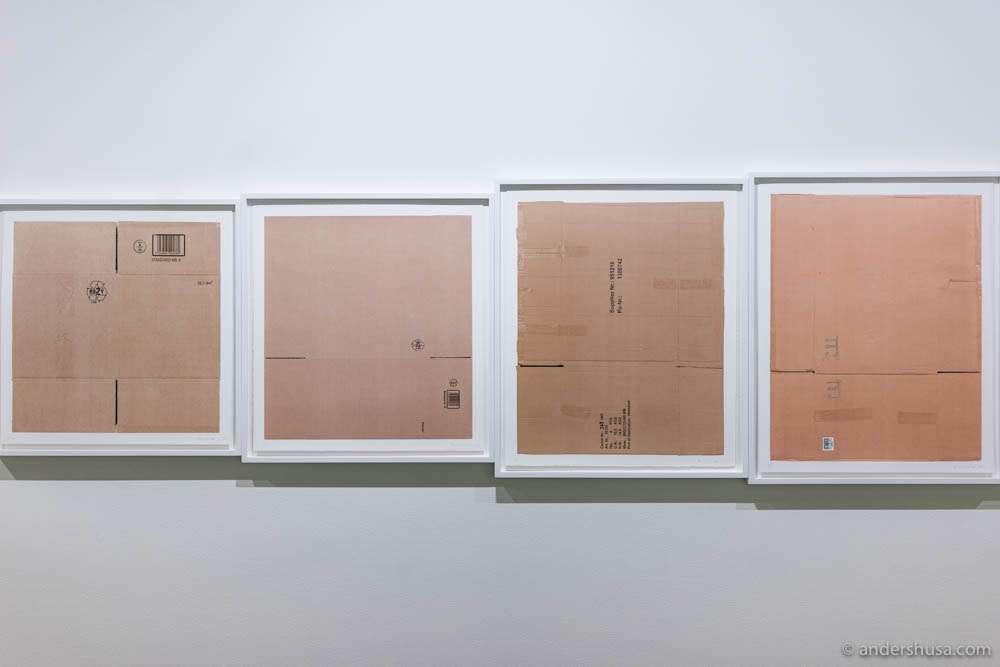 Matias Faldbakken – Effects of Good Government in the Pit
The Matias Faldbakken exhibition is on display from the 22nd of September 2017 until the 28th of January 2018. In my opinion, this is not an entry-level art exhibition. For anyone that is new to art, Matias Faldbakken may not be the best place to start. His art is confusing and weird. I overhear this conversation as one group is inspecting the framed cardboard boxes on the wall.
– Look! Cardboard boxes. We could use that.
– I'm not inspired by this at all. I'm just provoked!
– Oh, he has actually painted them …
– If he has painted them, then, at least, I'll give him credit for that.
In fact, they are lithographies. Next to them, are posters in frames, with the backside facing out towards the audience. Faldbakken has also made a lithograph of a fake book cover and framed it. On several pieces of work, he has written the word Saxon. I listen in on another conversation.
– His art is so creative and full of hidden symbols. Saxon? I wonder what his message is.
I ask one of the museum guides to show me around. She says that Saxon is simply the name of a heavy metal band that Faldbakken admires. There is no deeper meaning beyond that. Furthermore, she explains how Faldbakken, in many cases, is attempting to make art without context or substance – although, that's sort of a mission impossible. He is inspired by, amongst other, Marchel Duchamp, who, in 1917, placed a urinal signed R. Mutt at an art exhibition and, thus, paved way for the readymades – found objects put on display. A lot of Faldbakken's art is just like that: the laser printer that has been glued to a plasterboard or the metal locker cabinets that are destroyed by ratchet straps. You can try to add some meaning to it – but there isn't necessarily one. In the words of the artist himself:
– I like the fact that you can bring whatever into an art space, and it would gain some kind of discursive surplus. […] That kind of awkwardness of the art space, is what keeps me here. That it doesn't have an obvious function, it doesn't have an obvious entertainment quality, it doesn't have an obvious use. […] It's foggy and strange and vague. […] That's what I like to be.
Good luck pairing your food with that, Vingen Bar!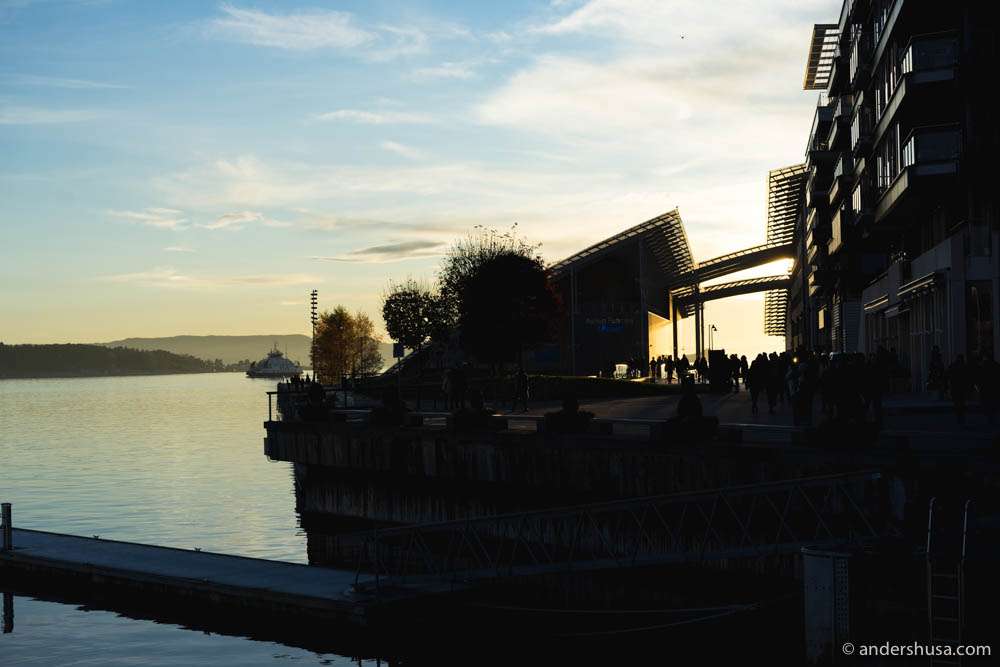 The Matias Faldbakken Menu at Vingen Bar
We get a table inside a busy Vingen Bar. Clearly, I'm not the only one that has discovered how beautiful this place is. People come here for the art and the food, but also the drinks and the view. Studying the Matias Faldbakken menu, I am slightly disappointed at first, when I realize that the food is more linked to the artist's nationality than his art per se. Then again, I really have no clue how you would link food to this kind of art.
There are five dishes on the menu, in addition to one unrelated dish of the day. At least, I assume it's unrelated, since pork steam bun, which is the daily special, was also on the menu during the Murakami exhibition. The kitchen has come up with some creative names for these artsy dishes – I'll give them that. The Caesar salad is named Sucker for Caesar, rösti potatoes are called I ❤ Potatoast, and pork rib toast with forest mushrooms and Julienne vegetables are dubbed Pigs on Shrooms & Rainbows. The drinks, just like the food, are made up of local ingredients and inspired by Norwegian traditions.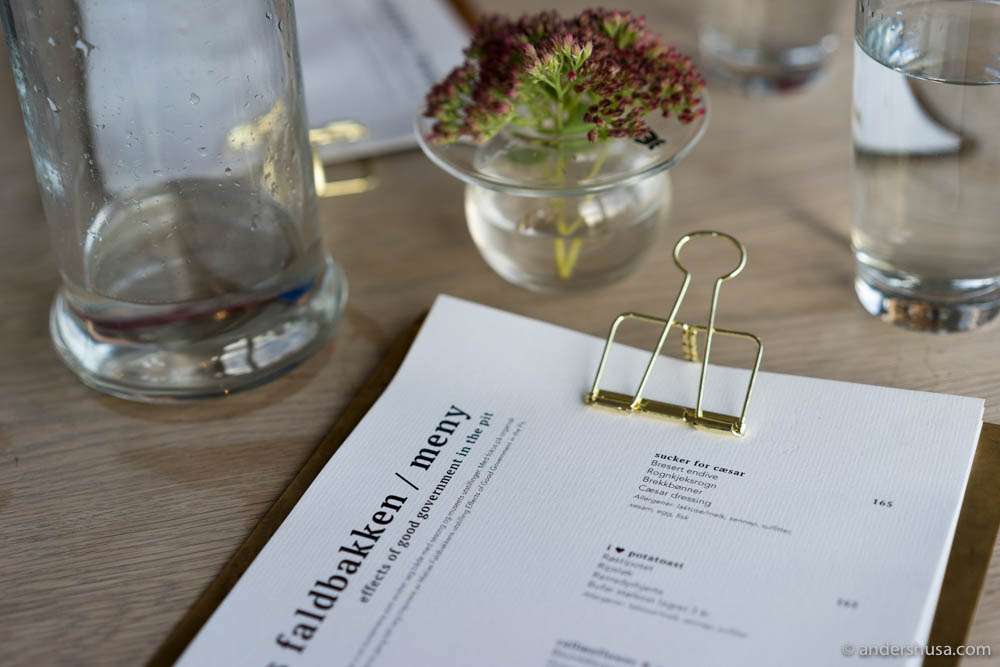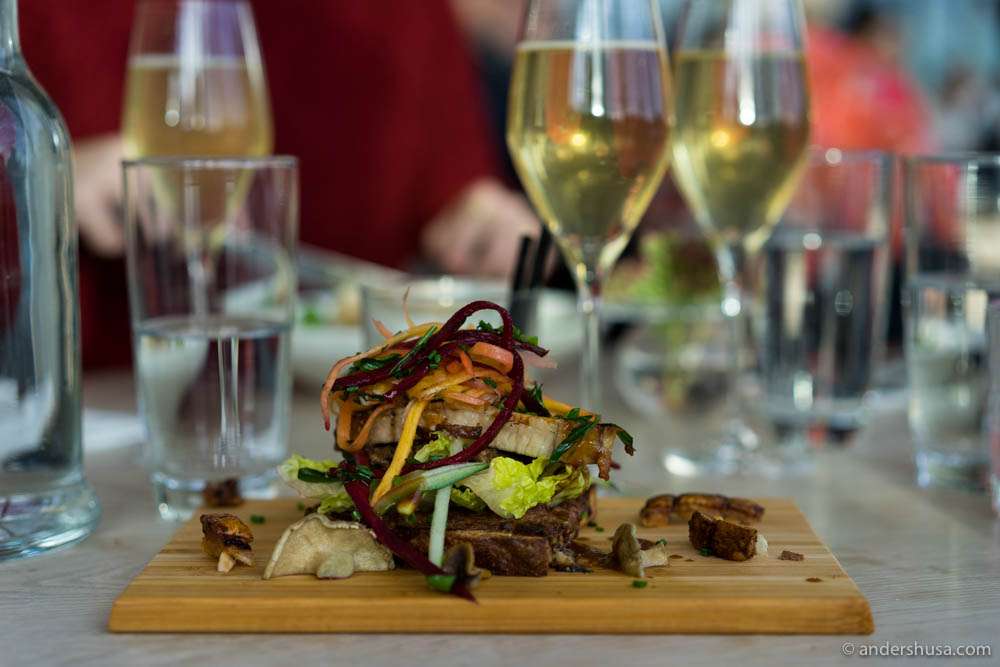 Ironically, my favorite dishes are the ones that Hedda and Sara have chosen. Callmeflower & runstab has, perhaps, the most original name of all. A cauliflower soup flavored with lovage, which in Norwegian is called løpstikke. Løp = run, and stikke = stab. Runstab. Get it? I know – it's a bit far-fetched. But the dish is pretty good. A light, well-seasoned soup served with crispy bread and cured duck on the side. The duck could easily have been skipped, in my opinion.
The Countryside Cod is the winner for me. Norwegian cod, with smoked beets, potatoes, a beurre blanc sauce, and shavings of horseradish. Simple and tasty. Possibly, the least Faldbakken-esque of them all, though. He might have preferred some more disruptive and provocative elements in there. But then Massimo Bottura would have reminded us, that chefs can never be true artists – the food always has to taste good as well.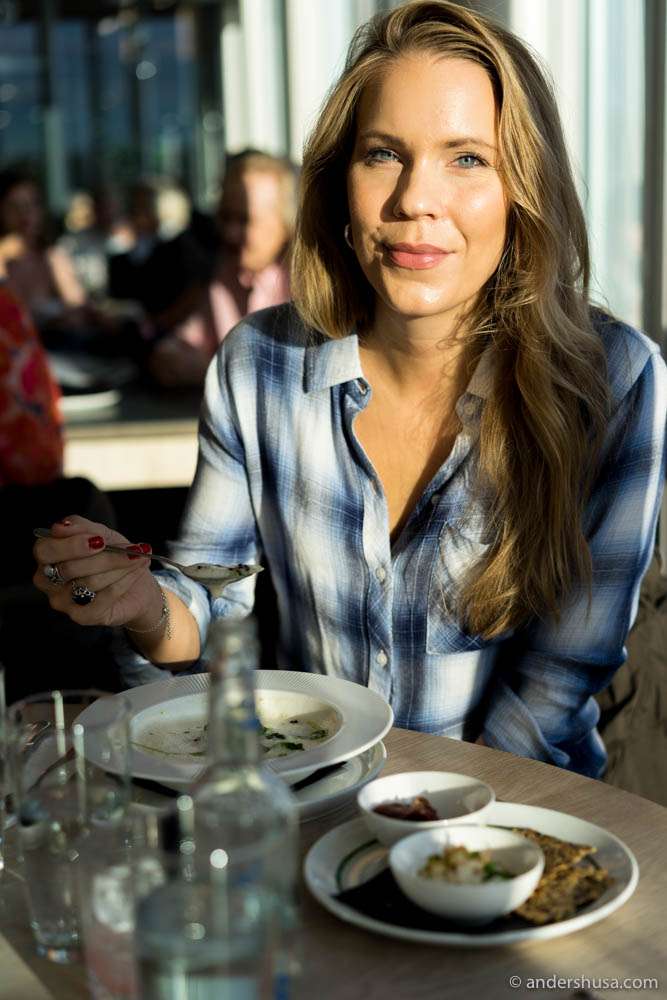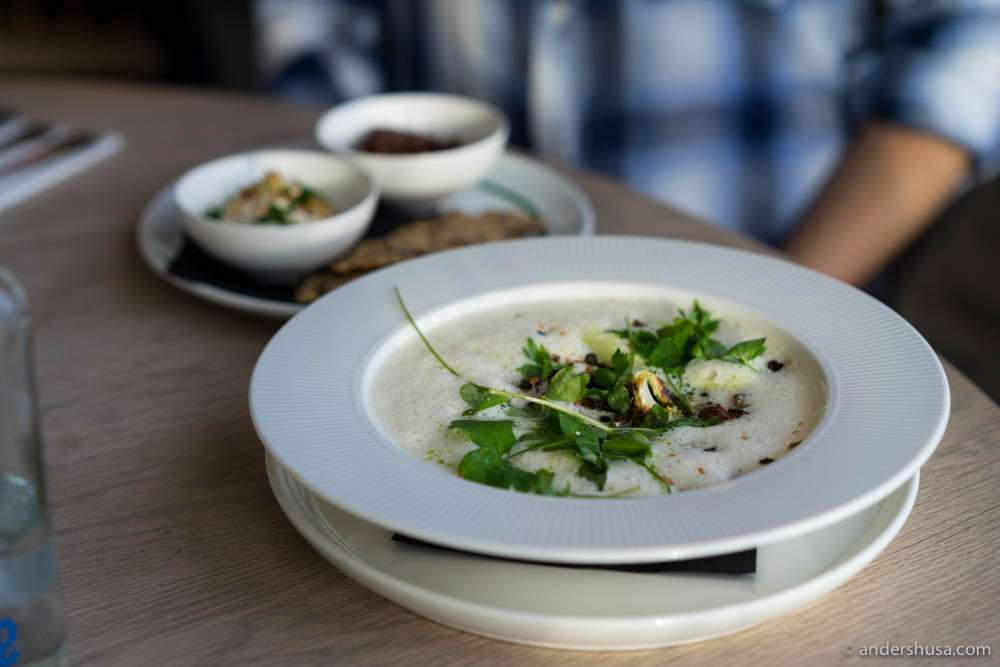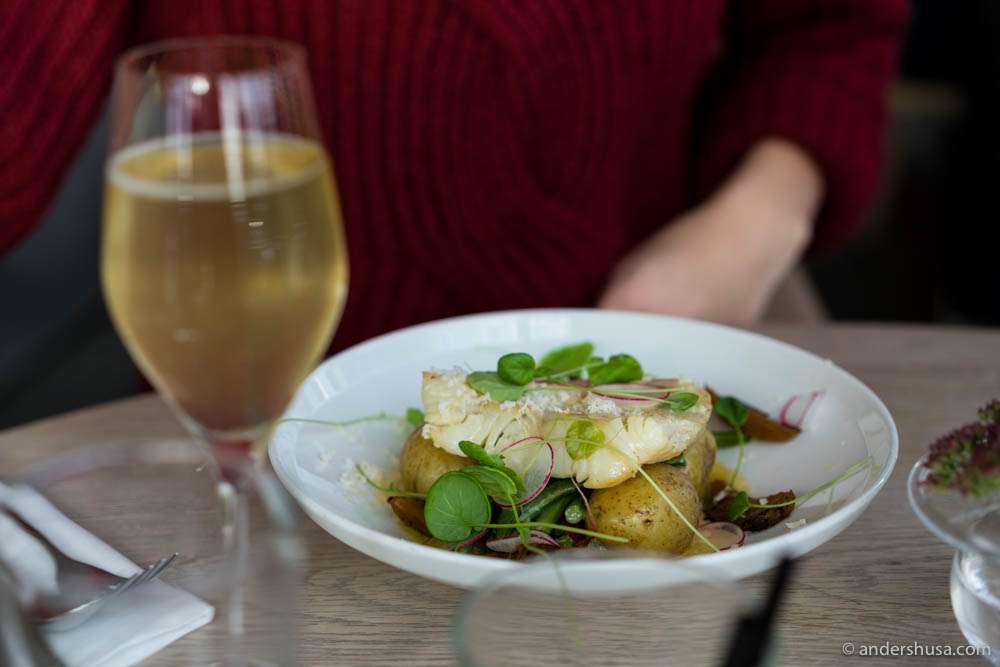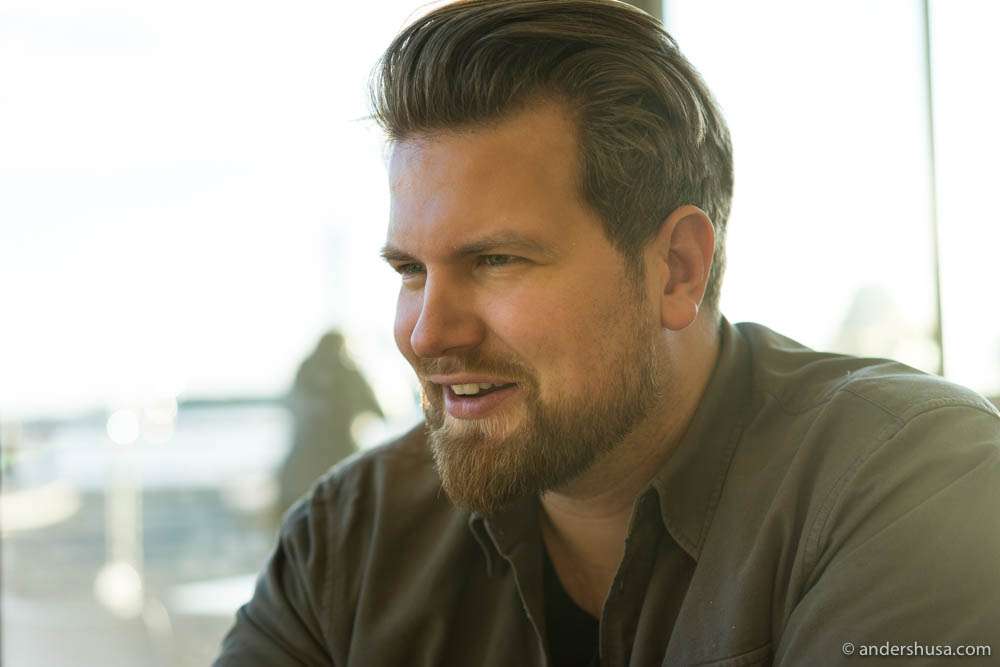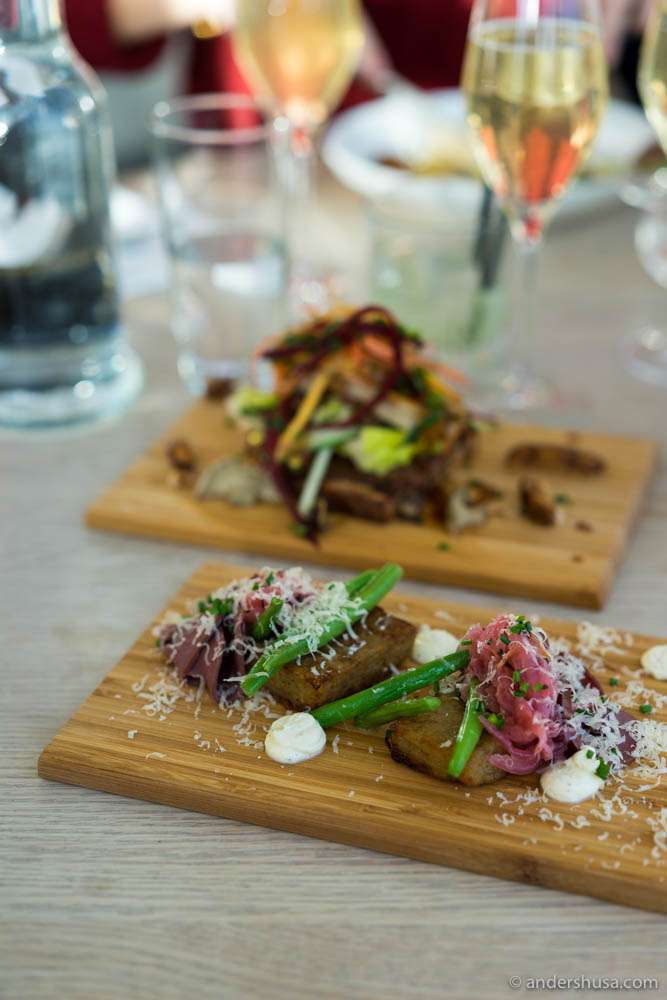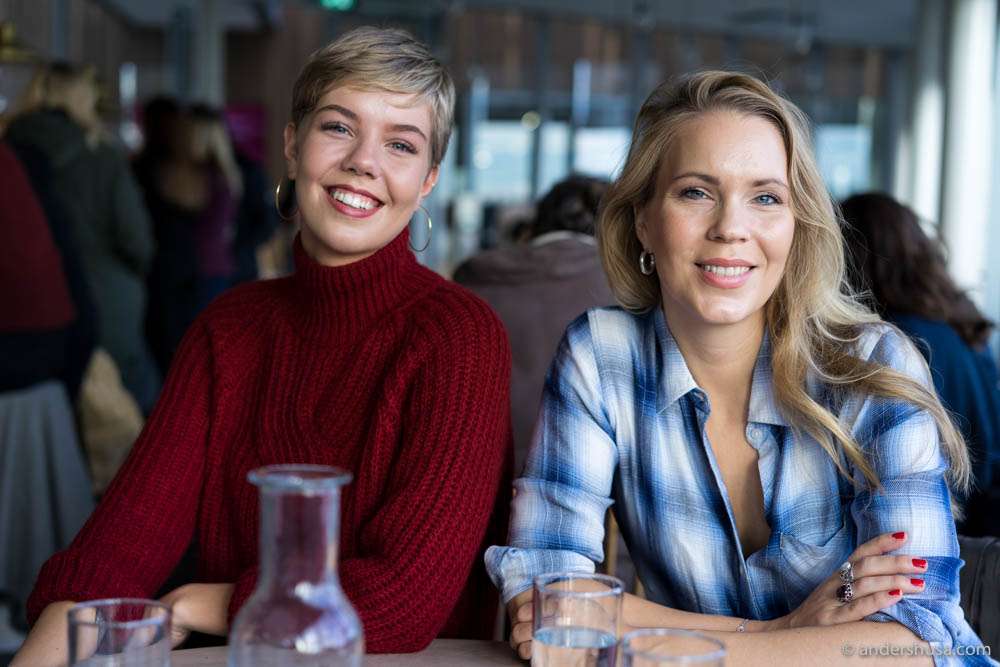 Donald Trump's Neverending Victory Dance
Back inside the Matias Faldbakken exhibition, a song is playing every 30 seconds. It plays for 15 seconds and then stops. At first, I find it annoying. Then, it becomes rather catchy, and, finally, my curiosity takes over. What is this music? I return to the almost empty main room of the Museum. The guide has previously explained to me how much Faldbakken disapproved of the room. He didn't want any of his art in there. In particular, he disliked the partition walls. Thus, he created a site-specific work for the Astrup Fearnley Museum instead. The three walls are covered with tiles and made to look like the surfaces of lavatories, swimming halls, or subway stations.
Behind the last wall, inside the cargo lift, Faldbakken has placed a looped video showing Donald Trump dancing to the music of Never Come Down. Originally, the film clip is from a Saturday Night Live skit where Trump sings and dances as the awkward-moving tax guy in a parody of Drake's song Hotline Bling, but it has been altered with a new soundtrack by Trump fans to celebrate his 2016 election victory. I've embedded it below for your listening pleasure (it may eventually be removed from YouTube due to copyright infringement). The joker that became a king, has been reverted to a joker yet again, stowed away inside an unused freight elevator – his head cut off by the borders of the screen.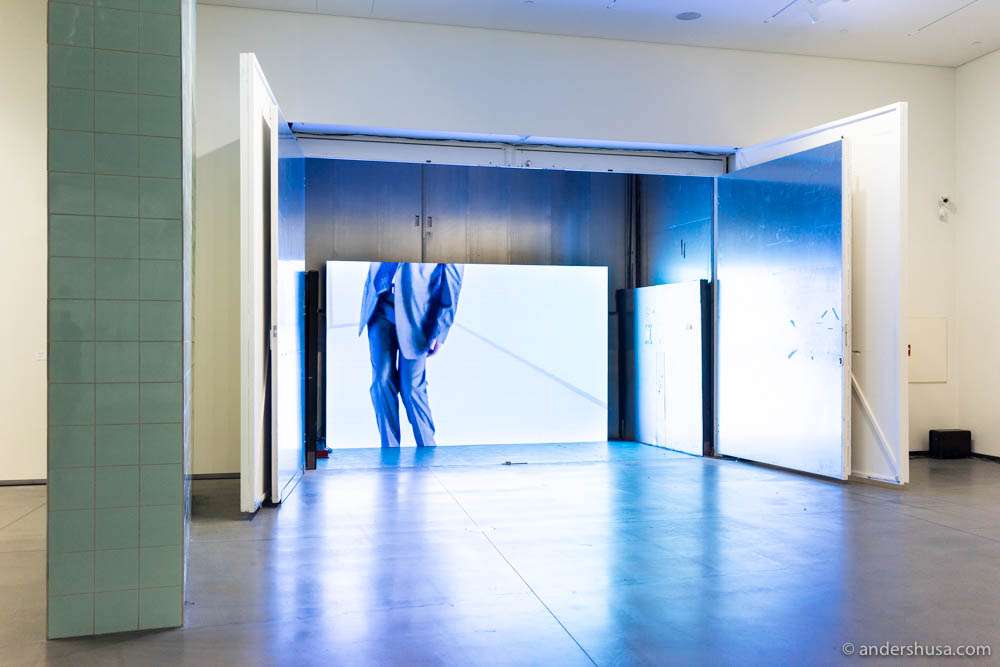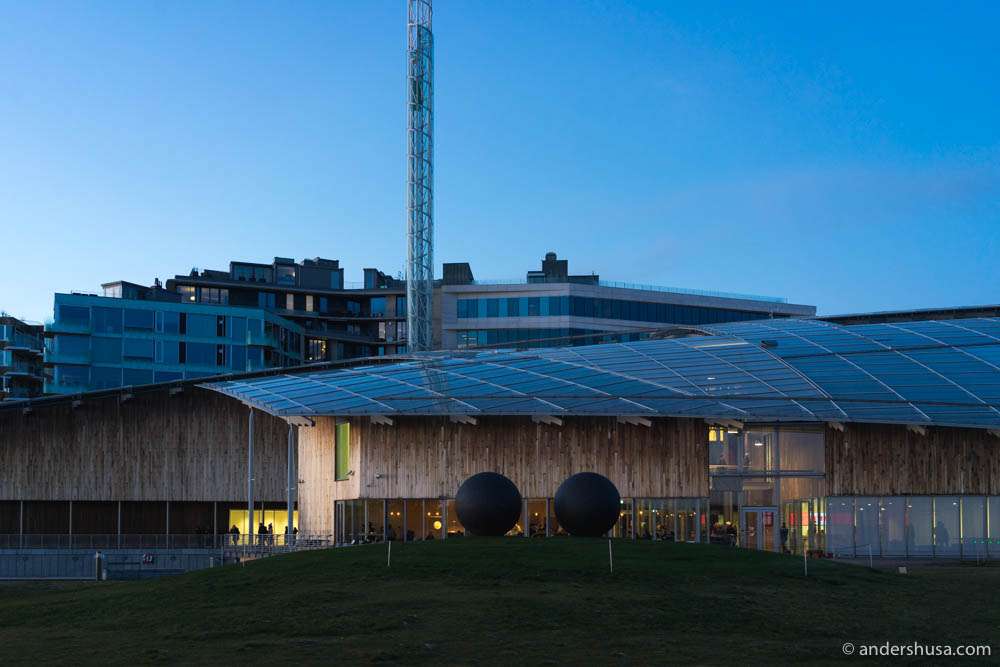 Can food be art? Please share your own examples in the comments below.
Disclaimer
I was granted a press pass to the Astrup Fearnley Museum for this visit. The meal was sponsored by Vingen Bar. Neither of them had any influence on the content of this article, there is no form of cooperation between us, I was not obliged to publish anything, and I received no monetary payment.