What a time to be alive. The Coronavirus (COVID-19) has taken over the world and completely altered our daily life. All of us have been ordered to stay at home to stay safe. Maybe, like us, you're feeling a little bit scared and confused right now, and maybe you're unsure how you can still support local businesses. Even though you can't go out to eat right now, a lot of restaurants are still open and offering takeout and home delivery options. This is part of a series of take-away guides in Scandinavia. We hope it helps make this time of quarantine a little tastier for you!
This guide is no longer being updated since restaurants in Norway have been allowed to reopen. Check out our Stavanger and Sandnes city guide for a full list of the best restaurants.
Support Your Favorite Local Restaurants!
Restaurants are struggling to survive right now. They have employees and rent to pay, and hardly any income. If we don't support them today, we might not have them around tomorrow. That's why takeout is the new eating out! You can support your favorite local restaurants, and also eat better food at home. This list is compiled by our friend and local Stavanger foodie Thomas Hjartarson. Make sure to give him a follow on Instagram. Anders has added some favorites from his hometown of Sandnes.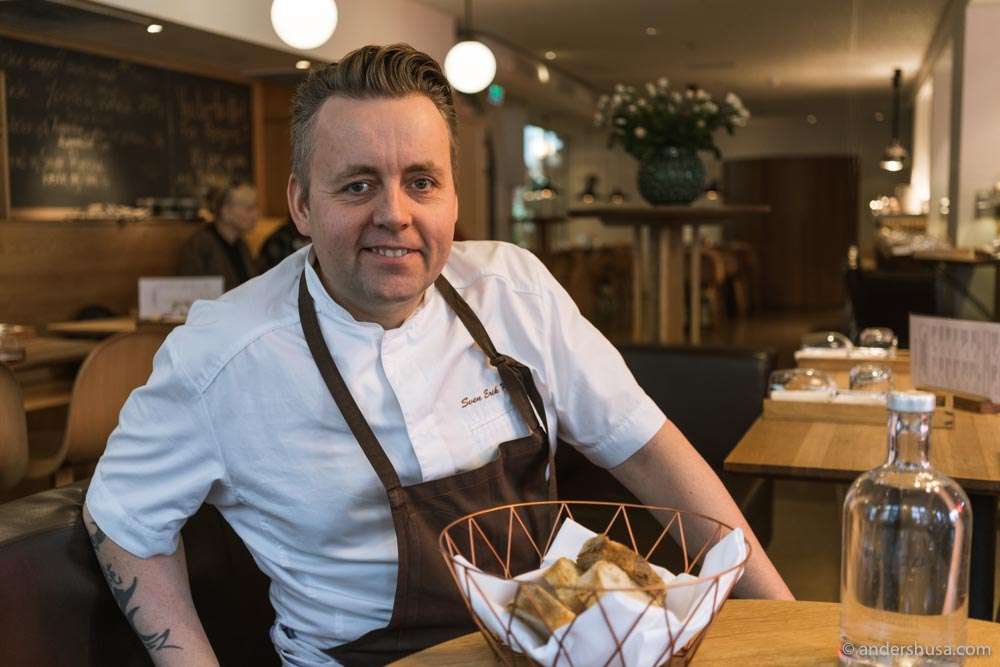 Stavanger: Take-Away & Delivery Food
A. IDSØE
Delivery from Stavangers's best butcher shop? Click here to order.
BELLIES
All vegan! Delicious mezze, pizza doughs, pecan pies, and more available for take-away on their online store. Click here to order.
FISKETORGET
Craving the famous fish soup from Fisketorget? It's now offered as take-away Monday-Saturday. Click here to order the weekly menu.
HEKKAN BURGER
What's more comforting than Stavanger's best burger? Hekkan Burger is open all week for take-away. See the menu here. Call +4751319175 to order. Delivery is available.
HVERDAGSGODT
Smoothie bowls, salads and sandwiches. Vegan friendly. Check the menu here. Open daily for take-away from 11:00 am to 2:00 pm.
PANZANELLA
Panzanella serves some of the best pizza in Stavanger. Open Tuesday-Sunday. On Sundays, they also have casareccio, focaccia and Italian "bombe" (filled doughnuts). Click here to order.
RENAA: MATBAREN
Renaa: Matbaren is offering some of their classics as take-away three days a week (Thursday-Saturday). You can even get some of that delicious Go-Is! Click here for menu and order options.
RESTAURANT SÖL
Bring Restaurant Söl home to you! The menu changes weekly and they are offering easy-to-prepare dishes so can you get that restaurant feeling at home. Open Monday-Friday. Check out the weekly menu here. (Remember to order the day before!)
SABI SUSHI
Sushi lovers need not despair, Sabi Sushi is still offering takeout (and delivery for a charge of NOK 49) every day of the week from 4:00 pm to 9:00 pm. Payment with Vipps only. Call +4745211991 to order.
TAKO by Fortou
Why not try the tasty tacos or tostadas from TAKO by Fortou or maybe the taco fiesta grande sharing set for four people? Available Wednesday-Saturday 3:00 pm to 9:00 pm. Click here to order.
YIPS
Craving dumplings, baos, or homemade ramen? Yips is open from 1:00 pm, deliveries after 3:00 pm. Click here to order.
Sandnes: Take-Away & Delivery Food
COFFEEBERRY
The lovely couple behind Coffeeberry, Hanne and Thomas, are personally driving around Sandnes, Stavanger, and other cities in the region to deliver coffee beans and even freshly baked goods and sweets. Order online or visit their store for takeout. Check their Instagram for the latest updates.
DELIKATESSEN
Delikatessen has a lunch take-away menu with items like shrimp sandwich, quinoa bowl, pizza, and salads. E-mail [email protected] to order. Pay with Vipps (202945). Home delivery costs 50 NOK (minimum order is 400 NOK and the maximum travel distance is 5km).
HEKKAN BURGER
Of course, you still get your burger cravings satisfied at the O.G. Hekkan Burger in Sandnes as well. Open all week for take-away. See the menu here. Call +4751319175 to order. Delivery is available.
LURA TURISTHEIM
If you're craving traditional Norwegian "husmannskost" (homely fare), then Lura Turistheim is the place for you (they've been in business for more than 60 years). Meatballs in brown sauce and "komle" (potato dumplings) are classics on the menu. Takeout or delivery through their own app. You can also call +4751604000 or e-mail [email protected]
TI SPISERI
You've done take-away, but have you tried ti-ke away? From Friday, April 16th, Ti Spiseri will offer a simplified eat-at-home menu, and from Tuesday, April 21st, their famous pizza (Norway's best Neapolitan style) is also available as takeout.
Gift Cards, Donations & Future Reservations
If you want another way to support our restaurants during this time of crisis, consider purchasing gift cards for future use. The restaurants will get the money now, and you can treat yourself to a nice meal when life is normal again. If you have a reservation now, maybe postpone it instead of canceling. Stay safe out there everyone – and please remember to wash your hands, and practice social distancing.
Did we miss any of your favorite restaurants offering takeout? Feel free to comment below so we can consider adding them to the list!
Follow Us on Social Media

YouTube
Anders Husa & Kaitlin Orr

Instagram
@andershusa
@carnivorr

Facebook
Foodie Stories by Anders Husa
Carnivorr
Follow Us on Social Media

YouTube
Anders Husa & Kaitlin Orr

Instagram
@andershusa
@carnivorr

Facebook
Anders Husa & Kaitlin Orr

Join Our Food Community
The Hungries
Become a Patron!