I love the style of cooking and storytelling at restaurant Bokbacka. Among the fine dining restaurants in Oslo, Bokbacka is my second choice only to Maaemo. Through cooking, head chef Simon Weinberg tells a tale about his childhood memories related to food. Specifically from the area he grew up: the Bokbacka farm in Österlen in the southern Swedish region of Skåne. His parents still live at this place, which has inspired most of the menu at Bokbacka. The produce, however, comes from Norwegian farmers.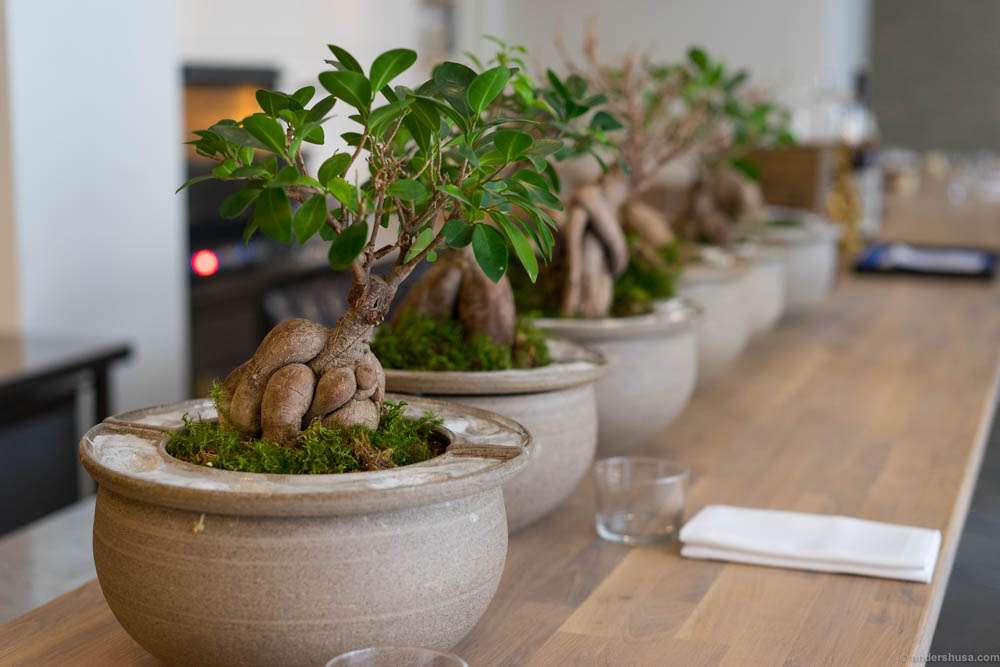 When you wish upon a bar
Most of the seats at Bokbacka are along a bar counter where you can watch the chefs work. A former Norwegian prime minister and his wife sat on the bar stools this night, with their feet dangling and shoes lying on the floor. We joined our friends who had already arrived, and similar to my previous visit to Bokbacka, we were seated at one of the few tables in the restaurant. Next time I'm gonna ask specifically in my booking for a bar seat, as I think that can add an extra element to the experience. Soon, though, we got some wine, and I forgot all about my seat preferences.
Once upon a time, there was a farm …
The service from restaurant manager and head sommelier Alexander Jones was impeccable this night, and he's a big reason that Bokbacka is so brilliant! Jones is a very likable and social guy – always smiling, polite, attentive and even funny. He carried "the tree" to our table, and thus opened the book of Bokbacka. The tree represents Simon's memories of Bokbacka's blooming vegetable fields in Skåne. Fresh cheese was sprinkled with a fake soil of rye crumbs. Vegetables from farmer Finn Dale of the biondynamic farm Bergsmyrende in Hurum, 60 km from Bokbacka, were planted in the "earth". It was messy to eat, but we got wet napkins to clean our hands afterwards.
A colorful ode to tomatoes
"Insalata Caprese" – Bokbacka's version of a classic Italian Campania salad was next. Buffalo mozzarella, tomatoes in different colors and flavors (sweet and acidic), an olive oil sorbet, basil oil and tomato water from grilled tomatoes. Colorful, tasty and well balanced makes this ode to tomatoes one of the evening's favorites on my part. I like small details like how they make an extra effort by decorating the bottle of tomato water. The tomatoes came from Hanasand gård at Rennesøy, 500 km away – at least in driving distance.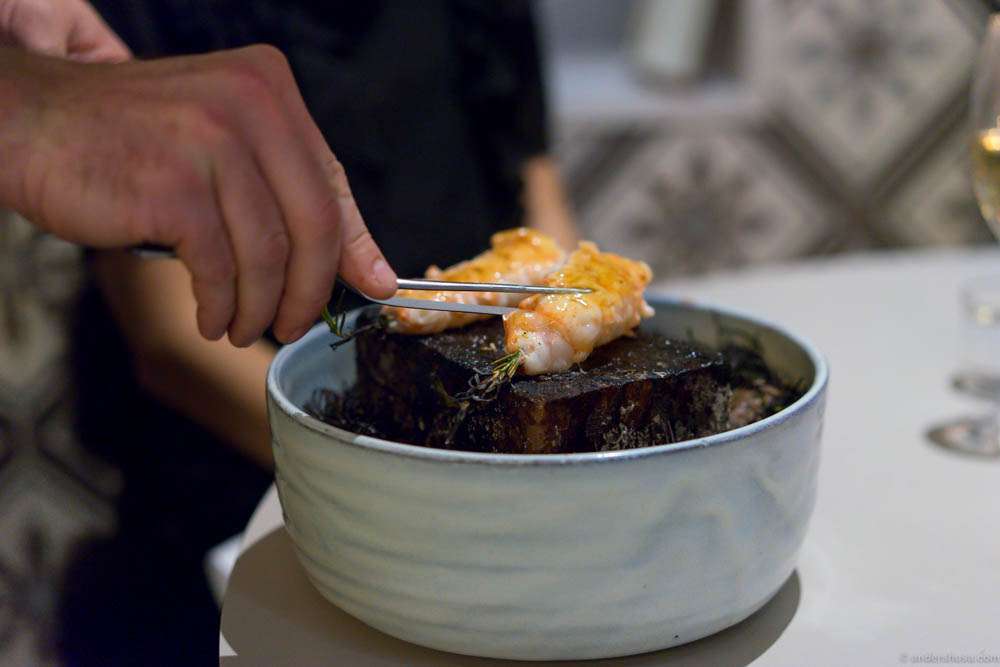 From the depths of Molde to the heights of Himalaya
Bokbacka opened for business a little more than a year ago, yet they've established some classics on the menu in a very short time. The tree is one. Langoustine from Midsund on a rosemary stalk skewer, cooked tableside on a pink Himalayan salt stone, is another. The local fishermen in Midsund, west of Molde, lives about 550 km from Bokbacka. Great produce like this doesn't need much added to it, and Bokbacka respects that. The langoustine is served with nothing but a ceps puree, crispy panko, and cress.
Send me dead flowers every morning
I was surprised to see the entire head of a sunflower served as dish number three. That's a first for me. The petals, yes, but not the whole flower. In fact, it was Leif from the organic farm Sansegården, 100 km from Bokbacka, who came up with the idea. Of course, it's of the utmost importance that the flowers have not been sprayed with any pesticides. The sunflower disk was deep-fried and served with Jerusalem artichoke in three variations: puree, chips and raw. By the table, a milk infused with crab fat was mixed with the sunflower oil as a finishing touch. Together it made up a beautiful and tasty sauce. I really liked this dish, but I could tell from the reactions of my table companions that not everyone was pleased with the somewhat unfamiliar textures of the sunflower disk.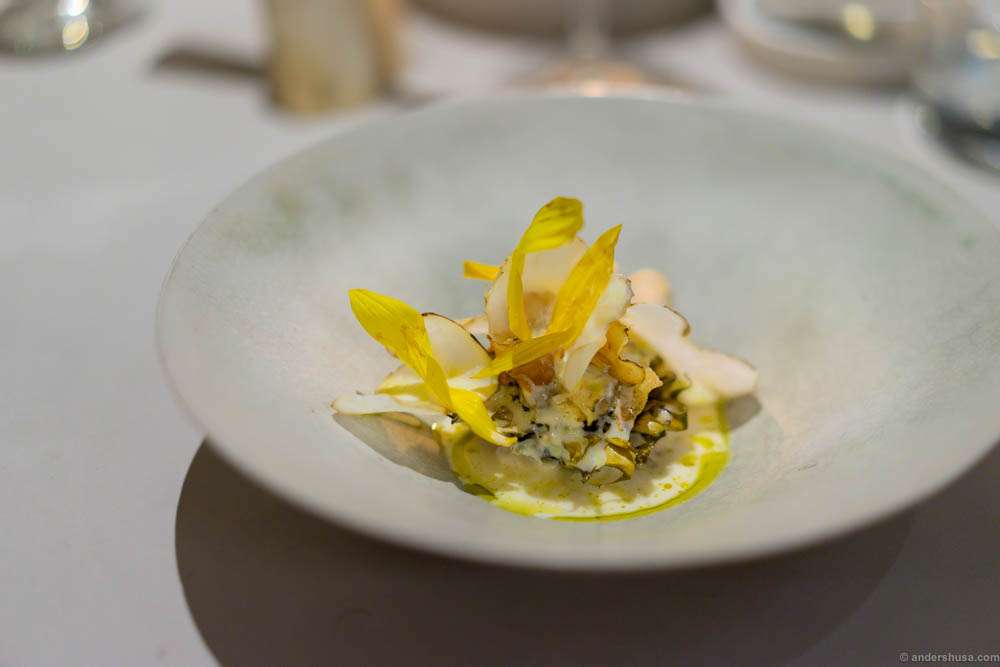 A Picnic in Kåseberga
Now, Bokbacka wanted us to get in a picnic mood. Not an easy task at a fine dining restaurant table, but this serving worked extremely well. Once again we were visiting head chef Simon's childhood. "Al's smokery, idyllically situated by an old Viking graveyard, is a popular place in Kåseberga to have a picnic. The locals buy the smoked fish from Al and bring their own bread and beer," Alexander told us. Luckily, we didn't have to bring anything with us. Instead, Kåseberga was served on a tray for us to make our own small sandwiches. That sour milk bread was so full of fat and juices that I wish they would offer it as take away too.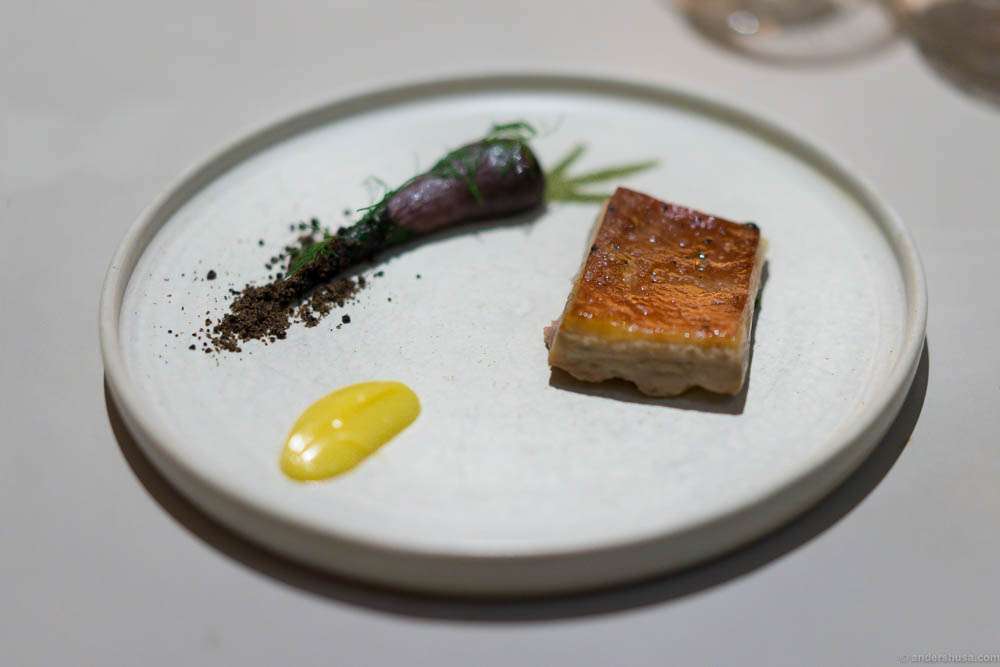 Lamb lies down on a plate
Chef Weinberg masters simplicity in the art of plating. The presentation of the main course of lamb from Jæren reminded me of another dish I ate for lunch here earlier this year. Once again, a cheaper and more fatty cut of meat was used. Cooked to perfection, it tastes a lot better than the sirloin or other more fine and expensive cuts of the lamb. The bonus: it's also more sustainable to use the whole animal. Served with a to-die-for reduction of cream with garlic, green salad mixed with a vinaigrette tableside, a purple carrot and a green butter sauce with spinach and crown dill.
Welcome to the forest!
We have an expression in Norway: "Ut på tur, aldri sur." It can roughly be translated to: "On a hike – never gripe!" Especially if you have kids, you need to bring some candy when you go hiking to keep up the good spirits. Bokbacka's trail lunch was a thermos filled with warm blueberry soup with lemon thyme. As a substitute to the Norwegian chocolate "Marsipanbrød" they had made a marzipan ice cream and topped it with a pine and spruce flavored granita and wood sorrel. Welcome to the forest!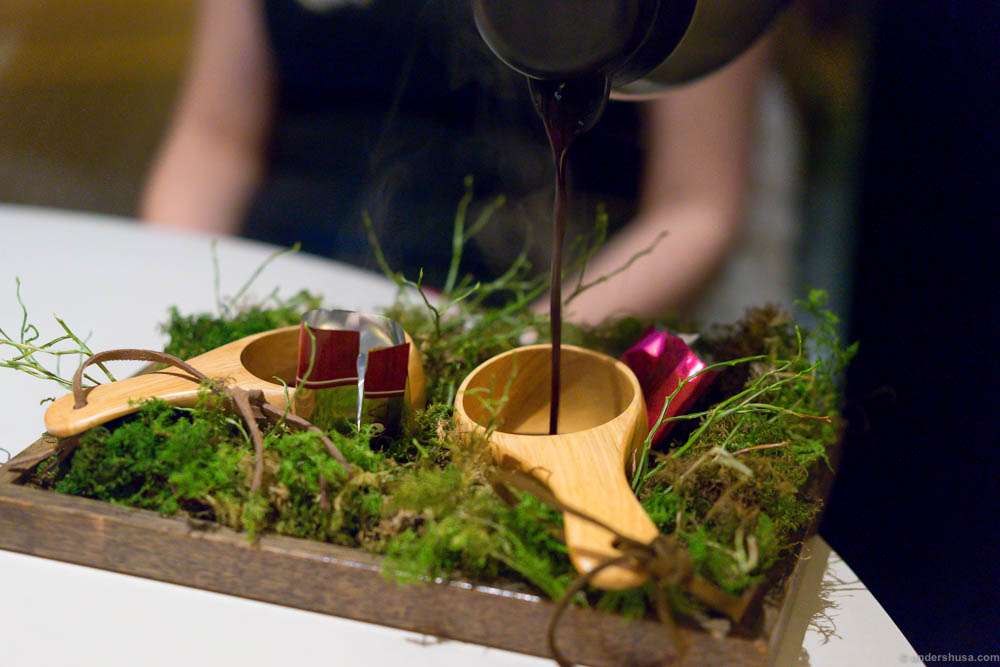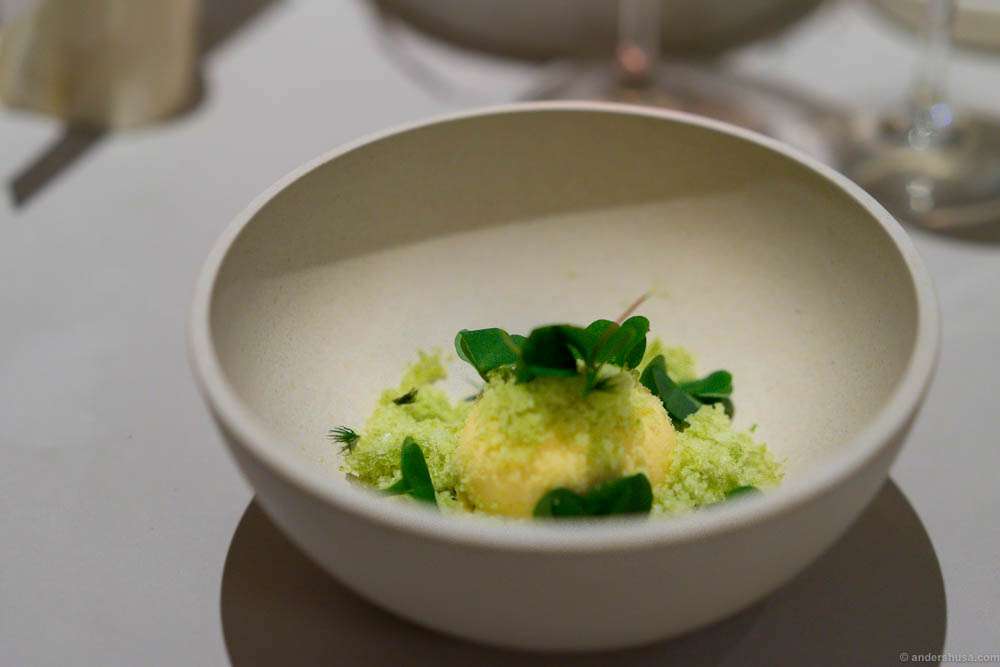 When you wish upon a star
Bokbacka opened in the autumn of 2015 with little chances of a star in the Michelin guide. First of all, the guide had probably finished their coverage of the city already. Furthermore, it's rare that the guide awards any recognition to a restaurant in the first year of opening. After all, consistency in quality over time is a key trait they are looking for. Indeed, Bokbacka was not even mentioned in the red book when they launched the Nordic Guide in February 2016. There's no guarantee that Bokbacka will be awarded a star next year either – as the inspectors may want to see another year in operation. However, my guess is: if any new Oslo restaurant is awarded a star next year it will be Bokbacka. They certainly deserve one, in my opinion.
As always, though, there's room for improvement. "The tree" has been the only initial snack since the beginning. In my opinion, they should scrap that idea for something else now. Although a signature, I don't think it's an outstanding dish. I like the palate cleanser: a fake oyster pearl, served in an oyster shell. The sphere pops in your mouth and releases its gin & tonic-flavored content. However, that remains unchanged since last year as well. The same goes for the petit four: a tasty, yet quite ordinary chocolate-coated marshmallow treat. Bokbacka also has a way to go still with the front of house. Many of them come about as a bit anonymous compared to Jones. Train more storytellers like him! He even had interesting histories related to the coffee from La Cabra in Aarhus and the Finnish brandy Jaloviina. If you visit Bokbacka, you might find out what they were. Leave me a comment if you do.