Bon Lío is a f*cking great gastro bar (their words not mine) situated in a small, red, wooden house in the quiet area of Fredensborg in Oslo. Squeezed in-between a yellow building on the left side, and a blue one on the right, which houses another restaurant – the French bistro Chez Colin. ¡Un Gastrobar de Puta Madre! is written on the wall, and by now you shouldn't need a translator for that. Considering that Bon Lío is literally right around the corner from my favorite restaurant, Pjoltergeist, you would think that I had been here before? Well, I've tried. The Spanish eatery has been on my radar since the day they opened in December 2013. Twice before, I've booked, but had to cancel for various reasons. At least four or five times I've walked past and attempted a late night drop-in. Every time, they were either fully booked or the kitchen was closed. Clearly, this place is popular! Unintentionally, I gave up at some point. I might also have been scared off by a rather disappointing last meal at their now-closed sister restaurant Otro Lío. Eventually, though, my friends from Singapore, Ronny, and Michelle, came to visit and in their luggage, lo and behold, a Bon Lío booking!
Bringing Barcelona Closer to Oslo
Owner and head chef, Cato Pedersen Wara, has lived in Spain for many years. He got his inspiration for the concept at Bon Lío from eating at Spanish tapas and pintxos-restaurants in San Sebastian, Barcelona, and Madrid. A 12-course menu (full pupp!) priced at NOK 795 is mandatory if you book a table. Drinks can be ordered by the glass, or you can opt-in for a trust the sommelier package. We chose the latter – I think? The whole ordering process was sort of vague, and we never discussed any prices, but we ended up paying roughly NOK 850 per person. That included 4-5 glasses of wine (the boys drank more) and two cocktails each. Having finally eaten here, I now wish more than ever that it could be easier to pop by and sit in the bar for a snack. In theory, it is, but with the kitchen closing early (10 PM) the window of opportunity is small. Damn it, I'm so spoiled with Pjoltergeist serving food until 12.30 AM.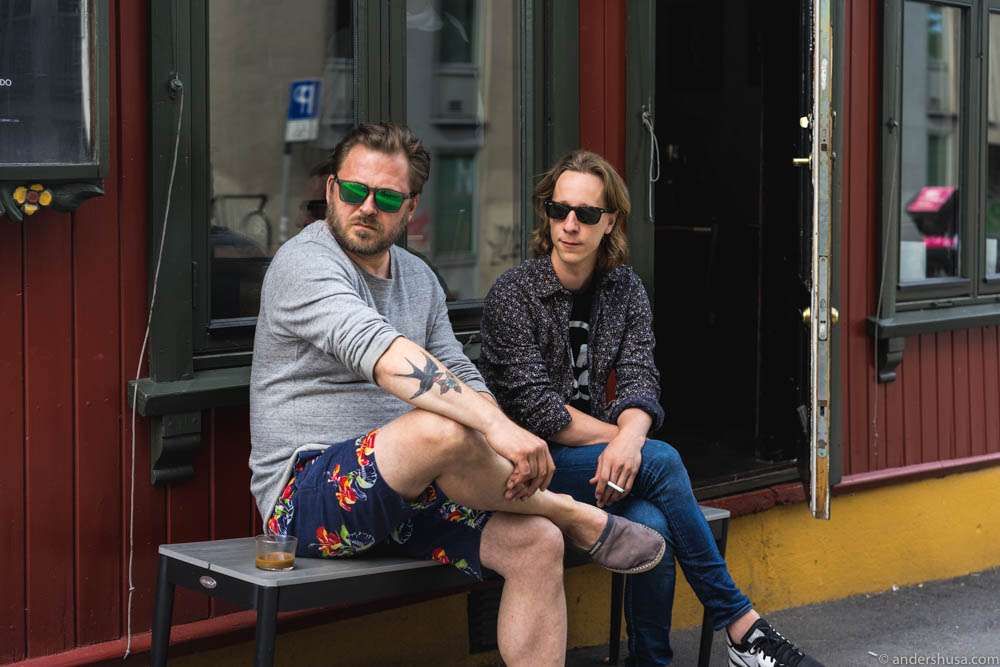 Small Nibbles & Cocktails in Tea Cups
We took our seats upstairs. First serving was a tea cocktail poured into a beautifully designed, vintage, Chinese porcelain cup. Refreshing and cool! Four more starters arrived in a quick succession. A cold gazpacho soup with a crispy piece of ham laying on top and a bonito tataki were the best – although not spectacular in any way. Neither the cold octopus with humus nor the monkfish tempura left any lasting impressions, unfortunately. I guess my expectations were really high after this long wait! Our exceptionally happy and friendly waiter arrived to refill the tea cocktail, but we had already helped ourselves with the second serving! That's a testament to how good it was, I guess.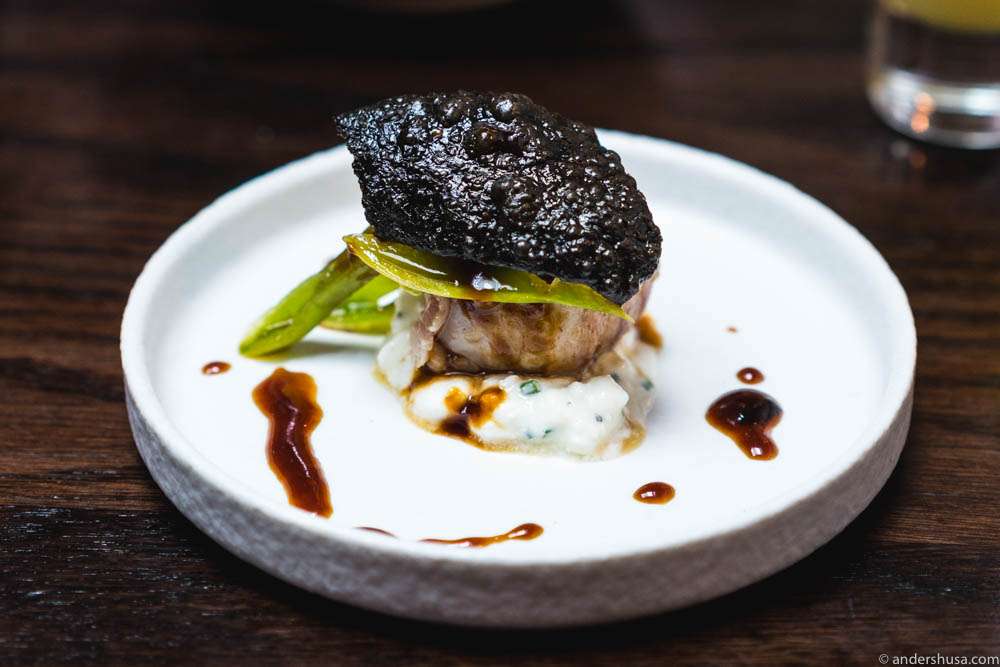 Seasonal Nordic Produce
Halibut ceviche served with thinly sliced red beets was followed by a dish of green and white asparagus. Both suggesting that the chef works closely with seasonal Nordic produce. Razor clams tiradito was the first dish that truly made me pay attention. The delicate clam meat paired well with a spicy and acidic sauce. Underneath, on another plate, was a hot smoked mackerel with pil-pil mayo and chips of parsley root – delicious!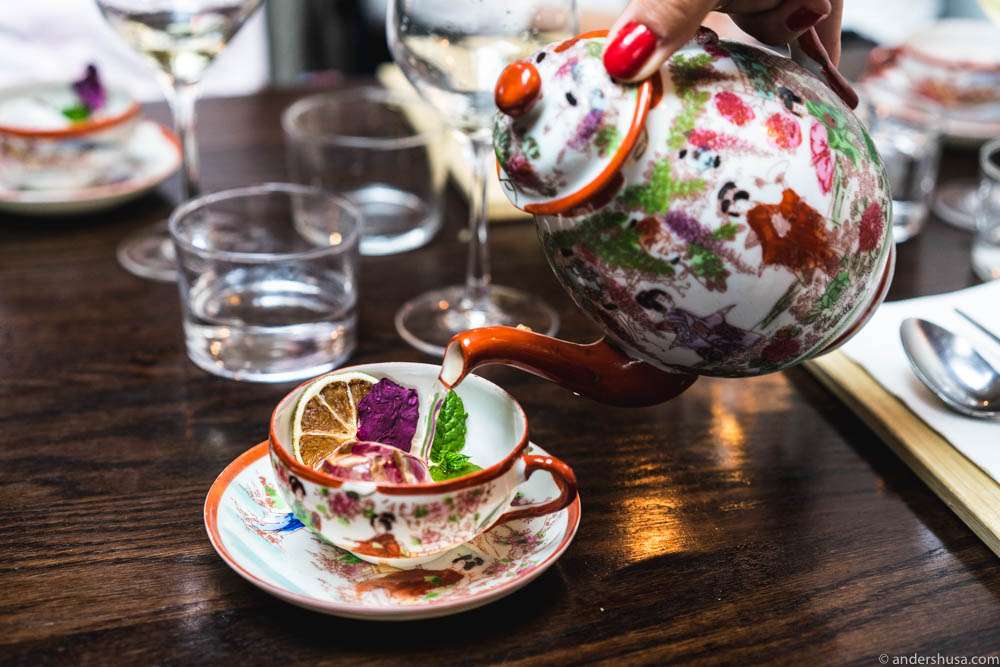 Bring on the Uppercuts!
Whether intentional or not, the meal at Bon Lío kept escalating from a few forgettable initial snacks to much more tasty starters, and finally some proper uppercuts of main platters. Norwegian langoustine with a garlic sauce was good, squid and deep-fried baby octopus sprinkled with Ibérico ham even better (and I loved the presentation). Monkfish came in a warming and acidic Escabeche sauce. The quail was tasty too, but both the presentation and flavor faded a bit in comparison to the next one. Skate with a purée of carrots sprinkled with cashew nuts and, I'm sure, a hearty amount of browned butter. My favorite dish for sure. I was almost too full at this point to properly enjoy the final savory serving of Secreto Ibérico with cava vinaigrette & celeriac chips. Luckily – only almost. Summarized: the food at Bon Lío is mostly well-balanced in both flavors and textures but shine brightest when it's served hot and kicking.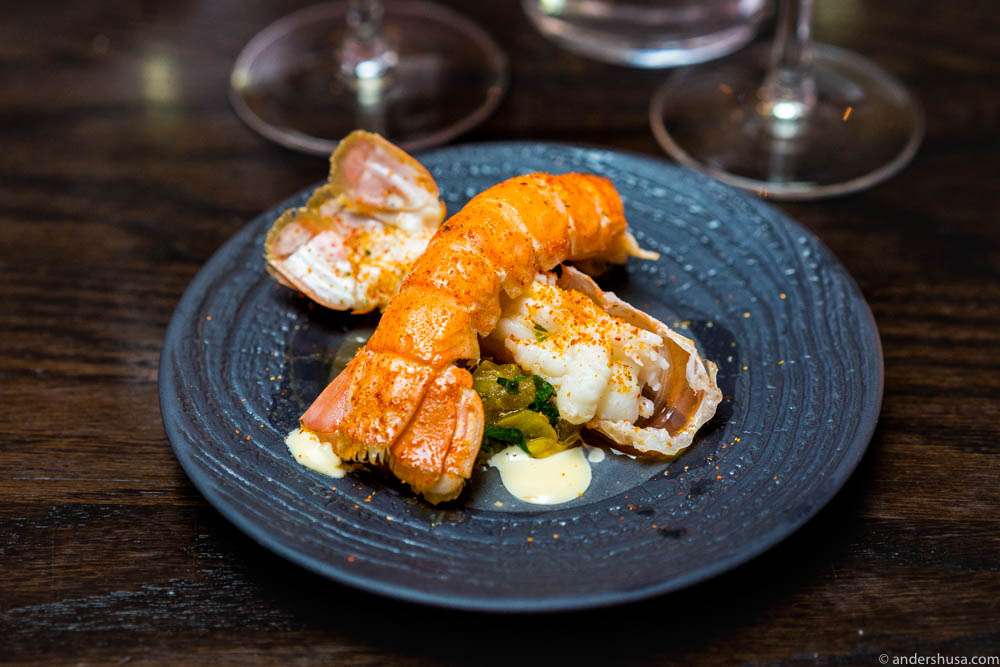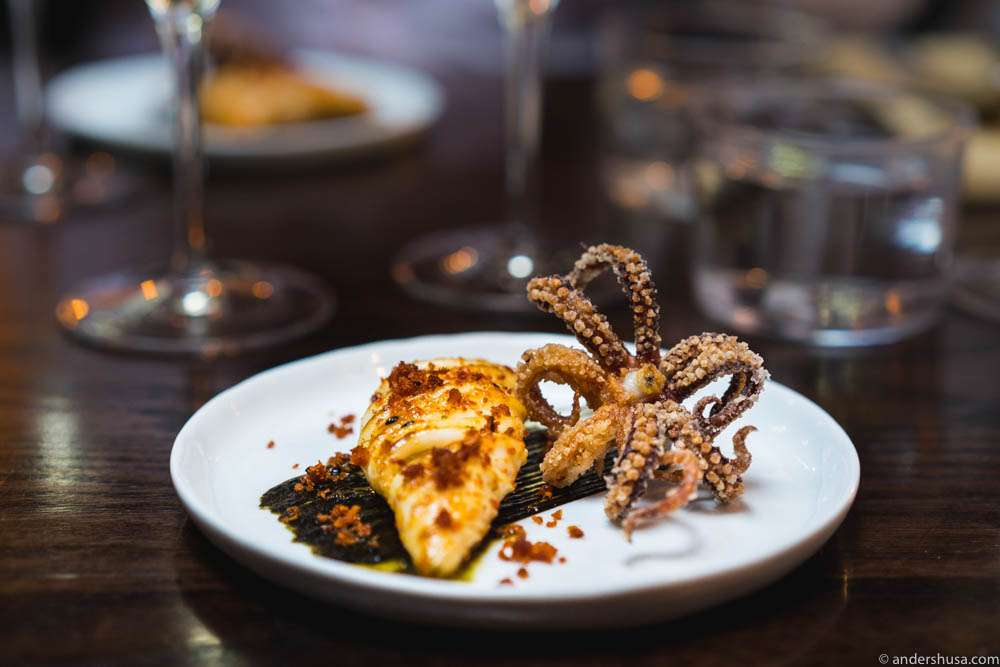 Pop Goes the Cava!
The evening's drink selection was a series of hits and misses for me personally. I'm sure it all matched the food well, it just didn't pair so well with my palate always (and I'm sure I could have done a better job at communicating just that). Thus, when we heard popping sounds from our neighboring table, we intervened promptly and ordered a bottle of Cava! The final drink, however, was a match made in heaven with the caramel desserts, and highly appreciated by everyone around the table. Plus, who doesn't like some espuma action tableside? I still haven't given up on scoring one of the 10 seats in the bar of Bon Lío for a more quiet night with fewer servings. So, watch out – I'll be back.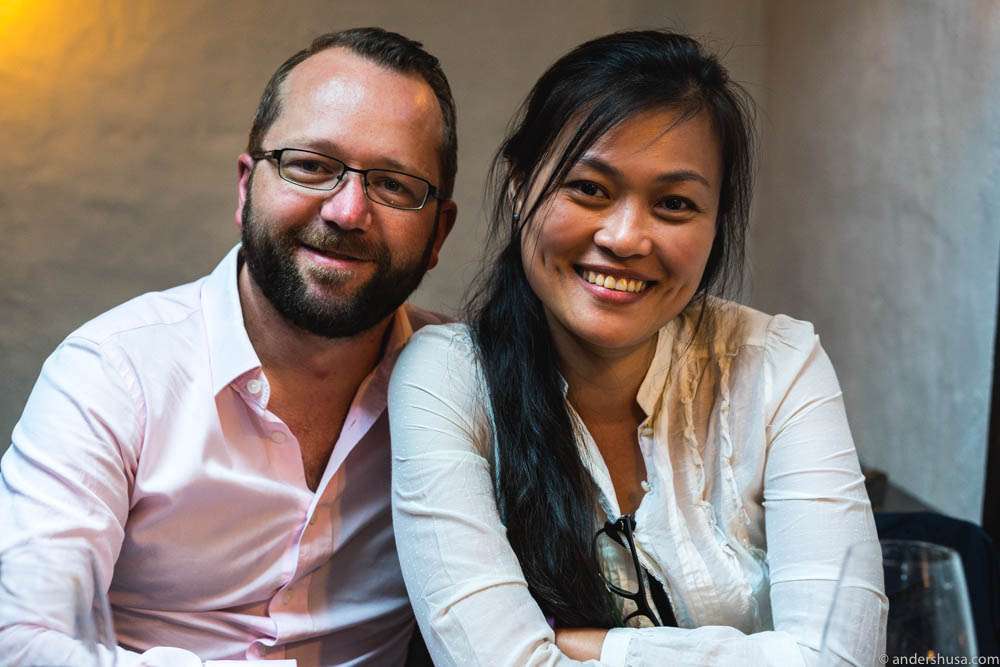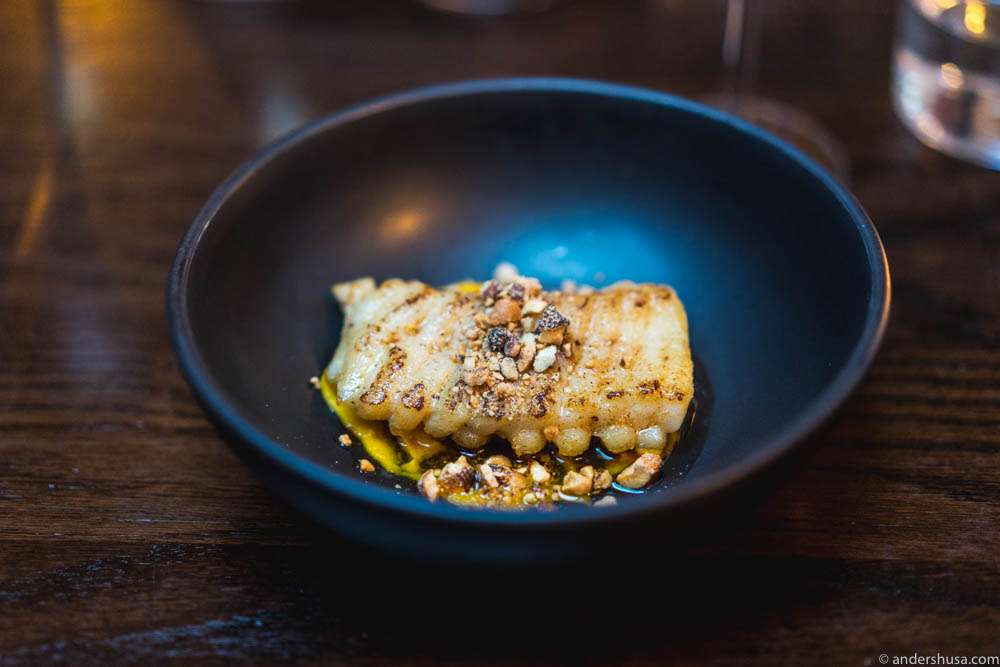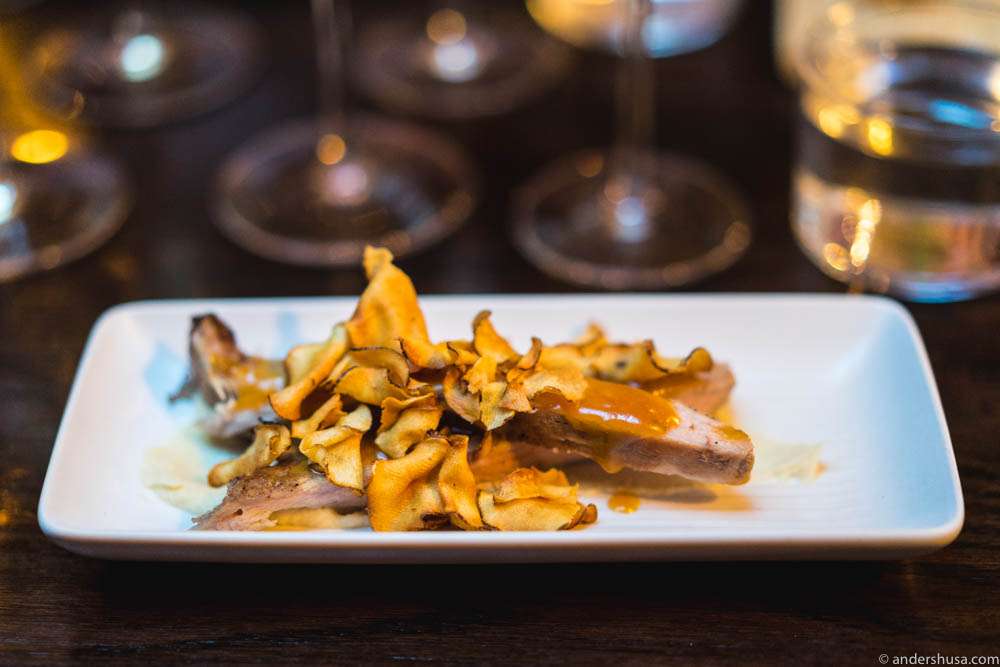 What's the f*cking greatest gastro bar you know? Drop a line in the comments below.