Sponsored by Augusta Arnesen
Restaurant À L'aise in Oslo has revived an ancient French culinary tradition – the canard à la presse.
– We were so lucky to find this gem of a duck press in a culinary school of Norway where it had been abandoned for 20 years, explains head chef Ulrik Jepsen.
Canard à la presse is a traditional French dish made famous by restaurant La Tour d'Argent in Paris. Now, this classic serving, by many considered the height of elegance in a fine-dining restaurant, is available in little Oslo, Norway.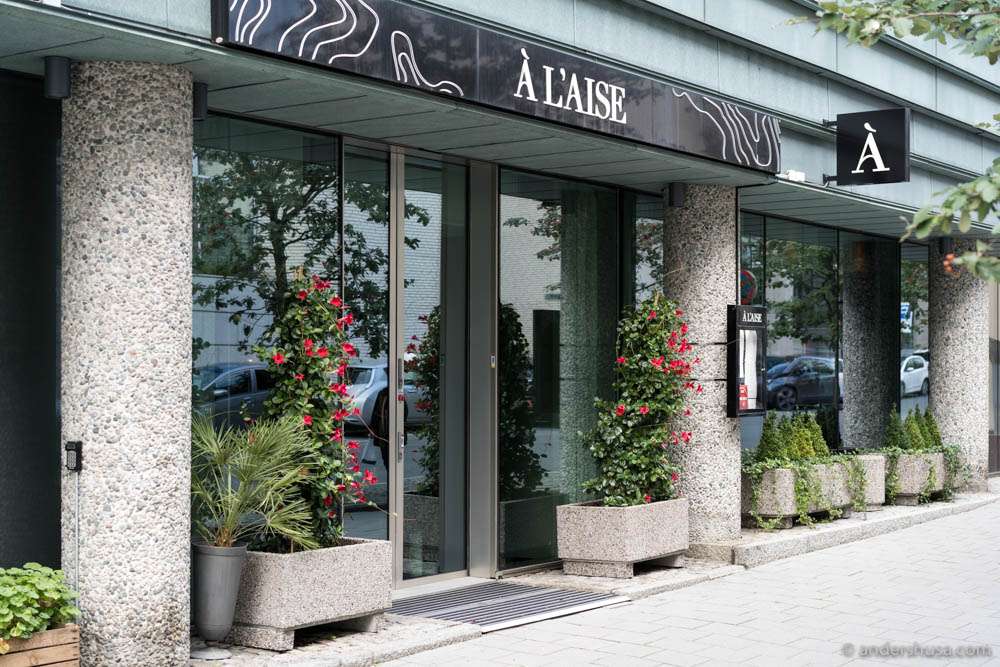 Bringing Luxury Back to Oslo Restaurants
Ulrik Jepsen established À L'aise in 2017 because he felt Oslo was missing a French fine dining restaurant. He, and his wife Mia Hvidberg, who has done most of the interior design of the place, wanted to create a space where you instantly felt welcome when you entered.
– It's about giving the guests a luxury feeling. A setting where they can still dress up for a special occasion, which eating out should be, and an atmosphere where they'll feel comfortable, says Jepsen.
That's why À L'aise has chosen to have round tables, carpets on the floor, and white tablecloths. Meanwhile, the current trend among Oslo restaurants is going in the complete opposite direction.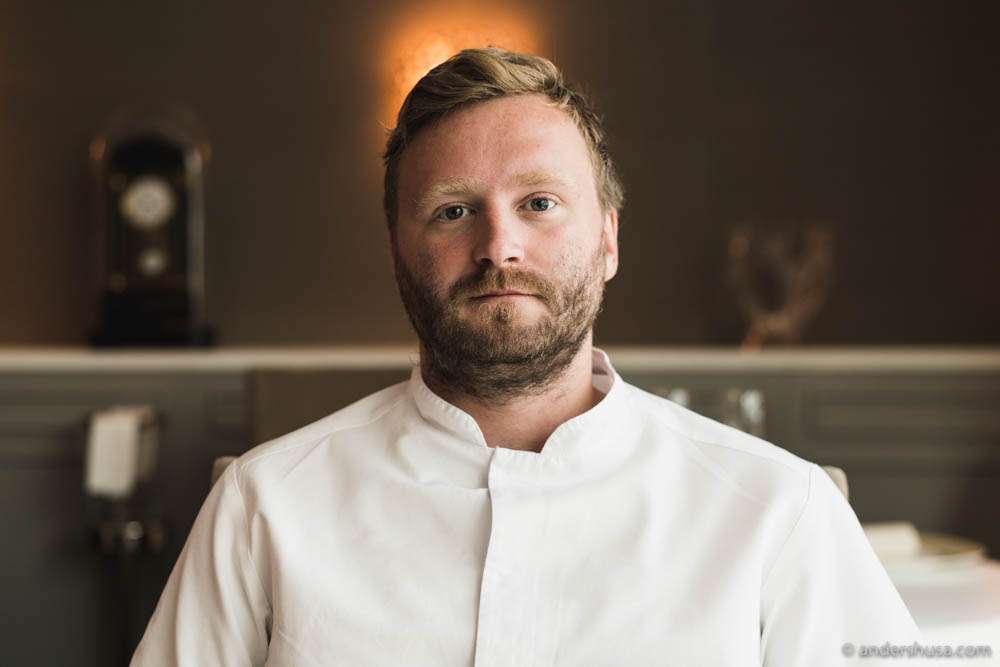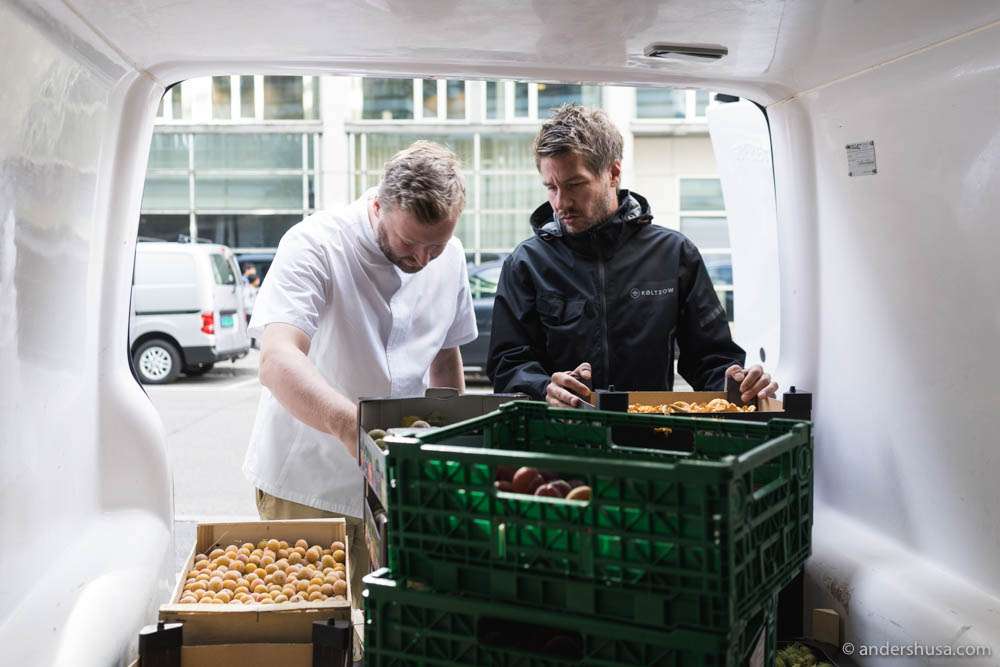 Fresh Delivery Every Week From Augusta Arnesen
Every Tuesday, restaurant À L'aise is visited by a delivery truck from Augusta Arnesen filled with fresh and carefully selected products. For chef Ulrik Jepsen it's almost like having a vegetable market outside his restaurant door.
– In our French restaurant, about 60% of what we are going for, are vegetables from the Rungis market in Paris and the Verona market in northeast Italy.
The Rungis market, located 7 kilometers outside of Paris, is the largest of its kind in the world. Supplying restaurants and wholesalers in Europe, Asia, and the US with everything from fish and shellfish, meat and dairy, to flowers, fruits, and vegetables. Products available are both local and continental and the selection is vast. As an example, one producer has specialized in citrus fruits. Lemons, limes, clementines, oranges, finger limes, and the rare Buddha's hand – they're all available here.
– Tonight, the langoustine is served with Rene Claude plums from the South of France. We basically don't do anything with them, because the produce right now is exceptional. We poach them for five seconds and serve them immediately to the guests.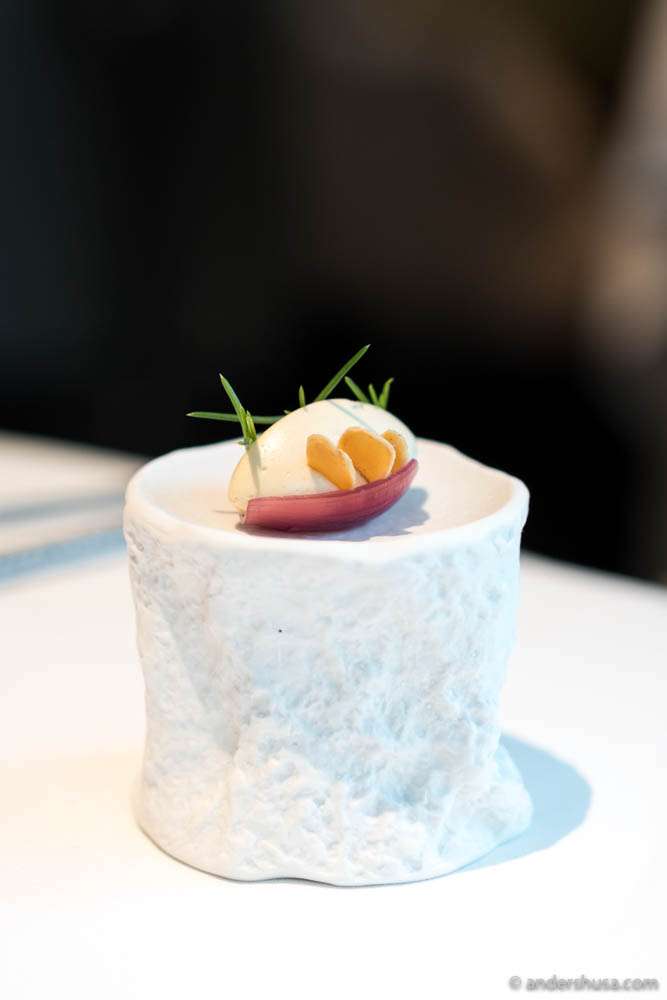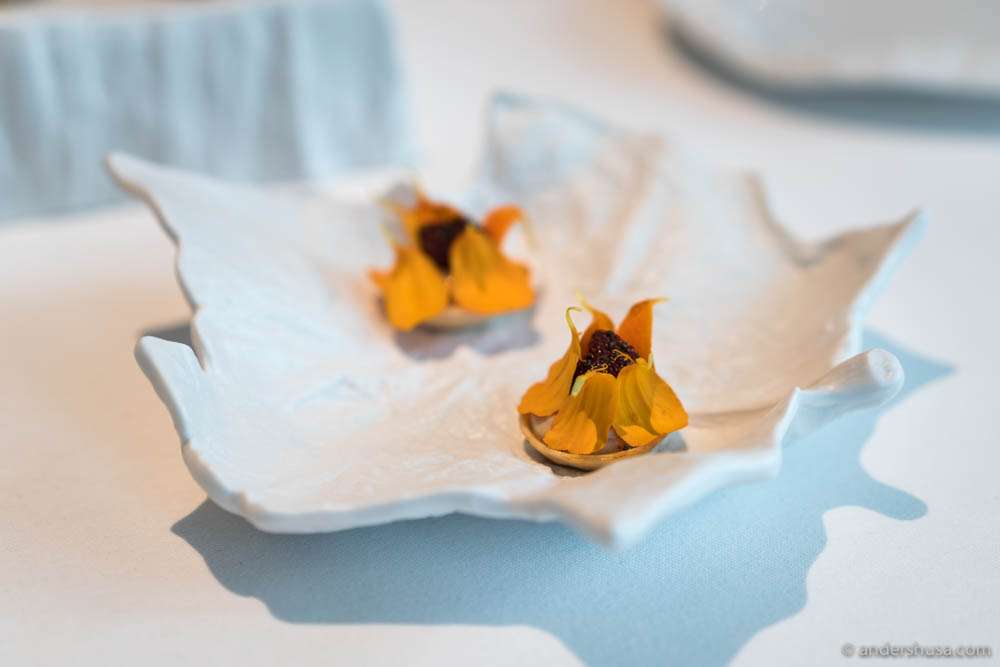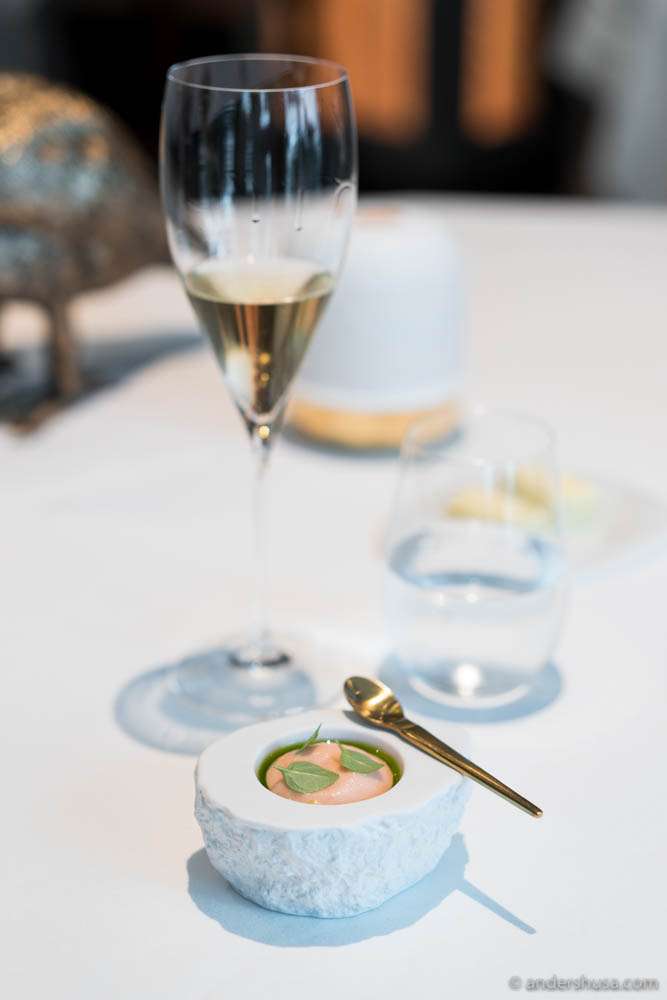 The Verona market is much smaller and based around local products from the region as well as southern Italy and Sicily. At À L'aise, Ulrik swears to the Merinda tomatoes from this market, due to the saltiness they get from the sandy earth where they grow near the ocean.
– What is fun for me – and I always take some of the chefs out to see as well – is that sometimes we get something new from a small farmer in Norway and we take it in. We don't always need to know what's on the menu each week. You can just take what's there, in season, right here and now and put it on. This is a beautiful way to work with produce, says Jepsen.
The concept of bringing the market to the doorstep of their customers, which Augusta Arnesen has dubbed Kålvogna (the cabbage wagon) was born in the autumn of 2014. The idea is to offer the freshest seasonal produce and unique products both from Norway and abroad, to the most highly-valued customers.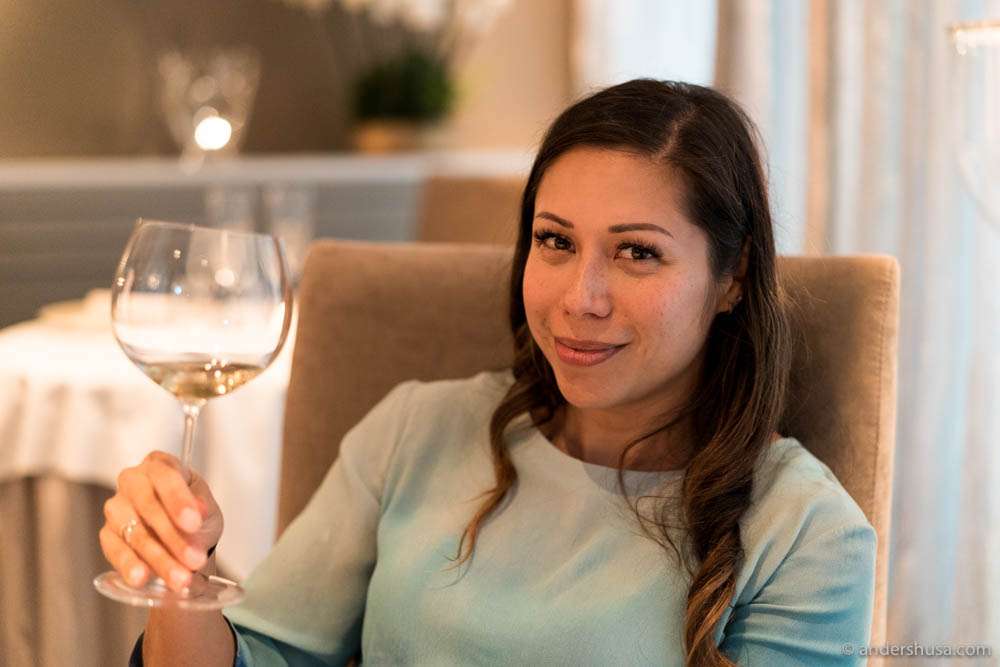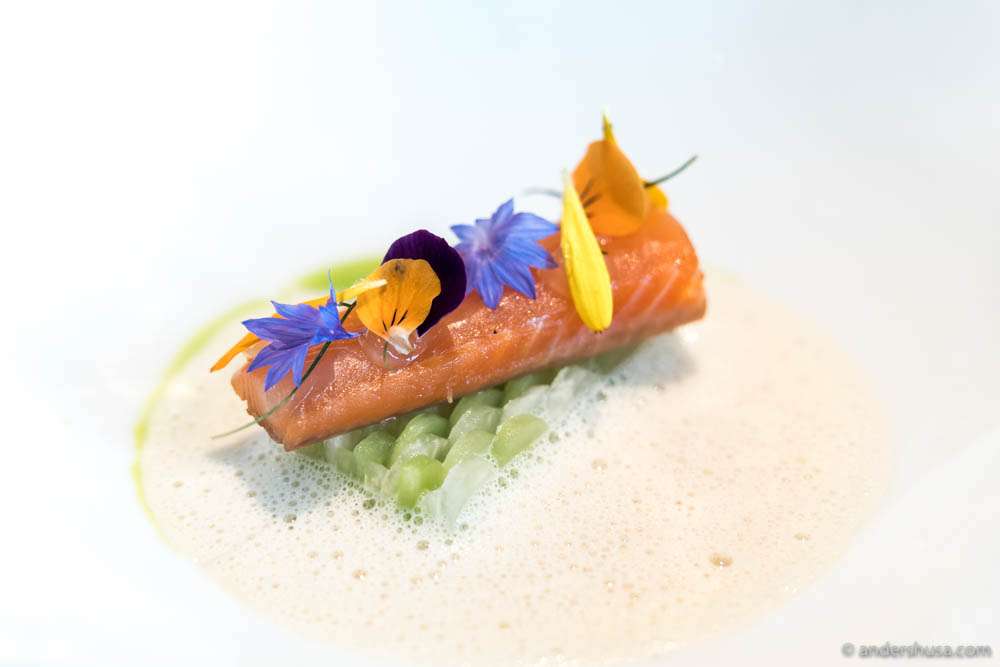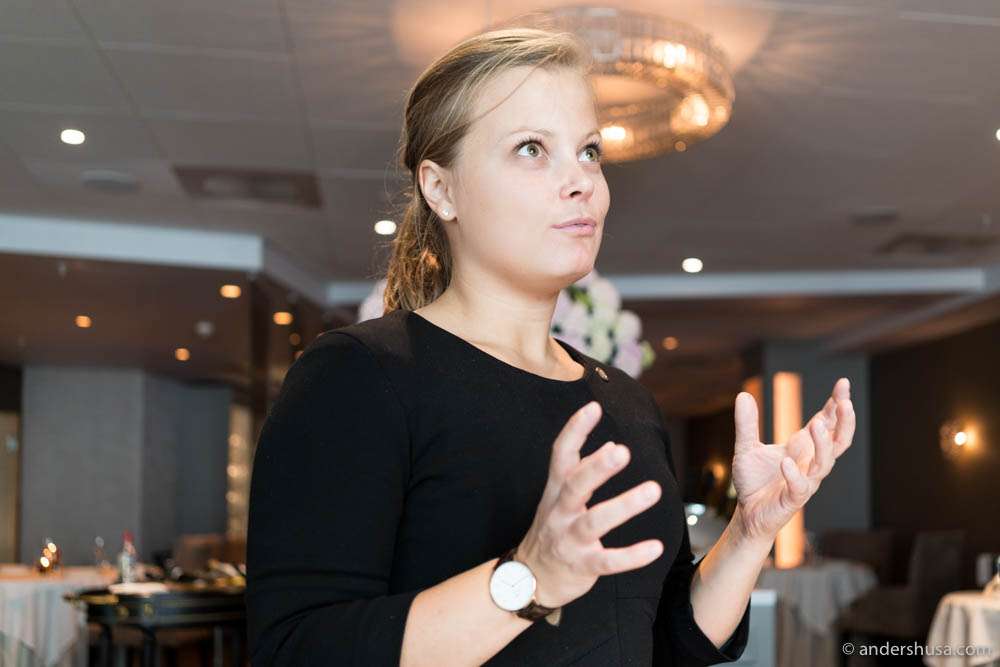 Champagne Trolley & Tableside Action
Comfort and the feeling of being taken care of is a recurring theme throughout the meal at À L'aise. It starts the moment you walk through the door and the hosts greet you welcome. They show you to your table, and immediately bring out the Champagne trolley.
– This tableside action creates an instant connection between the waiter and the guests, argues Jepsen.
Each dish is brought out to the table on a big tray. Sauces are usually plated tableside. The bread serving is re-filled an endless amount of times during the savory part of the meal. At the end of your dinner, the final trolley arrives carrying the petits fours.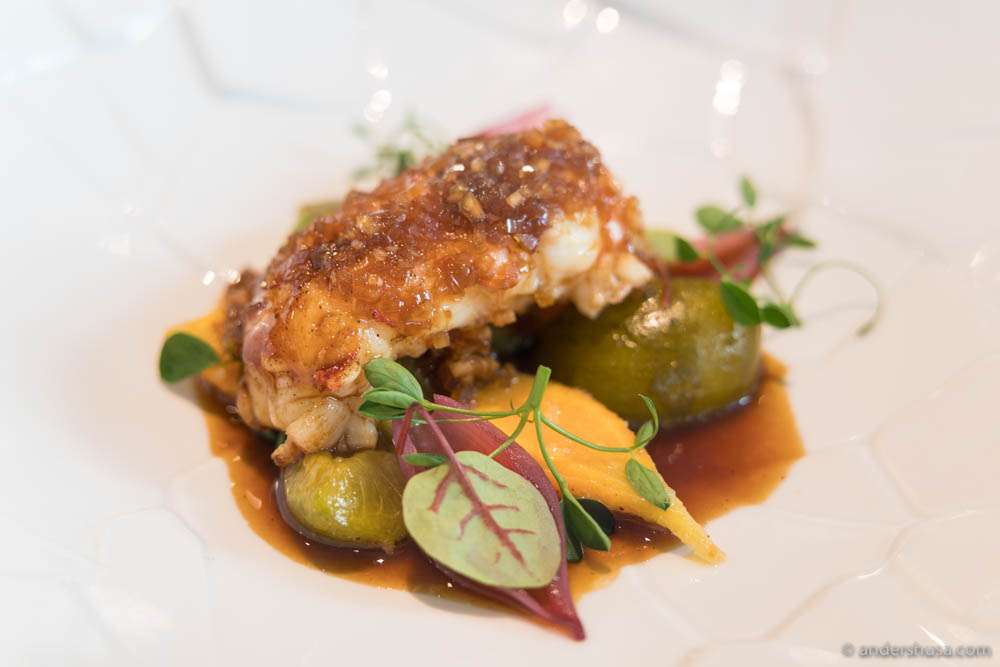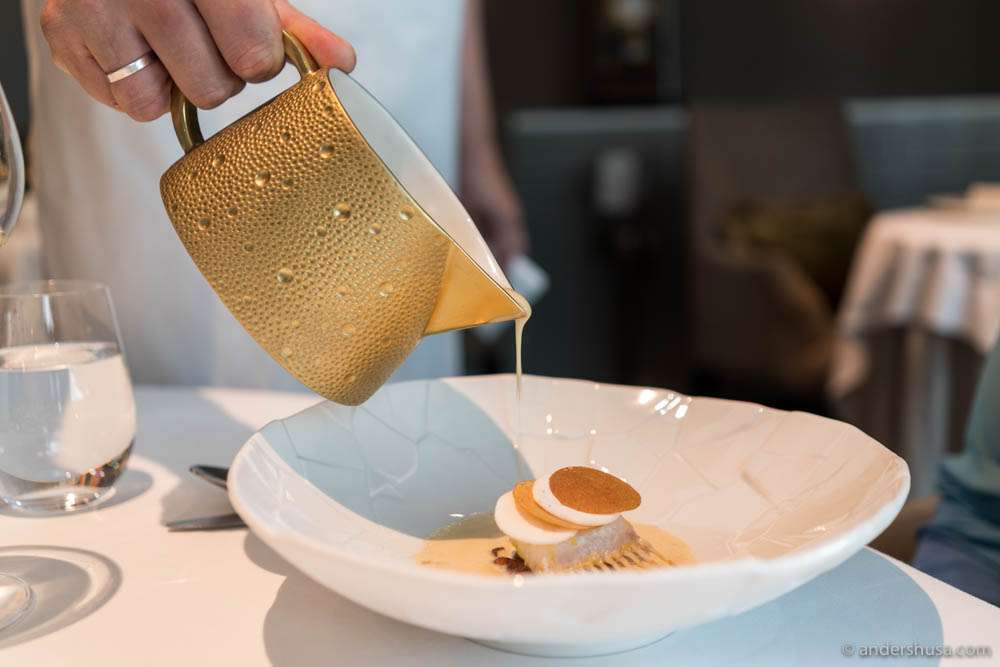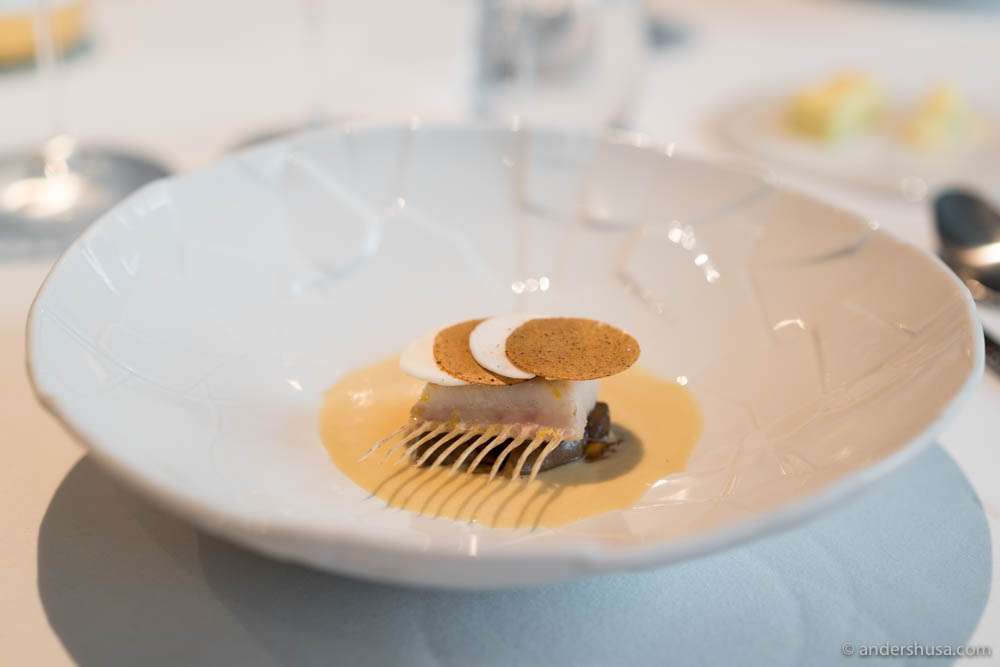 Canard à La Presse
The duck press at À L'aise is from Christofle, one of the most famous manufacturers of flatware in France, and made in pure silver. Before it found a new home in Ulrik Jepsen's restaurant it was simply collecting dust at the attic of Etterstad videregående skole.
– It was not being used for anything. To be honest, the students thought it was a juice presser, Ulrik laughs.
The process of making canard à la presse is a long and complicated one. That's why this dish has to be pre-ordered two days in advance and is not available on the tasting menu – only à la carte. First, you need a duck of the right size that has not been drained of blood. Said duck is then marinated in honey and rosemary, and roasted on the bone, but leaving the meat slightly rare. Tableside and in front of the guests, a chef carves the breast off the duck. This goes back to the kitchen for final preparations. The carcass is placed in inside the duck press and pressed to release all of its blood and juices.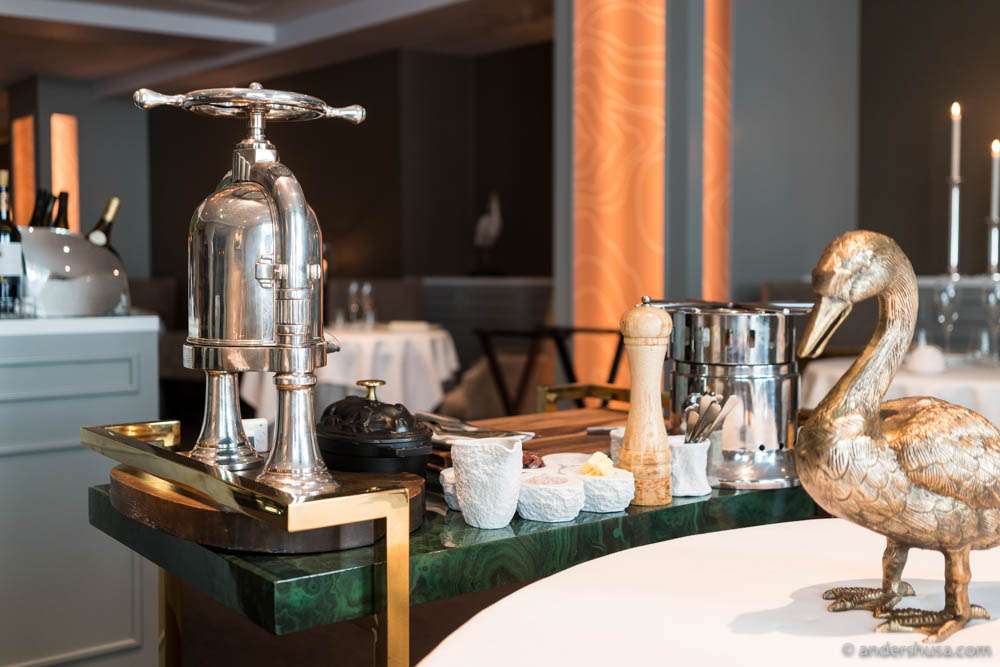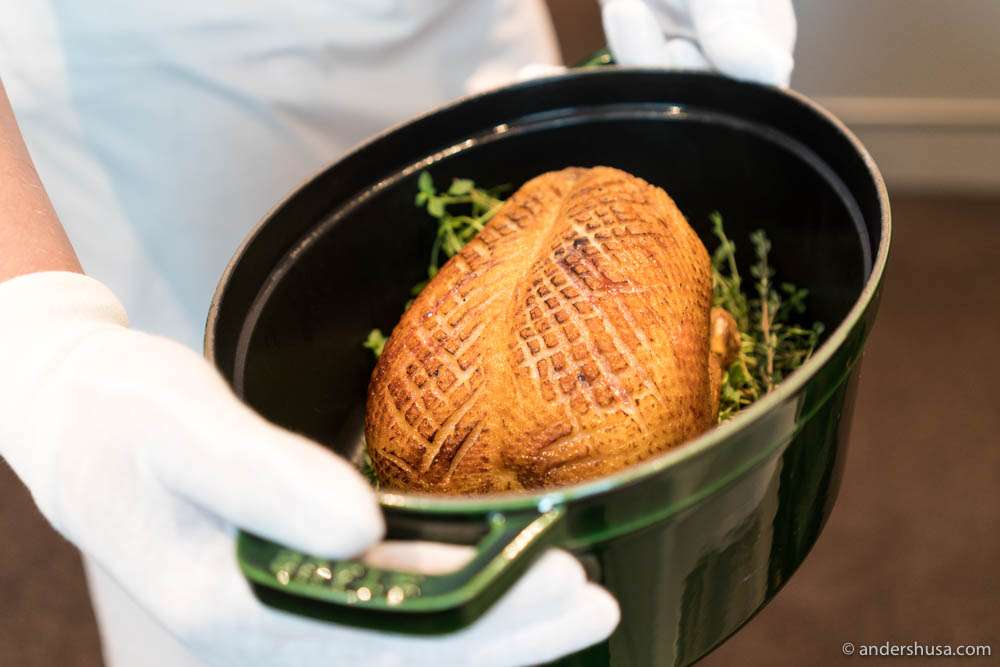 Following is the making of the sauce, which is the critical part of the performance where there is little room for failure. The blood acts as an emulsifier to thicken the sauce, but unlike a Béarnaise sauce (which uses egg yolks), the duck sauce cannot be saved if the temperature gets too high.
The chef this evening started by melting butter in a pan, quickly adding chopped shallot onions and some tonka beans for flavoring, and a dash of cognac. He then poured the duck demi-glace into the mix, brought the temperature up again, and, finally, stirred in the duck blood, which coagulates to create the desired consistency. Tasted to perfection with salt and finished off with some lightly-smoked duck hearts.
Complete, the dish came with pied bleu mushrooms and black figs from France, as well as sliced pieces of duck gizzard. Delicious!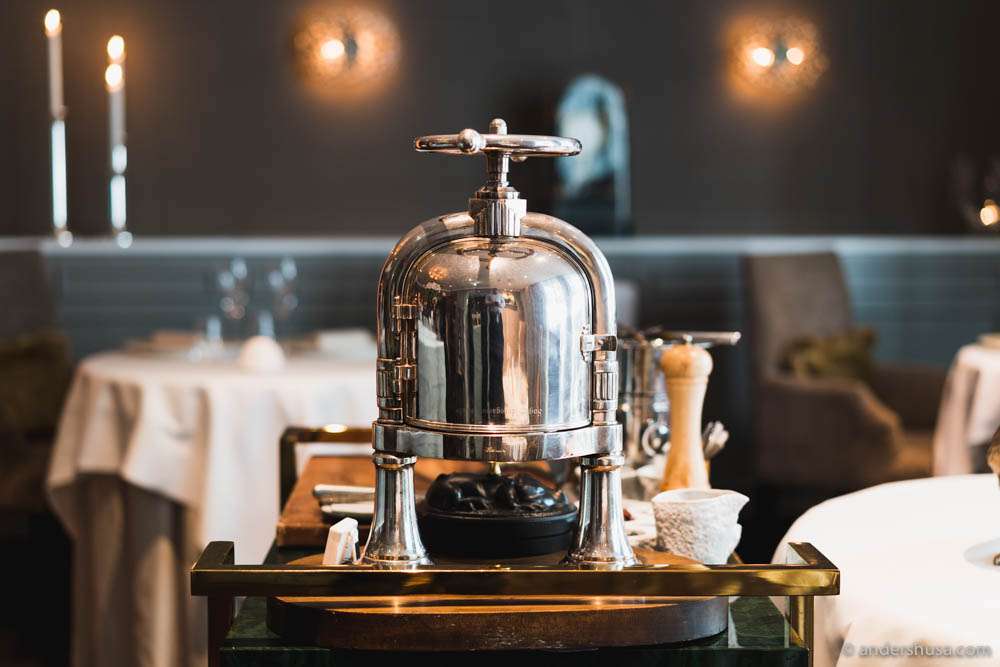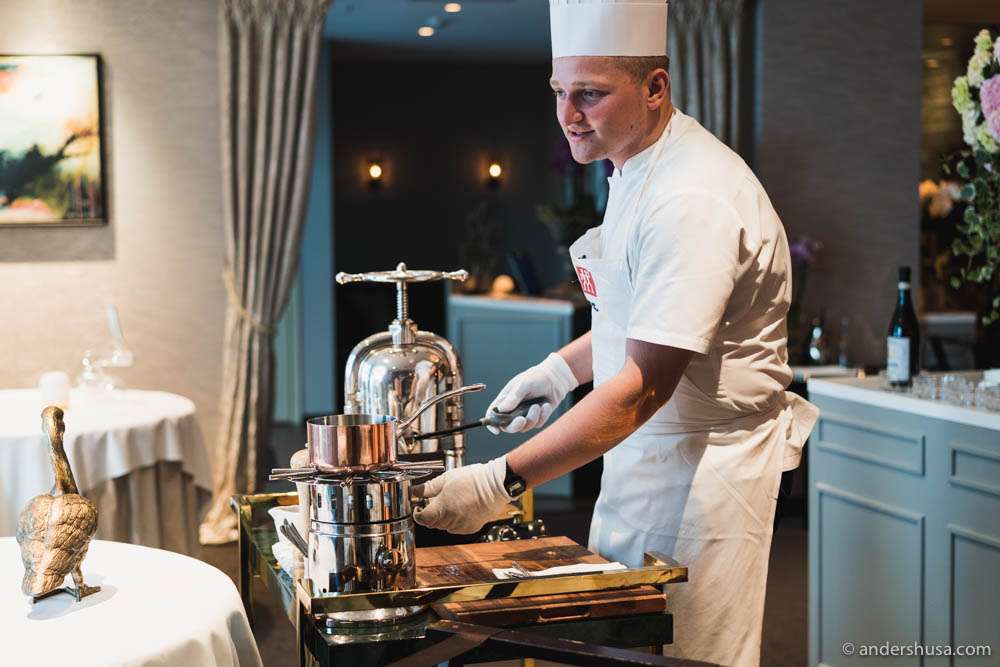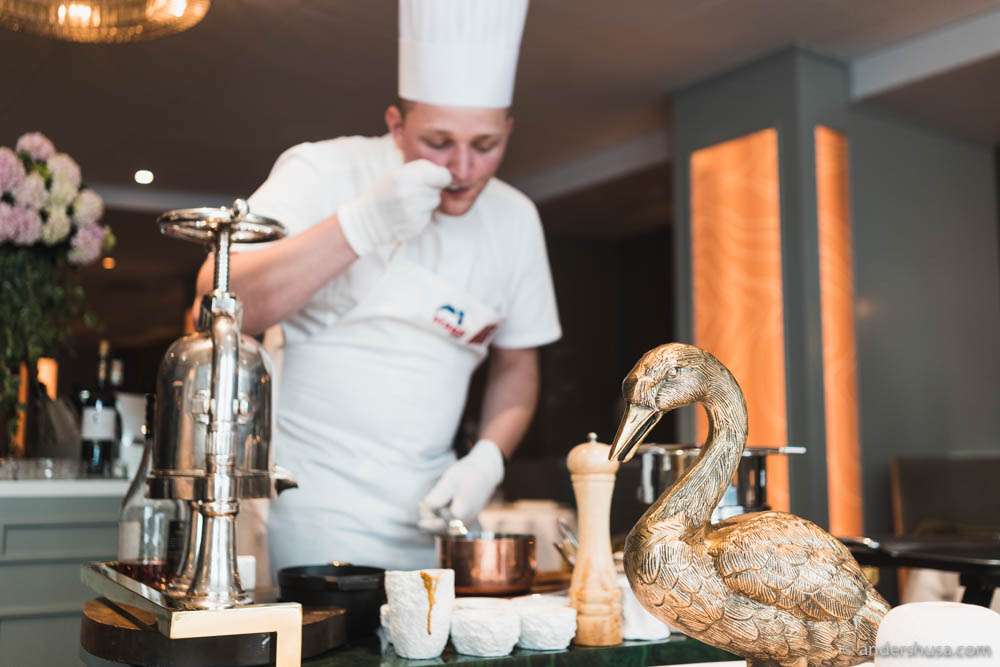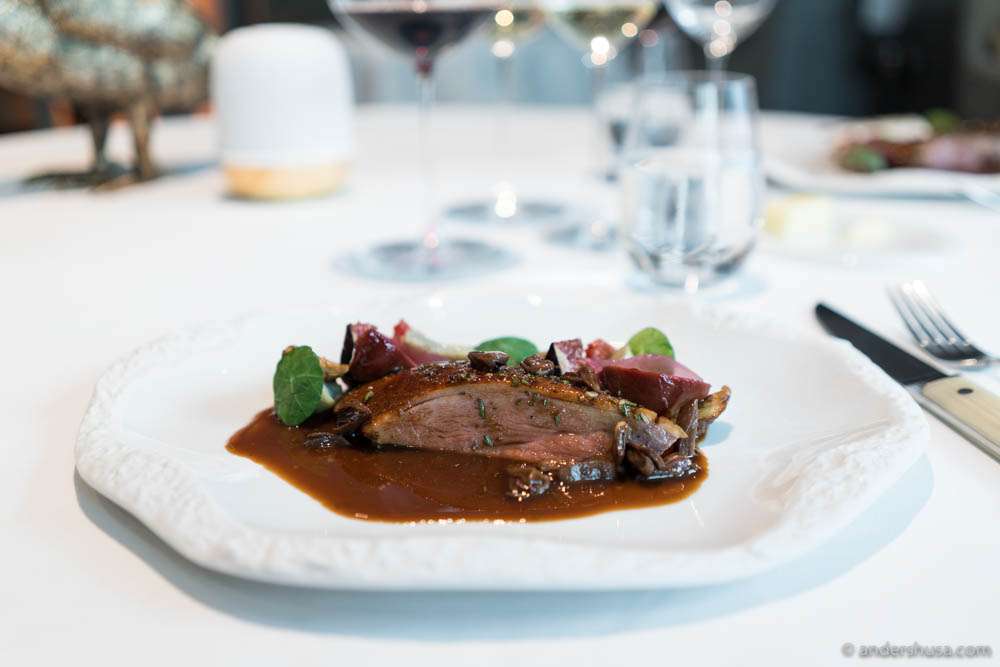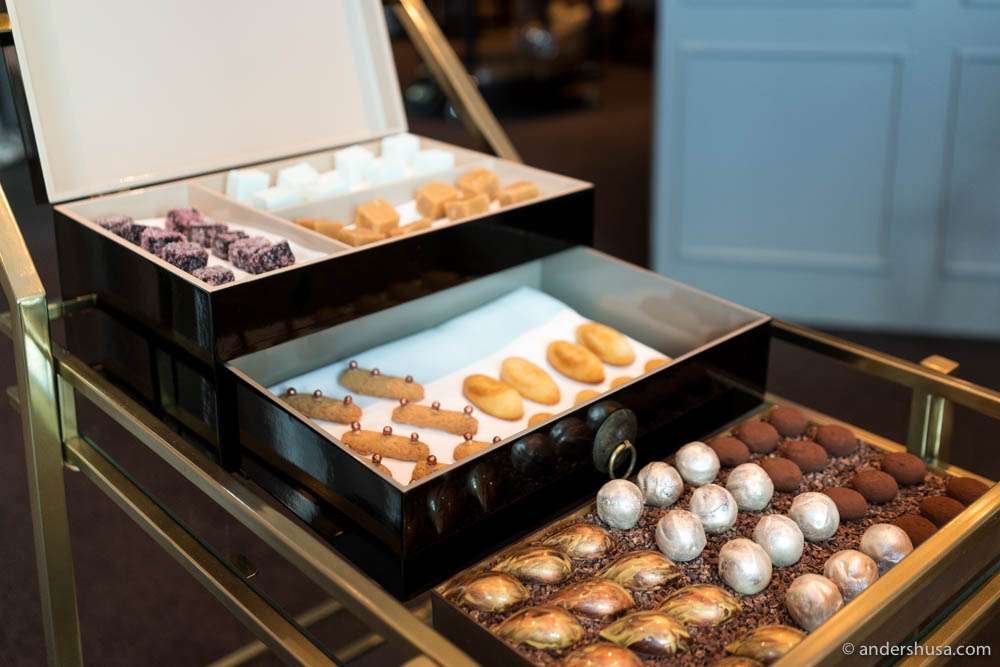 Have you ever tried canard à la presse? Please let me know in a comment below.
Follow Us on Social Media

YouTube
Anders Husa & Kaitlin Orr

Instagram
@andershusa
@carnivorr

Facebook
Foodie Stories by Anders Husa
Carnivorr
Disclaimer
This post is sponsored by Augusta Arnesen.
Follow Us on Social Media

YouTube
Anders Husa & Kaitlin Orr

Instagram
@andershusa
@carnivorr

Facebook
Anders Husa & Kaitlin Orr

Join Our Food Community
The Hungries
Become a Patron!