Sponsored invitation
Brutus is a new natural wine bar and New Nordic style bistro in the neighborhood of Tøyen in Oslo. The place gives me Copenhagen vibes – I can barely wait till summer comes and we can sit on the benches outside and drink fermented grape juice in the sun. Wine importer and sommelier John Sonnichsen from Vin John is the restaurant manager, and his business partner Jens Føien is the general manager. They've joined forces with the restaurant group Lava and teamed up with a bunch of other talented young guys, like our host and waiter this evening, Mathias Lyngholm Dardeau, and the head chef Arnar Jakob Gudmundsson.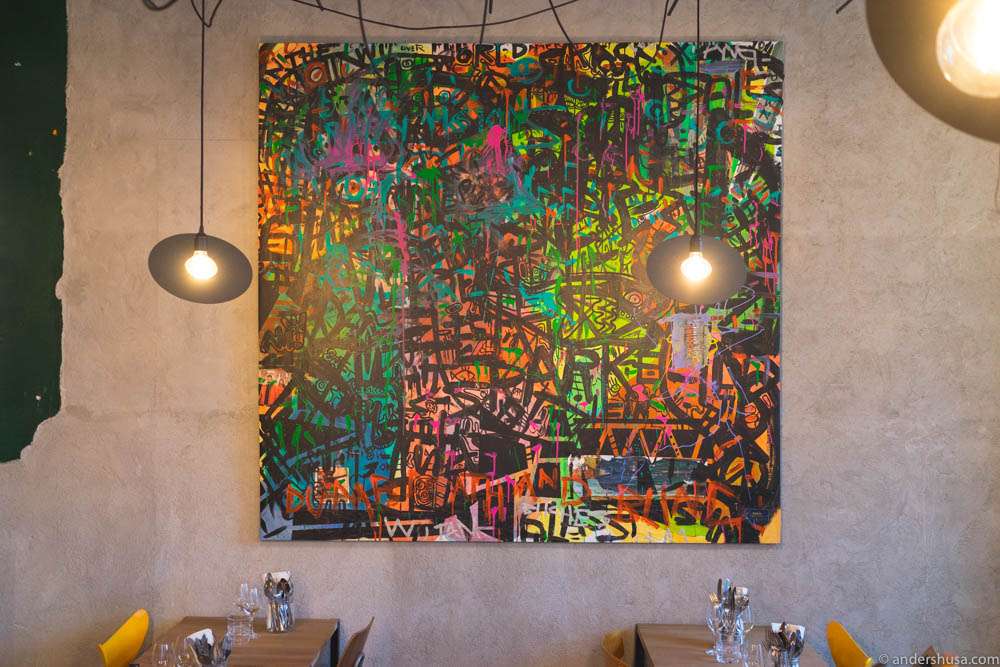 There's elements of Brutus that remind me of places like Pjoltergeist in Oslo, as well as Ved Stranden 10, Admiralgade 26, Manfreds, and restaurant 108 in Copenhagen. I'm guessing, the inspiration may as well be from London bars Noble Rot and Terroirs or the Parisian wine bars Septime, Clamato and Clown Bar, which I know are personal favorites of some of the people involved. In any case, I'm sure Brutus will soon become a reference point of its own from Oslo.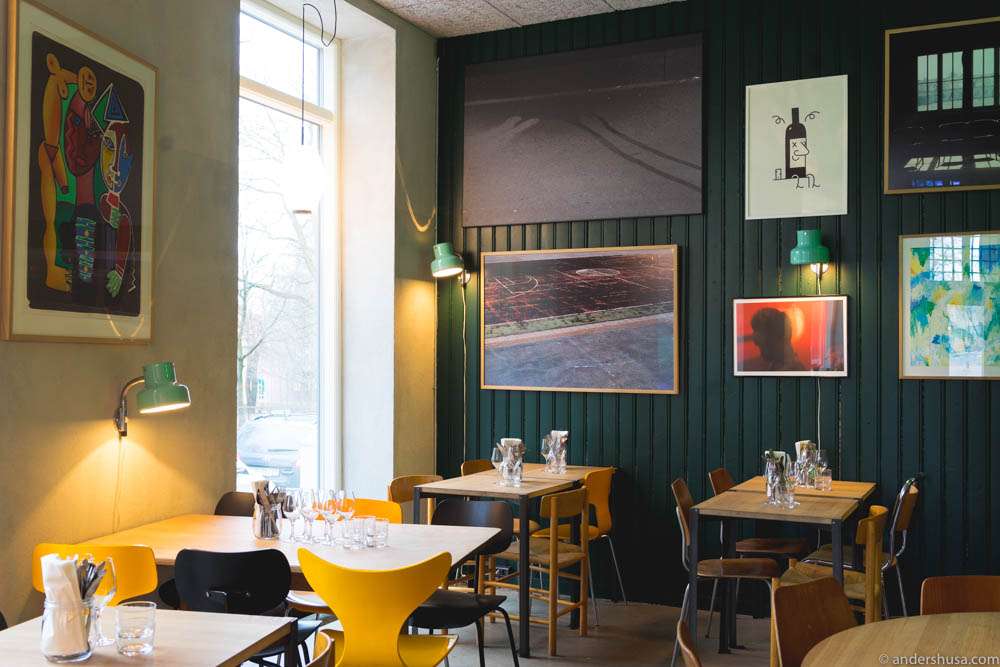 Et Tu, Brute?
I'm not sure what exactly one of Julius Caesar's assassins have in common with a wine bar at Tøyen. A challenger to the establishment, perhaps? Just like Tøyen is referred to as the new it-area in Oslo, Brutus has been named the most hipster restaurant to strike Oslo since the arrival of Pjoltergeist or Smalhans. That's not the worst comparison, in my opinion, as they happen to be two of my top recommendations in Oslo.
This rebellious revolution isn't all that dramatic, though, when you consider that Brutus has adopted mostly the same mindset as all the other Lava restaurants have had for years – where natural wines and rustic, organic food are the common denominators. The term natural wine can be loosely defined as grapes that have been grown organically and/or biodynamically and then left to spontaneously ferment and develop on their own without anything added to the process like yeast, sugar, coloring, stabilizers or other additives (except sometimes small amounts of sulfites).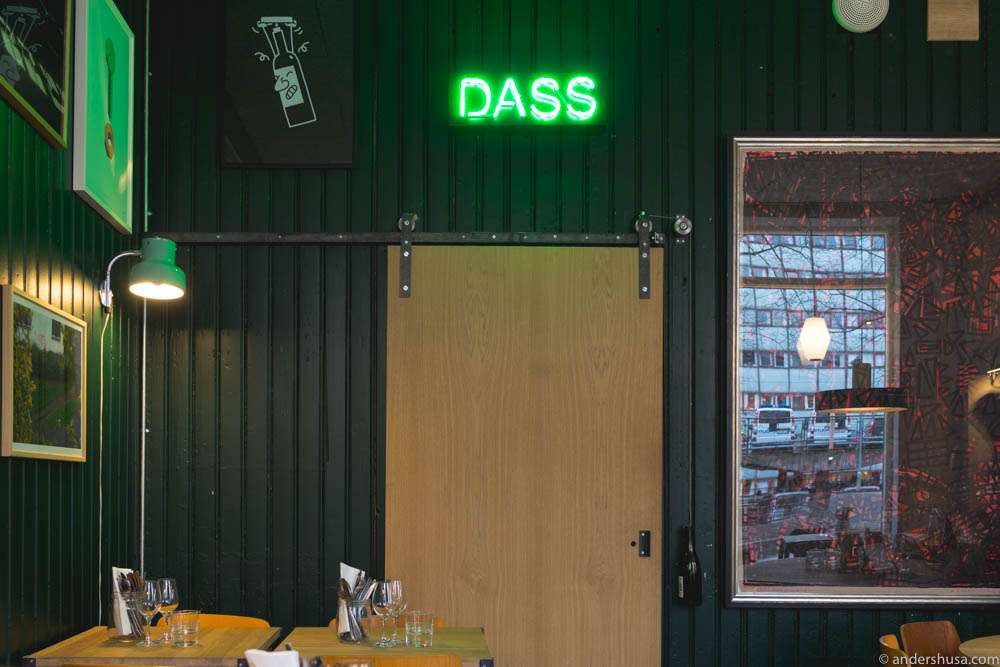 Pioneers of Natural Wine
Vin John was a pioneer of natural wine import to Norway, and I would argue the most hardcore and rowdy of them all when it comes to introducing Norwegians to the ultimate of funky, unfiltered, and unpredictable grape juices. Obviously, Brutus has a lot of wines from Vin John, but they're not limiting themselves to their own selection. You'll also find bottles in their cellar from Non Dos, Vinum, and Autentico & Unico Real Wines to name a few others. We started with a glass of Solhøi – a cider produced right here in Oslo from 100% apples and nothing else, by a Danish artist living in Norway.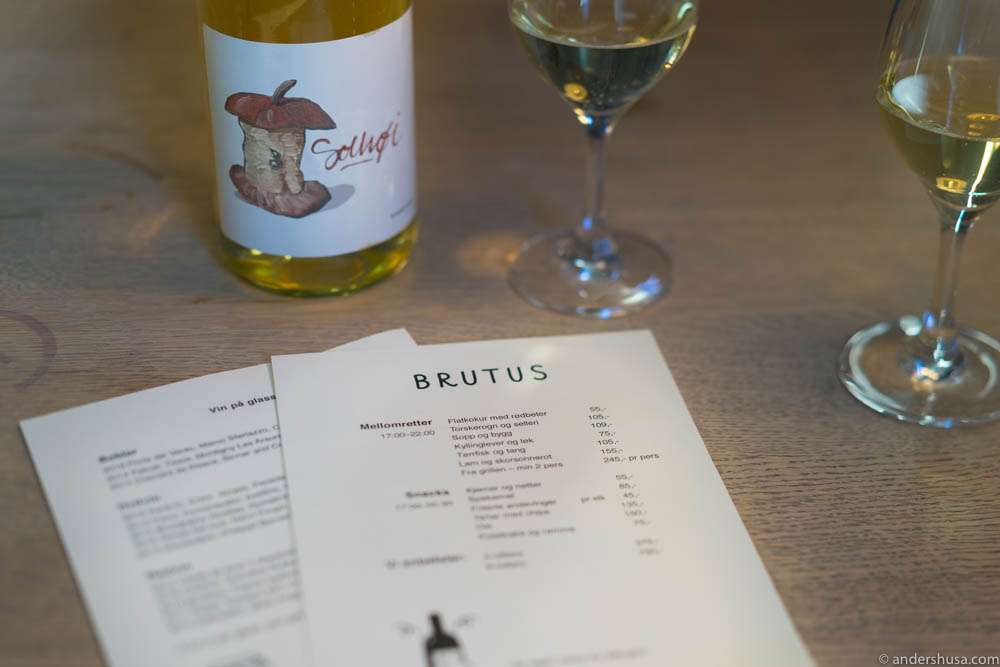 Nice Price Neighborhood Bistro
The menu at Brutus consists of a selection of medium sized dishes, priced between NOK 55 and NOK 109, plus a sharing dish priced at NOK 245 per person. All of these are served between 5 PM and 10 PM. In addition, simpler snacks priced at NOK 55 – 150, are served all night from 5 PM until half past midnight. However, this evening we ordered the full 8-course tasting menu (NOK 750). There's also a smaller 4-course menu (NOK 375). This kind of reasonable pricing is a new and welcoming trend in Oslo that caters to people who enjoy going out often for good wine and food, but without emptying their wallet every time. I also love that the kitchen is open past midnight, which only Pjoltergeist and the food bar at Arakataka does to my knowledge (ok, you have Café Sara and a bunch of kebab shops, but I'm talking about decent restaurants).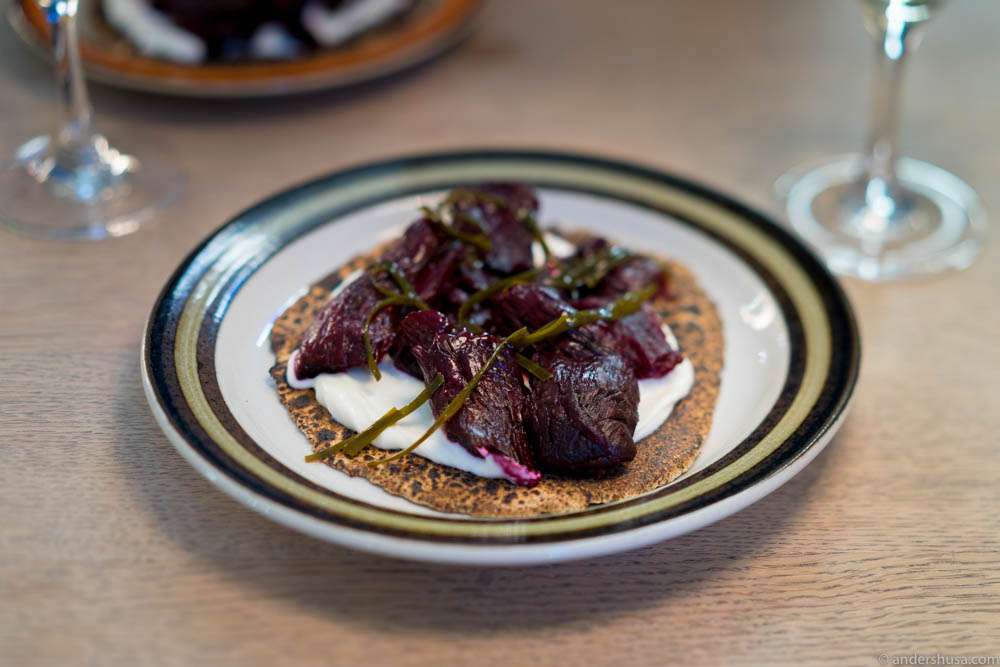 Beets and Beats at Brutus
While funky beats were flowing from the speakers, the first course arrived: red beets in a so-called "flatkökur," served with seaweed and Nýr. NOK 55 for this solid portion is a real steal. The grilled Icelandic flatbread, made of fermented rye, had a subtle bonfire aroma. Slow cooked beets done right can get a texture and taste that resembles meat, and the Brutus beets served as great examples of this archetypical New Nordic food item. The oblong red beets from Alm Østre Gård even appeared to have a muscle fiber-like pattern. Their concentrated sweetness was balanced by the acidic fresh cheese from Grøndalen Gård and salty seaweed. Our umami cravings were satisfied by the dehydrated beets, as well as the seaweed and the smokey bread.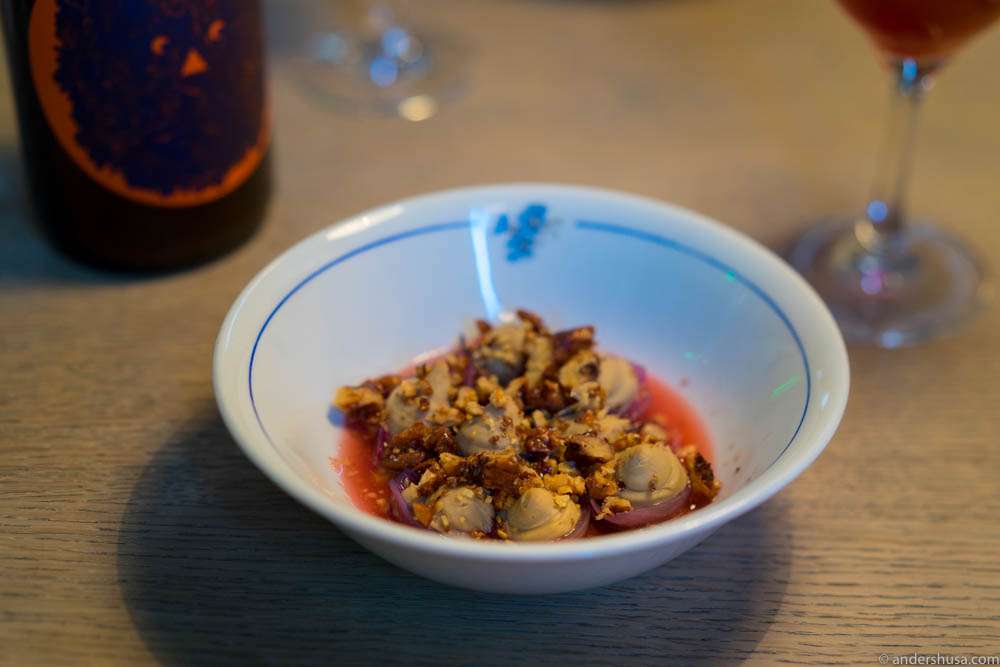 Matching a Favorite With a Favorite
I might be an easy client to please for Brutus, as I've learned to love both the rustic New Nordic cooking and the spontaneously fermented wines. The second dish of chicken liver, onion, caramelized walnuts and fermented rhubarb juice was probably my favorite of the night (a tough choice against the beets, though), and was even matched with a wine I love – Bonkers by Patrick Sulivan.
The wine has a translucent red color and taste almost like pressed raspberries. In other words, it's guaranteed to be disliked by anyone who prefers strictly conventional wines and who are reluctant to widen their horizons in terms of a what a good wine can be. To me, it's summery and fresh, acidic and slightly sweet, easy to drink, but at the same time great for flushing down the rich chicken liver. The fermented rhubarb juice was almost like having a bit of the wine in the bowl as well. Together with the caramelized walnuts which add crunch, salt, and sweetness, it made up an irresistibly good dish.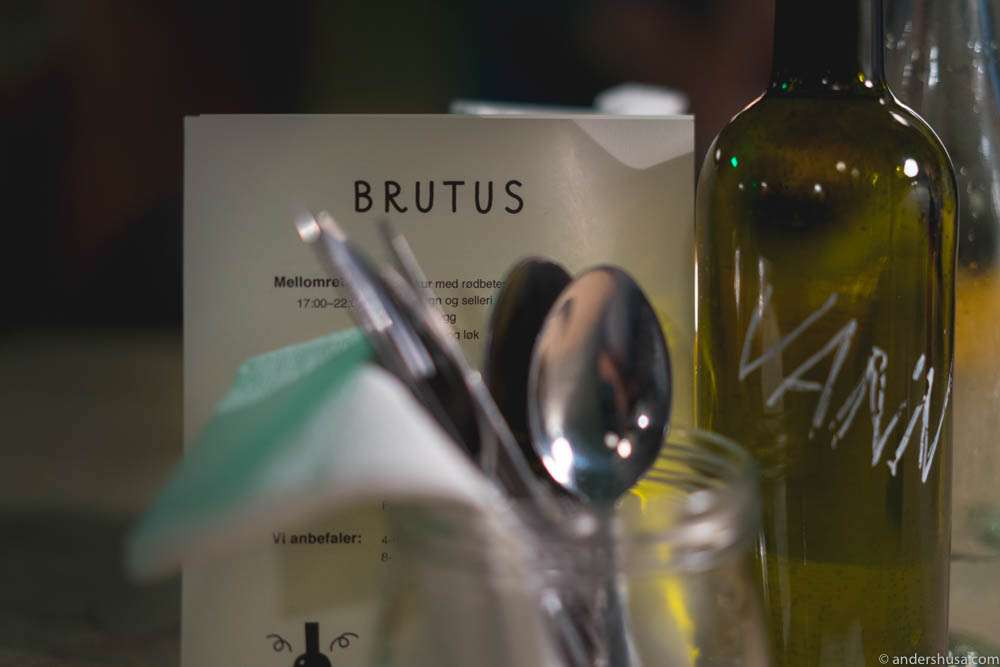 Two Rights … and Then a Wrong?
Almost every restaurant meal is bound to have some hits and misses. At Brutus, the stockfish dish was the one big setback in an otherwise flawless meal. I guess, if you're Icelandic or just love stockfish, it might be very pleasing to you. Personally, I don't mind the taste of stockfish, but shaved all over the plate like here, I found that the particular texture of the fish made the entire dish rather dry and difficult to chew. It didn't help much that the søl seaweed, cabbage, and fennel salad was quite tasteless. Even a browned butter emulsion underneath (which I would normally love!), didn't manage to save this plate. I just couldn't finish it.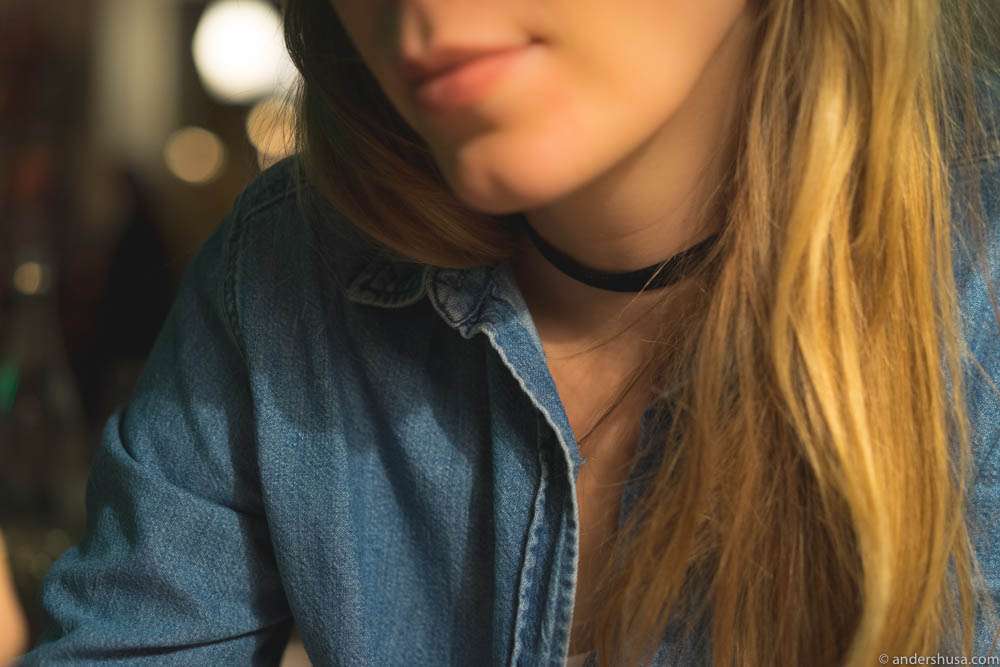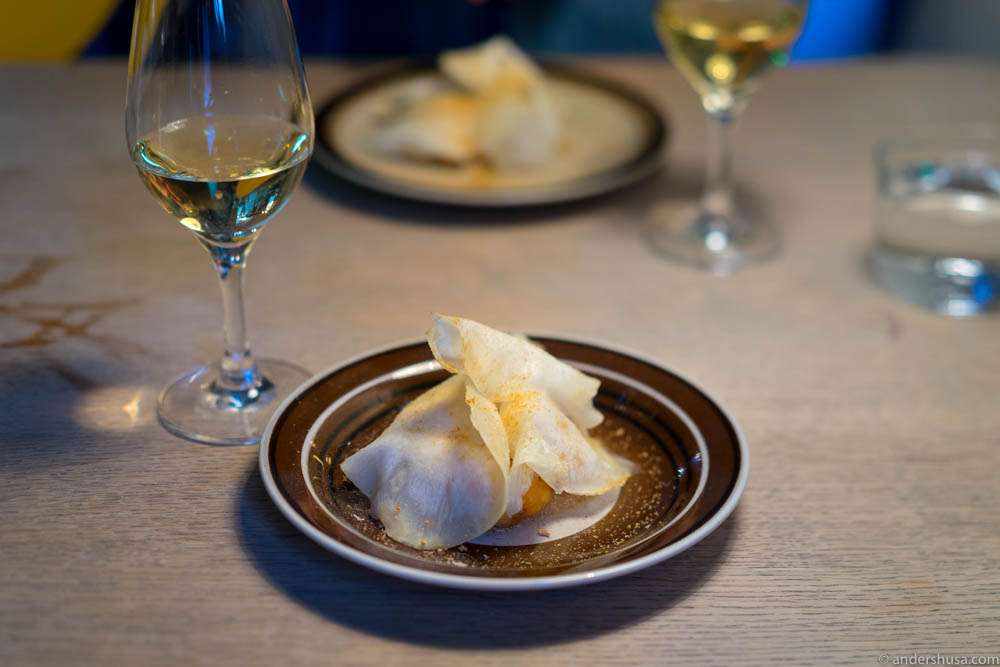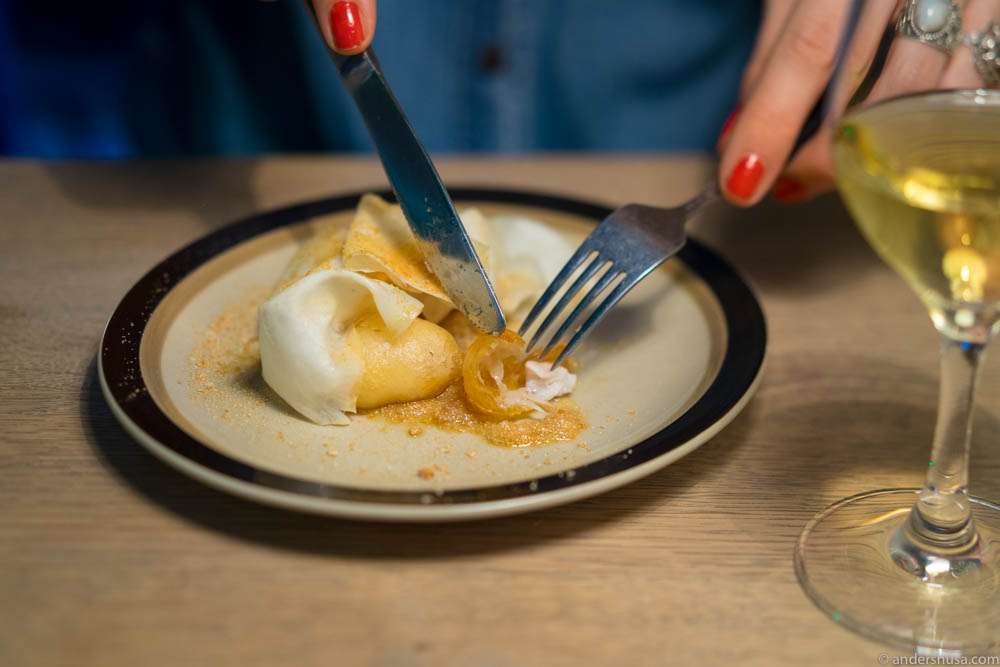 From Iceland with Love
Quickly, Brutus was back on track, kicking ass and chewing bubblegum (and they were all out of gum). The Icelandic head chef Arnar Jakob Gudmundsson, formerly of restaurant Dill, sent out one flavor bomb after the other. Warm cod roe fried in browned butter was served with piping hot, tempura fried cod tongue, covered with wafer-thin shavings of celeriac (that's a lot of my favorite flavors combined in one dish). So rich and satisfying. Then, the tartare arrived. Cut meat, mixed with a tarragon emulsion, pickled shitake mushrooms, and fried crisps of Jerusalem artichoke. Now, the balance of both taste and texture was spot on.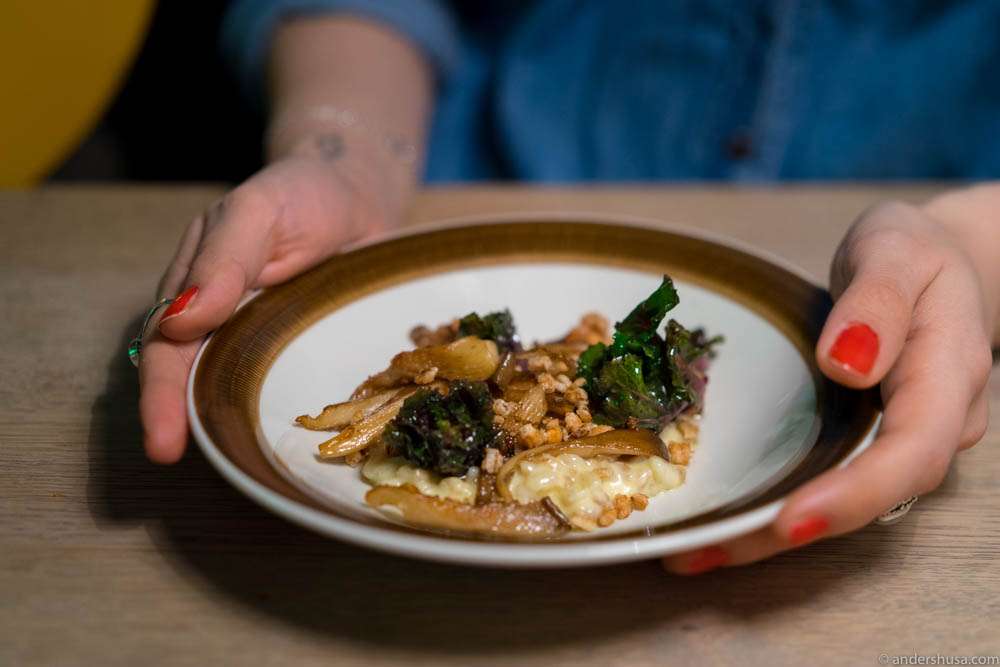 Just Trust the Damn Waiter
Our French-Norwegian host Mathias, who used to work at Ma Poule in Mathallen, suggested all the wines by the glass this night. Except, the Philipe Bornard which John felt inspired to serve us after a visit to the wine cellar mid-dinner. The orange fox was an excellent choice – I had forgotten all about how juicy and refreshing that wine is! I prefer to trust the waiter at most restaurants, and since the Brutus boys kept bringing excellent options to go with the food we let them carry on.
Silenced by the Lamb
The main course of lamb and salsify brought my mind straight back to restaurant 108. Not so much from the looks of the dish, but rather the flavors of that stock sauce (with browned butter again?). The tender mutton was good too but didn't quite match the texture of the lamb shoulder at my favorite restaurant in Copenhagen (who just received one Michelin star, by the way). Lastly, the dessert was another stroke of genius. It's one of the most interesting desserts I've had for a while, but it may be one of those dishes that you either love or hate. Get this: it's a potato sponge cake (you can feel the occasional bit of unmashed potato), with whipped sour cream, a milk sorbet from Grøndalen Gård, fermented honey and toasted pumpkin seeds. Four layers of deliciousness, in my opinion!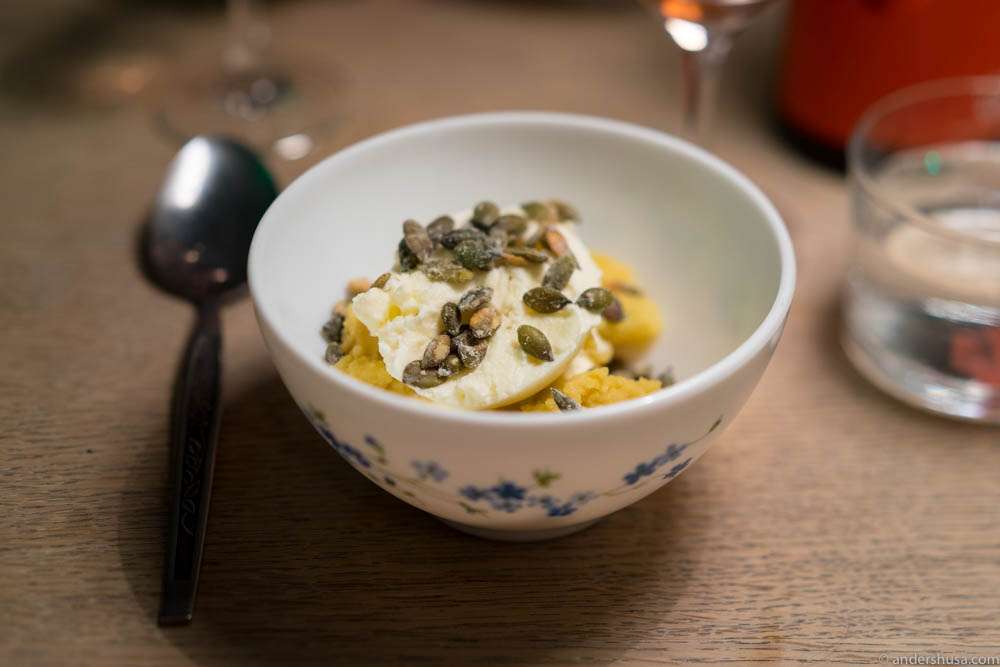 We left Brutus almost regretting not having had the time to visit earlier, but at the same time looking so much forward to our next meal here. The guys told us about a bunch of interesting events they have planned in the future. You can stay updated by following their Facebook page!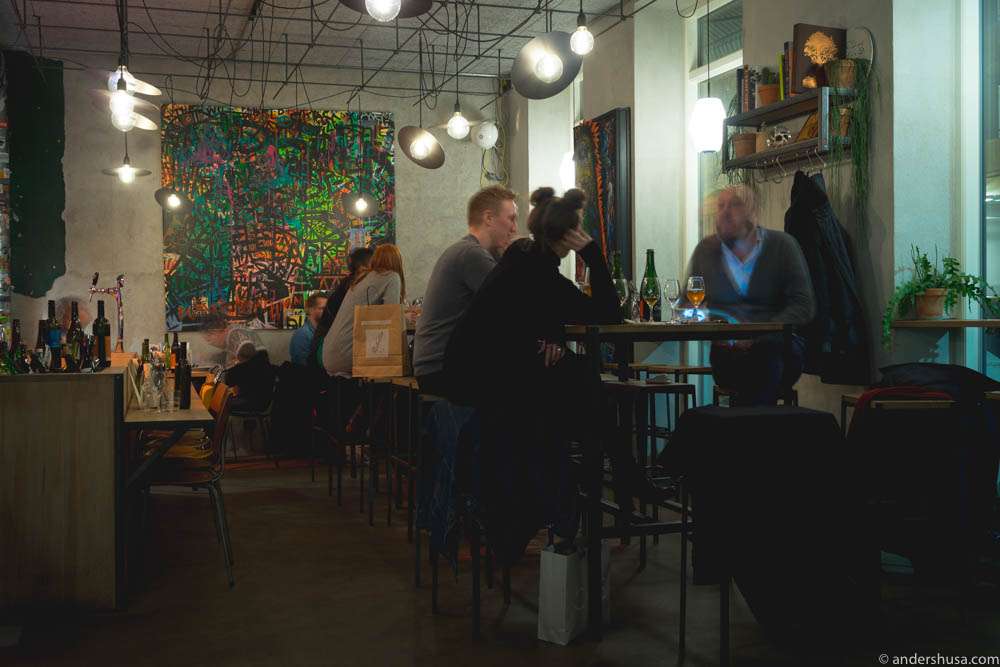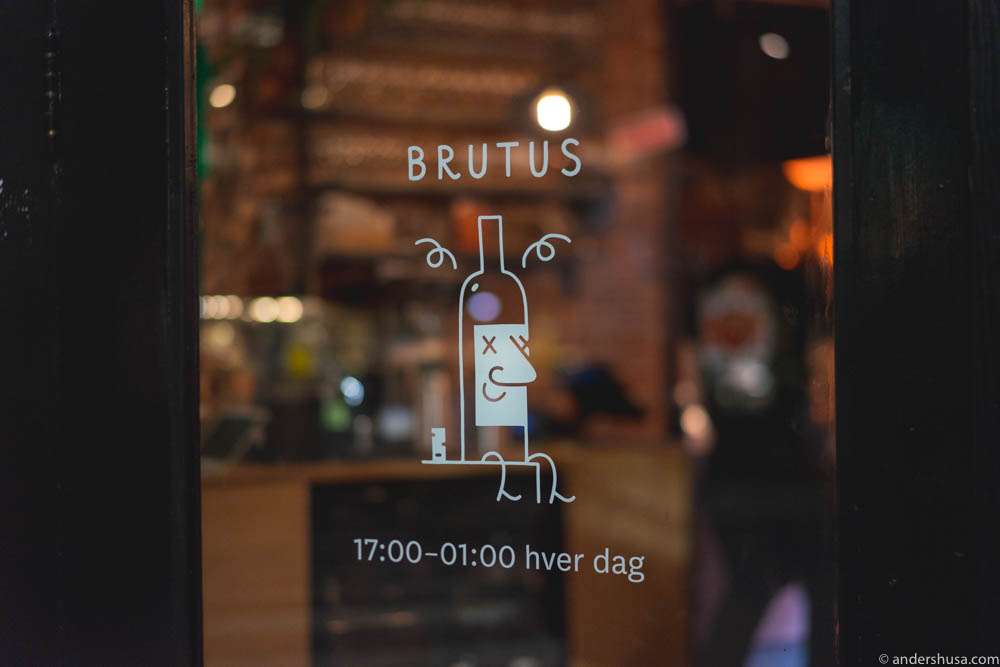 Have you been to Brutus? Please share your thoughts in the comments below.
Disclaimer
This was a sponsored invitation by LAVA Restaurants. The restaurant had no influence on the content of this article, there is no form of cooperation between us, I was not obliged to publish anything, and I received no monetary payment.