Malmö Map
Malmö is the third largest city in Sweden. However, its proximity to Copenhagen, with all the cultural influences, and its position as the capital of the Scania (Skåne) region, rich in farmland and small-scale producers, puts it among the most interesting and leading food areas in Scandinavia. The crown jewel is one of the few two-Michelin-starred restaurants in the Nordic countries – restaurant Vollmers. In this foodie map, we have gathered all our Malmö favorites. You'll find coffee shops, ice cream shops, natural wine bars, and fine dining restaurants. Navigate the map easily either by scrolling through the list on the right or by clicking the points on the map. Places are listed in a geographical order.
Saltimporten Canteen
Grimsbygatan 24, Malmö, Sweden
Saltimporten Canteen is a New Nordic lunch restaurant, open only two hours per day, situated at the dockside in an old salt importing warehouse. Chefs Ola Rudin and Sebastian Persson closed their prestigious fine dining restaurant Trio in 2011, to instead make simple, affordable stews and soups made with high quality, seasonal ingredients – served at communal tables in a minimalist space.
Djäkne Kaffebar
Djäknegatan 9, Malmö, Sweden
Djäkne Kaffebar is one of the best places for a good hand-brewed or espresso-based coffee in Malmö. This coffee shop and start-up space for entrepreneurs was established in 2011, and imports and serves coffee that has been roasted all over the Nordics. Including Tim Wendelboe, da Matteo, Johan & Nyström, Solde, Koppi, and La Cabra. The word "djäkne" means student, but the clientele at the time of our visit was a good mix of hipsters and businessmen.
Vollmers
Tegelgårdsgatan 5, Malmö, Sweden
Vollmers is a two-Michelin-starred restaurant in Malmö's city center. The two brothers, Mats and Ebbe Vollmer, received their first star in 2015 and followed up with the second one in 2017 – putting them in a very exclusive top league in Scandinavia. Expect pleasant New Nordic cuisine, with elements from classical French cooking, in a luxurious, yet relaxed and comfortable setting. Service is excellent, and the desserts are particularly outstanding.
Sponsored Content
Hotel Renaissance
Mäster Johansgatan 15, Malmö, Sweden
Hotel Renaissance is a stylish boutique hotel with modern design elements, located in Malmös city center. Situated next to Lilla Torg (the small city square) you'll be within walking distance to most attractions, parks, and restaurants. There's even a gym in the basement and Wi-Fi included!
Bastard
Mäster Johansgatan 11, Malmö, Sweden
Bastard is a casual brasserie and hipster gastropub – highly popular with the locals and always bustling with life. In the backyard, is a stone-oven pizzeria and al fresco dining area. Inside, a large bar dominates the dimly-lit room, with butcher shop tiles on the wall and squeaky wooden furniture. Italy meets New Nordic in Bastard's nose-to-tail concept, with food made for sharing. Expect charcuterie served on wooden boards, a creamy burrata with olive oil, or vegetables sprinkled with parmesan and nuts. All paired with natural wines.
Slottsträdgårdens Café
Malmöhusvägen 8, Malmö, Sweden
Slottsträdgårdens Café is located in the colorful Kungsparken. A trip out here is the perfect escape from the busy city life in Malmö. Rent a city bike (Malmö by bike) to get around even more easily. Pass the many bridges across the canal that runs through Malmö's oldest park. Finally, take a break at the café, in the heart of the gardens, to enjoy a simple lunch made with seasonal, organic produce. You can also have proper Swedish "fika" (coffee and sweet cakes), before you continue your stroll through the beautiful flower gardens.
Hedvigsdal Pizza
Södra Neptunigatan 5,, Malmö, Sweden
Hedvigsdal Pizza is located within Malmö Saluhall (the food market) and serves delicious wood-fired pizzas along with natural wines. Their sign reads pizzapizzapizzanaturligavinerbubbelöl – which pretty much sums up what they offer. On my day of visiting, there were three different types of pizzas, all vegetarian, but bacon could be added. We chose the one with white sauce, mozzarella, and polka beets. It was thin and super crispy, with a wonderful flavor combination.
Favvo Glass
Favvo Glass is located within Malmö Saluhall (the food market) and serves the most delectable ice creams and sorbets. Ice cream masters Anne and Ronaldo make ice cream with the most amazingly silky, soft texture, and adds pure flavors from top quality ingredients like liquorice, yuzu, rhubarb, vanilla beans, and chocolate. Yuzu and vanilla were my favvos ...
Malmö Saluhall
Gibraltargatan 6, Malmö, Sweden
Market halls, known as "saluhall" in the local tongue, are quite common in Sweden. Yet, the country's third-largest city just got one of their own about a year ago. Malmö's Saluhall is a brand new indoor food market, with 20 vendors ranging from a butcher and a fishmonger to some of the city's best providers of pizza, ice cream, and falafel. I recommend to check out Hedvigsdal Pizza and Favvo Ice Cream in particular.
Sponsored Content
Clarion Hotel & Congress Malmö Live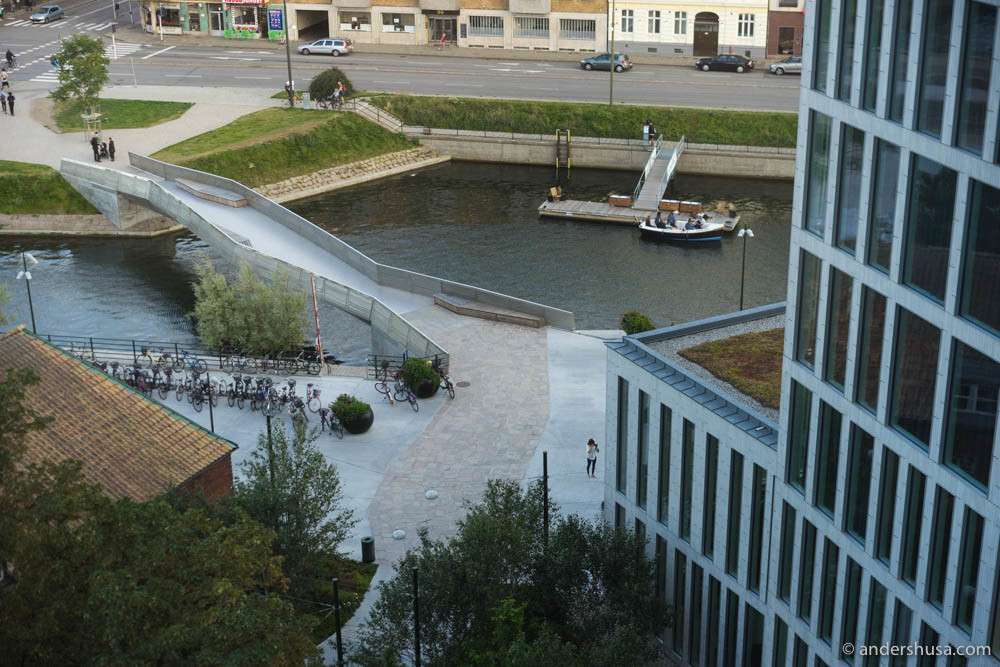 Dag Hammarskjölds Torg 4, Malmö, Sweden
Clarion Hotel & Congress Malmö Live (mostly referred to only as "Malmö Live") is centrally located close to the railway station and Kungsparken. In addition to accommodation, the event center contains a concert hall and congress facilities. Rising 85 meters above ground, the hotel is a landmark that can give you an impressive view of the city.
Solde Kaffebar & Kafferosteri
Regementsgatan 2, Malmö, Sweden
Solde Kaffebar & Kafferosteri has been one of the city's finest specialty coffee bars since 2006 – roasting their own beans (since 2010) for some of the top restaurants in town. Go here for a simple Swedish breakfast of "macka" (bread roll) with various toppings, yogurt with homemade granola, or even sweet cakes if you fancy that. Of course, you can also buy those delicious coffee beans to take home.
Far i Hatten
Folkets Park, Malmö, Sweden
Far i Hatten, which translates to "Dad with the hat" and dates back to 1894, is located in Folket Park – the people's park – in Malmö. During the day, it's an outdoors casual café serving coffee and waffles, but it morphs into a "Biergarten" and restaurant later on, and, finally, turns into a bar and dance venue with ping pong tables and DJs in the evening. All wines are natural, and the food is vegetable-heavy and organic. Card is queen here, so leave your cash at home. It's all about plastic money.
Lyran Matbar
Simrishamnsgatan 36A, Malmö, Sweden
At the corner of a brick building in the district of Möllevången, you'll find the tiny food bar and gastropub Lyran Matbar. Chef Jörgen Lloyd and his team welcome you to sit along the bar, or at one of the few wooden tables inside this small space, to enjoy their daily selected menu. The atmosphere is casual, the food is New Nordic, locally sourced (Jörgen goes foraging for a lot himself), and vegetable-heavy (you can choose vegetarian or with some fish and meat). Presentations are simple and minimalist, like greens on crackers, or roasted onion in a fermented sauce. The wines are all natural.
Köld Ice Cream
Claesgatan 8, Malmö, Sweden
Köld Ice Cream has a permanent location within the food court of the shopping mall "Mitt Möllan," in addition to summer pop-ups closer to Malmö's city center. At this playful ice cream shop, by ice cream makers Peter Svanberg and Alex Wesolowski , I ate one of the best ice creams of my life. The flavor combination was cardamom, apricot, and pistachio. It was nutty in both its taste and texture, with odd memories of Christmas cookies and Arabic food. Other weird combinations you can expect are porter beer and chocolate, rooibos tea and blueberries, or gorgonzola. Half of the selection is made vegan without milk.
Scandwich
Claesgatan 8, Malmö, Sweden
Scandwich is a sandwich shop that is part of the food court located in the shopping mall "Mitt Möllan." As the name indicates, their sandwiches, or "mackor," are very Scandinavian in nature. The three brothers Lind bakes their own sourdough bread and tops it with creative combinations like carrots, goat's cheese, fennel, and rapeseeds. Everything is either confit, baked, pickled or roasted, and the idea is to open your eyes to more unique toppings. Pair with a kombucha from Roots of Malmö.
Kaffebaren på Möllan
Ystadsgatan 9, Malmö, Sweden
Kaffebaren på Möllan is the best coffee shop in the area around Möllevångstorget – some would say in the whole of Malmö. Personally, it's leaning too much towards classic Italian coffee for my taste. Head barista Oscar Villata makes me a perfect cup of cappuccino, while I study the huge map that covers one of the walls in the café. All the different coffee bags that are for sale in the store are hung next to the map, and from each bag runs a cotton thread attached with a pin to the country and area of origin. Nice!