Fyr Bistronomi is a newly opened restaurant near Majorstua in Oslo, located on the corner of Underhaugsveien and Hegdehaugsveien. Bistronomy is the concept. Fyr is the name. Fire! Get it? Clearly, grilling is an important cooking method and the Josper grill an essential kitchen equipment. I've already found time to visit this place twice, and I think it's one of the best new restaurants to open in Oslo so far this year. The concept reminds me somewhat of Publiko, which is situated just a few hundred meters up the street, but conceptually it's slightly more refined and elegant. Bistronomy is a culinary direction that started in France, and the word means bistro + gastronomy. Advancing as a reaction to the astronomical prices and church-like atmospheres of high-end Michelin restaurants, younger chefs had the idea to serve gastronomic dishes in a bistro setting with more affordable prices. Sounds like this place will fit nicely into the current Oslo bistro boom.
Head Chef Sebastian Myhre
You may know the head chef and co-owner, Sebastian Myhre, already. At least, I remember him well from the television show Hellstrøms Mesterkokk, which aired on TV3 back in 2012. There, he competed against other young chefs, many of whom have achieved great success since. Karl-Erik Pallesen runs Fisketorget in Stavanger – possibly Norway's best seafood restaurant. James Ian Maxwell-Stewart is the manager and owner of restaurant Cru (also not far from Fyr). Øyvind Bøe Dale was, until recently, sous chef at Statholdergaarden, and is now aiming for the Bocuse d'Or – a competition in which Myhre himself was a finalist in 2009. Furthermore, Sebastian has experience from the three-Michelin-starred restaurant Per Se in New York, Feinschmecker in Oslo, and Restaurant Re-naa in Stavanger. At last, he now has his own place!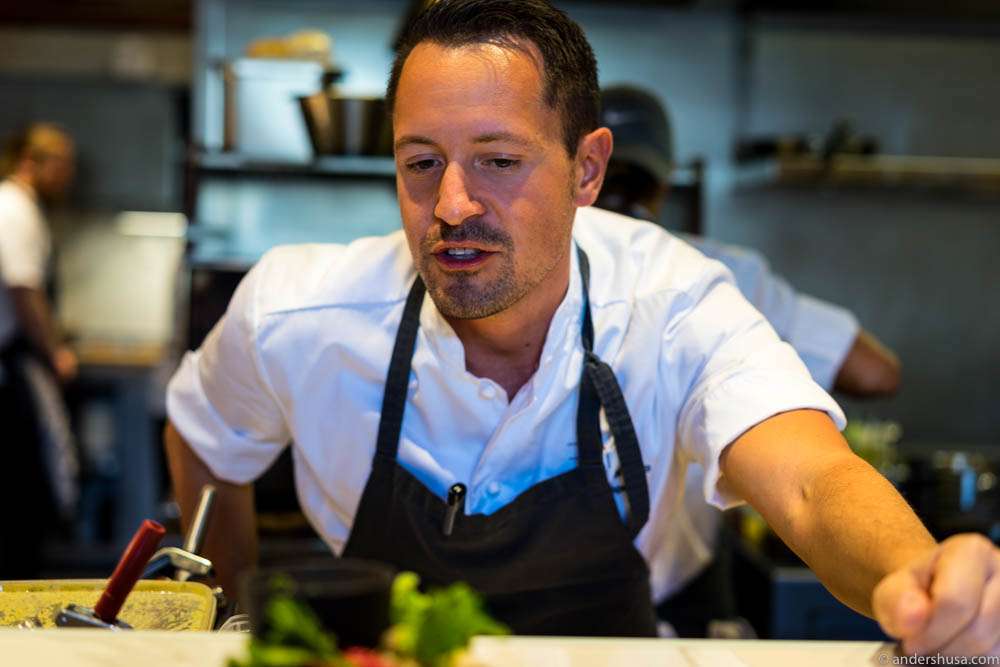 Honest Cooking & Flawless Technique
On my second visit to Fyr Bistronomi, I brought Hedda along and specifically asked for bar seats with a kitchen view. I prefer to be closer to the action and bar stools feel even more casual (I also noticed from my first visit that the lighting was way better here for pictures). Fyr is definitely a casual restaurant, with a rough interior design, but sporting a clientele so heavily dominated by ostentatiously dressed people from the West end of Oslo, you could mistake it for a finer establishment. Don't get fooled for a second, though, to believe that the food at Fyr is snobbish or hollow. This is honest cooking, with rustic yet delicate presentations. The flavors are focused, well-balanced, and the kitchen demonstrates flawless techniques!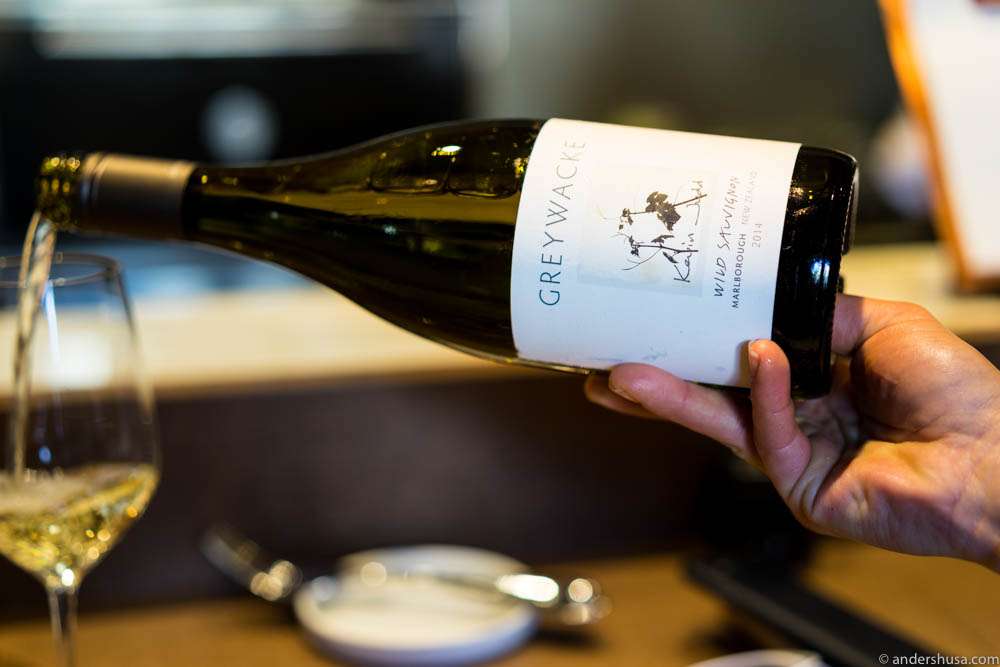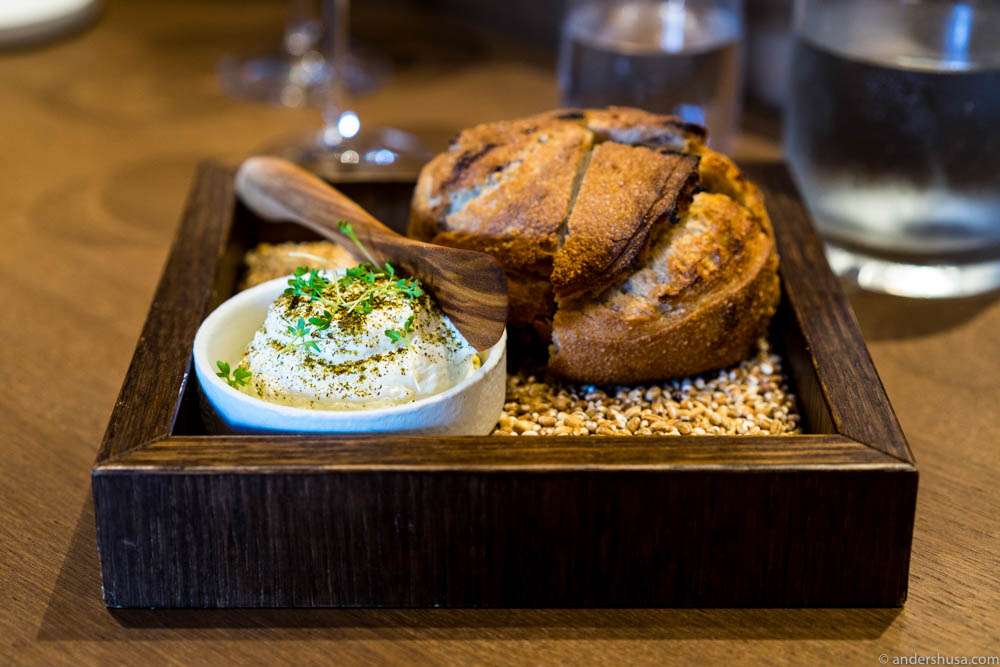 The Butter is Worth the Visit Alone
In true bistronomy style, you can choose to go all out à la carte at Fyr. Snacks are NOK 45-70, starters NOK 115-185 (in addition to the 100g of Wagyu priced at NOK 320), and mains are NOK 175-395. However, they also offer two tasting menus: the smaller one called Litt Fyr at NOK 500 and the bigger named Full Fyr at NOK 695. Drink pairings will double those prices. Obviously, we went all in! Soon, we had Champagne glasses filled with Lanson Black Label Brut, and a matching plate of oysters with citronette and apple granita. More snacks followed next. Baby radishes and turnips with a Nýr dip, puffed pork rinds with løyrom and sour cream, and FYR's very own dry Riesling. Then, the bread arrived. Steaming hot. A crispy crust. Served with a butter that was worth the visit alone. "How did you make this butter?" I asked one of the chefs in front of us. "It's whipped with browned butter, sherry vinegar, and diced shallots," he replied. "Did you just reveal our secret!?" chef Myhre yelled at him, laughing. I'm glad he did, because that combo will be tested at home at some point.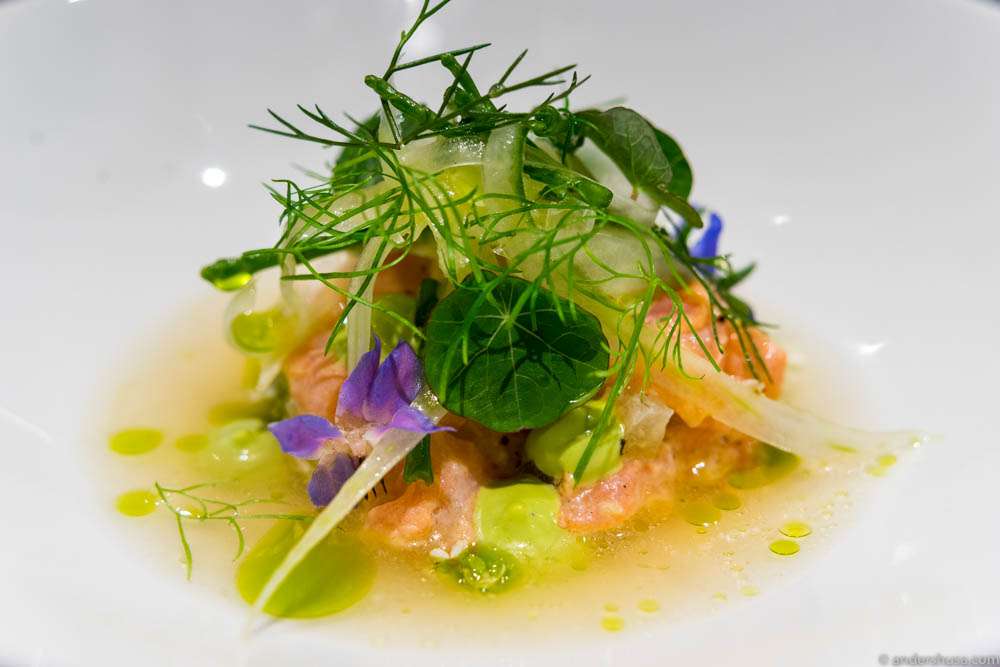 Simplicity is an Art
We continued with my favorite wine this evening, Wild Sauvignon from Greywacke, New Zealand, which is made without added yeast. Light and refreshing, yet round and smooth at the same time. A Norwegian Caprese salad with tomatoes from Brimse Gård outside Stavanger, and mozzarella made at Osteverket in Lillesand, brought back fond memories from our recent trip to Barolo in Italy. With the next dish, a raw marinated trout with watercress mayo and elderflower bouillon, the pairing was a drink: Little Slinger. Turns out, they even do cocktails well at Fyr. Another task they excel at is cooking langoustine to perfection. Simplicity is an art. You don't want to disrupt the gentle flavors of what is possibly the best crustacean in the world. At Fyr, it's served simply with warm bread and butter infused with more of that delectable shellfish aroma.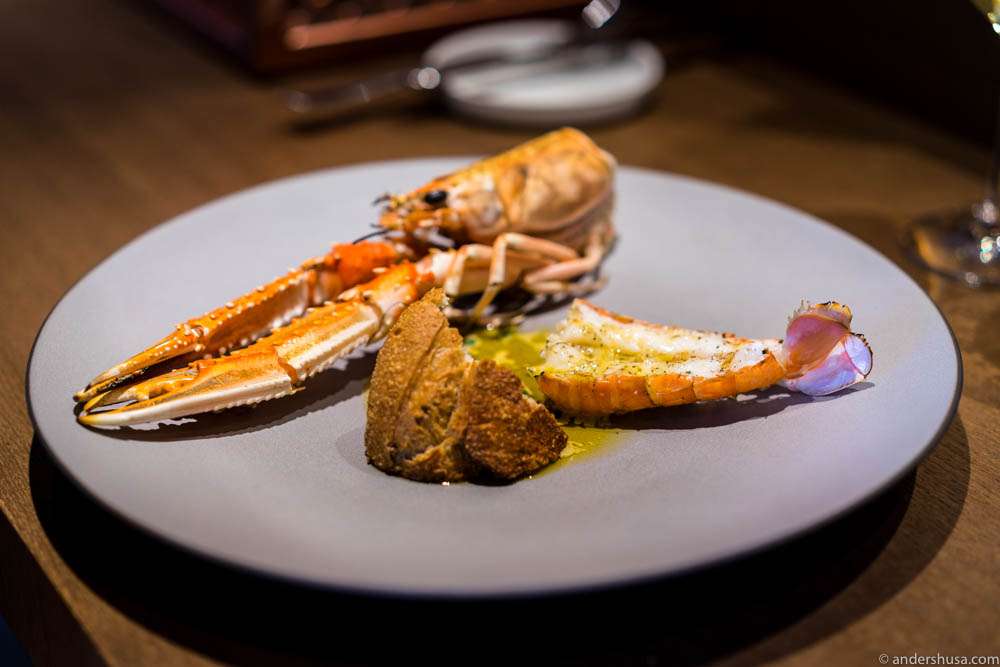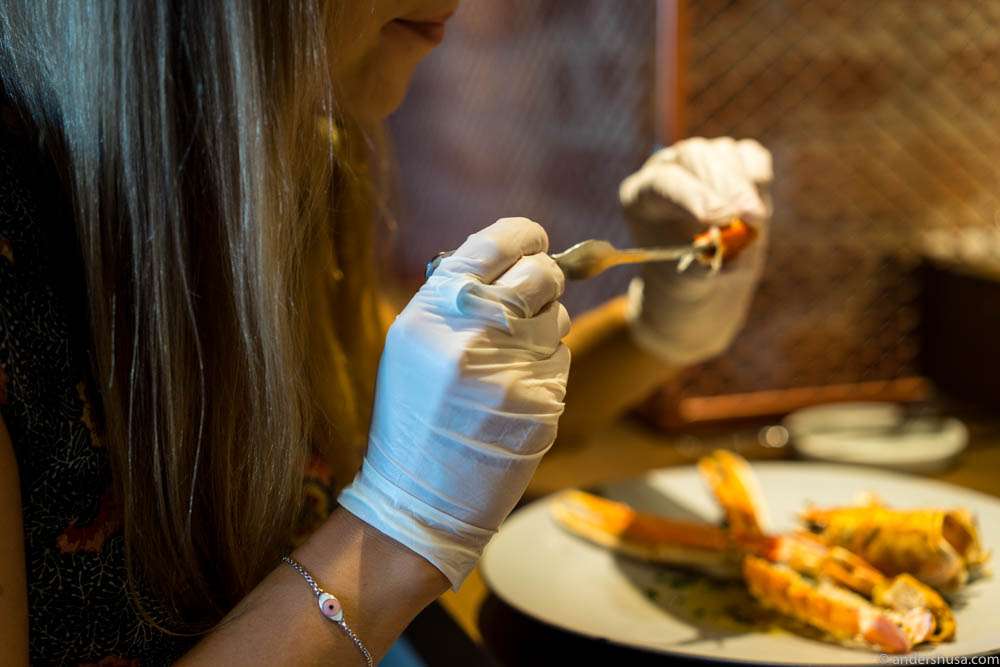 Hitting All the Right Culinary Chords
Can you imagine, at this point, we hadn't even eaten my favorite dish of the meal? Green and white asparagus served in the very milk they were cooked sous vide, now espuma-light, mounted with ramson oil, and topped with bonito flakes. Add a poached egg to that and you got an umami-flavored, salty, creamy, rich, and warming dish that hits all the right culinary chords. The rest of the meal was meat-heavy and intense, but very satisfying. Dry age pork neck was followed by Wagyu cooked on a Himalayan salt rock, then grilled ox with a smoked corn purée (yum!), and, finally, lamb sausages in a dish Sebastian had chosen to call Brennende Kjærlighet. Burning love, a childhood memory, dedicated to his mom who passed away suddenly and unexpectedly way too early. The dish was deliciously comforting, with onions, beets, pancetta bacon, and a potato purée. A wonderful tribute that should become a classic on the menu.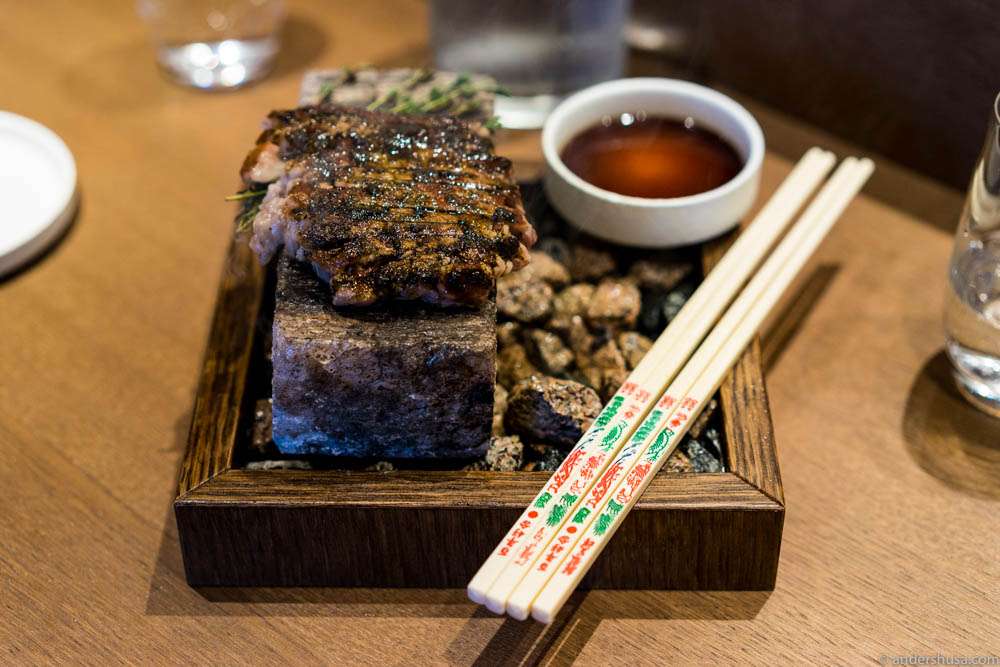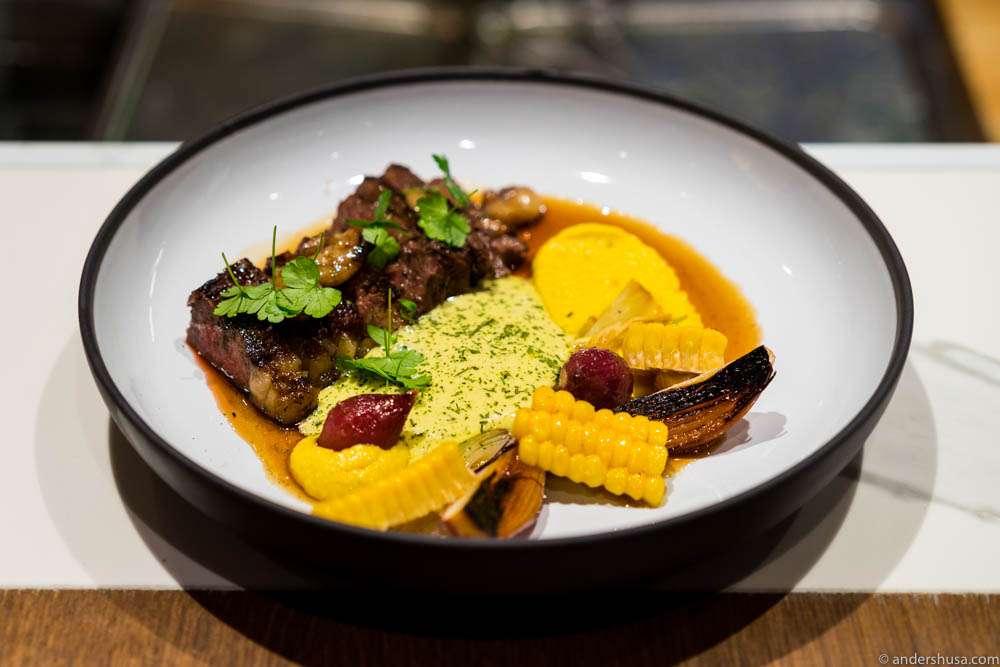 Close to Perfect Execution
The last dish, a dessert of raspberries with lemon cream, white chocolate bavaroise, olive oil sorbet, and candied black olives, was the only one I didn't care too much about. The savory part of the meal easily trumped the sweet one for me, but then again, this is a grill restaurant after all. Don't get me wrong, the dish was tasty and technically spotless, but it had too many elements and they all fought for the attention. I prefer simpler desserts. The conclusion, however, is that Fyr Bistronomi comes close to perfect execution, and deserves a full house every night. You should treat yourself to an evening here before the word gets out!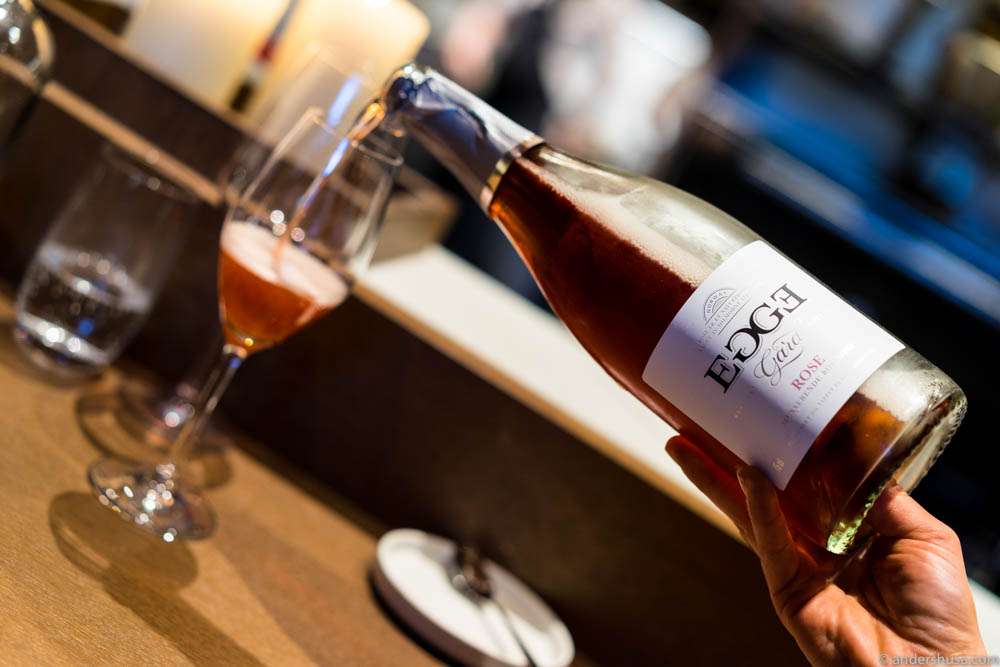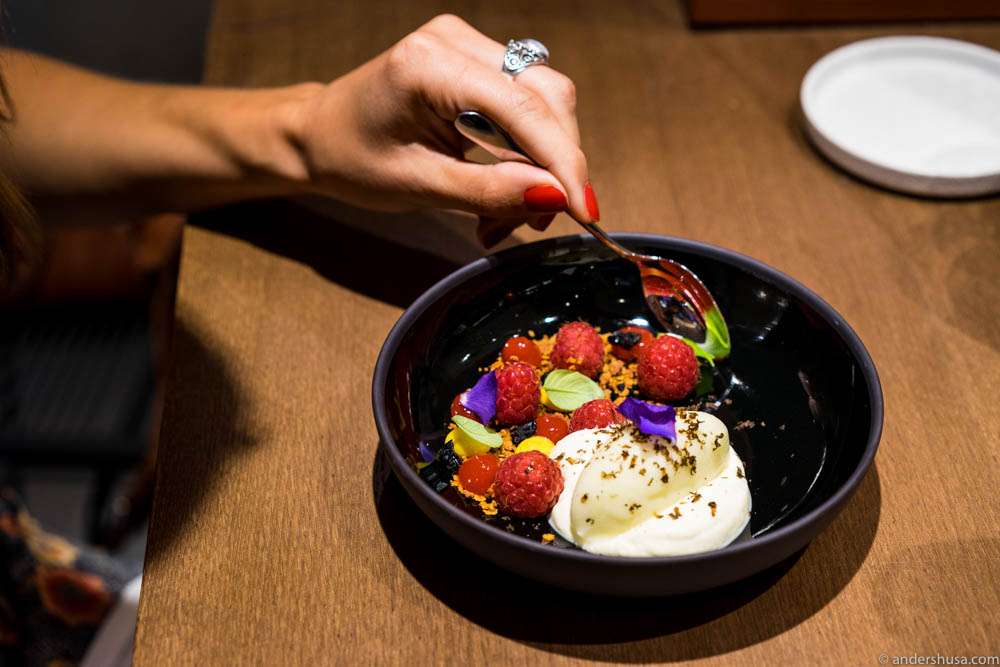 What's your favorite bistronomy-type restaurant? Please share in a comment below.