Sponsored invitation by Azulik
When we planned our trip to Tulum in Mexico last year, we had no idea of all the wonders that awaited us. Our main destination was René Redzepi's pop-up restaurant Noma Mexico, an incredible experience on its own, but we got to explore so many of the wonderful local restaurants and taquerias as well. Enough to make a foodie map of Tulum. Hedda and I spent our first three nights at Papaya Playa Projects. A hippie-style villa where we slept in a cozy beach hut. However, the moment we set foot inside Azulik, where we were to stay the remainder of our vacation, we knew that we had found a paradise on earth. Please, come inside and have a look.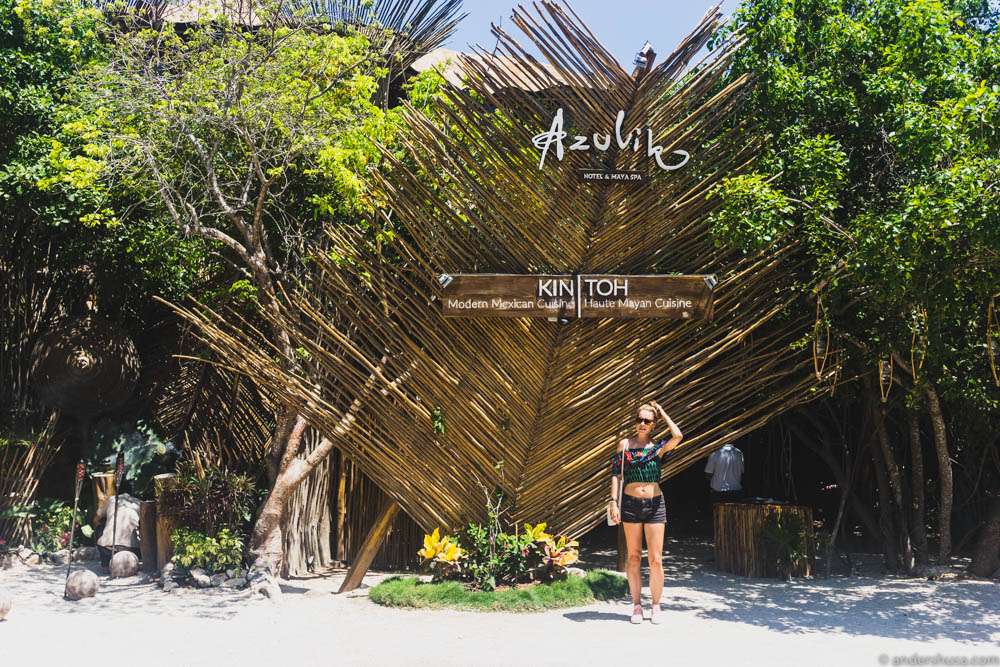 Eco Resort & Mayan Spa
The hotel, if you can even call it something as simple as that, markets itself as an adult-only eco resort and Mayan spa. Let me try to break down for you what that means. First of all, the building style is inspired by the ancient Mayan construction techniques and has what they call an organic architecture. That means, it has been built with respect to the surrounding nature, in order to disturb and destroy as little as possible of the plants and wildlife. If you haven't guessed it already, this is a treehouse village. Furthermore, there is hardly any electronics and modern-day equipment like showers. The reason for that is not only to save powers, but also to make you completely relaxed. More about that soon.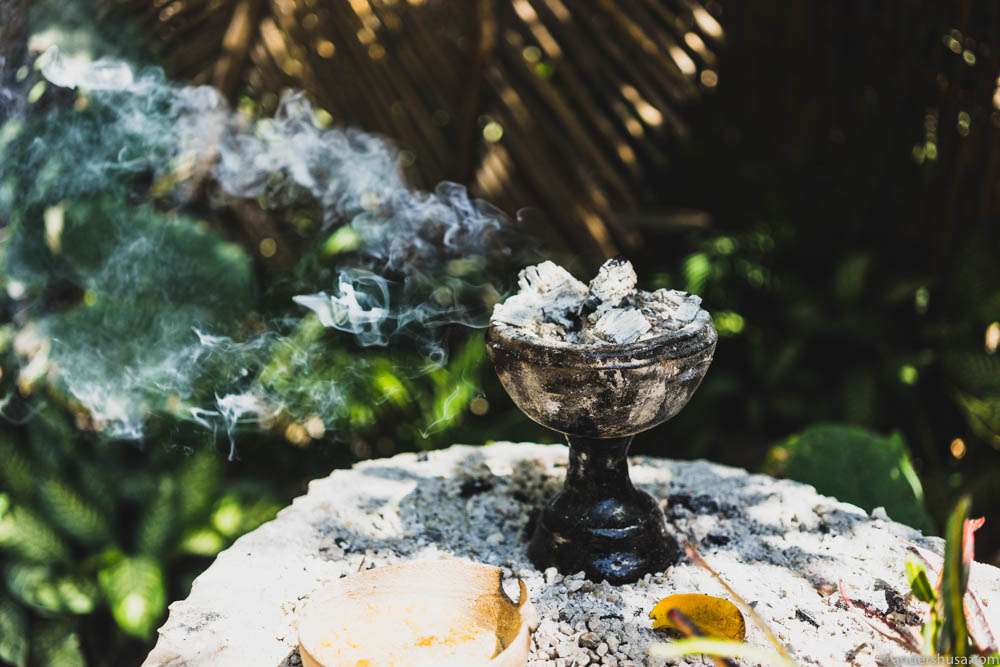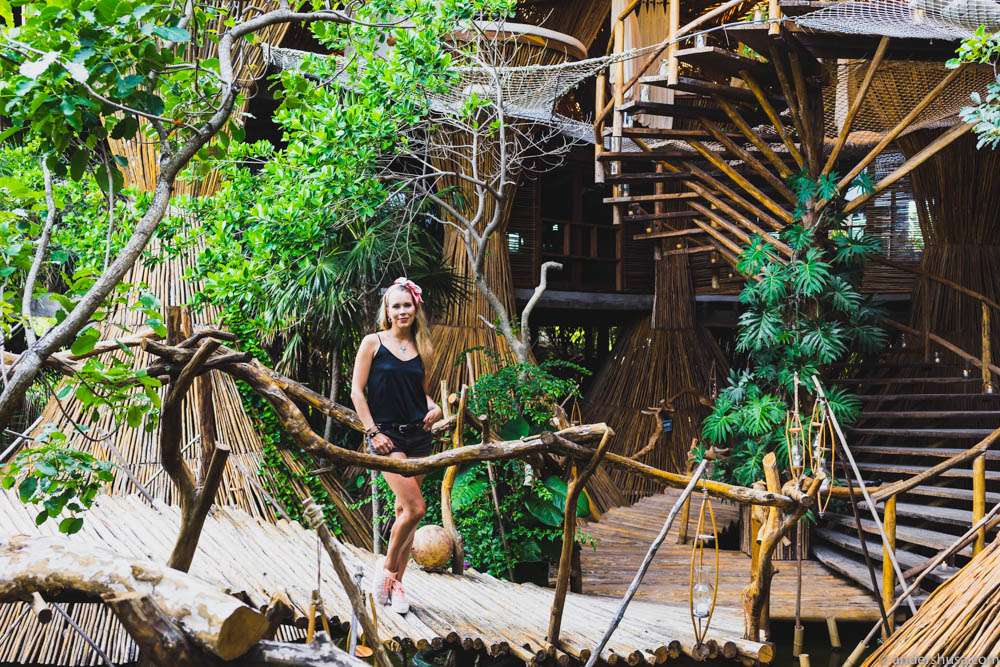 Meet the Azulik Angels
I don't wanna call the entrance to Azulik anonymous. It's certainly not. But it doesn't reveal much about the remarkable resort that is hidden in the jungle behind. Through a narrow path, we entered the reception area, where a gentleman asked us to please have a seat in the sofa and fill out a form with our personalia. He brought us ice cold sparkling water, made sure our luggage was taken care of, and assured us that one of the angels would be with us shortly. Angels? Yes, that's how they refer to themselves. Four female hostesses, easily recognizable in their pitch-black dresses, as opposed to all the other employees who wore white or light-colored garments. The angels, we would soon learn, could help us with just about anything.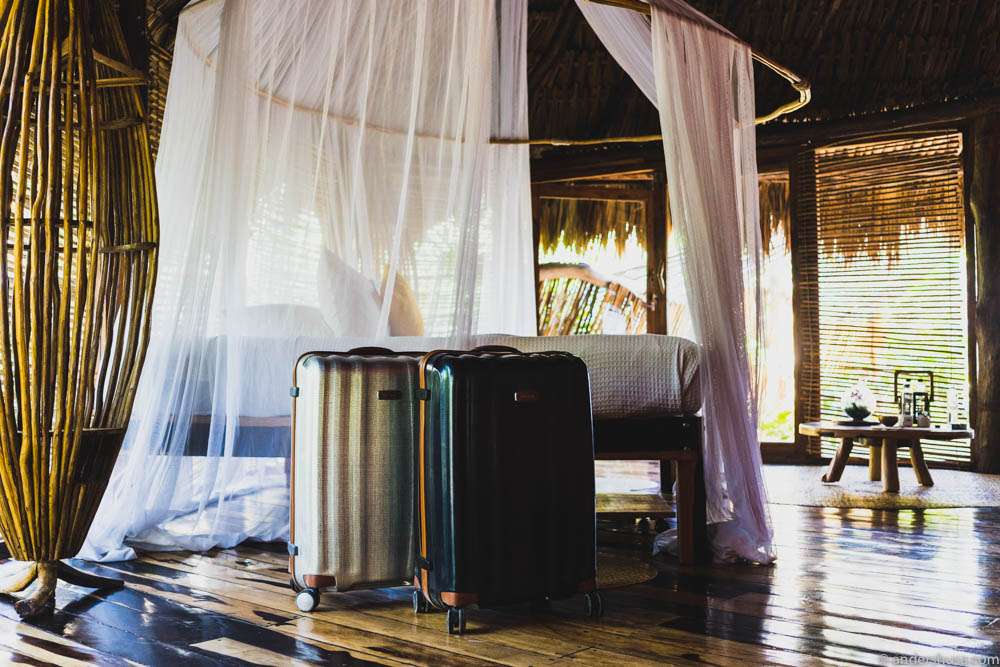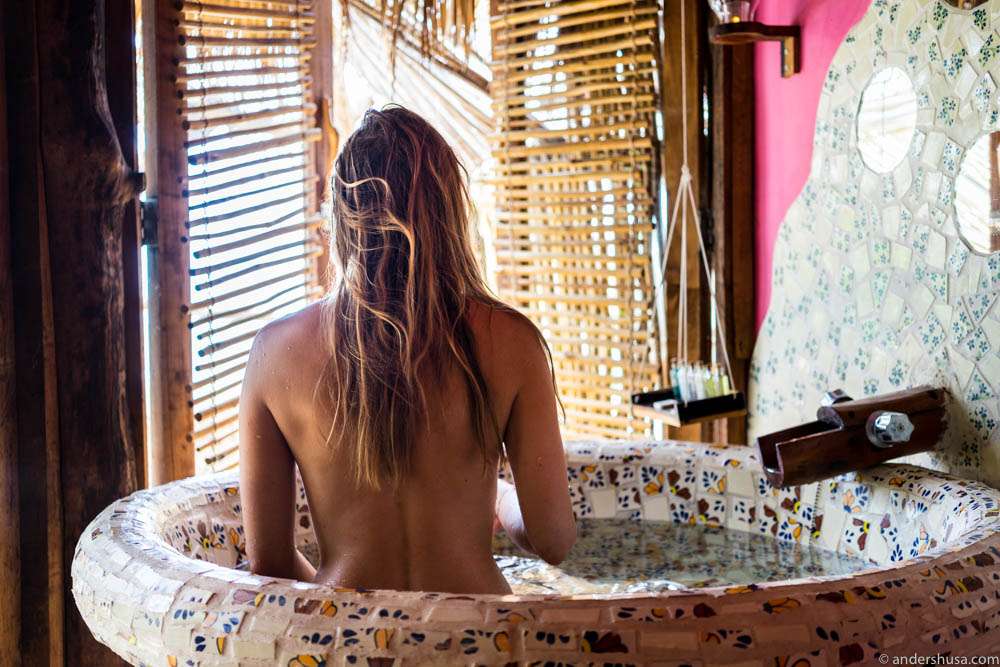 No Shower, No Air-Con & No Electricity
We thought we had an idea of the kind of a place that was awaiting us, but in hindsight, I can honestly say we had no clue whatsoever. Our angel followed us from the reception area and through a maze of elevated jungle pathways. The entire resort is constructed above the ground, and we had to climb two more levels to reach our Mayan villa. "Where's the shower?" I asked our angel, Andrea, after browsing through our room and balcony. "There is none," she said, "here at Azulik we believe that showers contribute to stress in modern day life. Thus, we encourage you to take your time for a proper bath, and wash your hair with the help of the coconut shell cup. You can even make it more romantic by helping each other." She went on to explain the lack of electricity at Azulik. In stead of having light bulbs, the housekeepers would make a round from room to room and lit candles every night. However, there were two exceptions to the no power policy. A fan above the bed would keep us cool during the night (but no air-con), and four sockets next to the bed could be used to charge our phones and laptops. Wi-Fi, though, was reserved only for the public areas of the hotel.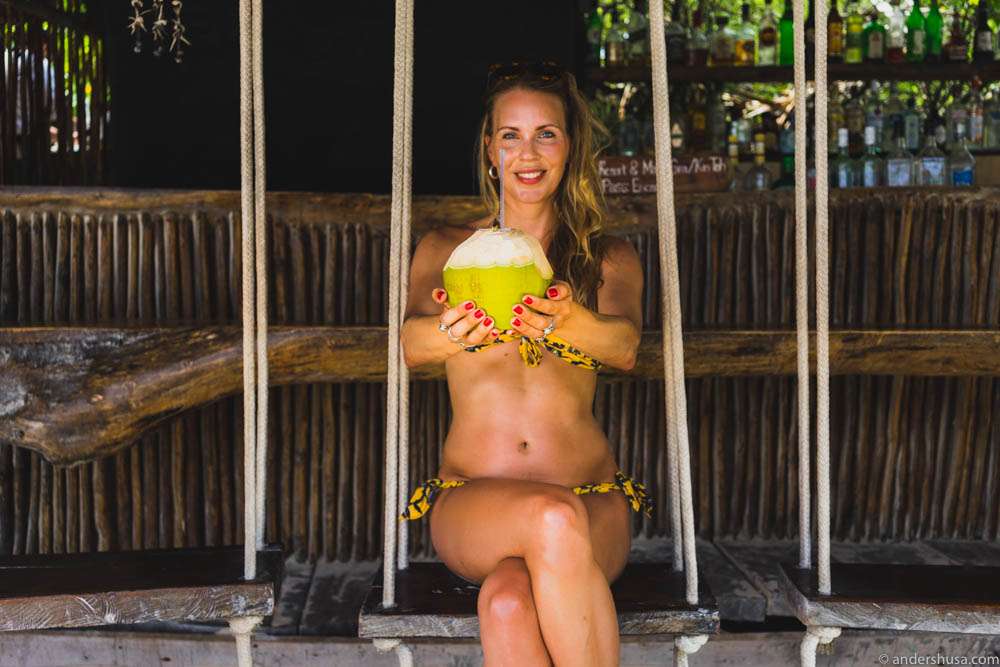 Luxury Aztek Villa
Azulik has a private beach, unlike most hotels in Tulum, because a majority of the rooms are oceanfront villas which block entrance from the neighboring resorts. The largest apartment, by far, is the honeymoon suite, which stretches across three stories. It comes complete with a huge balcony plus a terrace, a swing, a net-bed, multiple bath tubs and hammocks (indoor and outdoor), and the place even has a shower (the only one at Azulik)! Our luxury Aztek villa wasn't quite as grand, but not far from it. We had a beautiful view from the second floor towards the beach, which happened to give us Wi-Fi access when we sat in the hammock on the balcony (cheating!). Additionally, the balcony featured a huge mosaic bath tub (almost a small swimming pool), and sun chairs. Inside was a large Balinese bed, another bath tub, a gigantic sofa, and the bathroom.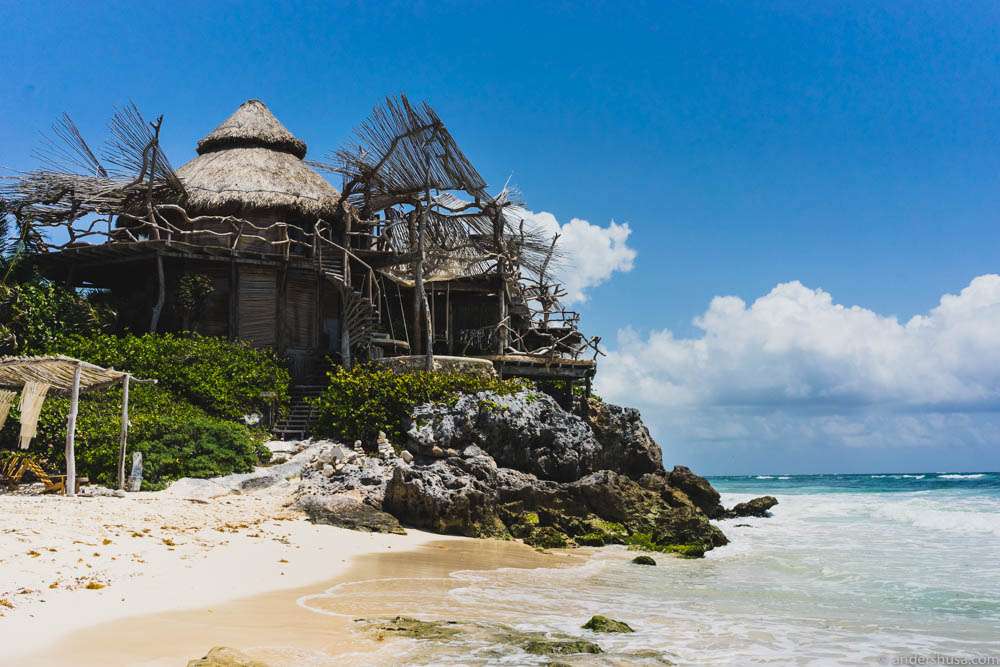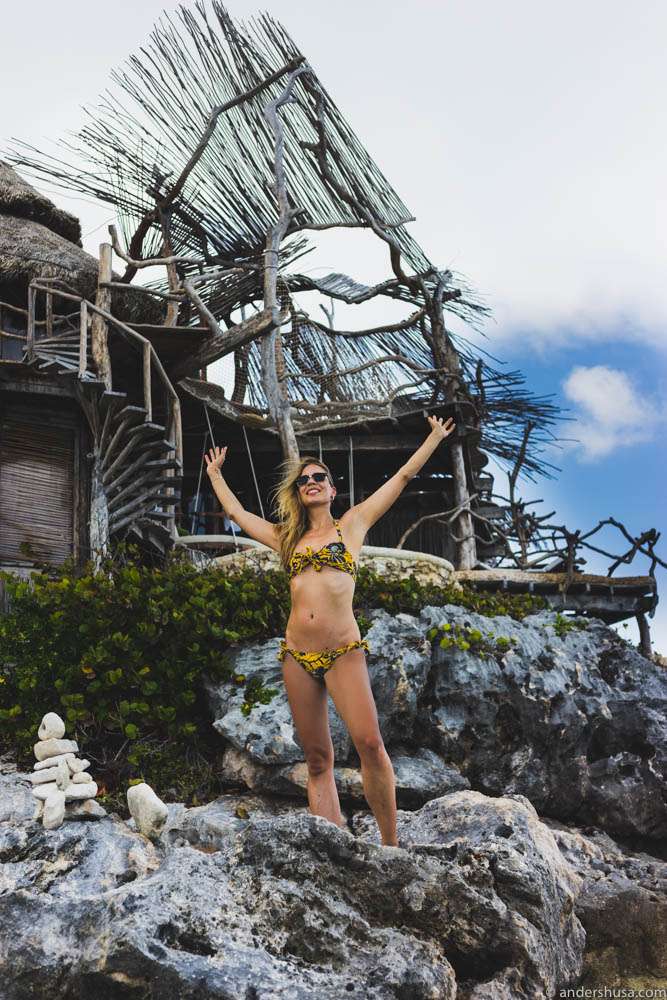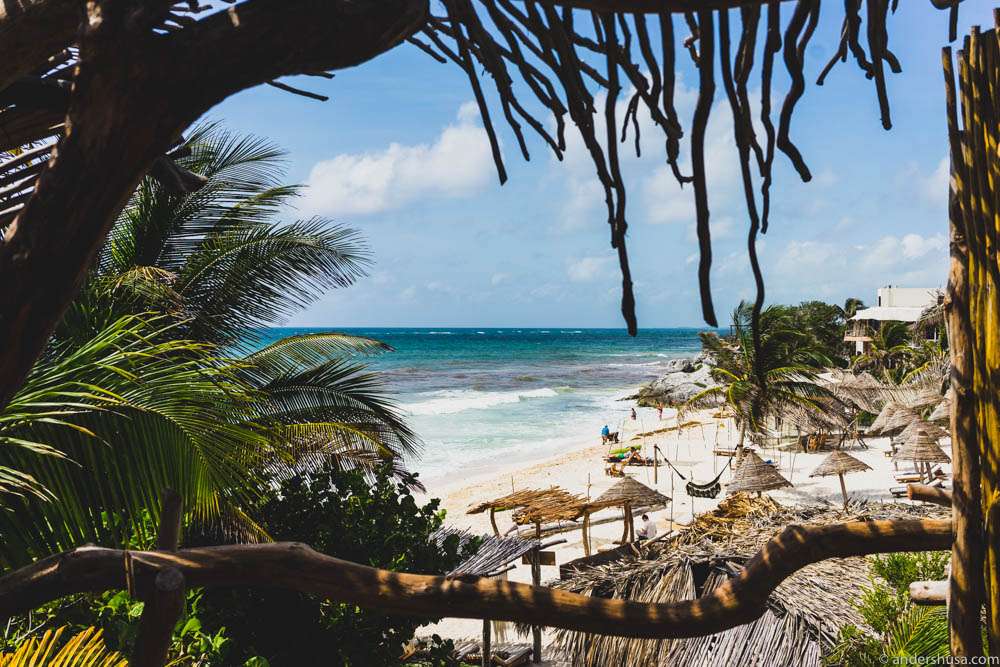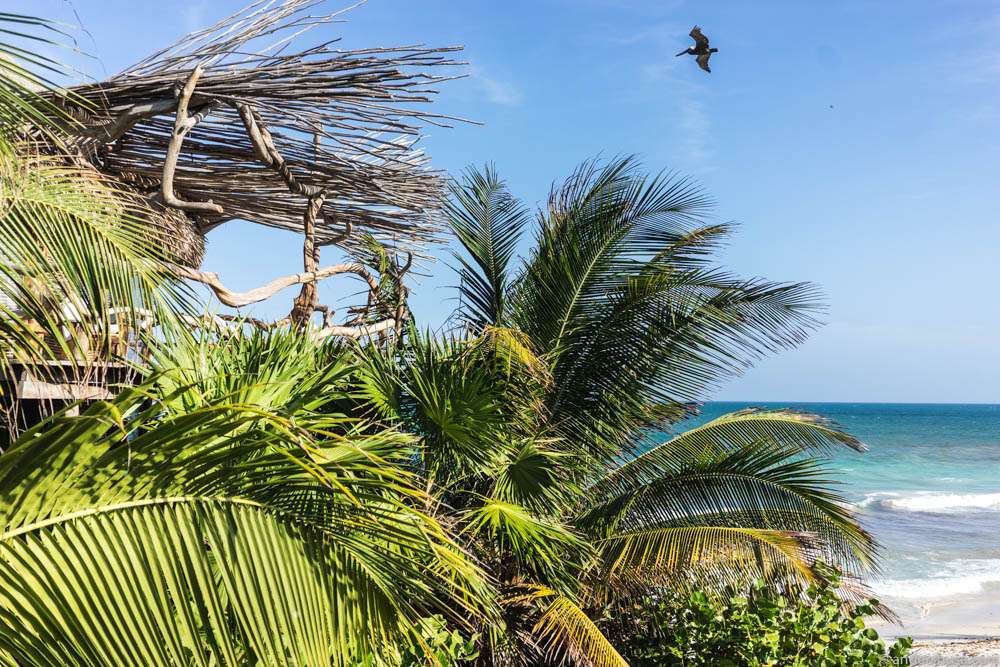 The Room Service Tube
Since Azulik has no electricity, there's also no phones. How on earth do you get room service then, you may ask? Well, they've invented an ingenious system of their own, which is not only smart, but even fun to use. That's just one of many elements at Azulik which are designed to bring out your inner child (the swings are another). On our desk were two small wooden orbs with a hole in them, some pieces of paper and a pencil. A menu listed everything that was available to order. As you may have guessed by now, we wrote down what we wanted on a note, rolled it up, and placed it inside one of the balls. Right outside our door was a tube, hidden under a branch. Hedda dropped the ball down the chute, and then we listened. Pling! The sound of the gong signaled that the kitchen had received our order. 15 minutes later we had breakfast served on the bed (the sunbed that is). We had food delivered to our room twice, and the other mornings we ate breakfast downstairs in the breakfast restaurant. A lovely waiter named Gilbert refused to reply in English, and taught us some new Spanish words every morning. Gracias, Gilbert!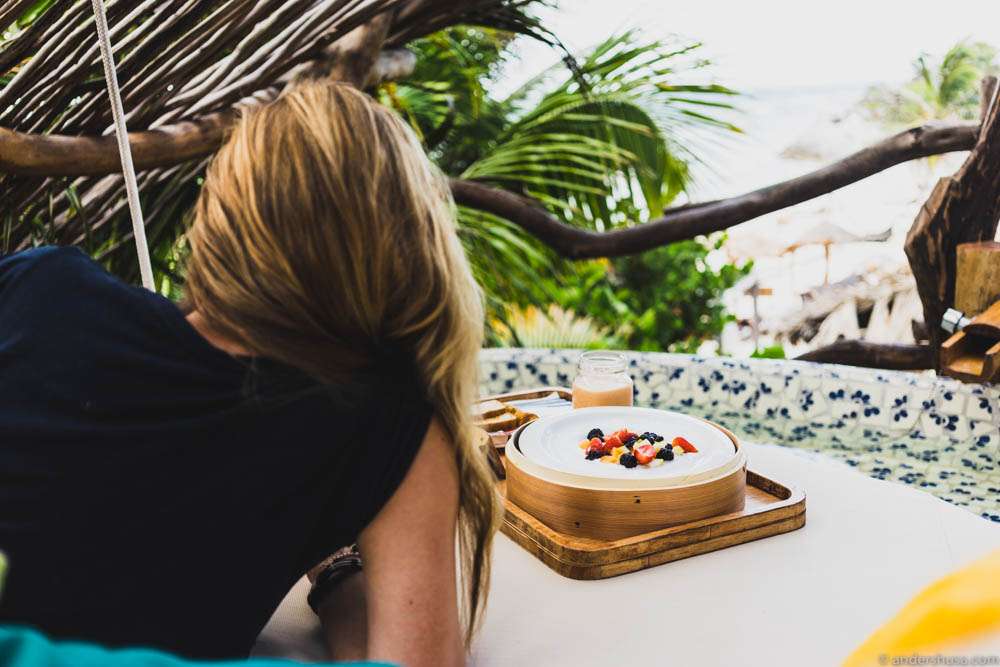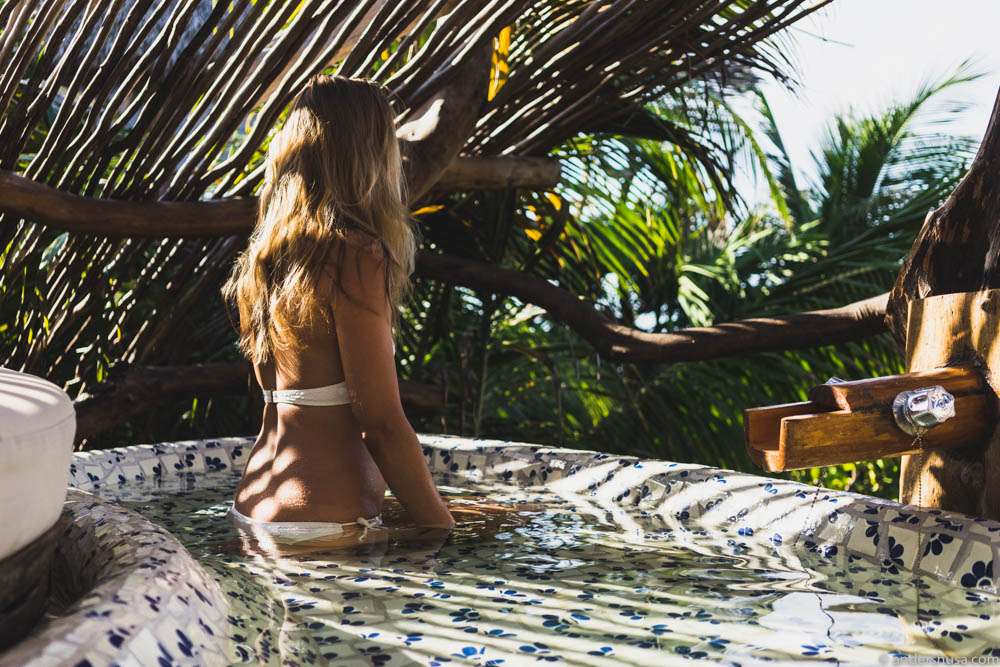 The Nest at Kin Toh
Azulik's main restaurant is called Kin Toh, and is one of the most mind-blowing locations you can imagine for a dinner. To make it even more spectacular, they have built a bird's nest that can only be reached from a suspension bridge and acts as a chambre séparée for up to 12 people. As you can imagine, I had to bring my drone (DJI Mavic Pro
) up for a short flight to capture this magical place. Azulik truly changed our idea of what a hotel could be and, more than anything, made us long to return to Tulum once more.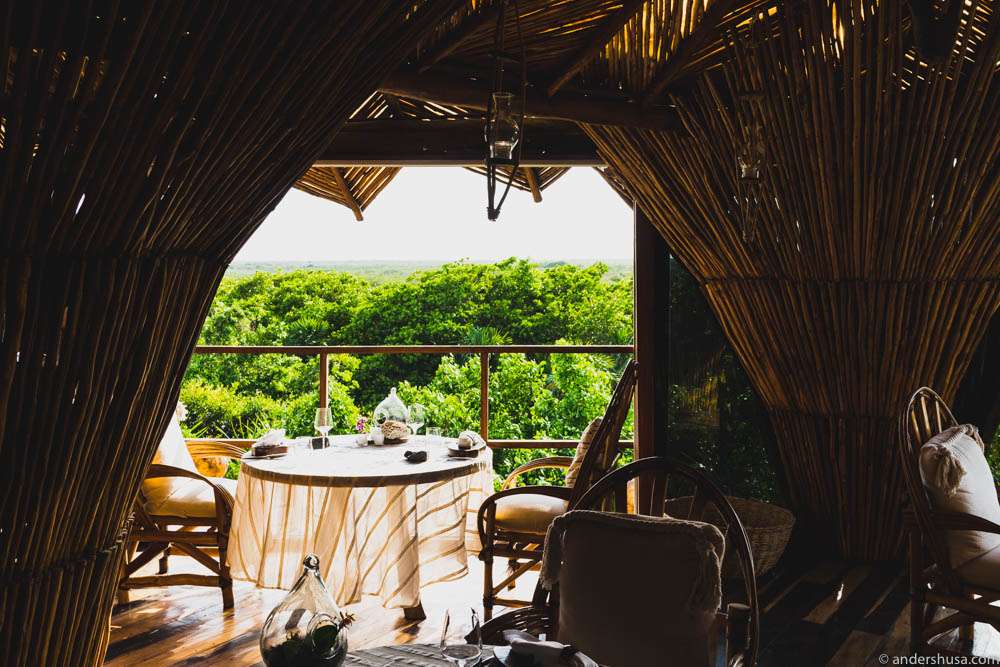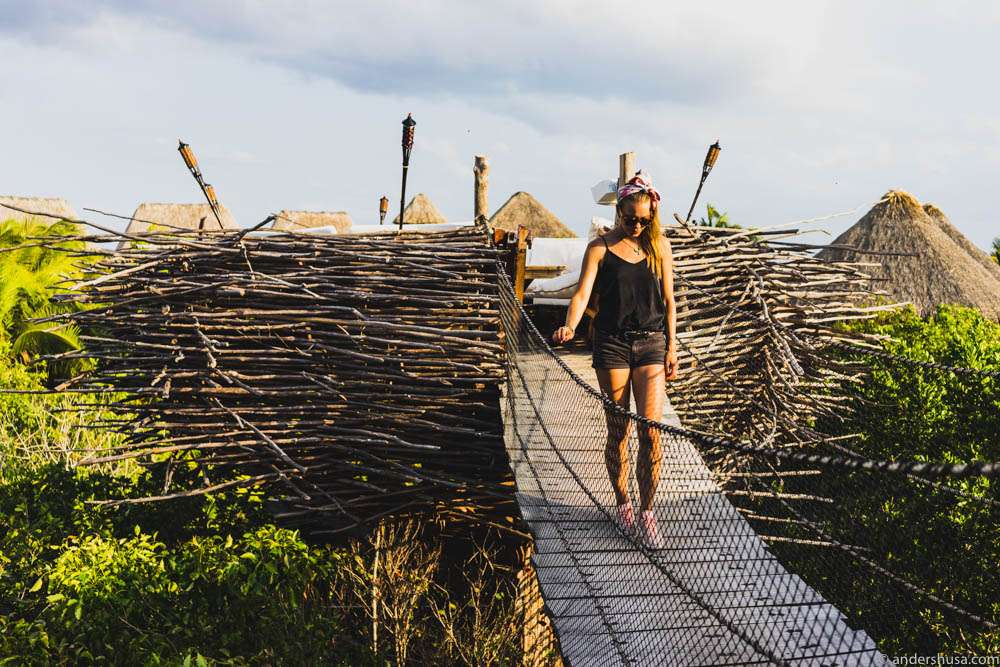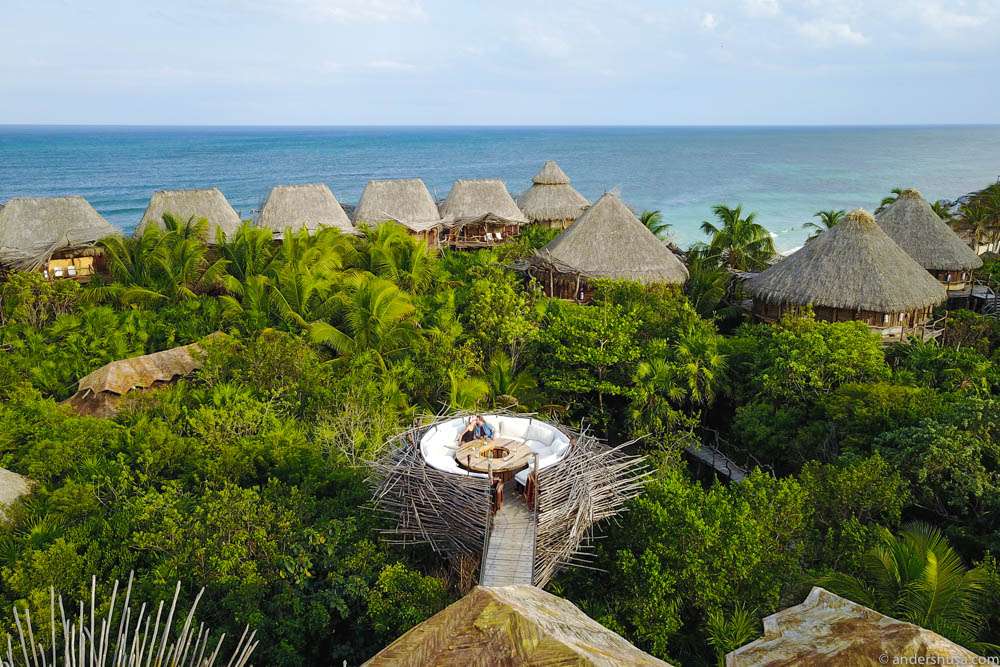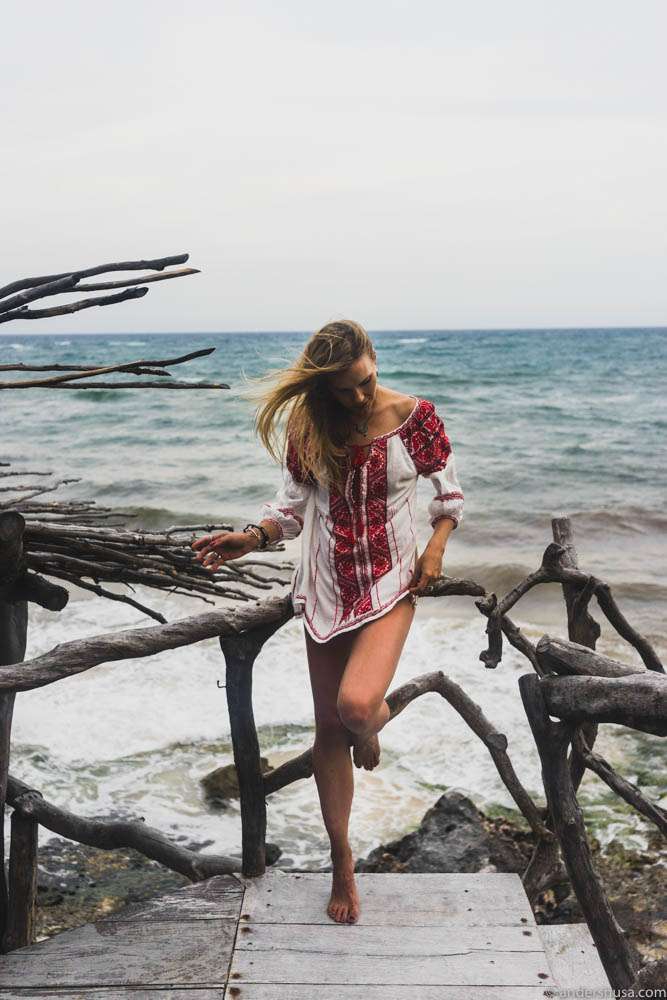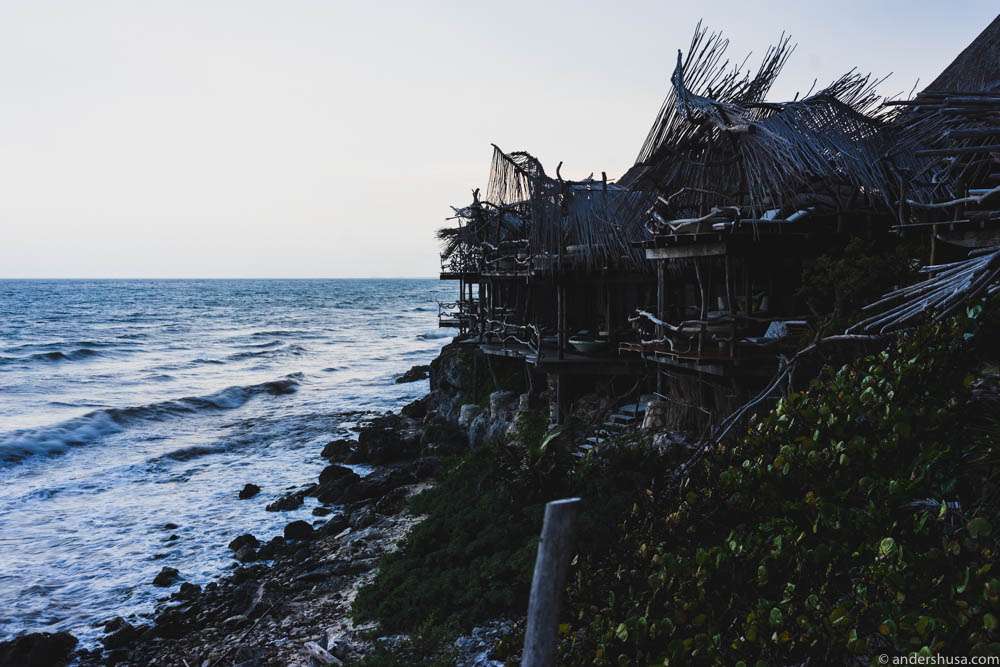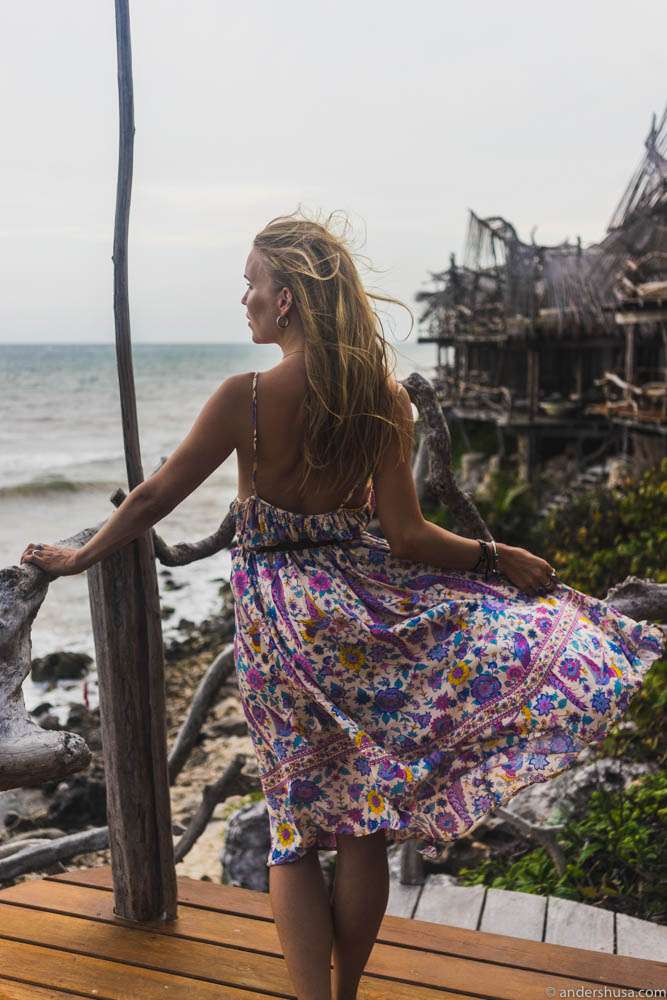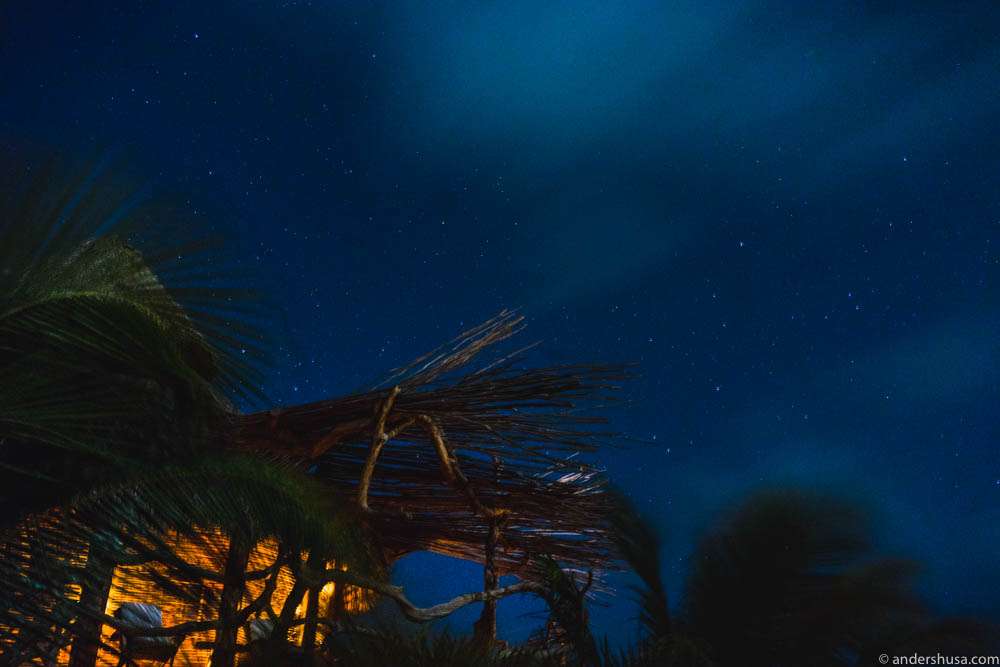 Have you ever seen a place as strikingly beautiful and impressive as this? Please share in a comment, 'cause I wanna know about it!
Disclaimer
This was a sponsored invitation by Azulik. The hotel had no influence on the content of this article, and I received no monetary payment. The suitcases pictured in this article are sponsored products from Samsonite. The post contains an affiliate link to booking.com.