Sponsored by Visit North Zealand
North Zealand is the northernmost part of the Danish island Zealand. Specifically, it's made up of the five municipalities Halsnæs, Hillerød, Gribskov, Fredensborg, and Helsingør. Considering Copenhagen as a starting point, you'll arrive in North Zealand with less than 30 minutes in a car. This summer, we explored the area from north to south and east to west, checking out hotels, restaurants, museums, and even wineries on the way. Yes, they make wine in Denmark! These are my top picks for you to experience – the seven must-visits.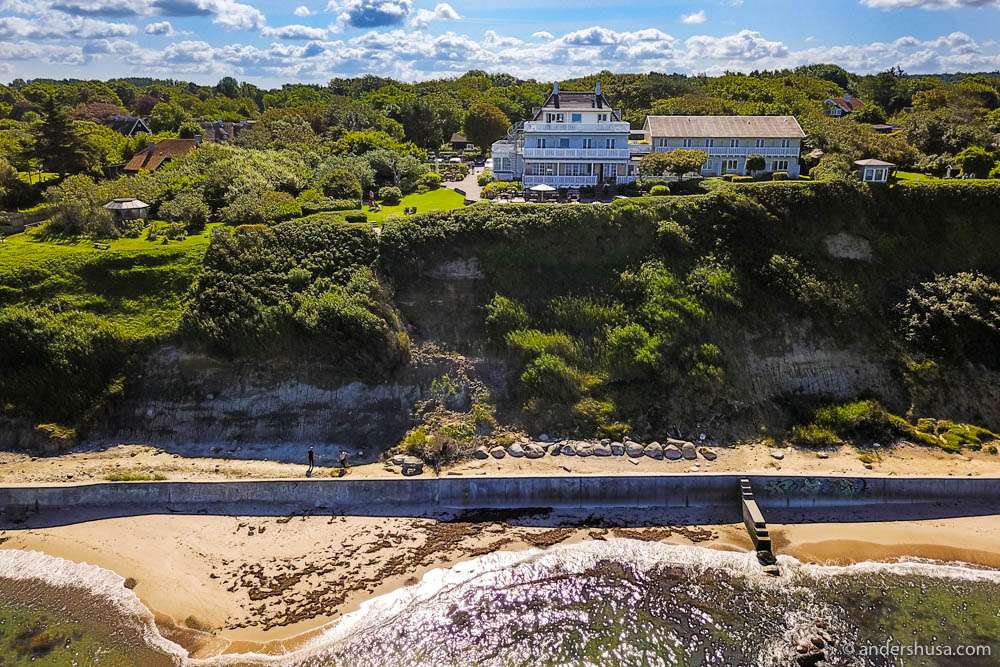 Experience the Danish Riviera at Helenekilde Badehotel
They call this area the Danish Riviera, and I can understand why. Long, sandy beaches, green cliff sides, and crystal blue water are not what you normally associate with Denmark – but you'll find it all in North Zealand. Along Strandvejen (the coastal road), in the small village of Tisvildeleje, you will find a classical Danish beach-side resort called Helenekilde Badehotel. The building dates back to 1896, has been a hotel since 1904, and is extremely well-kept with renovations in modern time. We arrived a late afternoon, enjoyed a decent Danish dinner, watched the striking sunset from our bedroom balcony, and woke up the next morning to a delicious breakfast buffet. I wish we had more time to enjoy the surroundings, but all we managed was a walk on the beach. Maybe next time! Click here to see more photos from this hotel.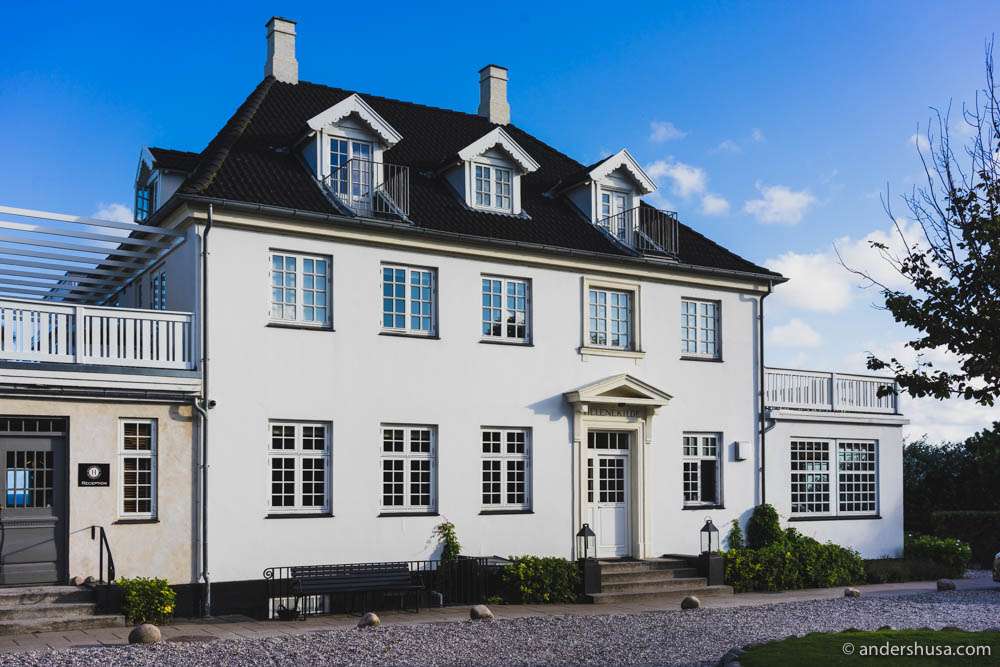 We were lucky enough to be provided with a press car from Tesla once again. You need a car to get around when you explore North Zealand, as there is so much to see in all corners of the island. There's a reason why we keep asking Tesla for help over and over again. First of all, it's environmentally friendly. Second, the Model S is a dream to drive. Last but not least, the car is damn sexy. As a bonus, we found out that Helenekilde Badehotel had a destination charger! That means you can fully charge the car with just 5-6 hours of charging, instead of overnight. This was actually the only time we charged during our three days in North Zealand.
Buy a Bottle From Denmark's First Winery
Until recently, I would never have guessed that winemaking was an industry in Denmark. Well, to be fair, it's not big business. Although there are hundreds of vineyards, only a few handfuls are commercially successful wineries. The production is relatively small for the most part. We met up with Lars Hagerman who runs the first winery that was officially approved by the Danish government. That happened in 2001, after planting his vines in 1998. He had, however, been a hobby viticulturist since 1975!
Hagerman's vineyard is very small, only 0,7 hectares, with five different white wine grapes that produce about 2000 bottles per year. If you are in the area, like us, I strongly recommend stopping by Domaine Alsgaard for a tour of the vineyard followed by a tasting. You can even purchase these highly exclusive wines directly from the farm, and they cost next to nothing considering how limited the production is.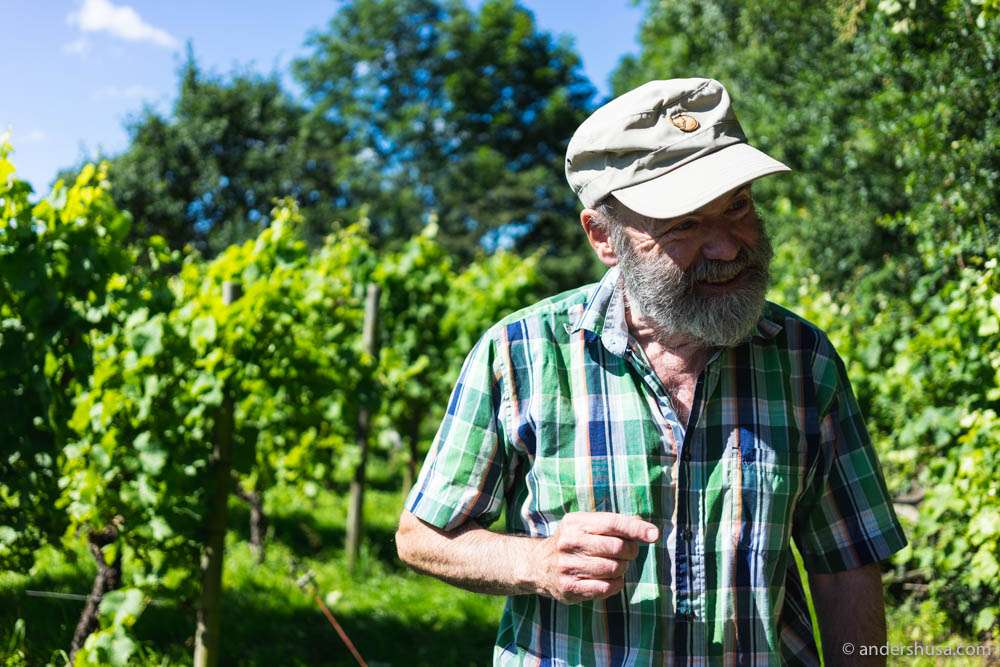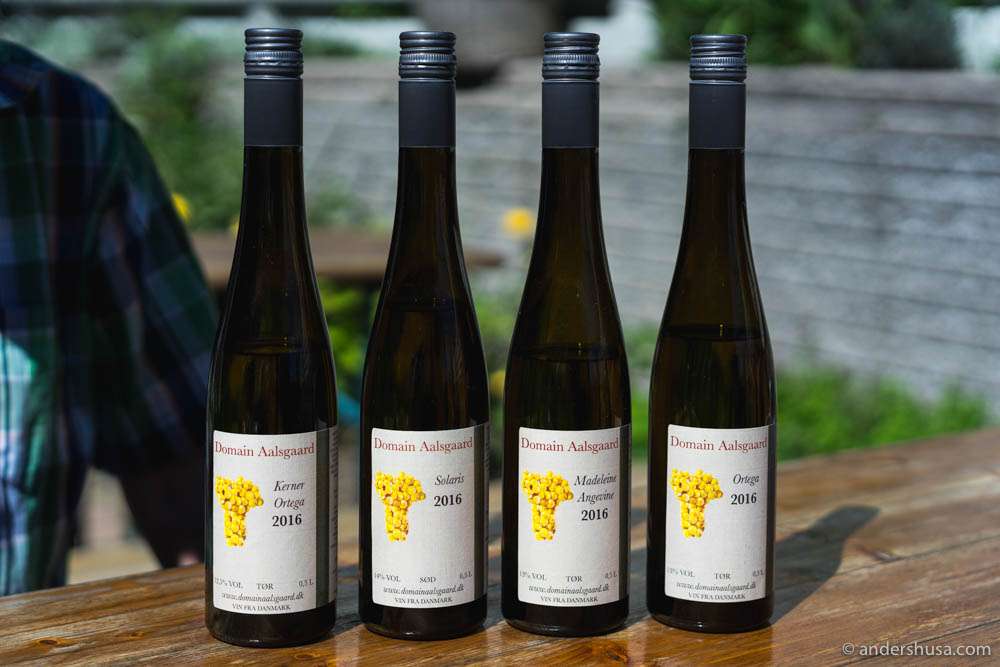 Private Dinner by Mads Cortsen
Mads Cortsen is a young Danish chef, who competed in the cooking show Masterchef on Danish television in 2015, where he came in second after the equally talented Anders Halskov-Jensen. With his newly-won silver medal, Cortsen got the opportunity to work with famous Danish chefs at some top restaurants in Aarhus. Apparently, he must have picked up a trick or two, because he quickly launched his own private dining business – Cortsen Dining. What could be more luxurious than having a chef at your disposal for a full evening at home?
Mads' latest project is a concept restaurant at Hemmingstrup farm in North Zealand. In this remote location, Cortsen and a small team of chefs will cook up an incredible private dinner for a small group of guests. Sommelier Thomas Lysgaard doubles as a showman. He makes the evening all the more memorable, not only with his ridiculously extravagant wine pairings, but also musical acts and even poems. Click here to read more and see all photos from this dinner.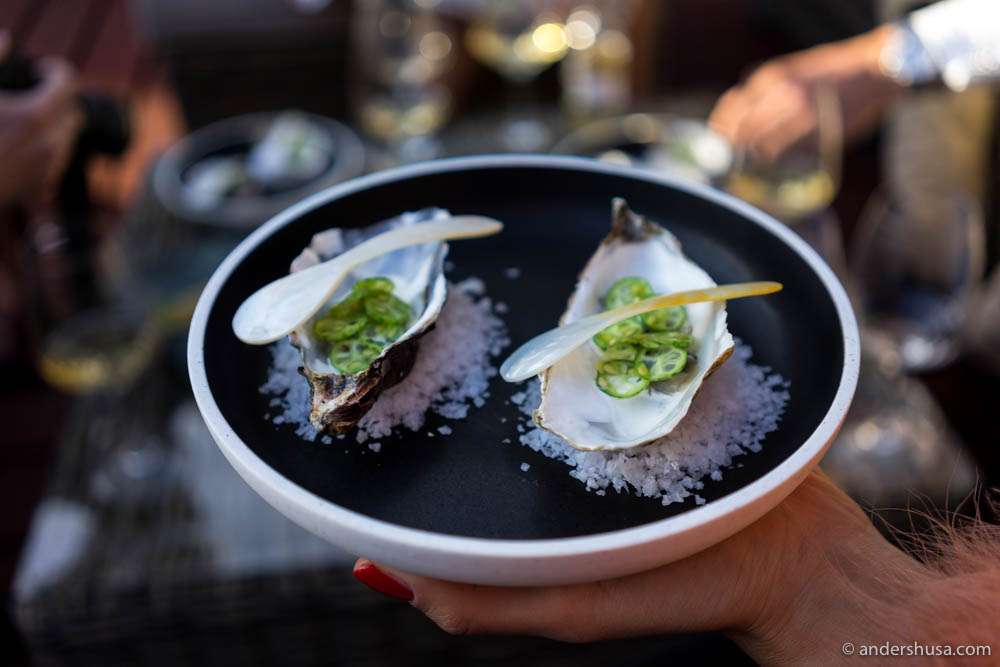 Wander the Gardens of the Louisiana Museum of Modern Art
My first visit to the Louisiana Museum of Modern Art was with my arts and crafts class at secondary school, which must have been sometime back in the early 2000s. A revisit was way overdue, obviously, as this is a must-visit place for anyone that travels to North Zealand or even Copenhagen. With only half an hour by car from the capital or less than an hour by train from Nørreport station, there's really no excuse. A walk in the beautiful gardens of Louisiana is worth the visit alone. As for the art exhibition inside, you cannot skip Yayoi Kusama's Gleaming Lights of the Souls, which is now permanently on display here.
Visit the Natural Winery Vexebo Vin
If Lars Hagerman at Domaine Alsgaard represents the old generation of winemakers in the budding wine country of Denmark, then Daniel Milan of Vexebo Vin is certainly a personification of the new era of young, up-and-coming producers. His family owns 10 hectares of farmland, organically certified since 2004, where Daniel was granted 1 hectare to grow grapevines in 2007. The first harvest was in 2010 and since 2013 Milan's production has been all-natural, with no added yeast or sulfites whatsoever. That results in a very different type of wine than most other producers in the area.
Milan makes between 1500 and 2000 bottles per year. Due to unstable Danish weather conditions, the end result can be totally different from one season to another. His white wine from the Solaris grape (his main variety) ended up with 9% in alcohol in 2015 (a bad year), and a whopping 15% in 2016 (the warmest year in the very short history of Danish wine production ). Luckily, we got to taste the 2016 labels – Solaris (orange), Solaris (white), Regent & Monarch (rosé), and Johanniter (white). Four very different wines, of course, but all quite funky, bone dry, and easy to drink. Make sure to call in advance and make an appointment if you want to visit Daniel at his farm, or keep an eye out for his wines at Copenhagen restaurants like Geranium, Kadeau, Amass, Relæ, and Manfreds. If you wanna read more about Vexebo Vin, I suggest this excellent article from my friend Linn Johnsen, aka Vinstudinen.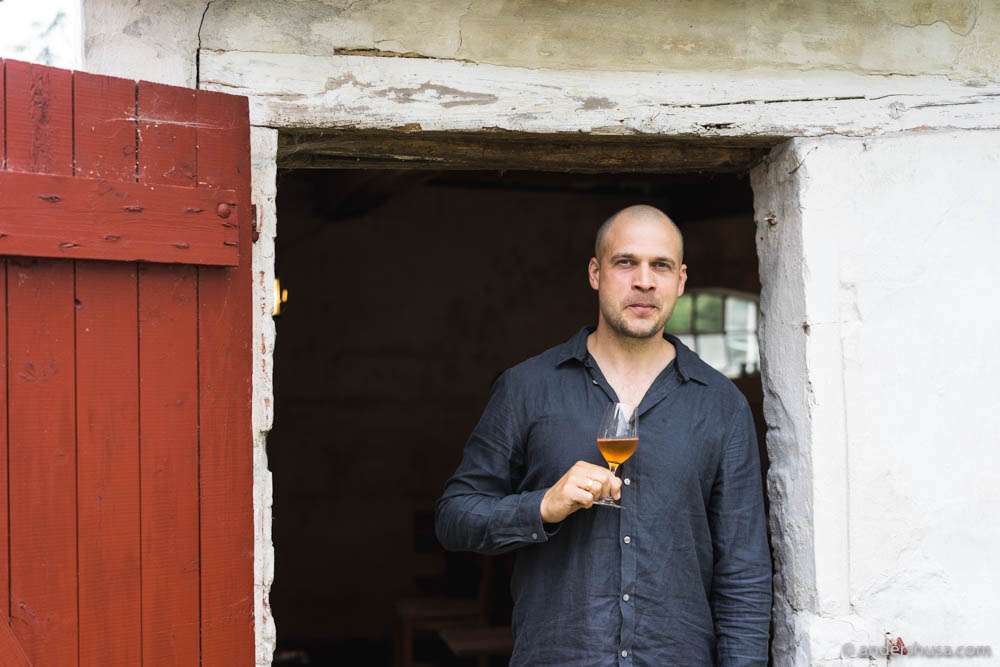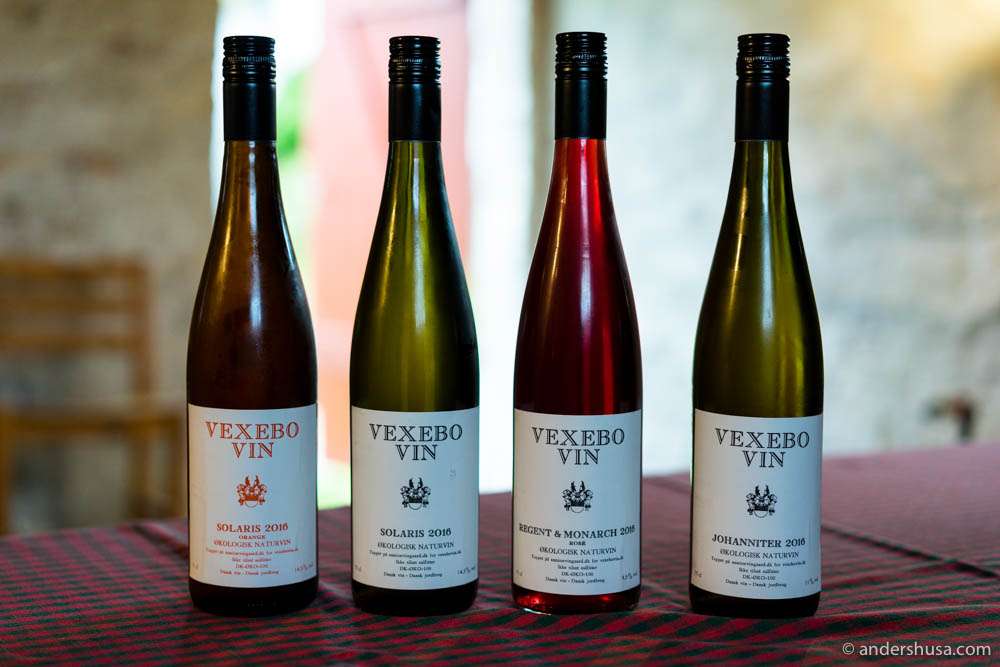 Stay at the Refurbished 18th Century Kyhns Guesthouse
When I'm traveling and looking for a hotel to spend the night, I'm usually interested either in the best value-for-money I can find (read: cheap, but without bed bugs) or a place so charming and beautiful that it feels like a home away from home. Kyhns Guesthouse in Helsingør definitely falls into the latter category. As a bonus, it's not even that expensive. We had room no. 4 – Gårdværelset – which is priced at DKK 1095 for two people per night.
The building dates back to the 18th century and was practically falling apart when the new owners decided to restore it to its original beauty. Locals helped contribute to the refurbishment by donating old furniture from the same era. Today, it stands as a testament to the past. Six exclusive rooms, each decorated differently from the others, and bearing unique names. Watch your feet as you walk down the old, squeaking, staircase. Not every step has the same angle. In other places, you have to duck not to hit your head on the low ceiling or doorways. That's all part of the charm of Kyhns Guesthouse.
Danish "Hygge" at Restaurant Sletten
Restaurant Sletten is part of the Formel B restaurant group. In addition to the one-Michelin-starred flagship in Copenhagen, they also have excellent eateries like restaurant Palægade – where we have enjoyed some of the finest Danish smørrebrød – and the latest addition to the family which is restaurant Format in Hotel St. Annæ. Here, the former Geranium sous chef, Will Smith, is taking hotel dining to a whole new level.
Back to Humblebæk and restaurant Sletten, where we ate dinner one of our evenings in North Zealand. Immediately, upon entering the dining room, I got this strong sensation of Danish hygge. It's sort of inexplicable, and something I rarely feel outside of Denmark, but there it was – that feeling of relaxation, enjoyment, and coziness at the same time. "Now, it feels like we are in Denmark!" I said. The informal atmosphere, the neighborhood clientele, and the laughter and cheers that filled the room all contributed. However, it was when the first few snacks arrived at our table, that I truly felt at home (I might be Norwegian, but I regard Denmark as my second home). This meal was just what we needed to fall in love with Denmark all over again. Good produce, big flavors, and rustic yet pretty presentations. It was nearly flawless. Click here to see more photos from this dinner.
Have you been to North Zealand? Please share any recommendations you may have for my next visit in the comments below.
Disclaimer
This travel guide is sponsored by Visit North Zealand. All the places were selected by me, and the sponsor had no influence on the recommendations or content of this article. I received no monetary payment. The vehicle is a borrowed press car from Tesla, and the suitcases are sponsored products from Samsonite. The guide contains an affiliate link to booking.com.
Follow Us on Social Media

YouTube
Anders Husa & Kaitlin Orr

Instagram
@andershusa
@carnivorr

Facebook
Anders Husa & Kaitlin Orr

Join Our Food Community
The Hungries
Become a Patron!