Fine dining hasn't exactly been a trend in Oslo lately. In fact, almost every new restaurant that opens these days seems to stress the fact that they are casual, relaxed, affordable, and available neighborhood bistros or brasseries. And Heaven forbid they have a concept! Everybody wants to be free to make whatever they feel like. Enter restaurant À L'aise. Formal. French. Classic. Luxury gourmet with a dress code. Wall-to-wall carpeting. A subtle off-white coloring. White table cloth with a tasteful thickness to it. Oh my God, they even have a Champagne trolley …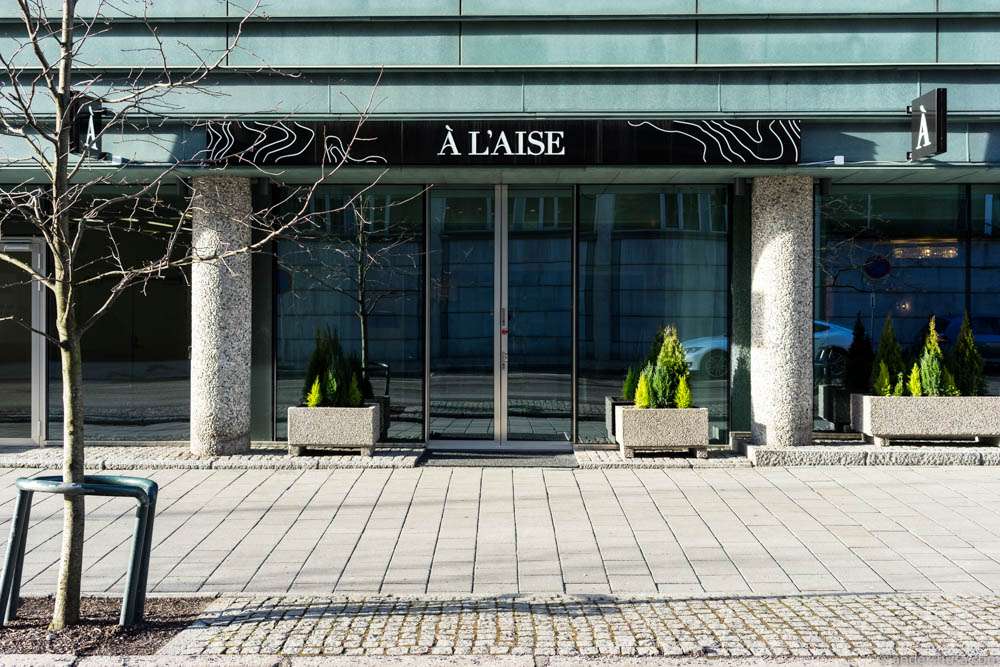 Top Reviews in All Papers
My first visit to restaurant À L'aise was a few days after opening, together with my friend André Blomberg-Nygård. He's also the reviewer of Godt.no, and gave top scores to our meal. I would have given the same, had I used a dice, but instead I put it straight on my map of favorite places in Oslo. Thus, it seemed like the perfect place to return to when the opportunity came on Hedda's birthday back in March. Since then, restaurant À L'aise have managed to get about as great reviews as you can get in the Norwegian press for a newly opened restaurant. It's even been lauded as the new Bagatelle (a former two-Michelin-starred restaurant by chef Eyvind Hellstrøm).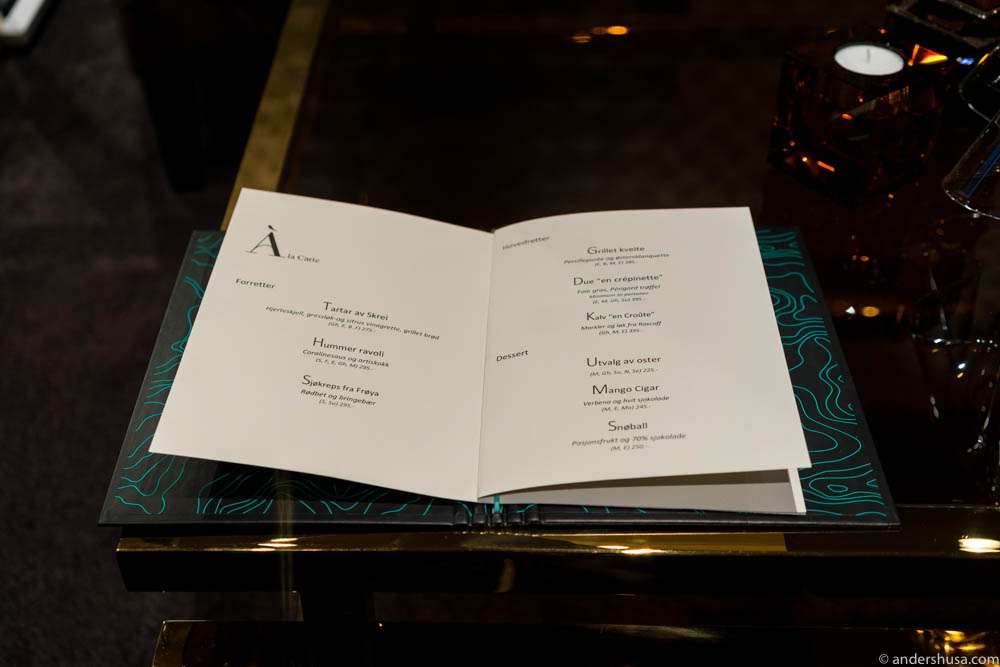 Pricewise Between Kontrast and Statholdergaarden
In the kitchen of restaurant À L'aise is none other than the Danish chef Ulrik Jepsen, who's exquisite cooking we have experienced before at Engø Gård. The menu card, in a beautiful little book bearing the À L'aise colors and visual trademarks, gave us the choice of a set menu at NOK 1495 or à la carte. With starters almost at NOK 300, main courses at NOK 400, and desserts closer to NOK 250, the former seemed to be the best choice. At least if you like to get the full experience. Pricewise, À L'aise is somewhere between Kontrast and Statholdergaarden, just to compare it to the other one-Michelin-starred restaurants in this city (I can only assume that is the ambition level here).
Snacks Reminiscent of Engø Gård
We asked to enjoy our aperitif in the lounge area where the Champagne trolley is parked (very handy). A series of bite-size snacks arrived, some of which we immediately recognized from Engø Gård. Specifically, the walnuts with foie gras and the cheese canelés seemed to have fit well into Ulrik's luggage when he moved from Tjøme to the capital. From all the snacks, the latter is also the most outstanding piece with its salty and caramelized cheese flavor. Delectable!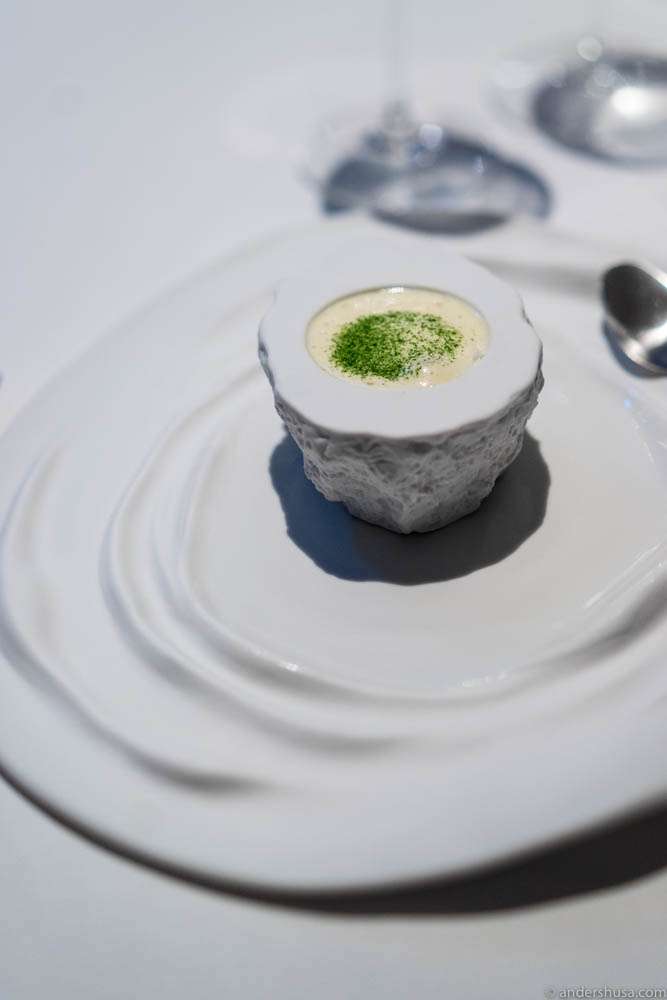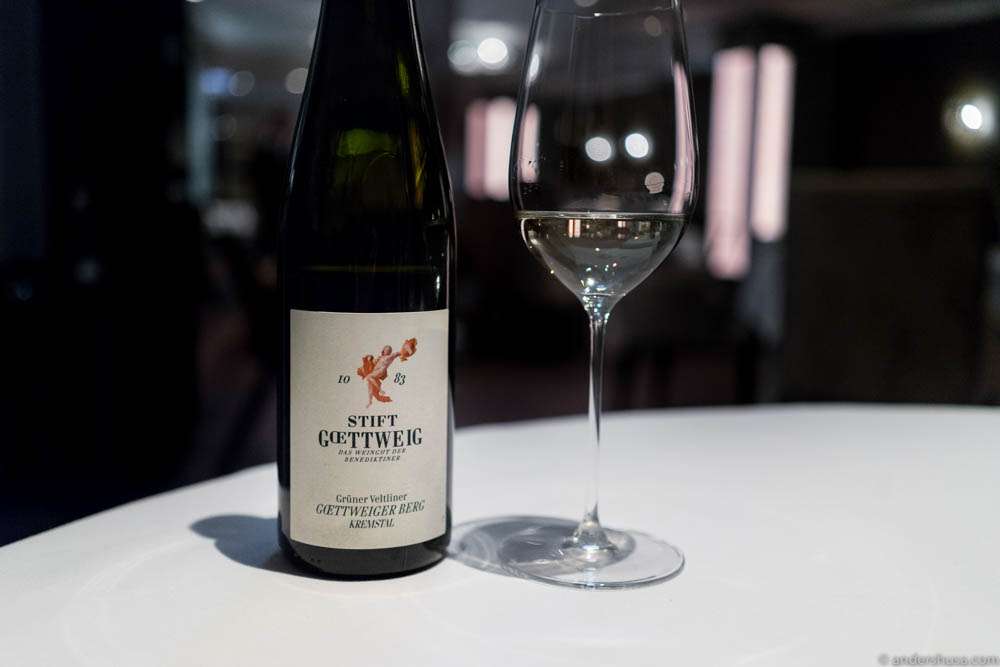 A Nordic Touch to French Haute Cuisine
Seated at our table, we were presented with a choice of two types of bread. I knew from my first visit that the brioche would be the best. Airy and buttery. Speaking of butter, sadly, the French butter on the side was served too cold. Only for the first serving, though. The second (and third, and fourth) time it was soft and spreadable. Eggs Benedict marked the transition from snacks to starters. Clearly, Ulrik loves quail eggs, which I also remember being a snack at Engø Gård. On to the starters, with the first being actually more Nordic than French: a Skrei tartare. A dish that worked so amazingly well. Salty, herby, citrusy, soft, crunchy, and even pretty to look at. Just brilliant. In the glass, a Grüner Veltliner from the Benedictine monastery Stift Goettweig.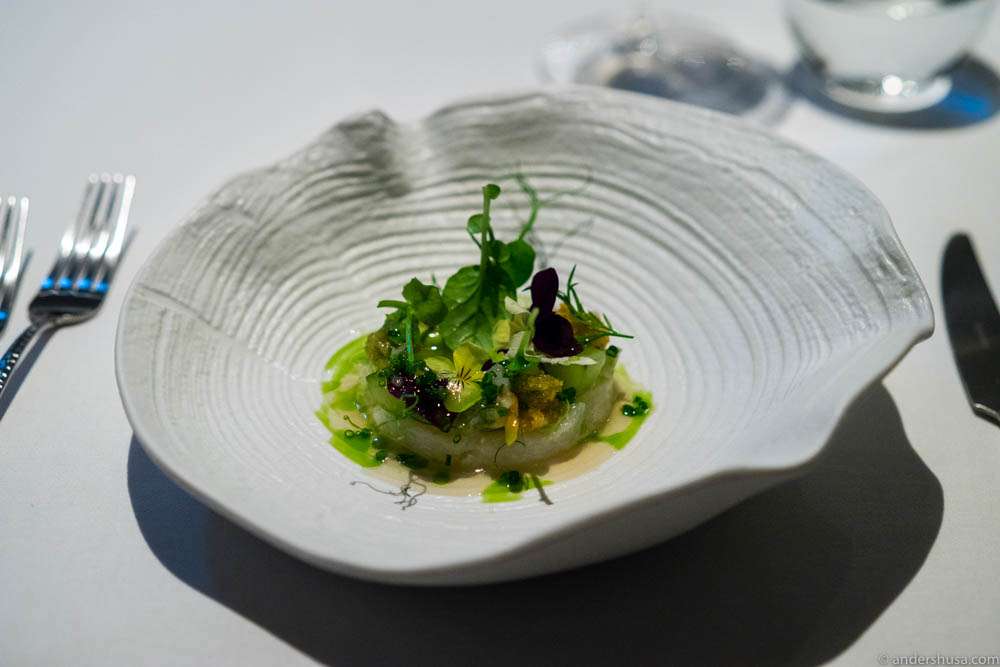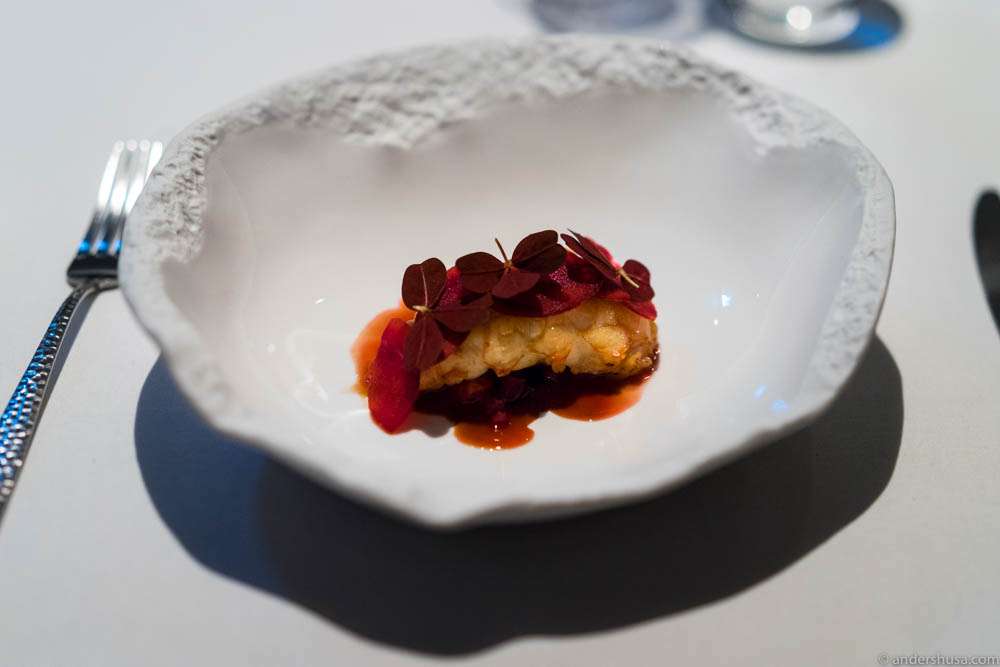 The second starter didn't work too well for me: langoustine with red beets and raspberry vinegar. I see what chef Jepsen was trying to do, by combining the delicately sweet flavor of the crustacean with the acidity and sweetness of beets and berries, but I couldn't feel the harmony. In this case, the Nordic touch didn't fit the French haute cuisine. To me, the sauce was overpowering and just camouflaged the wonderful produce from Frøya. Who's to complain, though, when the lovely sommelier, Natalie Jansen, poured excellent rosé Champagne from Bruno Paillard in our glasses and told us her personal story of meeting the elegant and charming winemaker? Also, it was one of the very few misses in a long meal. In fact, already with the next serving, we had forgotten all about it. Agnolotti, a pasta pillow, filled with the leftover langoustine claw meat, topped with caviar and a Coraline sauce. Buttery, salty, and warming. Shut up and take my money!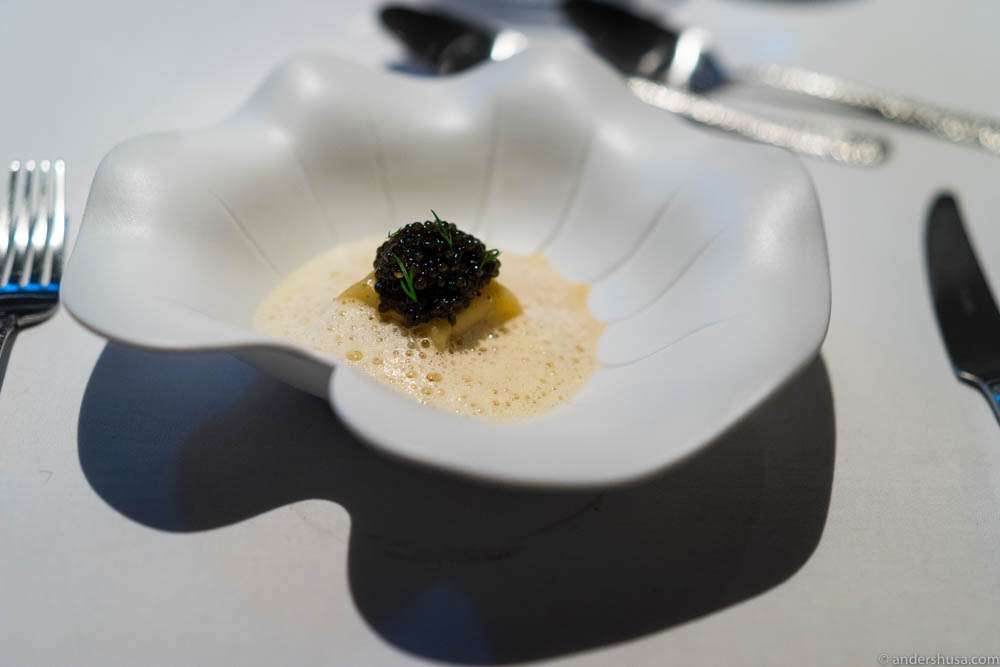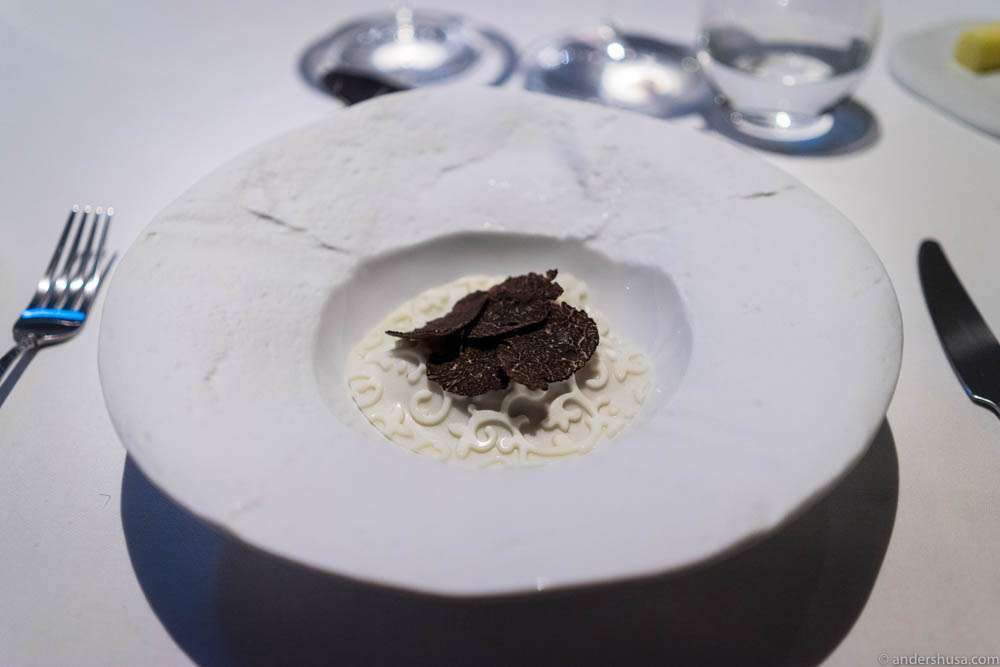 Surf'n'Turf With Krug Champagne
There were minor details with dishes like the scallops Royale which wasn't perfect. The milk skin was thick and rather flavorless, although it did have a nice pattern. On top and underneath, hid a lot of yumminess, though: Ibérico ham, Piedmont hazelnuts, and black Périgord truffle. Luxury plated right there (just add some caviar and gold leafs, right?). Ulrik was in surf'n'turf-territory with the next course as well. Skate wing combined with glazed pork ribs, and yet another butter sauce – this time aromatic. In the glass: 2003 Krug Champagne. Damn. From here on it was pretty much straight uphill!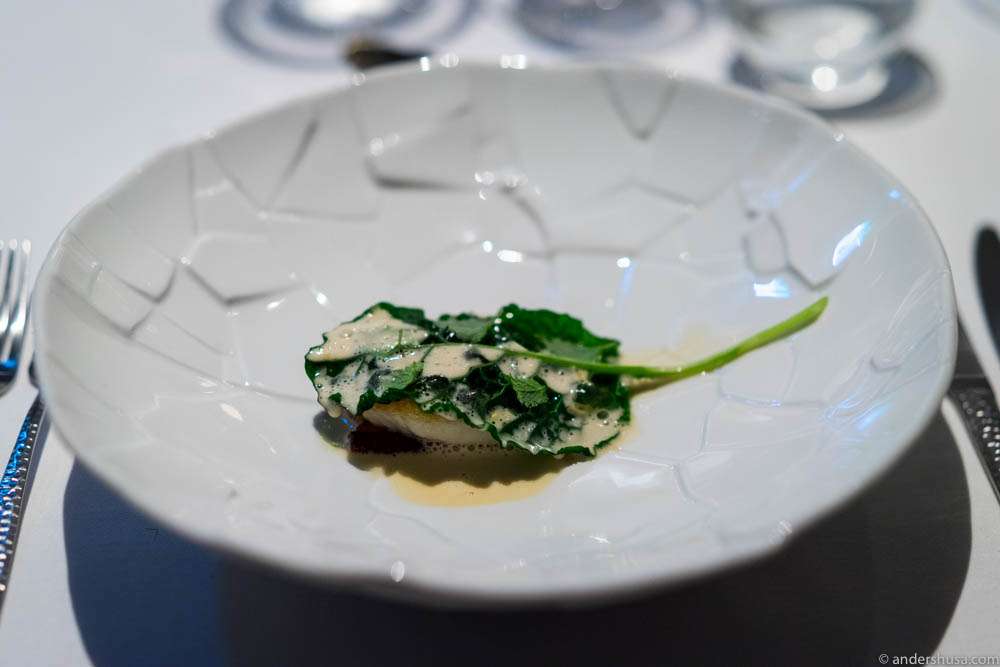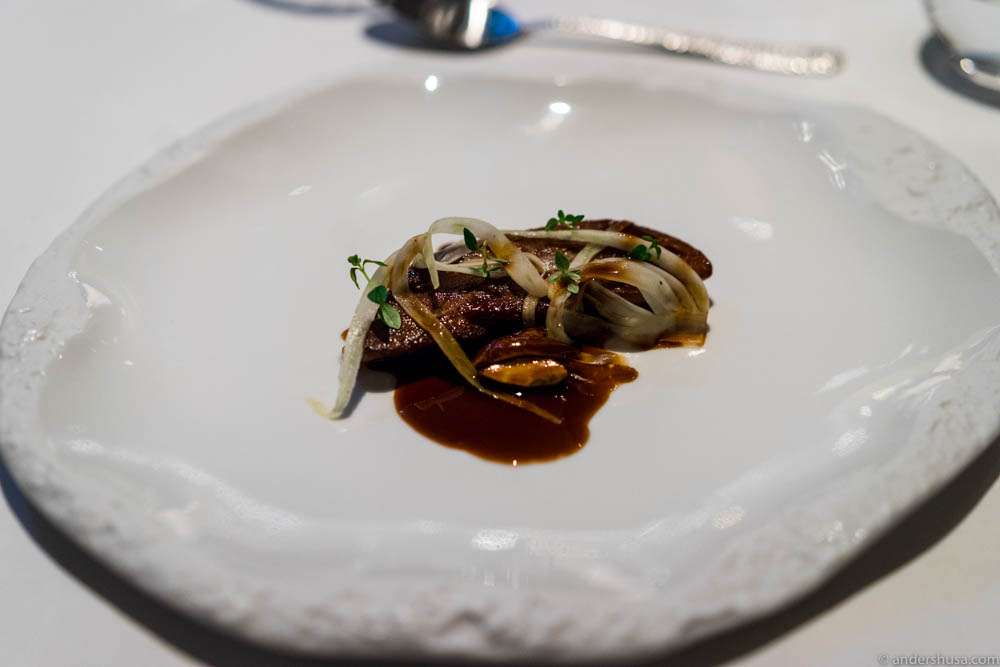 Too Many Favorite Dishes to Keep Track
Foie gras de canard was possibly the best pan fried duck liver dish I've had, and Hedda said the same. Perfect consistency, and well-balanced by the sweet and tangy sauce of ginger and long pepper. At this point, we had a hard time keeping track of our own favorite dishes in the meal. That's when our most treasured plate from Engø Gård made a reappearance! Ravioli with wild boar and mushroom consommé. So rich. So fulfilling. It takes a Dane to make an ingenious creation like this. Apart from the one of Bent Stiansen at Statholdergaarden, the two other Michelin stars in Oslo belongs to a Danish and Swedish chef, so it wouldn't surprise me if the next two goes to the same countries as well (I'm thinking, of course, of Bokbacka and restaurant À L'aise). Equally lovely in the glass: 100% natural Gamay, Fleurie L'Alchimiste from Anne Sophie Dubois.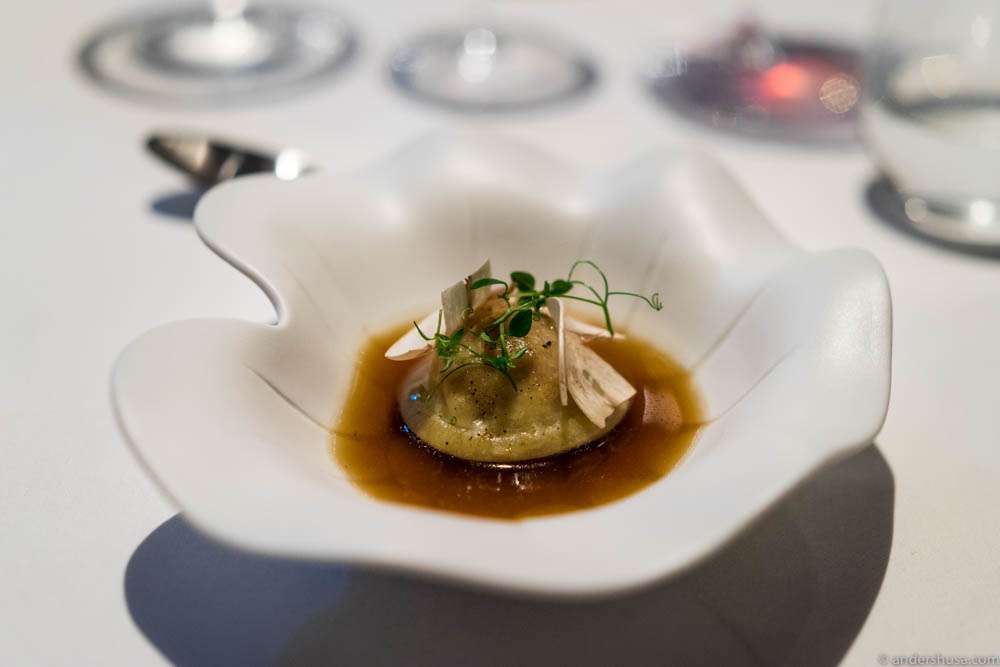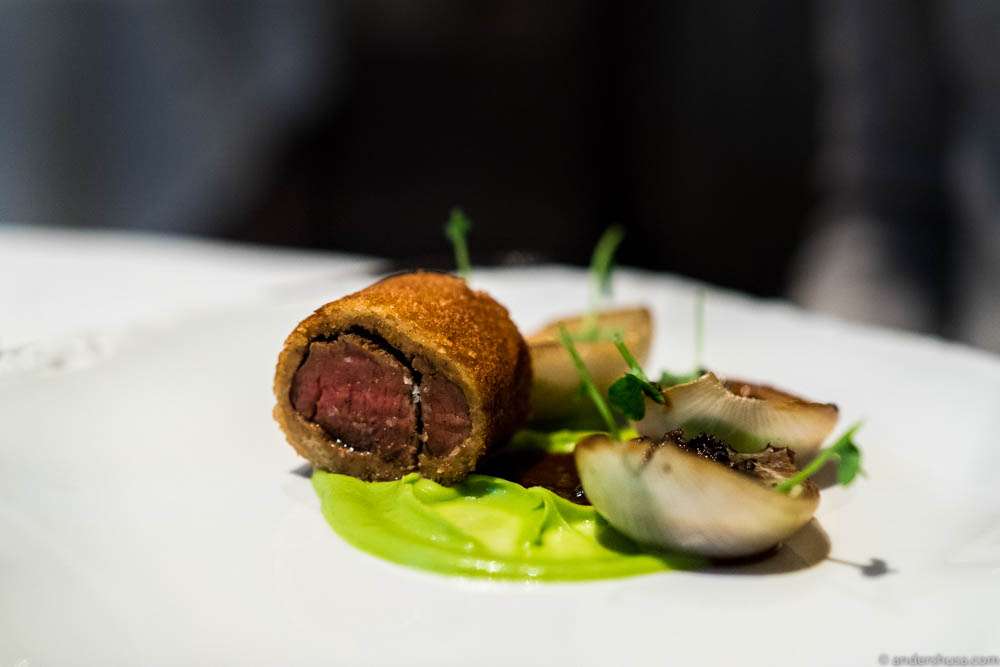 The "Now, I Can Die Happy"-Dish
Were we still at starters or did we survive to the main courses? Were we really in Norway, or was it the French countryside? And what's that touch of Danish finesse? Chef Ulrik Jepsen had us all befuddled. Happily so, I should say, and at least the first question was cleared up when the veal en croûte came. Clearly, this was the evening's highlight (at least, until we got the next dish). Perfectly cooked veal tenderloin inside the crispest and lightest bread coating you can imagine. Any sane person would stop at this point, but one item on the à la carte menu was practically screaming at us: Pigeon en crépinette with foie gras and truffle. It sure as hell wasn't hunger that drove us (read: me) to order it. Rather curiosity – could it be the best one? Or maybe madness. I don't know, but I refuse to regret it! This is the kind of dish where you can say: "Now, I can die happy." Especially paired with a glass of Château Lanessan, Haut-Médoc from 1999.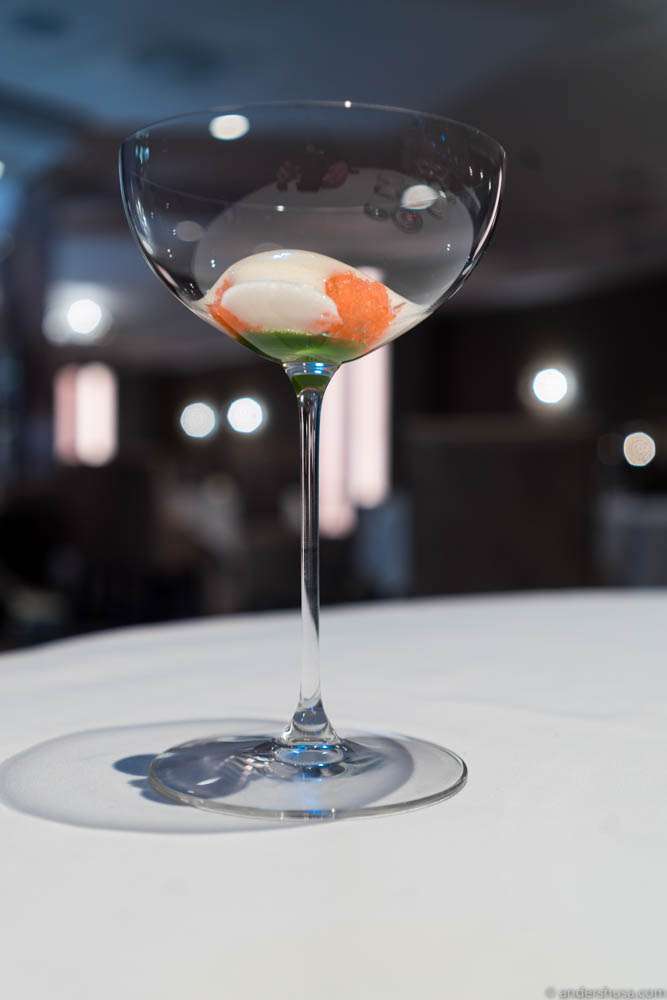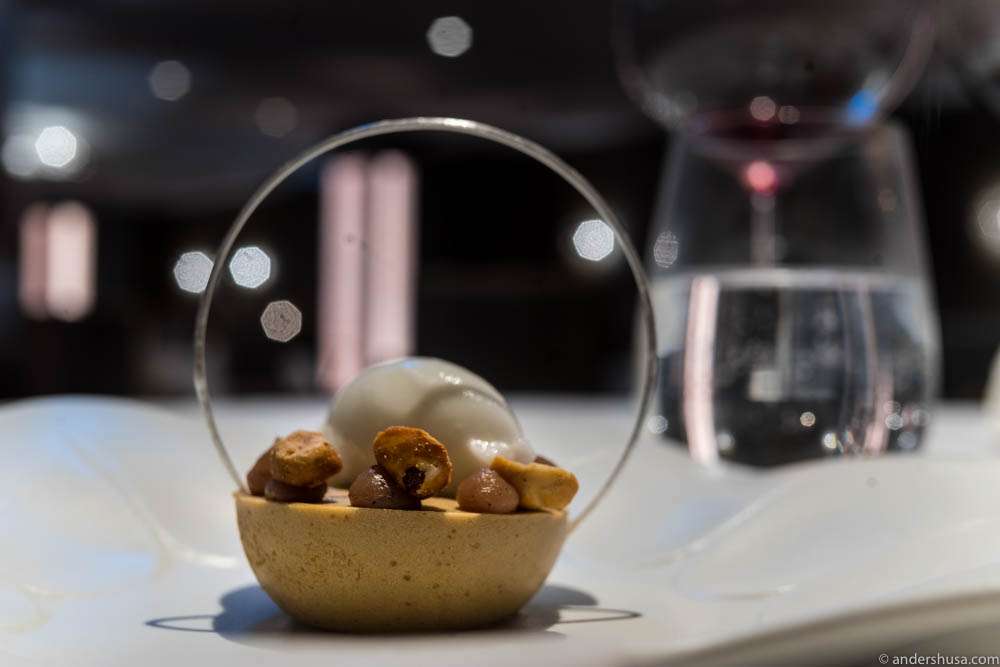 "I'll Have the Petits Fours to Go, Please"
Some restaurants have excellent savory dishes, but struggle when it comes to desserts. At À L'aise you get the best of both worlds. Technically, Ulrik does a flawless job. Look at that sugar eclipse on the Mont Blanch, or the full chocolate circle surrounding the crispy mango cigar – which, by the way, is just as tasty as it looks. Definitely my top pick among the three we tried, but it got heavy competition from another technical masterpiece – the snowball. I take my non-existent hat off, and bow to chef Ulrik Jepsen. He hasn't just reintroduced the classical cooking to Oslo, he has also put his very personal touch to it, and proven that it still has its place in this city. Even if you're left with a heartburn, and a lingering heart attack, as you mutter your final words: "I'll have the petits fours to go, please." Better get home before someone offers Mr. Creosote a wafer-thin mint.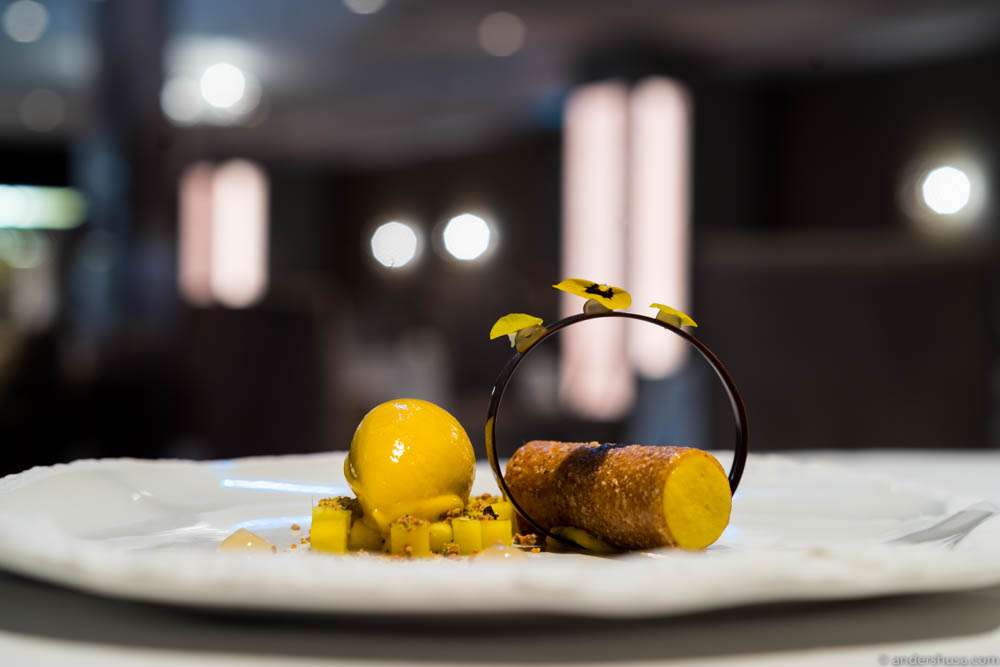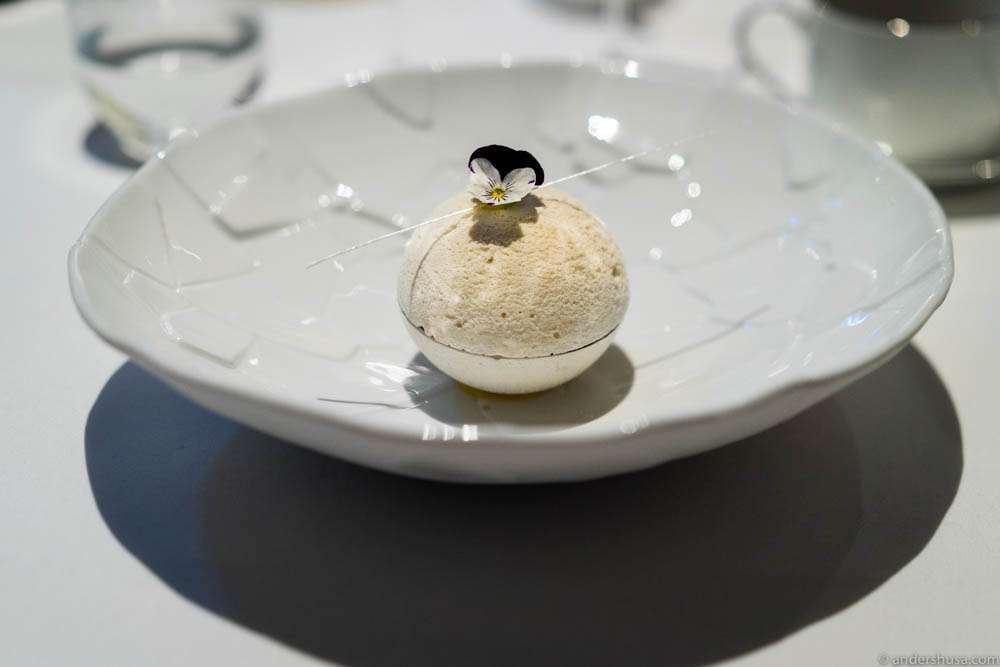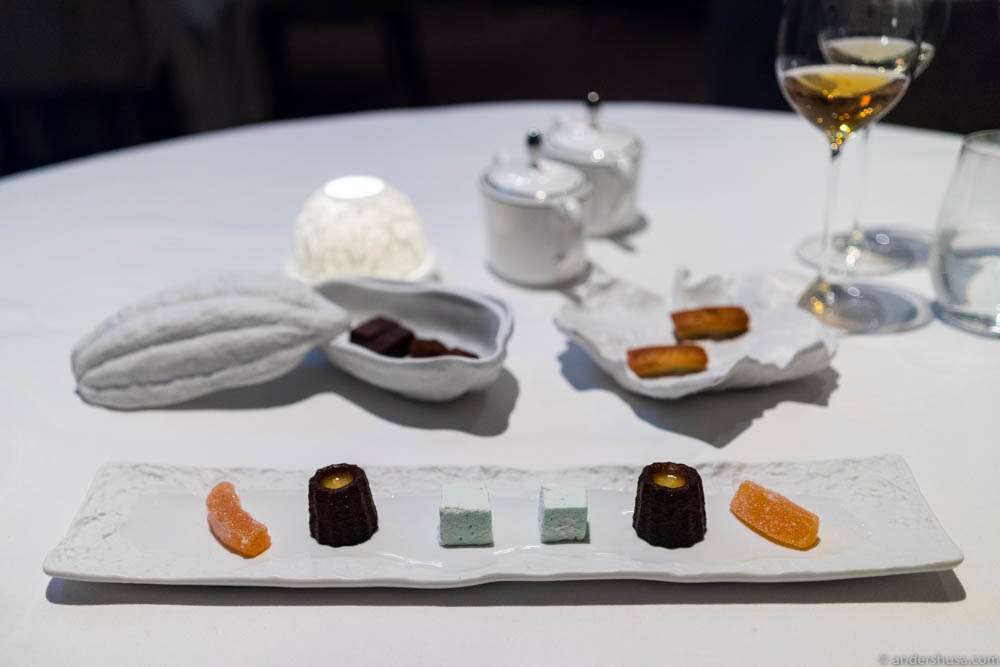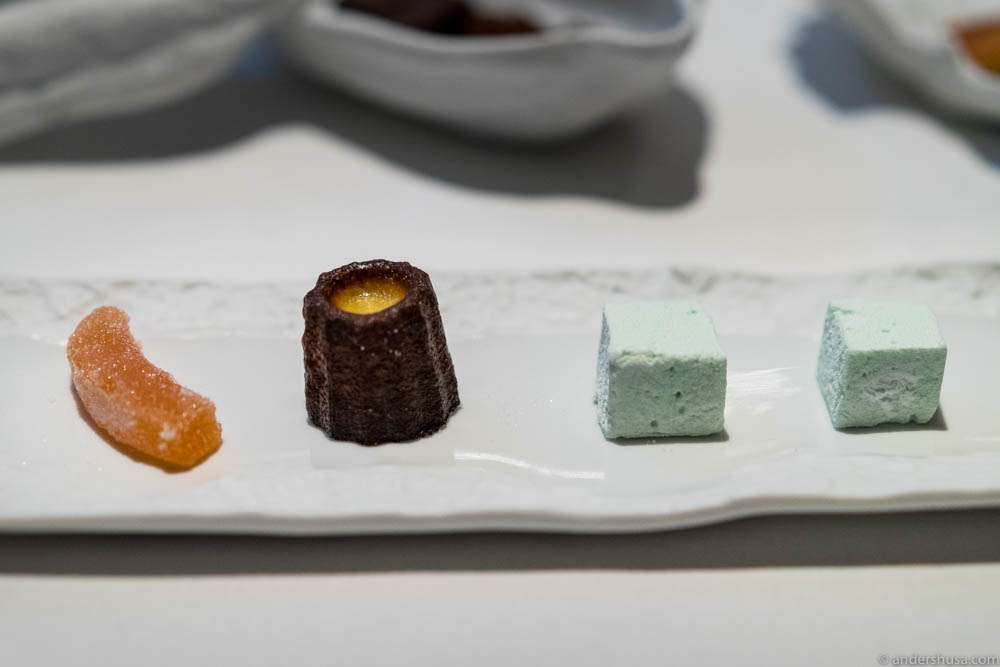 Are you happy to have classical French cooking back in Oslo? Please share your thoughts in a comment below.