Sponsored invitation
Restaurant Strand is a hidden gem in the Oslo dining scene, located at Holtet in the Bærum suburbs on the outskirts of the city. Chef patron Tom Victor Gausdal is known to many people as a TV chef, having starred in several different shows both as a participant and judge, including Kokkenes Kamp, Masterchef, and Top Chef. The experienced Emil Thorsvik is the head chef at Strand, but large parts of his team consist of apprentices – both in the kitchen and front of house. Yet, we noticed no signs of inexperience neither from chefs nor waiters when we visited on a biting-cold January evening.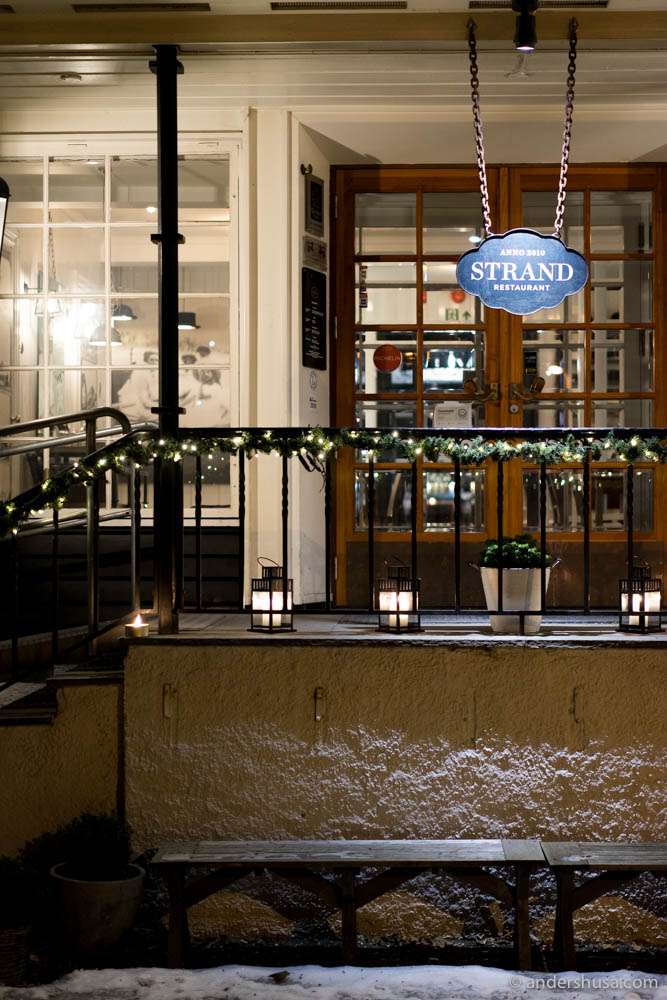 How to Get to Strand Restaurant
Open for lunch and dinner all year, Tuesdays to Saturdays, restaurant Strand is a cozy and charming place to enjoy a meal both in the winter and summer season. From Oslo, take bus 161 Rykinn either from the bus terminal or the stops Hammersborggsata, St. Olavs plass, or Nationaltheatret. About 15-20 minutes later, get off the bus at the stop called Strand and keep right. Walk through the underpass and take another right. Follow the signs from there, and you'll arrive in few minutes. Don't miss out on the food festival they'll arrange for the second time this summer – Kokkenes Dag.
The Brief History of the House by the Waterfront
The historic house by the waterfront has been a restaurant since 1924, but was renovated to its current form in 2010. In fact, Strand was the first restaurant of what has now become the LAVA restaurant group, which includes amongst other places Smalhans, Hitchhiker, Sentralen, Sentralen Café, Brutus, the Golden Chimp and two sourdough bakeries under the name Handwerk. Rumor has it, that the organization has also snagged Atli Mar Yngvason once he's done at Pjoltergeist, and later this year, they're even opening the ramen joint Hrímnir.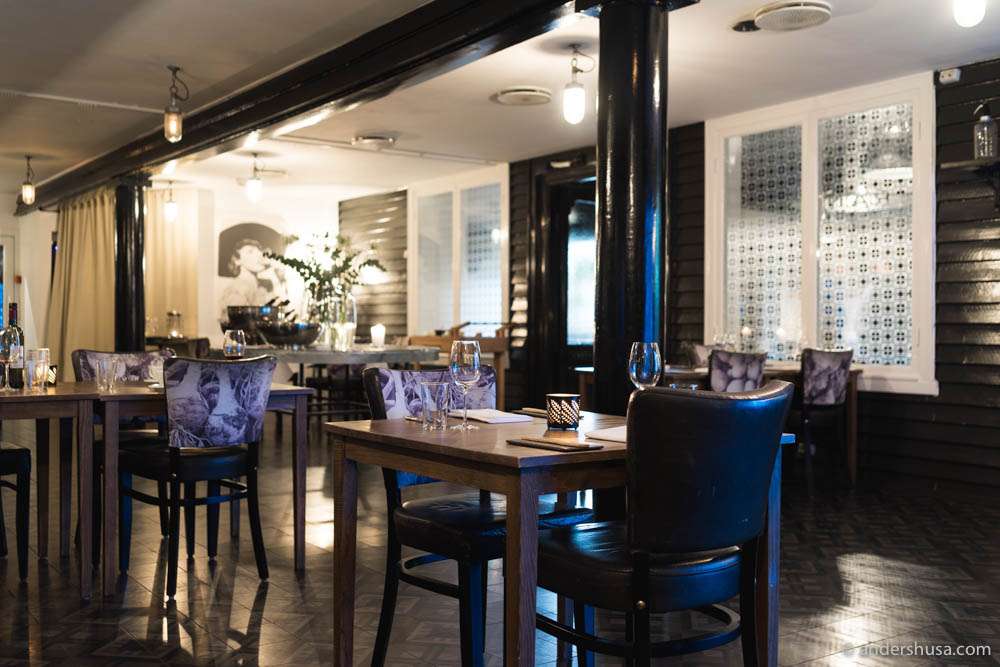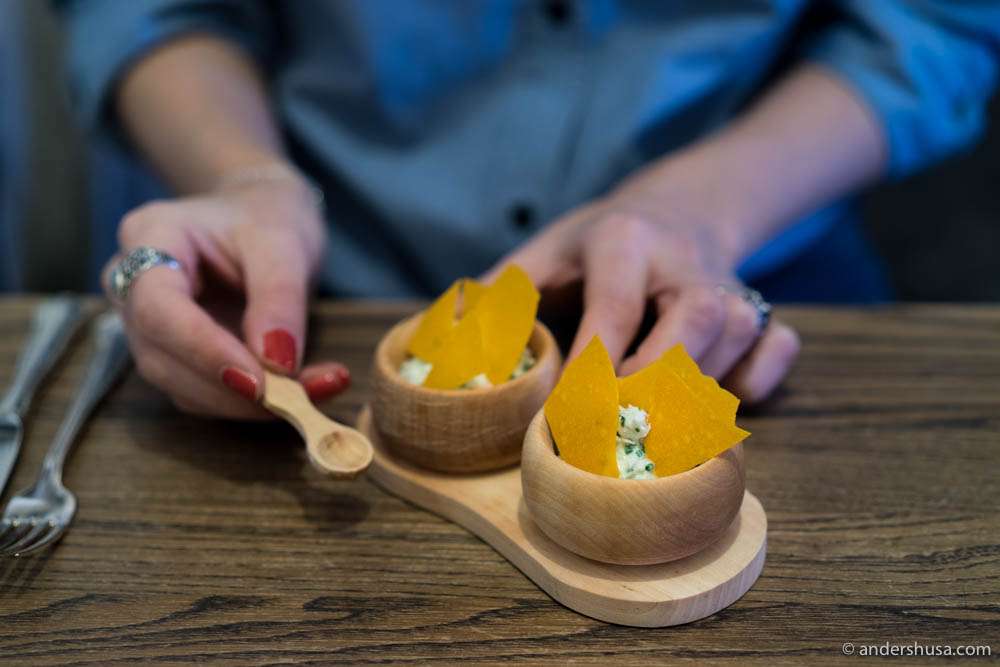 Natural Food and Wine at Strand Restaurant
We enjoyed the six-course menu (NOK 795),  which actually consists of eight servings when you count the amuse bouche and petits fours. There's also a three-course menu priced at NOK 525. Most of the food and wine is natural, which means it's organic and free of pesticides and fertilizers. Wines, vegetables, meat, and fish are delivered from small independent winemakers, farmers, and fishermen.
The first snack was a delicious and refreshing crab salad with crunchy crisps made from pumpkin. The creamy mixture was a sort of Skagenröra, nicely balanced with a good acidity and a pure flavor from the sweet crab meat. We weren't as impressed with the bread that was served on the side, though, and the butter with herb salt wasn't salty enough.
Langoustine came with a layer of Brussel sprouts, flower sprouts, pickled salsify, dried soy and broccoli powder, and a green chili mayo. Tableside, a warm shellfish broth was poured onto the plate from a Hario water kettle. Once again, you could taste the pureness of the top quality Norwegian seafood, and the dish was superbly balanced, warm, and hearty. The only criticism I have is the presentation, where the beautiful langoustine was concealed under all the layers of greens.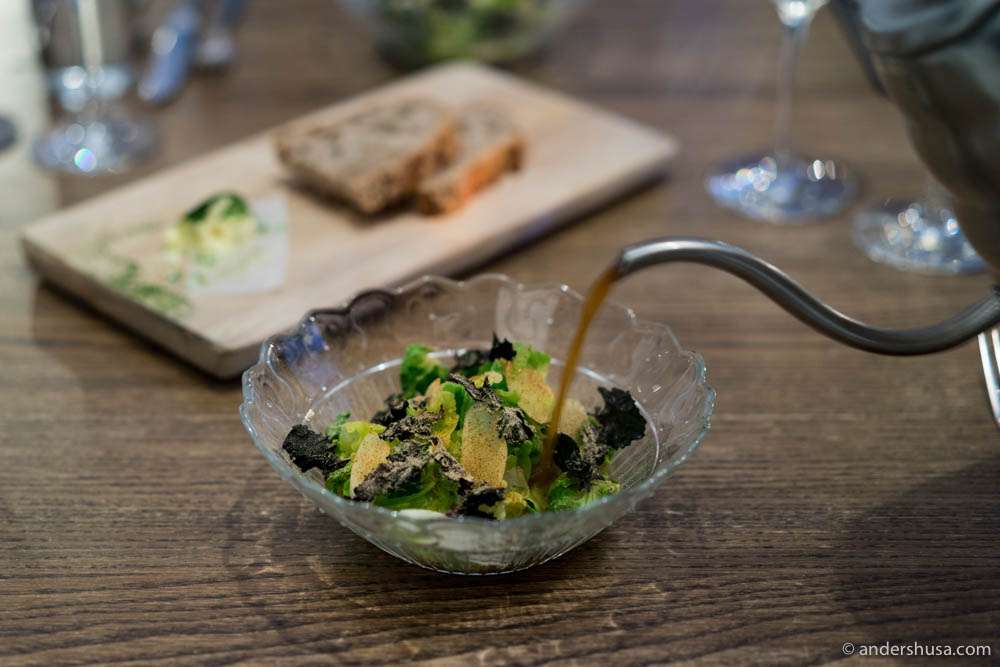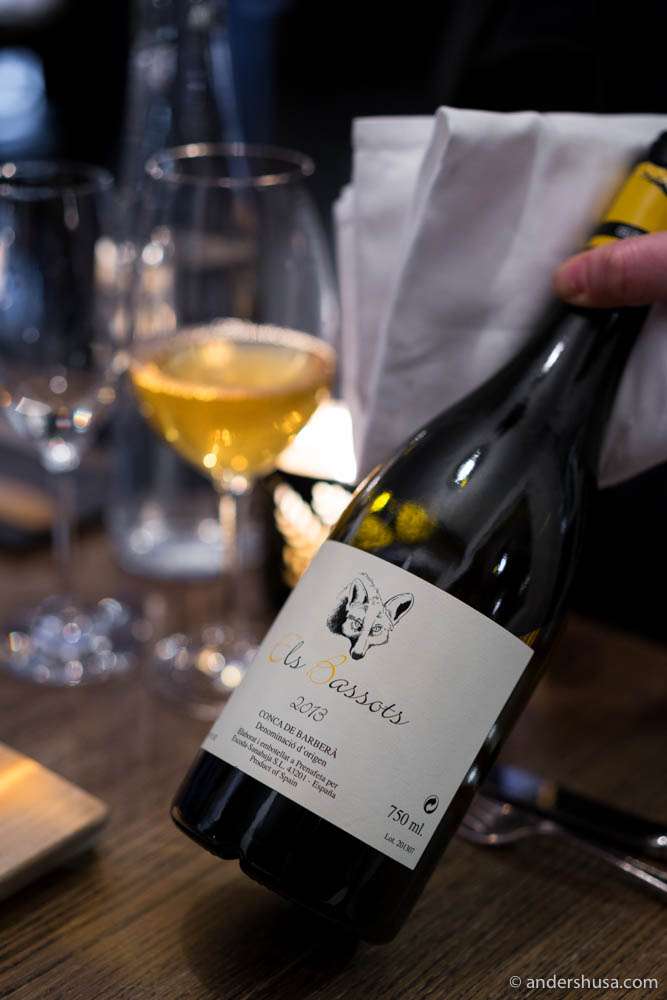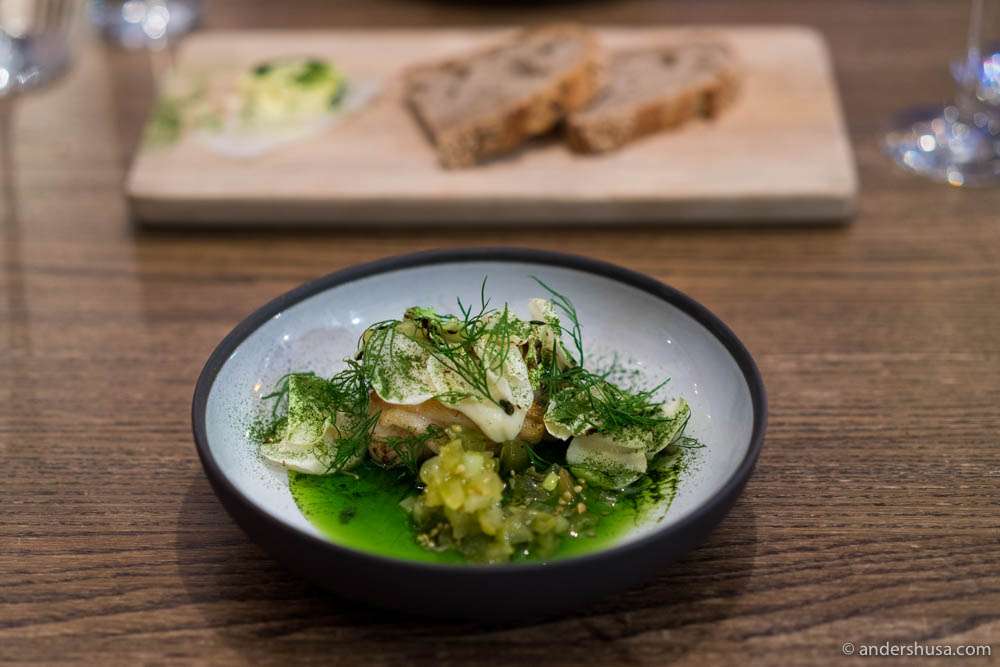 The meal continued with a wonderful skate wing, cooked to perfection, where you get that caramelized, almost crunchy texture to the fish, while at the same time preserving all the juices inside. Olive oil flavored with ramson and fermented green tomatoes was a great match with the skate and cabbage, and the fat was balanced off by the acidity of the tomatoes (and the wine).
Continuing with fish, this time wild halibut, accompanied by pickled carrots, grilled onions, a smoked butter sauce, as well as deep-fried sourdough crumble. The fish was flaky and soft, the sauce buttery and rich, and the topping was sweet, acidic, and crunchy. Simple and delicious.
The main course, or at least meat course, was fallow deer from Skåne. Served with chips of salt-baked beets that weren't crispy enough and added little flavor. However, the dish was saved by a scrumptious potato mash topped with potato crisps, and the fact that the deer was cooked just right.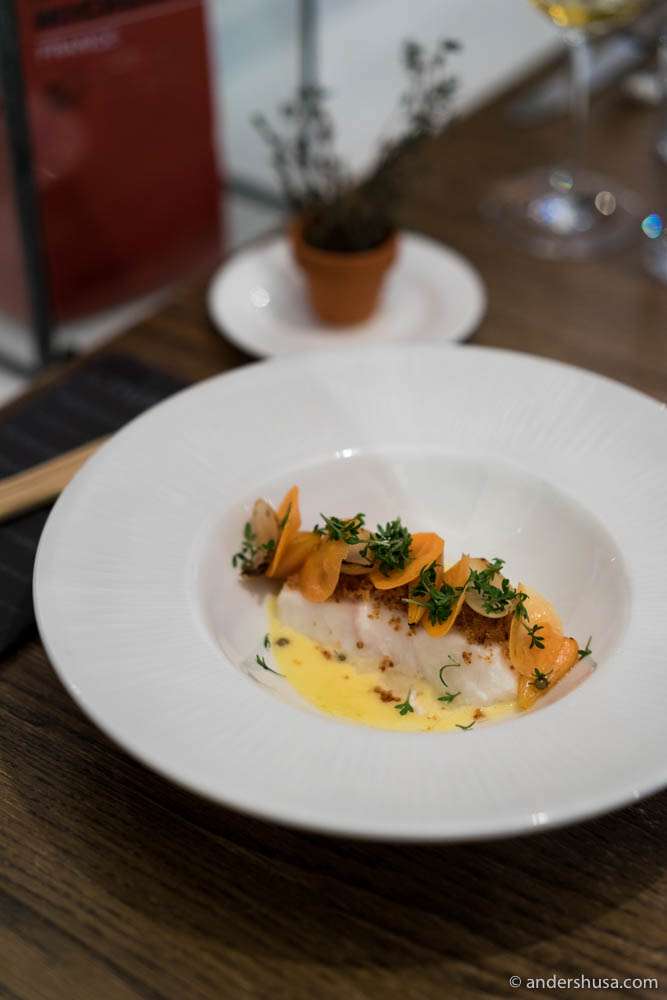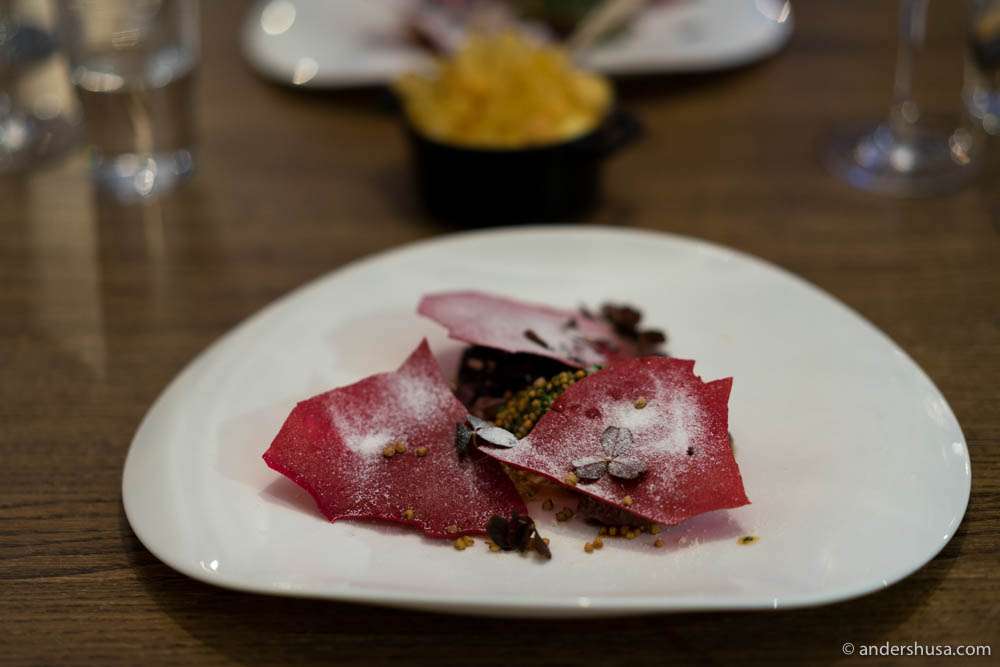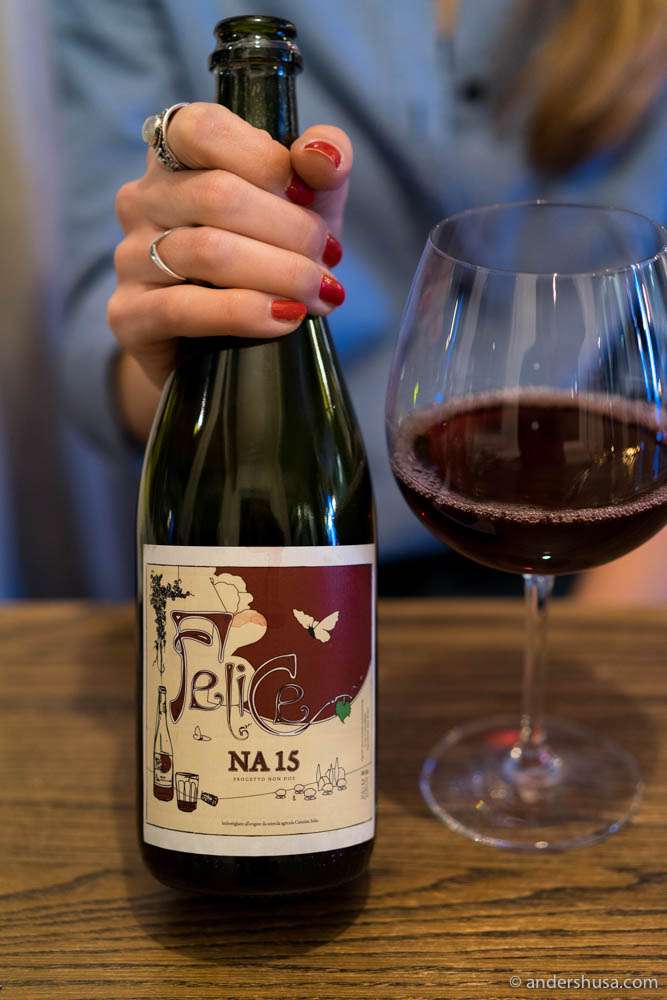 I normally decline cheese servings, but this evening, both Hedda and I felt like going all in. One of the apprentices came out to present the cheese selection. Despite our energetic waitress claiming he was nervous, he did that with little or no effort, as if he'd been a cheese connoisseur for years. About half of the Norwegian farm cheeses were to our liking, while the other half was less interesting.
Desserts was a financier cake and sour cream sorbet that had been flavored with black currant leaves, topped with lemon foam, white chocolate curls, pistachio shavings, and a chervil oil. I love refreshing desserts, but this one lacked a balancing element. It was simply too much sourness, and also a bit too sweet for my preference. I finished the plate, though, don't get me wrong …
Petits fours and coffee from Supreme Roastworks followed, before we ventured back into the cold to catch bus 161 back home to Oslo. Restaurant Strand is easy to recommend, and even though the winter setting was nice, I want to go back this summer for another kind of atmosphere.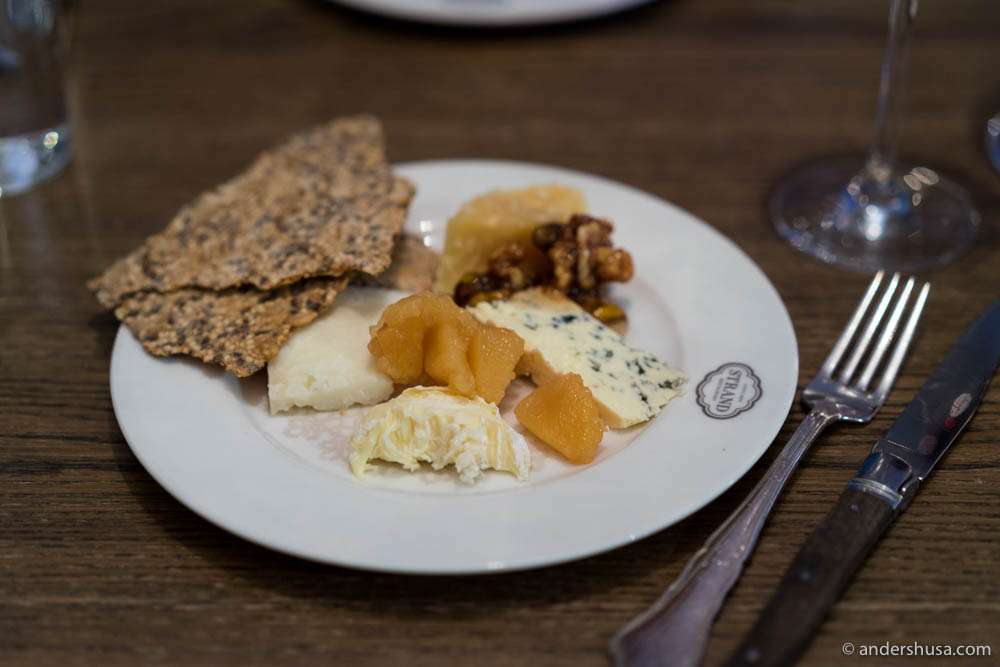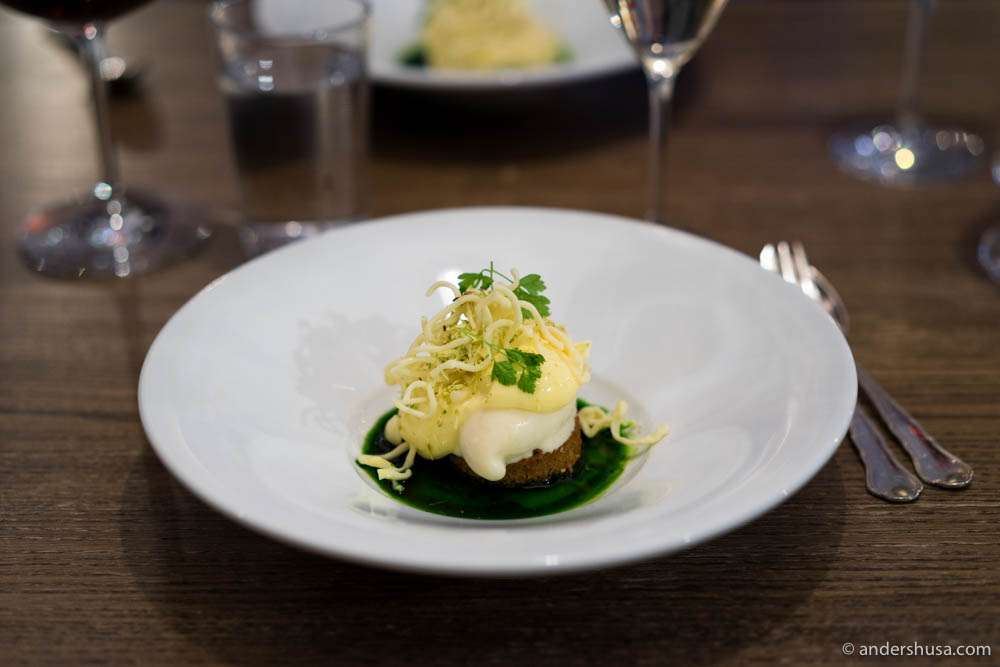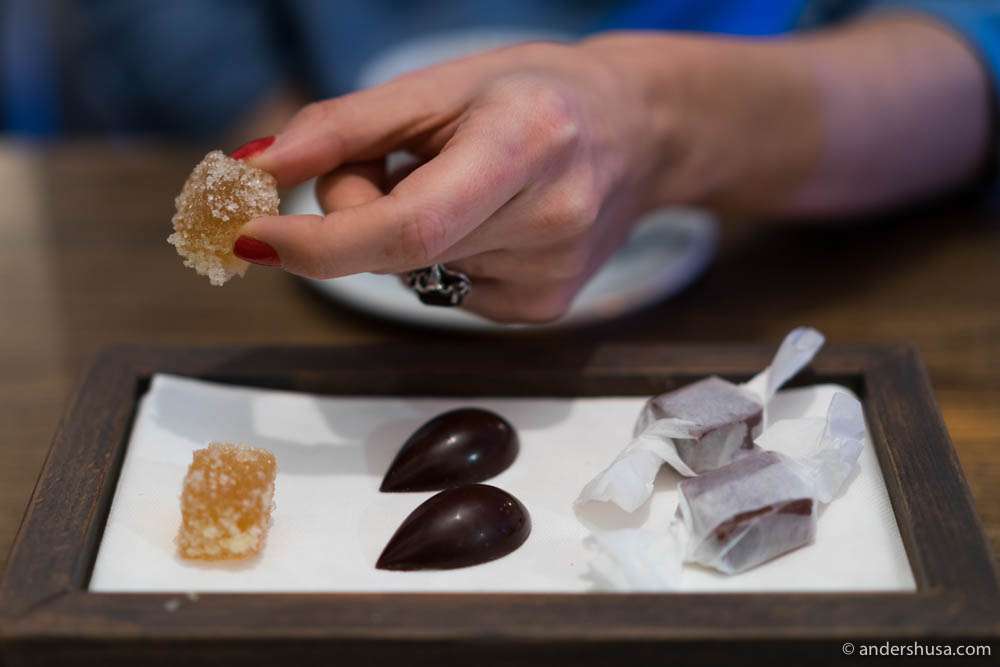 Did you find your way to restaurant Strand? Please share your experience in a comment below.
Disclaimer
This was a sponsored invitation by LAVA Restaurants. The restaurant had no influence on the content of this article, there is no form of cooperation between us, I was not obliged to publish anything, and I received no monetary payment.