Tallinn Map
Tallinn is the capital of Estonia with a booming food scene dominated by young chefs focused on local produce and modern cooking techniques, who honor traditions, but also draw inspiration from the Nordic countries as well as France and Japan. We have gathered all our Tallinn recommendations in this foodie map. You'll find coffee shops, wine-, beer-, and cocktail bars, as well as both casual and fine dining restaurants. Navigate the map easily either by scrolling through the list on the right or by clicking the points on the map. Places are listed in geographical order.
ORE
Olevimägi 9, Tallinn, Estonia
Restaurant ORE is my favorite eatery in the city center of Tallinn. Head chef Silver Saa has experience from top restaurants in London, Copenhagen, and Helsinki. His international influence is evident in his cooking, where he mixes Japanese, Latin-American, and Nordic flavors and techniques.
Pazzo
Pagari 1, Tallinn, Estonia
Pazzo is a beautifully designed wine bar in the Old Town of Tallinn. The kind of place I could imagine to be my neighborhood hangout if I lived in the city. Serving (mostly) natural wines from small producers in Italy and simple tapas-style bar snacks. Wines at Pazzo are selected by sommelier Kristjan Peäske, who also co-owns the acclaimed restaurant Leib, and Ketri Leis, who has been the best sommelier in Estonia for the last three consecutive years.
Leib Resto ja Aed
Leib Resto ja Aed translates to Black Bread Restaurant & Garden. The traditional black bread is a national tresaure in Estonia and obviously the pride of this restaurant. Co-owned by chef Janno Lepik and sommelier Kristjan Peäske, the casual eatery has a cozy cellar which is pefect for the winter and a big, beautiful garden for the summer season.
Kotzebue Bakery & Charcuterie
Kotzebue 18 E, Tallinn, Estonia
Kotzebue Bakery & Charcuterie was founded by one of Estonia's best and most well-known chefs, Peeter Pihel, a former sous chef at the two-Michelin-starred restaurant Fäviken Magasinet in the Swedish forests. Specializing in black bread and sourdough bread, as well as house-made charcuteries, the bakery recently opened their doors to the larger public and started selling over the counter.
Speakeasy by Põhjala
Speakeasy by Põhjala is a not-so-secret beer bar and garden situated near the Telliskivi area and Balti Jaam train station. Põhjala is Estonia's largest and most influential craft beer microbrewery.
Balti Jaama Turg
Kopli 1, Tallinn, Estonia
Balti Jaama Turg is the relatively new and modern food market in Tallinn (there's also a more traditional one called Tallinn Central Market). Located right next to the Balti Jaama train station – hence the name – you find everything here from fruit- and vegetable grocers to ice cream rolls vendors. My favorite stall is Baojaam, which sells Taiwanese gua bao.
Baojaam
Kopli 1, Tallinn, Estonia
Baojaam is my favorite food stall at the Balti Jaam Turg food market in Tallinn. Inspired by the traditional Taiwanese gua bao, a steamed soft bread with meat and vegetable fillings, Baojaam stays fairly close to the authentic versions. The buns are made from scratch in the tiny kitchen, but with wheat flour instead of rice (I actually prefer wheat). Head chef Mihkel Rand worked at NOA Chef's Hall and got inspired to start experimenting with baos by a colleague who made them for staff meal. Soon after, Rand left fine dining to pursue the simpler cooking of street food.
F-Hoone
Telliskivi 60 A, Tallinn, Estonia
F-Hoone (Building F) is an institution and community gathering spot in Telliskivi – the up-and-coming creative area of Tallinn. Owned and operated by the hipster couple Priit Juurmann (aka DJ P.Julm) and Yoko Alender, who also runs Tabac brasserie and the cocktail bar Frank Underground. Located in a former military factory compound that has been renovated, but only with minimal impact to preserve the original look. F-Hoone is open from morning to late evening, offering breakfast, lunch, and dinner. Soon, they open the Black Room next door, a cocktail bar, while also expanding the restaurant kitchen.
Sponsored Content
Hotel St. Petersburg
Rataskaevu 7, Tallinn, Estonia
Hotel St. Petersburg is a small boutique hotel with 27 rooms, sitatued in the North-Western part of the Old Town. It is also the oldest hotel in Tallinn (and Estonia), dating back to 1850, but has been refurbished with a modern interior and all the amenities you expect from a five-star hotel. The staff is particularly friendly and service-minded, always greeting you as you leave or arrive.
Parrot Minibar
Vana-Posti 7, Tallinn, Estonia
Parrot Minibar is a restaurant focused on cocktail pairings with an extravagant parrot-themed interior design. On the main floor, you can order food and drinks, but if you open the wardrobe and walk through it, you'll find that the stairs bring you down one floor to a speakeasy bar. Head chef Margo Paluoja makes creative (sometimes a bit too creative) snack-sized dishes with local ingredients and modern cooking techniques. Ask for the secret Gin Sour cocktail.
Whisper Sister
Pärnu maantee 12, Tallinn, Estonia
Whisper Sister is my favorite cocktail bar in Tallinn. A speakeasy in the true sense, with a completely anonymous entrance area. Hint: Call the telephone number on the door. Whisper Sister has many rooms with various interior design which allow for different atmospheres. Drinks are well-balanced with a minimalist presentation. Unless you ask for a piña colada, in which case they go apeshit on you (pun intended).
Tabac
Suur-Karja 4, Tallinn, Estonia
Tabac is a modern brasserie and bar in the heart of Tallinn's Old Town. Owned by the former DJ P.Julm (aka Priit Juurmann), who also has well-known places like F-Hoone and Frank. Head chef Tõnis Saar has a background as the pastry chef of restaurant Fäviken Magasinet in Sweden. He's also been involved with Leib Resto ja Aed and Kotzebue Bakery & Charcuterie. Finally, he can let his own creativity loose, using local ingredients and a contemporary cooking style. Paired with colorful and pungent cocktails.
Frank Underground
Sauna 2, Tallinn, Estonia
Frank Underground is the cellar cocktail bar of restaurant Frank (American-style bistro). Owner Priit Juurmann (aka DJ P.Julm) has ambitions of a place on the World's 50 Best Bars-list with this classic drinks concept. Try the Grumpy Old Man and Munich Mule.
Sponsored Content
Hotel Telegraaf
Hotel Telegraaf is one of the most luxurious boutique hotels in Tallinn. Located in the middle of the Old Town, in a building dating back to 1878 which was the former central office of the Estonian Telegraph (hence the name), this five-star lodging facility comes complete with a spa and one the cities most famous Russian fine dining restaurants – Tchaikovsky.
Restoran Ö
Mere puiestee 6 E, Tallinn, Estonia
Restaurant Ö is a Nordic-inspired fine dining restaurant. Chefs and co-owners Martin Meikas and Ranno Paukson use local and seasonal ingredients sourced from small-scale producers. With an array of modern and ancient cooking techniques, they create exciting dishes, but the flavor is sometimes lost in flashy presentations. The name means island (in Swedish), which refers to Saaremaa, the biggest island of Estonia, where the owners are from. Consider also their more casual sister restaurant next door – Kaks Kokka.
Røst
Rotermanni 14, Tallinn, Estonia
Røst is the best coffee shop in Tallinn, sourcing coffee from some of the top roasteries in Scandinavia and Northern-Europe. Røst is also a great sourdough bakery that makes traditional Swedish pastries like cardamom and cinnamon buns. Don't miss their delicious lemon-poppy seed buns.
NOYA
Rotermanni 18/2, Tallinn, Estonia
Restaurant NOYA is a casual Nordic-Japanese eatery in the Rotermanni district. In addition to a wide selection of à la carte options ranging from Japanese-style sushi to traditional Norwegian dishes, you can also enjoy the full omakase experience (chef's choice from the best available ingredients). Don't miss the brioche sandwich with limousine beef and foie gras if available. The concept, which also features two private dining Tatami rooms, was created by the Norwegian restaurateur Njål Solland, his wife Triin, and their Danish partner Claus Skovsted.
Washoku Story
Poordi 3, Tallinn, Estonia
For the best ramen in Tallinn, head on over to Washoku Story in the outskirts of the Old Town, on the border to the Rotermanni district. Japanese chef Hide Hirakata makes a delicious broth, and, although I doubt the noodles are house-made, they are certainly perfectly cooked.
Mantel ja Korsten
Poska 19 A, Tallinn, Estonia
Restaurant Mantel ja Korsten is the latest eatery of chefs Roman Zaštšerinski and Igor Andrejev, who's also behind the wildly popular restaurant Moon. Located in a green wooden house in the Kadriorg district, you should expect a good 15 minutes walk from the Old Town, through an old neighborhood that is currently being fully renovated. Despite an international touch to the food, the space has a homely Estonian feel. From the menu, you want the duck ravioli with apple-celeriac purée and the butter-roasted cabbage in cheese sauce.
Mon Repos
Narva maantee 92, Tallinn, Estonia
Restaurant Mon Repos is situated in a lovely, blue-painted, wooden villa dating back to 1870, overlooking the Kadriorg Park. The casual eatery, which is part of the Sparkling Group, shares head chef with the Russian fine dining restaurant Tchaikovsky – namely Vladislav Djatsuk. However, the style at Mon Repos is a more internationally-influenced kitchen that relies on modern cooking techniques. Don't miss the seasonal bird liver dish with brioche.
Tuljak
Pirita tee 26 E, Tallinn, Estonia
Tuljak is one of the oldest restaurants in Tallin, dating back to 1965, which was completely refurbished and renewed four years ago, by the restaurant group that also owns OKO, NOA, and NOA Chef's Hall, into a modern Estonian restaurant. From the à la carte menu at Tuljak, you want the tartar and the bird's nest dessert. Their black bread serving is one of the best and comes complete with a fatty roasted pork belly, mustard, and crispy onions.
NOA Chef's Hall
Ranna tee 3, Tallinn, Estonia
Under the lead of head chef Orm Oja, NOA Chef's Hall has become Tallinn and Estonia's best restaurant. This is my opinion, but also that of the White Guide since 2016. A Nordic-inspired fine dining restaurant situated on the outskirts of the city, roughly 20 minutes by car. Chef Oja uses only the best of Estonian ingredients in an innovative and smart way and truly is the future of Estonian cooking.
Restaurant NOA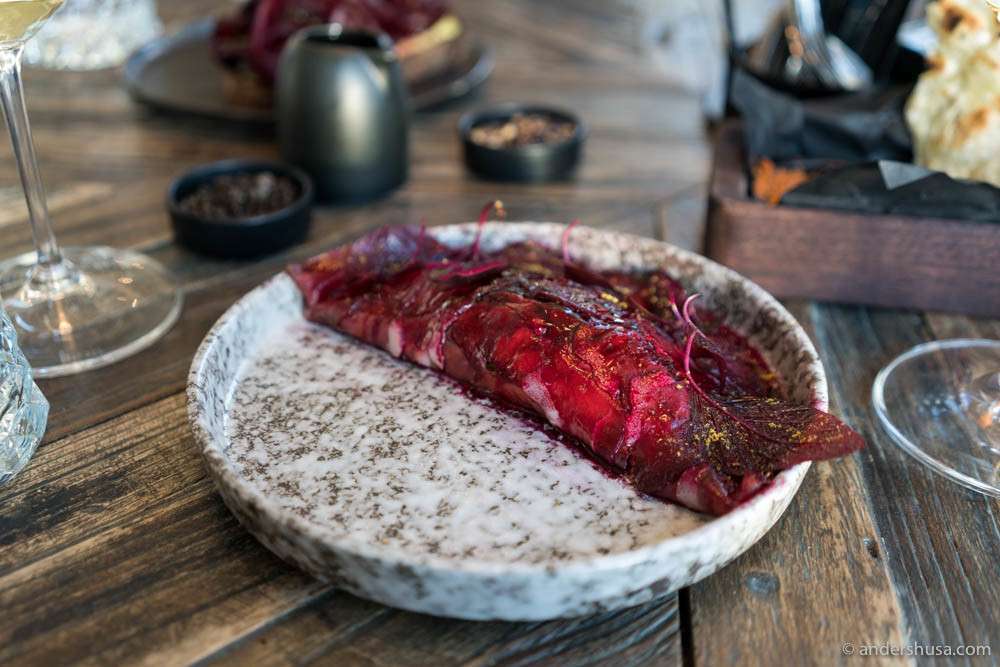 Ranna tee 3, Tallinn, Estonia
Restaurant NOA is the casual sister of the acclaimed NOA Chef's Hall. Where chef Orm Oja does Nordic-inspired Estonian fine dining, restaurant NOA has taken a far more international approach to its cooking. Highlights on the menu include the unagi eel with sushi rice, cured trout on brioche, and lamb kebab. Skip desserts.
OKO
Kesk tee 27, Haabneeme, Estonia
Restaurant OKO is located on the outskirts of Tallinn, a good 30 minutes drive by car, and technically belongs to Haabneeme. Smack on the beach, with a stunning view of the Baltic Sea, it is well worth the trip. Of course, you also travel this distance to get the best pizza in the capital area. Don't miss the dirty truffle and parmesan-drizzled fries with aioli.