Los Angeles Map
Los Angeles is a cultural melting pot and multiple cities within a city. From trendy Venice beach and glamorous Hollywood, to Korea Town, Downtown (DTLA) and the hipster Arts District. Discover where to eat the most healthy breakfasts and brunches, and the best burgers, donuts and ice creams in this foodie map of my favorite spots in L.A. Navigate the map easily either by scrolling through the list on the right or by clicking the points on the map. Places are listed in a geographical order.
Eggslut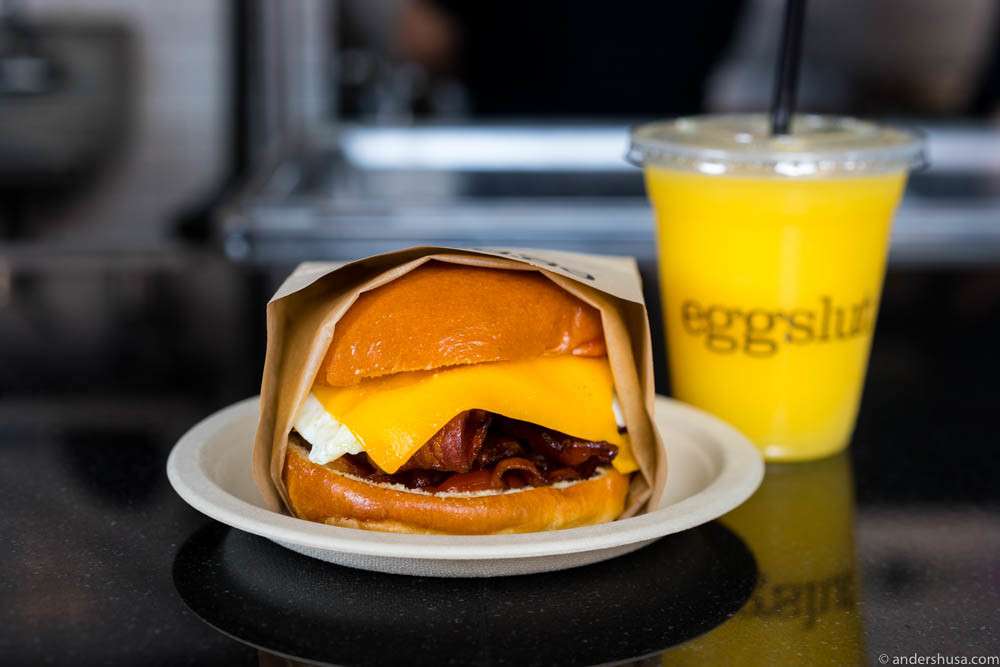 317 Street Broadway, Los Angeles, USA
Eggslut serves the best and most delectable looking egg sandwich in Los Angeles. Queue up to order first, then grab a seat in the bar. Get the Fairfax with soft scrambled eggs, chives, cheddar cheese, caramelized onions and sriracha mayo in a warm brioche bun.
Manuela
907 East 3rd Street, Los Angeles, USA
Manuela in the Downtown Arts District is a nice lunch and brunch restaurant. Southern USA specialties like deviled eggs, cornbread, hushpuppies, and pancakes. Don't miss the purple majestic potatoes with spiced crème fraîche and dill.
Blue Bottle Coffee
582 Mateo Street, Los Angeles, USA
Blue Bottle Coffee in the Arts District is the former Handsome Coffee Roasters as seen on Jerry Seinfeld's Comedians in Cars Getting Coffee. Although a chain of specialty coffee bars, the quality of the brew was among the best I tasted in Los Angeles.
Bestia
2121 East 7th Place, Los Angeles, USA
Bestia is a trendy restaurant in the Arts District of Downtown L.A. While I was not impressed with their cocktails, the Italian-style food was really good. A wonderful sommelier who preferred natural wines had some excellent Partida Creus on the wine list. Order the lobster crostino and the agnolotti pasta.
Stumptown Coffee Roasters
806 Street Santa Fe Ave, Los Angeles, USA
Stumptown Coffee Roasters is a Portland-based coffee chain who opened in Downtown L.A.' Arts District in 2013. Stumptown helped revolutionize the coffee business and still today offer ethically sourced, light-roasted, and hand brewed coffee in their shops.
The Wheelhouse
1375 East 6th Street #6, Los Angeles, USA
The Wheelhouse is a combined coffee and bike shop in the Arts District. Concrete walls, steel and wood, bikes on display everywhere – also as art on the wall. Could it get more hipster? Probably not.
Sponsored Content
Ace Hotel DTLA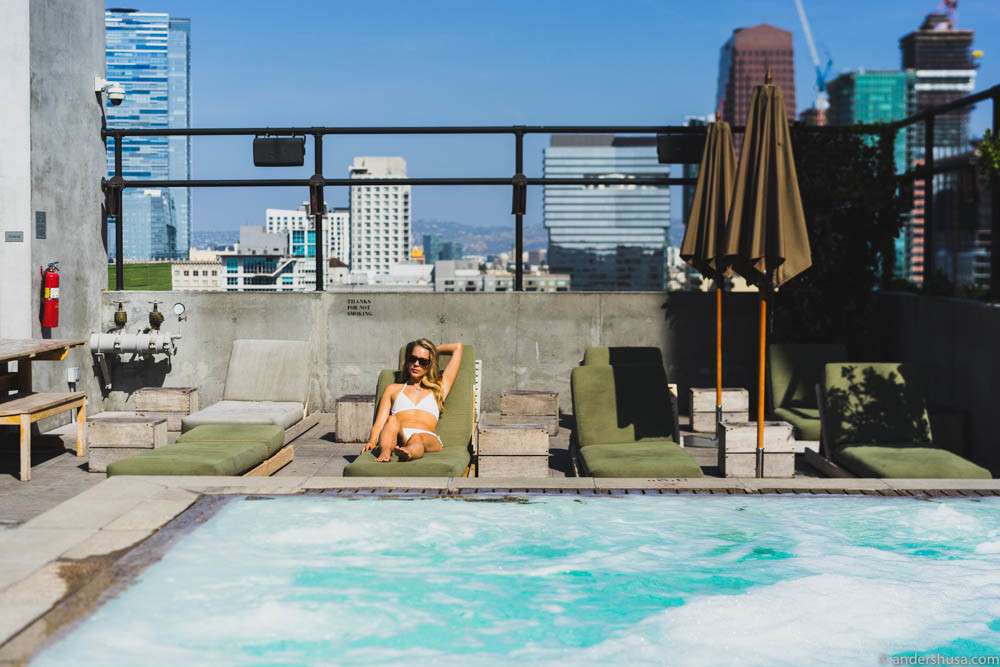 929 South Broadway, Los Angeles, USA
Ace Hotel in Downtown L.A. is a hipster boutique hotel situated within the historic United Artists Theater with a Spanish Gothic style exterior. Relax by the rooftop swimming pool where you can enjoy everything from breakfast to a late night drink. Don't miss the ricotta pancakes with nut butter, berries and maple syrup for brunch.
Birdies
314 West Olympic Boulevard, Los Angeles, USA
Birdies sell both fried chicken and donuts, but might be more famous for the latter. The donuts are not as good as Blue Star Donuts, but they come with fun, Instagram-friendly decorations like the rainbow pattern or galaxy dust. On rare occasions they have silly 24K gold-coated donuts for sale at $100.
Grand Central Market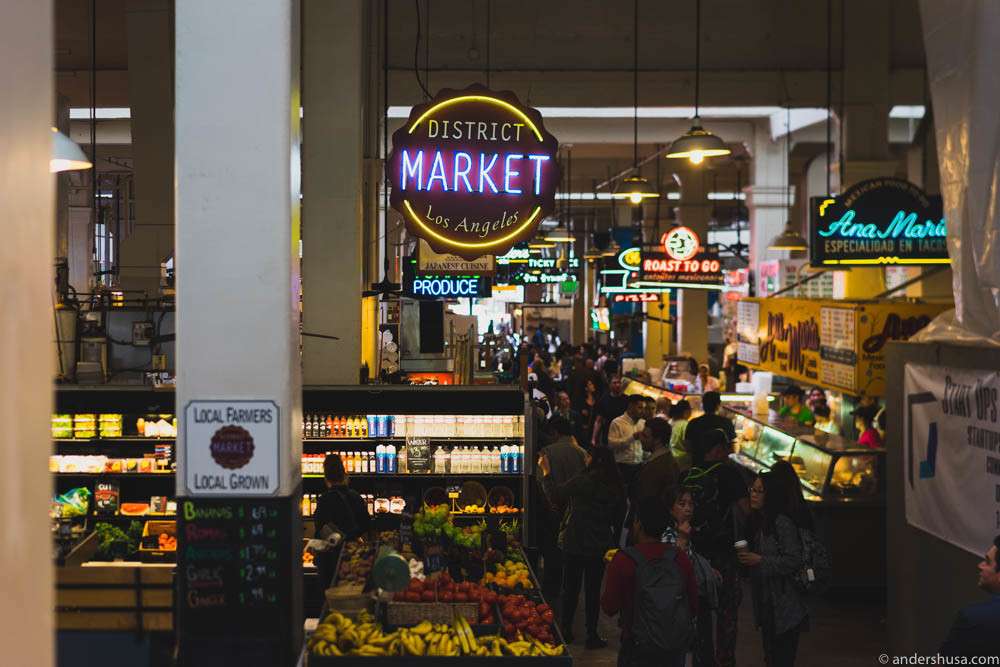 317 South Broadway, Los Angeles, USA
The Grand Central Market is the best food market in Los Angeles. This is how a food market should be, with a large number of food stalls selling high-quality fast food and specialty merchants selling spices, bread, cheese, and fruits. Also, it's home of the Eggslut!
Kang Ho-Dong Baekjeong
3465 West 6th Street, Los Angeles, USA
Kang Ho-Dong Baekjeong is the spot to go when you crave Korean BBQ in Los Angeles. Situated, of course, in Koreatown and more specifically inside the small courtyard of Chapman Plaza. You may see people waiting outside, and the queue could be long, but make sure to go inside first and alert the staff of your arrival to get on the wait list.
Sponsored Content
Hotel Normandie
605 South Normandie Avenue, Los Angeles, USA
Hotel Normandie is a historic boutique hotel centrally located in Koreatown. Live jazz music blasted through the large reception room as we entered. It was Saturday night and Hotel Normandie was on fire. Check out The Normandie Club next door as well, which even hosts another speakeasy bar called The Walker Inn.
Sqirl
720 Virgil Avenue #4, Los Angeles, USA
Sqirl is a highly popular organic lunch and brunch spot specialized in rice bowls, toasts with homemade jams and everything avocado. The queues start early, so get there before your hunger calls. Don't miss the famed ricotta toast with seasonal jams.
Petit Trois
718 Highland Avenue, Los Angeles, USA
Petit Trois is the slightly more casual and available little sister restaurant of Trois Mec. French cuisine to the extreme, with rich, buttery dishes served at the bar in a tiny space. Don't leave without a Big Mec burger.
In-N-Out
7009 Sunset Boulevard, Los Angeles, USA
In-N-Out is the famed fast food burger chain of the southern US Pacific coast. Head to the West Hollywood location and order a Double Double Animal style with a mustard cooked beef patty and grilled onions from the not-so-secret menu. Skip the fries.
Magnolia Bakery
8389 West 3rd Street, Los Angeles, USA
Magnolia Bakery is originally from New York, but also has a location in the Beverly Grove district of Los Angeles. Known for its pastel-colored vintage decor and vanilla cupcakes with colorful frosting – in particular the red velvet.
Gjusta
320 Sunset Avenue, Los Angeles, USA
Gjusta is an ultra trendy bakery, coffee bar, deli and pizzeria near Venice beach and a good lunch and brunch spot. Unlike the more difficult to book restaurant Gjelina from the same guys, here you can simply walk in, grab a ticket, and wait in turn to order. Enjoy the food in the sunny backyard.
The Butcher's Daughter
1205 Abbot Kinney Boulevard, Los Angeles, USA
The Butcher's Daughter is a popular American-style breakfast, lunch a brunch spot along the fashionable Abbot Kinney Boulevard near Venice beach. They specialize in healthy food like cold-pressed juices, smoothies, acai bowls, and avocado toasts.
Blue Star Donuts
1142 Abbot Kinney Boulevard, Los Angeles, USA
Blue Star Donuts make the best donuts in Los Angeles. They use a classic brioche recipe from France and each new batch is made by hand in a process that takes almost a full day of work. We tasted their top flavors – blueberry bourbon basil and spicy passion fruit cocoa nibs.
Intelligentsia Coffee
1331 Abbot Kinney Boulevard, Los Angeles, USA
Intelligentsia Coffee, originally from Chicago, was a major part of the third wave of coffee. Today, they operate as a chain across the US, but the style and quality remains largely the same as before. Their coffee shop in Abbot Kinney Boulevard is a nice escape from the hot pavements outside.
Salt & Straw
1357 Abbot Kinney Boulevard, Los Angeles, USA
Salt & Straw is an artisanal ice cream company from Portland that has expanded to Los Angeles. Try their classic flavors like double fold vanilla and sea salt caramel or ask for the daily special.
Gjelina
1429 Abbot Kinney Boulevard, Los Angeles, USA
Gjelina is the hipster restaurant that you see satirical parody videos about on You Tube. Despite an incomprehensible menu and weirdly dressed waiters who can't assist you much with the choice of wine, the food is actually quite good. However, your salad could end up being served after the main course, and you're not allowed to take photos inside in case there's a celebrity guest (didn't see any).