There has been a silent bread revolution happening in Copenhagen over the last couple of years – a bakery boom, if you will – which intensified in 2018 with four new grand openings. Some call it the third wave of bakeries, probably with reference to what has happened in the specialty coffee industry. What's even more unique is that, for the first time ever, people in the Nordics are actually queuing up to get their hands on freshly baked bread and sweet pastries. While lining up for food may be normal many places in Asia and the U.S., it's not something we see much of here in Scandinavia (partly due to the cold weather, which makes it a nightmare in the autumn and winter months).
All over Copenhagen city, new bakeries have popped up – each with a specialty of their own. Østerbro has Juno the Bakery, Nørrebro is home to both Andersen & Maillard and Mirabelle, and Bageriet Brød is found in Vesterbro. Frederiksberg just added Hart Bageri, Amager has Alice, and Refshaleøen sports Lille Bakery. You simply cannot travel to the Danish capital without paying a visit to at least a few of these spots.
Looking for more great spots for food and drinks in the Danish capital? Check out our city map of Copenhagen!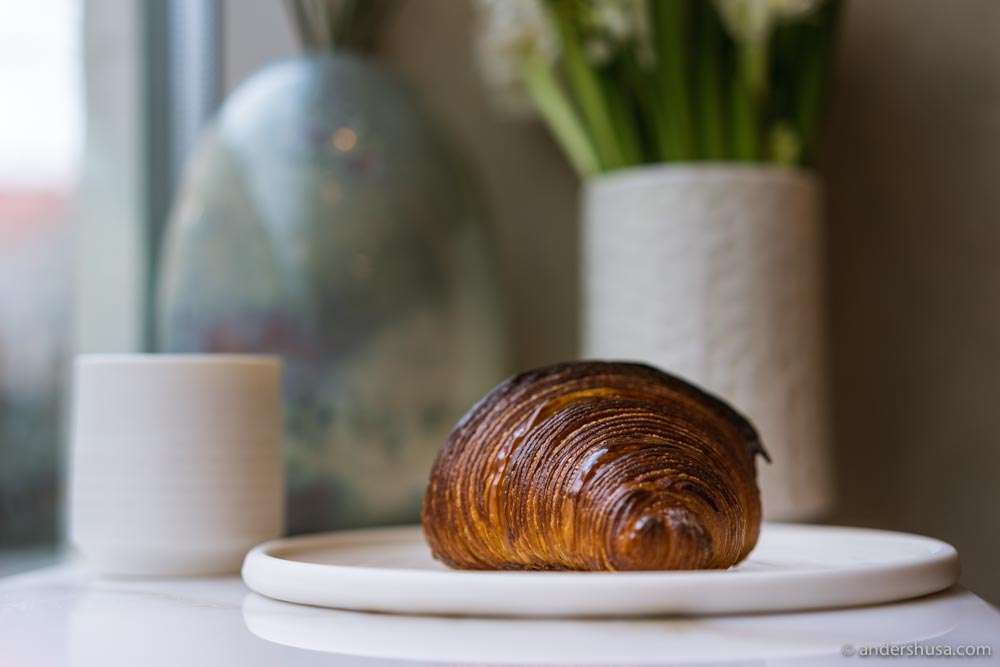 The Best Bakeries in Copenhagen
The top three bakeries in our guide are in a league of their own. Each of them has their own style and has perfected certain pastries, taking them to a new level that we've never experienced anywhere else. We'd venture to say these bakeries are among the best in the world.
Juno the Bakery
Our favorite pastry in the world is not found in Paris, the viennoiserie capital of the world, but in Copenhagen, at Juno the Bakery. Swedish-born baker Emil Glaser, a former Noma chef, has perfected the art of pastry – Juno's croissants are buttery, laminated things of beauty. But perhaps their most impressive treat is the "kardemummabulla" – a traditional Swedish pastry that is typically dense and heavy, but here is transformed into a light and airy miracle of a cardamom bun. It's fluffy and buttery and oozing with cardamom and sugar, but not in a syrupy sweet way. The best part? Juno bakes their buns all day long, so they never sell out, and they're pretty much guaranteed to be warm and fresh from the oven. Juno's almond croissant must be tried as well (it's simply the best we've ever had), and the sourdough bread is also one of our favorites in town. We'd be lying if we said Juno wasn't a huge factor in our decision to move to Copenhagen. Pro tip: If the line is too long outside Juno, they also have another café around the corner, At the Counter, which has some of the same pastries for sale (and a few exclusive to the location).
JUNO THE BAKERY

Address & Contact Information
Århusgade 48, Østerbro, Copenhagen, Denmark
Instagram
Facebook
Alice
Despite having been open for almost three years, Alice has remained a bit of a hidden gem in the Copenhagen food scene. Noma alum Anders Lorenz started making small-batch, artisanal ice cream at his cozy Amager shop, but when the winter season came he decided to start making pastries. Although he had no training or experience with baking, he managed to craft the most perfect butter croissant we have ever tasted. And we're not the only ones who think so – last year, Alice won the "City's Best Croissant" in a blind taste test. The croissants are extremely moist on the inside, with a crunchy exterior made of many thin layers. Alice also makes cinnamon rolls using croissant scraps, and twice-baked almond croissants if there happen to be leftover croissants from the day before.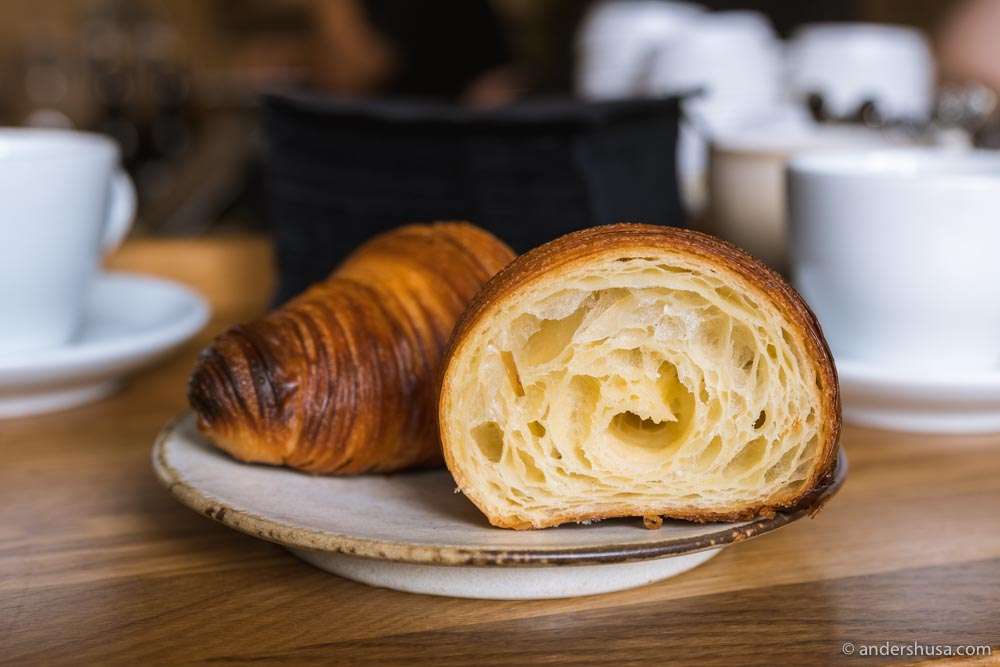 ALICE

Address & Contact Information
Markmandsgade 1, Amager, Copenhagen, Denmark
Website
Instagram
Hart Bageri
Richard Hart, formerly of Tartine Bakery in San Francisco, joined forces with René Redzepi of Noma to open a sourdough bakery in Copenhagen. In addition to the bread at Hart Bageri, they also serve a variety of incredible pastries that change seasonally. Our absolute favorite is the "cardamom bun", which is made using leftover croissant scraps and lots of extra butter, so it caramelizes like a kouign amman. Another delectable pastry is the drømmekage, a twice-baked "dream cake" croissant with coconut, brown sugar, and caramel. Hart Bageri also serves international dessert favorites like American doughnuts, a Basque cheesecake, Italian Panettone for Christmas, and Danish Kransekage for New Year's Eve.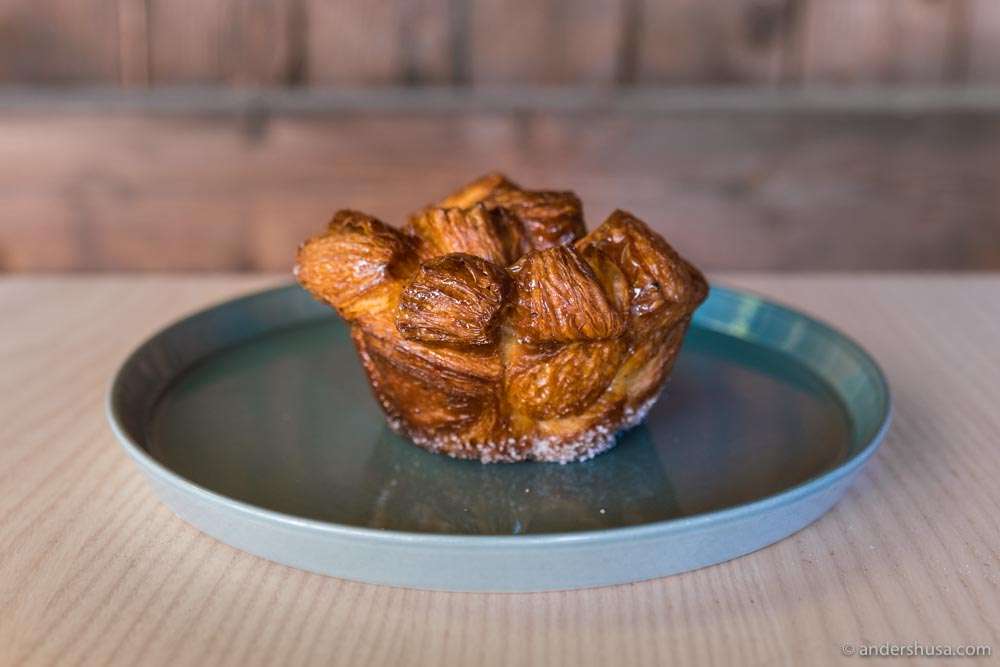 HART BAGERI

Address & Contact Information
Gamle Kongevej 109, Vesterbro, Copenhagen, Denmark
Website
Instagram
Facebook
Other Great Spots For Pastries & Sourdough Bread
Once you've tried our favorite bakeries in the city, you should check out these other great shops which also do really good pastries and/or sourdough bread.
Lille Bakery
Situated in Refshaleøen – undoubtedly the hottest neighborhood in town at the moment – is Lille Bakery. When you see the surrounding area and building, you might ponder about the strange choice of location. That's before you realize the closest neighbors are restaurant Amass, restaurant Noma, La Banchina, Reffen (Copenhagen Street Food), and Copenhagen's newest two Michelin-starred restaurant, Alchemist. Lille Bakery is a great place to have breakfast or early brunch, and you wanna get here early before they sell out of their famed sausage rolls. Don't miss the Berliner doughnut or their take on a cardamom bun – buttery pastry swirled into a roll and covered in cardamom sugar. Their brioche bread with mascarpone and pickled plums reminds us of Sqirl in Los Angeles, and their whole wheat sourdough bread is one of our favorite loaves in town.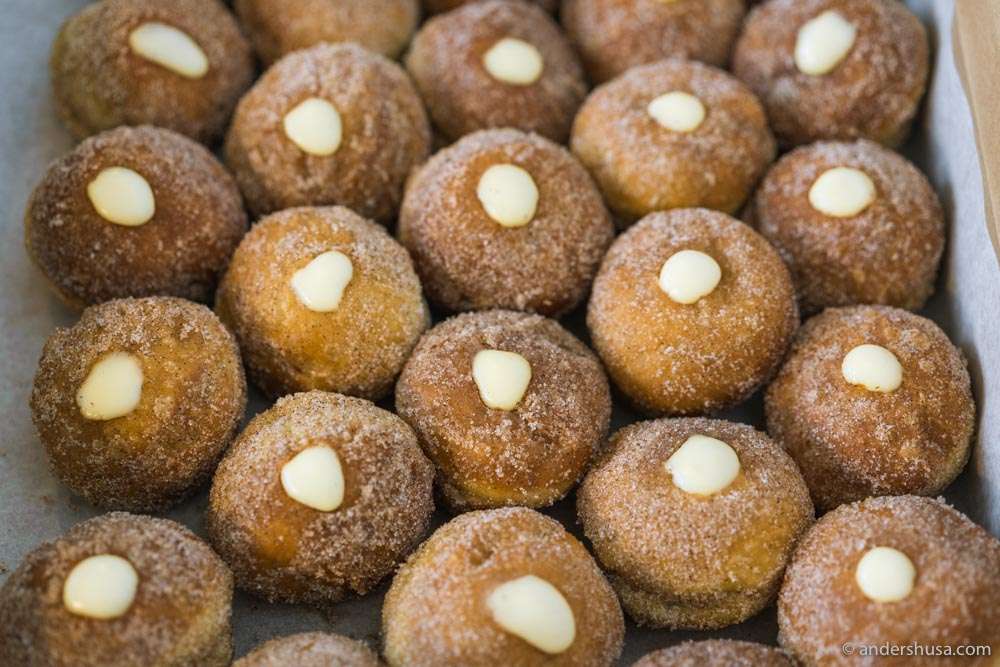 LILLE BAKERY

Address & Contact Information
Refshalevej 213A, Refshaleøen, Copenhagen, Denmark
Website
Instagram
Facebook
Bageriet Brød
Located on Enghave Plads in Vesterbro, Bageriet Brød is more of a neighborhood spot, but this bakery has actually been around since 2012, making it the oldest on this list! We were really impressed by the high level of both the pastries and the sourdough bread. The twice-baked almond croissant has just the right amount of gooey almond filling, and the pastry layers are moist and deliciously buttery. Go on a Wednesday to try the Berliner doughnuts!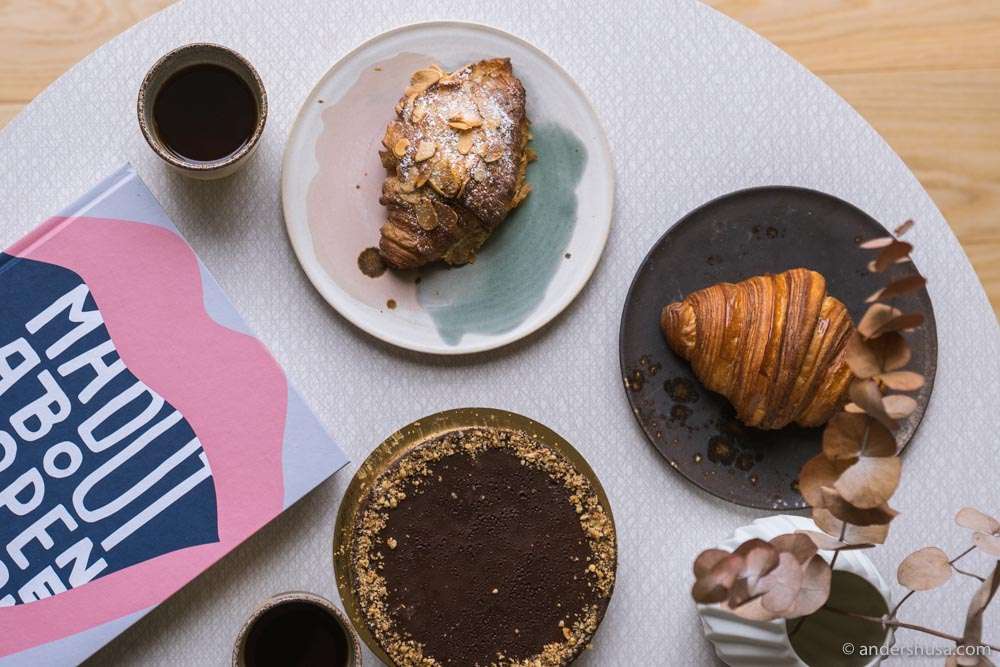 BAGERIET BRØD

Address & Contact Information
Enghave Plads 7, Vesterbro, Copenhagen, Denmark
Instagram
Facebook
Andersen & Maillard
With two locations in Nørrebro and Nordhavn, Andersen & Maillard's espresso-glazed croissants and sleek interior design have drawn a crowd since their opening in 2018. From that point on, they've added one Instagram-worthy item after the other, from a croissant acting as the cone for an espresso soft serve (made from the leftover milk from the coffee bar) to a chocolate-swirl croissant (filled with more chocolate) that looks like it has been 3D-printed to perfection. How do they make those impeccable chocolatey twists?!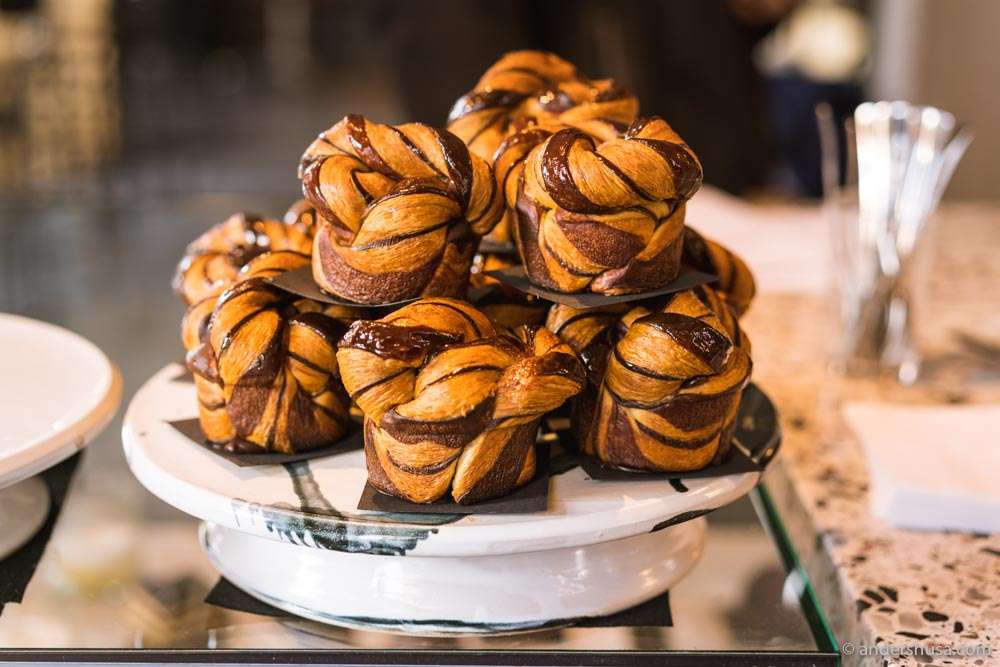 ANDERSEN & MAILLARD

Address & Contact Information
Nørrebrogade 62, Nørrebro, Copenhagen, Denmark
Göteborg Plads 19, Nordhavn, Copenhagen, Denmark
Website
Instagram
Facebook
Mirabelle
Mirabelle is an organic bakery and coffee shop that turns into a pasta restaurant for lunch and dinner. As part of Christian Puglisi's restaurant empire, the place supplies sourdough bread, baked goods, and pizza doughs to all their other places like Bæst, Manfreds, and Relæ. The croissants are flaky, and the focaccia is fluffy and topped with seasonal farm produce.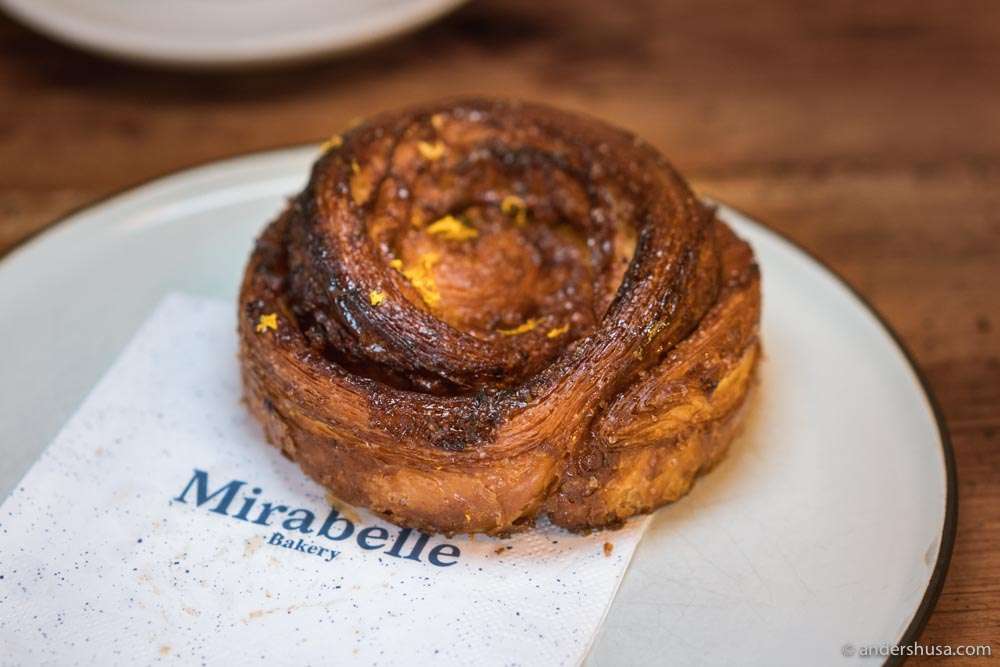 MIRABELLE

Address & Contact Information
Guldbergsgade 29, Nørrebro, Copenhagen, Denmark
Website
Instagram
Facebook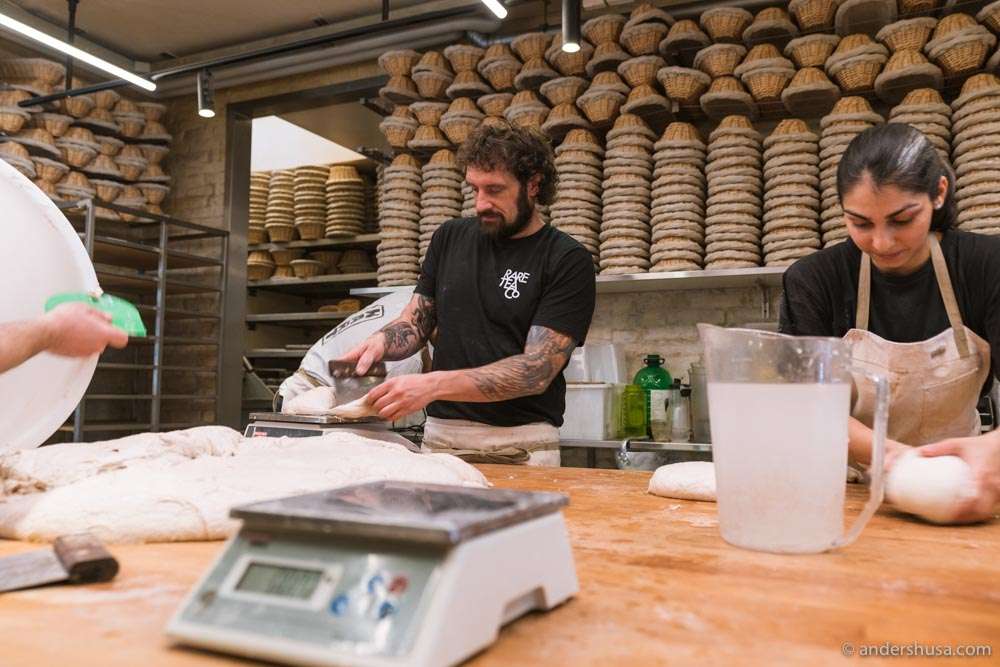 What is your favorite bakery in Copenhagen? Please leave a comment below.
Note: Previous versions of this guide included Democratic Coffee Bar (removed due to a drop in quality), and The Corner at 108 (removed due to closure).
Follow Us on Social Media

YouTube
Anders Husa & Kaitlin Orr

Instagram
@andershusa
@carnivorr

Facebook
Anders Husa & Kaitlin Orr

Join Our Food Community
The Hungries
Become a Patron!