Copenhagen City Map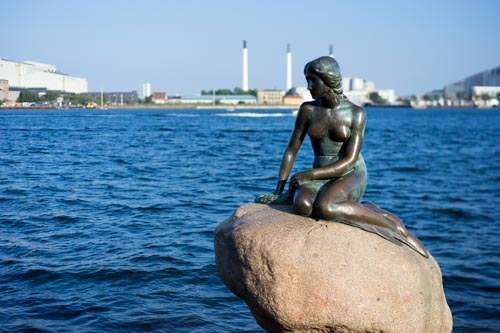 Copenhagen is our favorite city in Scandinavia – that's why we've picked the capital of Denmark to be our home base! With some of the world's best restaurants within the city's borders, Copenhagen is without a doubt the food capital of the Nordic countries, and it's also the birthplace of the New Nordic cuisine. You probably won't find a better selection of natural wine anywhere else in the world, both in dedicated shops as well as in restaurants. Combine that with the Danish philosophy of "hygge" and you have the perfect destination.
In this city map, we have gathered all our favorite spots to create the best restaurant guide to Copenhagen. You will find coffee shops, wine and cocktail bars, bakeries, fine dining restaurants, and casual eateries. We have also included some hotel recommendations and attractions. Navigate the map easily either by scrolling through the list on the right or by clicking the points on the map. Places are listed in geographical order.
Alchemist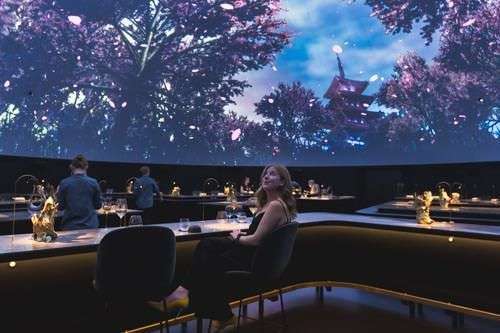 Refshalevej 173C, Copenhagen, Denmark
Enter the world of Alchemist. Part restaurant, part art installation, part think piece on issues like sustainability and food waste – a dining experience like no other. Chef Rasmus Munk's visionary thinking is surely paving the way for a new kind of dining experience, where food meets art and culinary issues are as much on the table as your meal. Most of your meal at Alchemist takes place inside "The Dome," where the ceiling projections change throughout your dinner, transporting you to other worlds while you eat. During our meal we viewed sakura in Japan, the Northern Lights in a Scandinavian forest, and swam under the sea with jellyfish. Alchemist is definitely one of the most exciting restaurant openings of the year.
Amass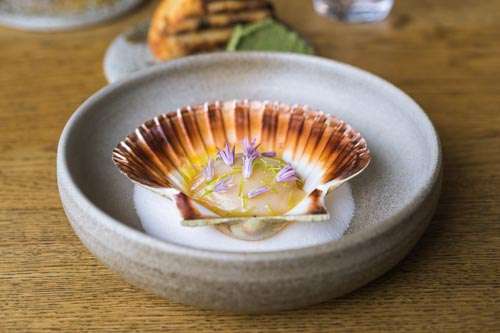 Refshalevej 153, Copenhagen, Denmark
Amass is a New Nordic restaurant by Matt Orlando, a former Noma head chef. Since the very beginning, Amass has championed issues regarding sustainability, zero waste, and respect for the environment. In 2019, Amass was the first to ban single-use plastics from their restaurant (inspiring many others to follow), which was part of the reason they were named the most sustainable restaurant in Scandinavia by the 360 Eat Guide. The set menu is likely to include their famous fermented potato bread and seasonal offerings from the gardens. Don't miss out on a stroll through the herb garden in the summer, or a glass of natural wine around the bonfire in the winter. Not in the mood for a tasting menu? You can also stop by the bar to grab some of their signature AFC (Amass Fried Chicken).
Lille Bakery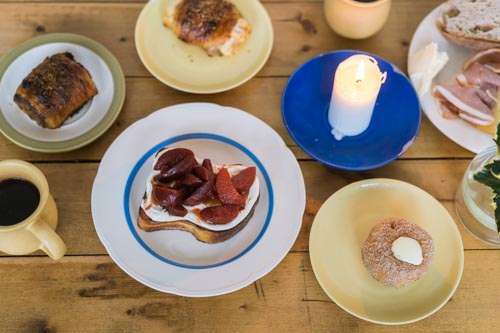 This cozy space specializes in artisanal bread and pastries. On our visit for brunch, we tried a bit of everything – vanilla cream-filled Berliner doughnuts, sausage rolls, and a buttery brioche French toast topped with mascarpone cream and Mirabelle plums. Lunch options at Lille Bakery lean a little heartier, with simple dishes like meatballs and smørrebrød.
La Banchina
Refshalevej 141 A, Copenhagen, Denmark
La Banchina is a tiny wine bar, café, and restaurant, located in an old boathouse with a wooden pier along the harbor at Refshaleøen. Particularly in the summertime, this is a small paradise in Copenhagen. Enjoy natural wines, organic food, and simple Italian cooking by the waterside.
Noma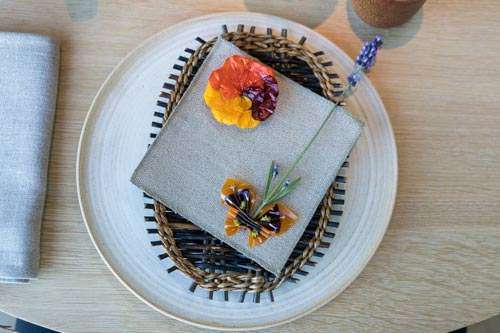 Strandgade 93, Copenhagen, Denmark
Noma is undoubtedly the most famous and acclaimed New Nordic restaurant in the world. Star chef René Redzepi and his team are creating some of the most innovative and groundbreaking dishes in the modern era of gastronomy. The front of house team is second to none – the moment you open the door you're greeted with the warm "Noma welcome" and instantly feel at home, even on your first visit. Since the relocation to Refshaleøen in 2018 and the opening of Noma 2.0, Redzepi and his team have crafted three new tasting menus a year, depicting what's in season in the Nordics. During winter, the water is the coldest, making it a prime time to showcase Scandinavian seafood. In the summer, the plant kingdom is on full display with a completely vegetarian menu. Finally, as the year comes to a close, the game and forest season kicks off, with a focus on mushrooms, berries, and wild animals.
Barr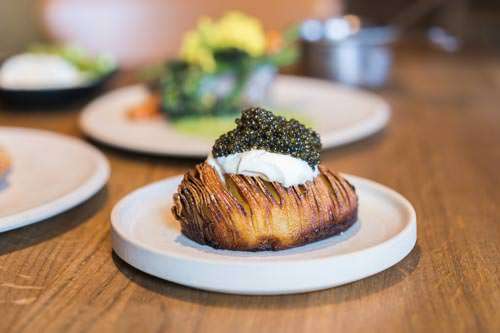 Strandgade 93, Copenhagen, Denmark
If 108 is Noma's sister restaurant, then Barr is the little brother. Teaming up with Thorsten Schmidt, René Redzepi has created a beer-focused bar and restaurant that gets its inspiration from the cuisines of all the countries in the beer-producing countries surrounding the North and Baltic Sea. Eat classic Danish meatballs (frikadeller), German-Austrian schnitzels, or Belgian waffles with Swedish vendace roe (løyromn) and an optional topping of Gotland truffle.
Alice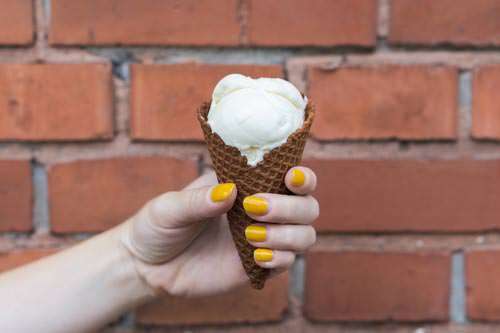 Markmandsgade 1, Copenhagen, Denmark
A cozy little hole-in-the-wall in Amager is serving some of the absolute best pastries and ice cream in Copenhagen. Alice first opened as an ice cream shop, but has expanded to add a café on the corner with coffee, pastries, natural wine, and charcuterie. Don't miss the flawless butter croissant – moist on the inside, crunchy on the outside, with perfectly layered dough. At the scoop shop, the milk ice cream is our favorite flavor – be sure to order it in a house-made tonka bean waffle cone!
Alouette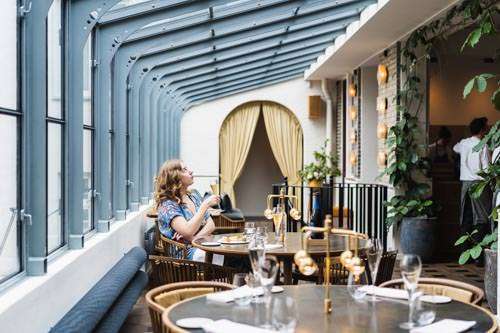 Sturlasgade 14, Copenhagen, Denmark
Through graffiti-adorned concrete walls, up a rusty service elevator reminiscent of the Twilight Zone, down a hallway where rock music and the scent of marijuana seep from band practice rooms is a hidden oasis. Restaurant Alouette, Copenhagen's newest Michelin-starred restaurant, is situated in the unlikeliest of places. A beautiful juxtaposition of grunge and luxury, it's a location that instantly begs the question: are you ready for a culinary adventure? The five-course tasting menu is quick and punchy (and very reasonably priced), unlike other more drawn-out dining experiences. Highlights included the pain au lait with apple and bacon butter and the turbot drenched in chicken sauce.
Il Buco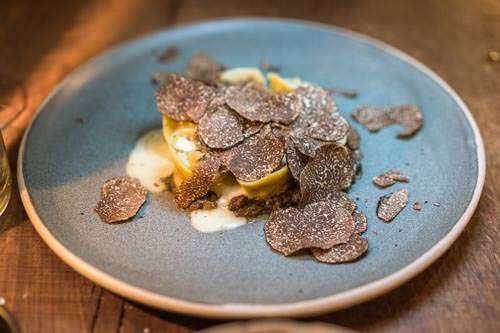 Njalsgade 19C, Copenhagen, Denmark
In a stretch of Islands Brygge that has yet to fully bloom, a cool industrial warehouse space has been converted into a hip Italian restaurant. This is the type of place you want to hang out all day – in the morning, the bakery sells fresh sourdough bread, pastries, and coffee, and at night you'll find delicious bowls of pasta. Like all the other spots from the La Banchina team, you can expect a "hygge" vibe with candles and fun music, and a lot of natural wine.
No. 2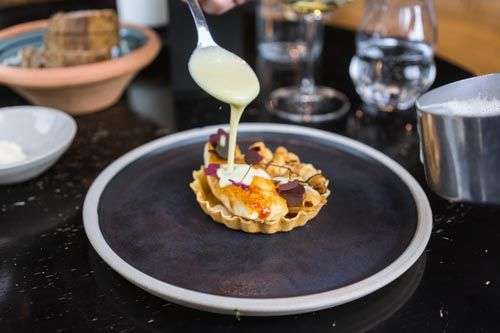 Nicolai Eigtveds Gade 32, Copenhagen, Denmark
No. 2, as the name indicates, is the second restaurant of chef/sommelier duo Søren Selin and Christian Aarø (who also own AOC and Trio). Compared to their two Michelin-starred AOC, however, No. 2 is quite the budget restaurant. Head chef Nicolaj Køster interprets the Nordic cuisine using top quality ingredients and with an eye for simplicity. Located by the canals in Copenhagen, with a view over to the striking Black Diamond building on the other side, it's certainly not the worst place to waste some hours on a fine meal.
Kadeau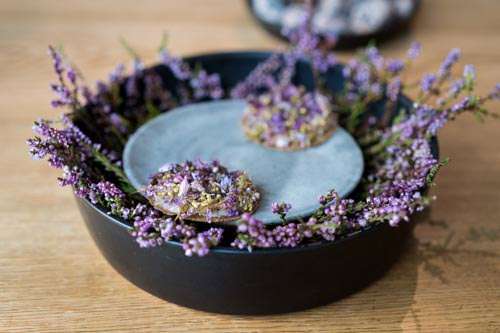 Wildersgade 10 B, Copenhagen, Denmark
Kadeau in Copenhagen is the two Michelin-starred flagship of the restaurateurs Nicolai Nørregaard, Magnus Høegh Kofoed, and Rasmus Kofoed. This New Nordic fine dining restaurant showcases the ingredients of Bornholm, the island where the trio is from. Nature is presented on your plate, almost naked and raw. The Kadeau guys have simply lifted it up a level, extracted its true flavor, and forced the full potential out of each bite. Indulge in a 20-course tasting menu in a strikingly beautiful dining room where the style is a mix of Scandinavian and Japanese. The menu features a lot of balanced acidity from the various fermentation and preservation techniques.
Rufino Osteria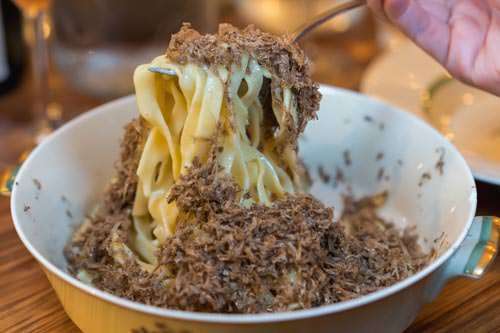 Strandgade 14, Copenhagen, Denmark
Simple Italian food + natural wine = our idea of heaven. Passionate Italians behind the pots guarantee great food on the plates at this underground restaurant in Christianshavn. We dug up two favorite bottles from their all-Italian, all-natural wine cellar – Orange from Abbazia San Giorgio and Susucaru rosé from Frank Cornelissen. Both paired perfectly with our truffle-loaded pastas.
Rosforth & Rosforth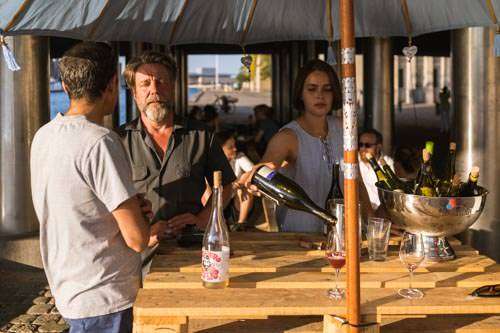 Knippelsbrogade 10, Copenhagen, Denmark
Rosforth & Rosforth, or as locals have dubbed it "Under the Bridge," is a natural wine shop located directly underneath Knippelsbro (the large bridge that connects Christianshavn to the city center). Rosforth & Rosforth are pretty much the natural wine importer kings of Copenhagen. They've been importing wine to Denmark since 1994, and in the most sustainable way they could think of – with a sailboat. That's right, each year they import around 12,000 bottles from France aboard an engineless schooner. On Saturdays, Rosforth & Rosforth offers a weekly tasting from varying producers, and in the summer you can enjoy your wine on the picnic benches outside by the river.
À Terre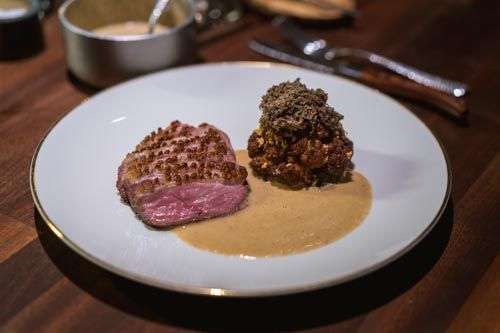 Tordenskjoldsgade 11, Copenhagen, Denmark
The French/Danish Chef Yves Le Lay has opened a new restaurant together with his brother, Kasper Langkilde, who is the restaurant's sommelier. The duo was last seen at Nærvær in Christianshavn, but now, they've taken over the old venue of PMY/Taller. The name À Terre means "down to earth." You can expect a relaxed setting, but a high level of cooking. Le Lay's style of food has roots in classic French cuisine, but he also finds inspiration elsewhere. For example, he's not afraid to meddle with Danish traditions, and serves a modern take on desserts like "Ris à l'amande" and "Kæmpe Eskimo".
Iluka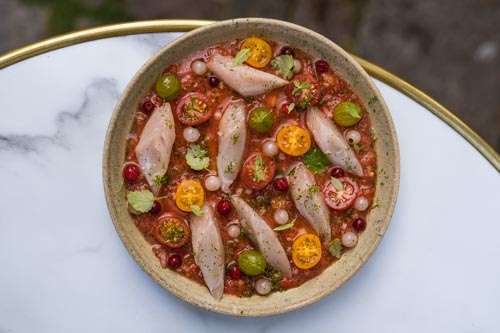 Peder Skrams Gade 15, Copenhagen, Denmark
The name Iluka means "by the sea" in Australian, and that's exactly the feeling you get when dining at chef Beau Clugston's sustainable seafood bistro. Beau comes from a small fishing village in Australia, and worked at Noma for ten years. Now, he works with local fishermen to showcase the absolute best of Scandinavian seafood, from Danish crayfish to Faroese shellfish to Norwegian scallops. To drink, enjoy delicious natural wines and the world's best limoncello.
Den Vandrette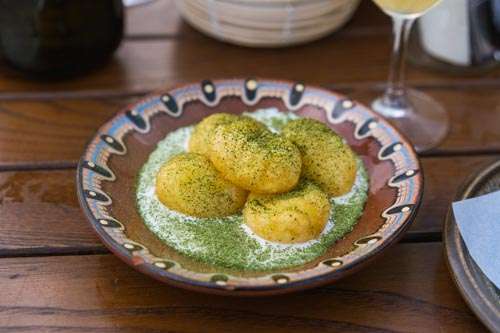 Havnegade 53A, Copenhagen, Denmark
The natural wine bar and eatery Den Vandrette is a favorite industry hangout in Copenhagen. After a recent trip to the country of Georgia, chef Dave Harrison was inspired to add some Georgian-influenced dishes to his menu. One signature this summer is the khachapuri: a Georgian cheese bread filled with three types of cheese. Don't miss the lobster arancini and scallops with sea buckthorn and fig leaf oil, if available.
SEA by Kiin Kiin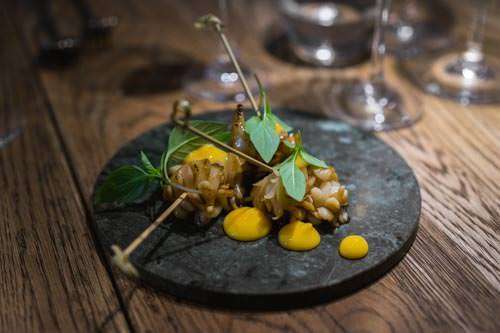 Nyhavn 71, Copenhagen, Denmark
SEA by Kiin Kiin is one of the many casual eateries in the Asian restaurant empire of Henrik Yde. While less prestigious than the one Michelin-starred Kiin Kiin, this little sister still delivers at a pretty high level for such an affordable place. Try the tasting menu which starts with a series of snacks, followed by some of the signature dishes from the Thai flagship restaurant. You can also order them à la carte. Inside SEA by Kiin Kiin, you'll also find a six-seat Japanese restaurant, Kiin Kiin 71, serving an omakase tasting menu.
Admiralgade 26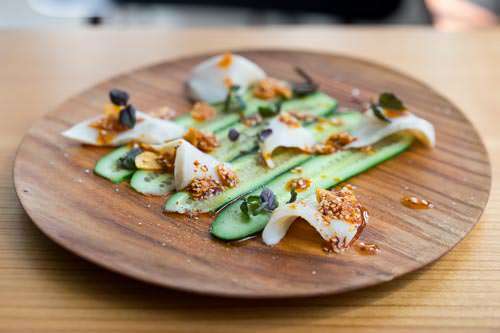 Admiralgade 26, Copenhagen, Denmark
Admiralgade 26 is a Nordic-Japanese restaurant and sister establishment to the wine bar Ved Stranden 10 which is located just down the block. Go here for a traditional Japanese breakfast, a hearty Danish lunch, or enjoy the full evening menu. The beautiful Scandinavian interior dates back to the early 1900s.
Ved Stranden 10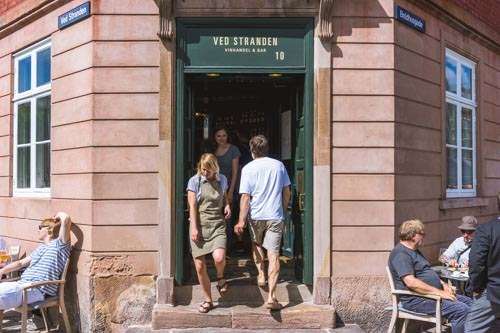 Ved Stranden 10, Copenhagen, Denmark
The wine bar Ved Stranden 10 is one of our favorite hangouts in Copenhagen. With its white-painted wooden walls and vintage Scandinavian furniture, the old house has a unique atmosphere. In the summer you can sit by the piers along the canal with a glass of natural wine in hand. Some favorite producers always on the shelf here include Gut Oggau, Christian Tschida, and Matassa. There's always some snacks on the bar menu, but if you get really hungry you can walk around the corner to their restaurant Admiralgade 26.
Marchal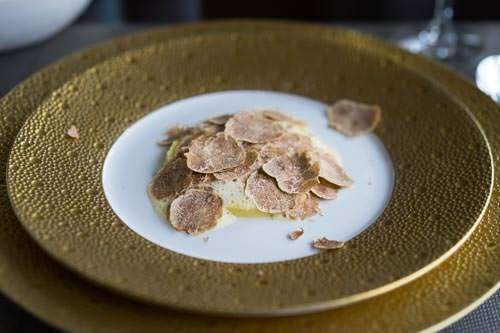 Kongens Nytorv 34, Copenhagen, Denmark
Marchal is a one Michelin-starred modern French restaurant situated within the luxurious five-star Hotel D'Angleterre. Head chef Andreas Bagh is one Copenhagen's most talented and underrated chefs – he will spoil you with an overload of truffle, butter, and caviar, but always with a great balance in flavors.
Affiliate Link
Hotel D'Angleterre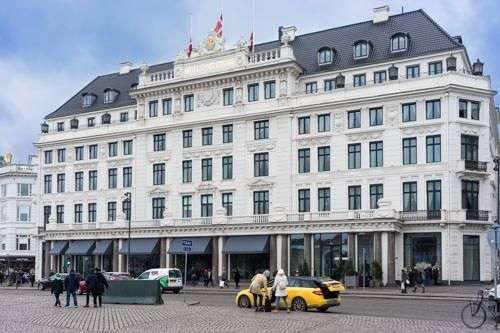 Kongens Nytorv 34, Copenhagen, Denmark
Hotel D'Angleterre is the place to stay in Copenhagen if you are looking for the ultimate in lavish luxury. Spoil yourself with a few nights here, enjoy the spa and fitness center, order breakfast in bed, and sip bubbles in their Champagne bar, Balthazar. Whatever you do, don't miss out on a lunch or dinner in the hotel's one Michelin-starred restaurant Marchal.
Barabba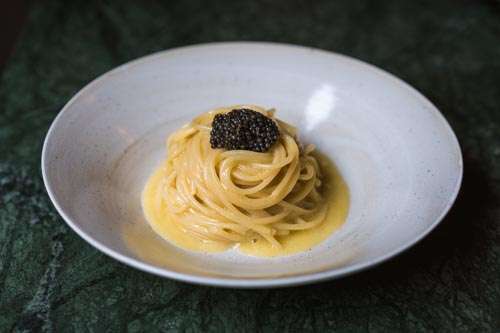 Store Kongensgade 34, Copenhagen, Denmark
Barabba has one of the best natural wine cellars in town (and that's saying a lot considering Copenhagen just might be the natural wine capital of the world). No, really – their collection is so good that we simply could not choose a bottle. So, we had several! Bini, Tschida, The Other Right, Momento Mori, are just a few of the gems we spotted on the shelves here. The stellar wine list, paired with the fact that this is one of the few places open on a Sunday night, makes Barabba a prime industry hangout. Oh, and the food! Barabba's pastas are some of the most sinful in town, loaded with buttery sauces, and often topped with generous amounts of truffles or caviar.
AOC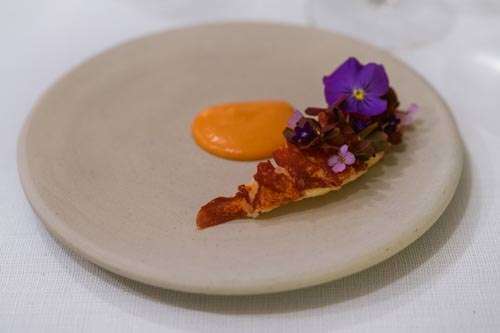 Dronningens Tværgade 2, Copenhagen, Denmark
Restaurant AOC has two stars in the French culinary Bible, but isn't receiving as much praise as it should be getting. Enjoy a modern and innovative New-Nordic tasting menu in a 17th-century vaulted cellar that holds all the characteristics of an old-school restaurant. The signature dish, a baked onion with caviar and elderflower sauce, is to die for.
Lille Blå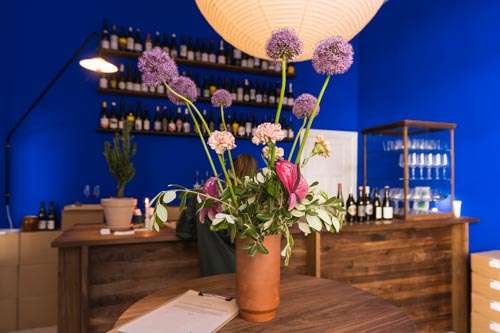 Esplanaden 3, Copenhagen, Denmark
Lille Blå is Copenhagen's colorful new natural wine bar from the team behind Ved Stranden 10. The walls are painted in a vibrant shade of royal blue and stand as a memory of the former inhabitant of the venue – a paint shop. Sip wine made by small, independent Austrian producers from Zalto glasses and enjoy the quintessentially Scandinavian vibe.
Gasoline Grill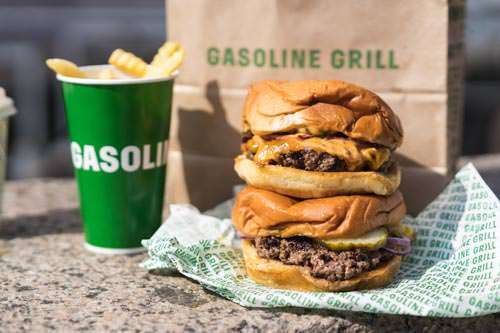 Gasoline Grill is our favorite burger joint in Copenhagen (and Scandinavia). The name comes from the original location which is actually located inside a gas station. Since then, the owner Klaus Wittrup has expanded with a few more locations including Broens Gadekøkken, Vesterport train station, and Carlsberg Byen. Each location grinds their own meat every day, semi-smashes it on a griddle to get that perfect caramelization, and sandwiches it inside a freshly baked potato bun. Our favorite is the classic cheeseburger which comes with Gasoline's signature sauce, but we also love the butter burger.
Møntergade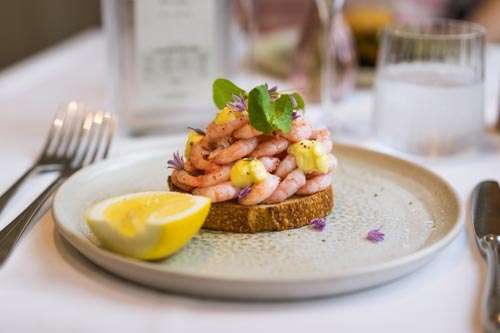 Gammel Mønt 41, Copenhagen, Denmark
After a tragic fire at Restaurant Palægade, the core team moved on to open a new restaurant in a historic building in Copenhagen. Restaurant Møntergade serves some of the best, classic Danish "smørrebrød" in town. You can expect all the classics like herring on rye, "kartoffelmad," fried plaice, and chicken tartelettes – as well as lots of schnapps!
Balderdash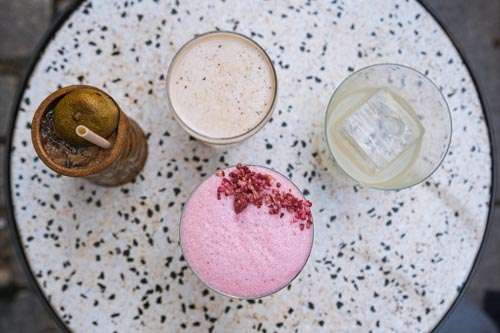 1151 k, Valkendorfsgade 11, Copenhagen, Denmark
Geoffrey Canilao is the mastermind behind Copenhagen's best cocktail bar, Balderdash. The motto here is "keep it hygge," and the friendly staff makes you feel like a regular just seconds after you step through the door. The creative cocktail menu changes regularly – some cocktails have included crazy ingredients from their lab. The "Let's Get Weird Martini" is made with an ostepop (cheese puff) distillate, and the "Mushroom Alexander" has grated deer heart on top. Don't be afraid to get out of your comfort zone here! Our favorite cocktail is the "Blonde Ambition," which is made with gin, vermouth, cardamom, bergamot, and elderflower.
Aamanns 1921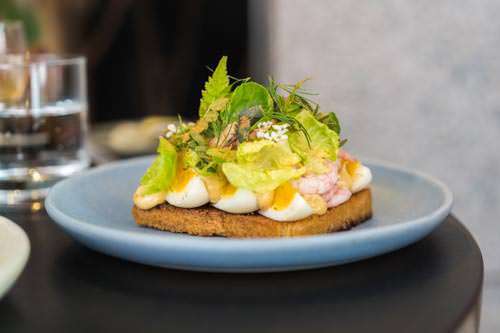 Niels Hemmingsens Gade 19-21, Copenhagen, Denmark
Chef Adam Aamann takes the Danish tradition of the open-faced sandwich to the next level with his modern "smørrebrød" creations. They are some of the best sandwiches we've ever had, but don't leave without trying the beef tartare with brown butter emulsion, or the apple cake with brown butter ice cream.
Det Vide Hus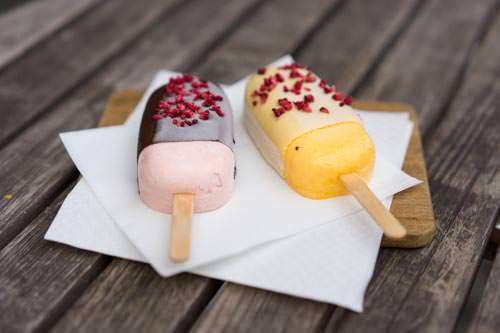 Gothersgade 113, Copenhagen, Denmark
Café Det Vide Hus is a cozy little café on Gothersgade which sells coffee and croissants, but you mainly want to go here for the handmade ice cream bars during summer. They are beautifully crafted and delicious tasting, and some popsicles even represent a superhero or action star like Spiderman, Chuck Norris, or the Hulk. Don't be surprised if you find Chef René Redzepi by the window enjoying one.
Selma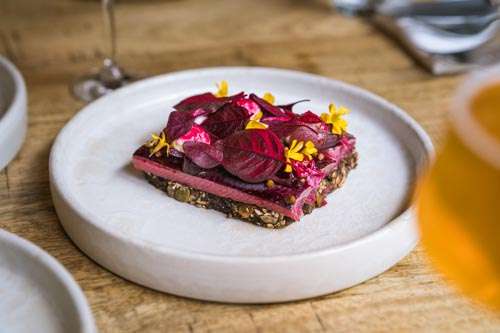 Rømersgade 20, Copenhagen, Denmark
At Selma, you find something as rare as a Swedish chef making contemporary Danish "smørrebrød"! Chef Magnus Pettersson had the audacity to take on the task of re-inventing Denmark's number one food classic – the open-faced sandwich. The restaurant serves lunch every day and dinner from Wednesday to Saturday – with a menu consisting of smørrebrød and some snacks. You can choose from an à la carte or the affordable set menu which has been awarded a Bib Gourmand in the Michelin guide. A large selection of craft beers from Mikkeller are available on tap.
Recommended Food Market
Torvehallerne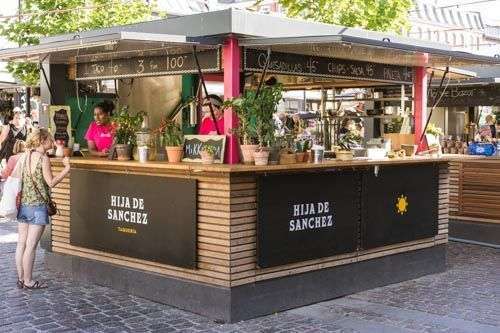 Frederiksborggade 21, Copenhagen, Denmark
Torvehallerne is Copenhagen's most well-known food market, consisting of two halls and an open market space filled with restaurants and specialty stores. Two of our favorites are The Coffee Collective and Hija de Sanchez, which is actually the original location of Rosio Sanchez's taco stand. The former head of pastry at Noma has gone back to her origins and makes the most authentic Mexican food in town. After you've finished your tacos, you should enjoy a hand-brewed single origin coffee from The Coffee Collective.
Slurp Ramen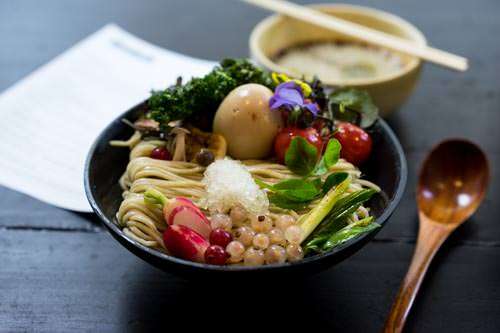 Nansensgade 90, Copenhagen, Denmark
Slurp Ramen is the new noodle star in Copenhagen. In a tiny venue at Nansensgade 90, with a hipster dog as their logo, everything is made in-house and from scratch. These guys are dedicated to making their own noodles and broths, as authentic as possible, but with locally sourced ingredients. In the summertime, the cold noodles are a must-eat!
Brace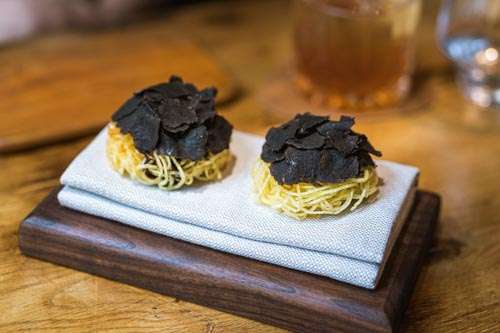 Teglgårdstræde 8A, Copenhagen, Denmark
Chef Nicola Fanetti runs the modern Italian restaurant Brace in the heart of Copenhagen. Fanetti has been inspired by the New Nordic movement ever since working at Noma – it was there he rediscovered his love for foraging and connecting with nature. Afterward, he decided to stay in Denmark and combine his Italian roots with a Nordic philosophy. His menu features neither pizza nor a lot of pasta, but all dishes point back to his motherland in some way. A lot of his inspiration comes from his time spent at his grandparents' farm as a kid, where he first learned how to cook and fell in love with food and Italian cuisine.
Trio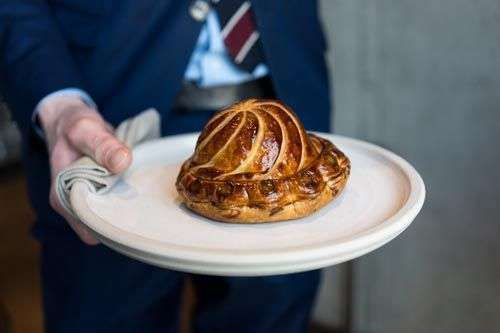 Jernbanegade 11 (Axel Towers), Copenhagen, Denmark
Trio is a three-level restaurant on the 8th, 9th, and 10th floors of Axel Towers. The top floor is the restaurant, with a cocktail bar and a private dining room located on the floors below. The name is possibly derived from this trio of floors, but also the fact that it's the third restaurant of chef/sommelier duo Søren Selin and Christian Aarø (who also own AOC and No. 2). At dinner time, you can either enjoy a seven-course set menu or choose from the à la carte list. For lunch, the menu is somewhat simpler. Similar to AOC and No. 2, Trio is a Nordic restaurant and the head chef is Andrew Clatworthy.
Recommended Attraction
Tivoli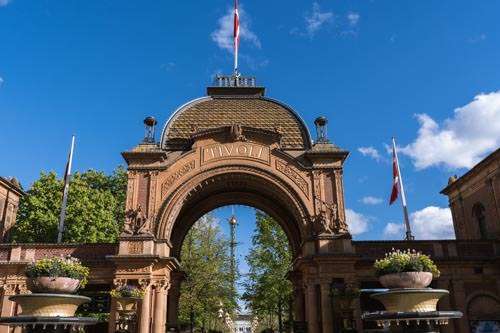 Vesterbrogade 3, Copenhagen, Denmark
Take a day off from the eating itinerary and check out the Danish amusement park that inspired Walt Disney to create Disneyland. There are plenty of rides for the thrill-seekers, but you'll also have a great time just strolling around the charming grounds. Leading up to Christmas, the park is festively decorated and is the perfect place to get in the holiday spirit.
Recommended Museum
Glyptoteket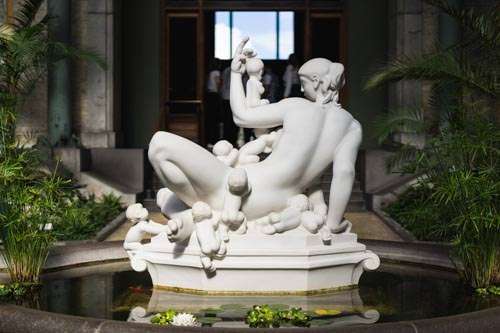 Dantes Plads 7, Copenhagen, Denmark
Glyptoteket is a must-visit art museum in Copenhagen. Go here to see the impressive selection of antique stone sculptures from Egypt, Rome, and Greece. Ny Carlsberg Glyptotek is the full name, revealing that the owner is the son of the founder of Carlsberg Breweries. Whether you are interested in history or not, the museum is a beautiful place to stroll around for half a day. Prolog Coffee Bar recently took over operations of the museum café.
Affiliate Link
Hotel Nobis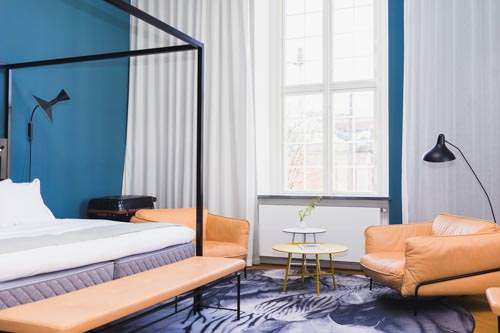 Niels Brocks Gade 1, Copenhagen, Denmark
Hotel Nobis is an upscale hotel in the old Royal Danish Academy of Music – a spectacular building that dates back to 1903. Enjoy marvelous architecture and interior design in a centrally located accommodation near Tivoli and Glyptoteket.
Hija de Sanchez Kødbyen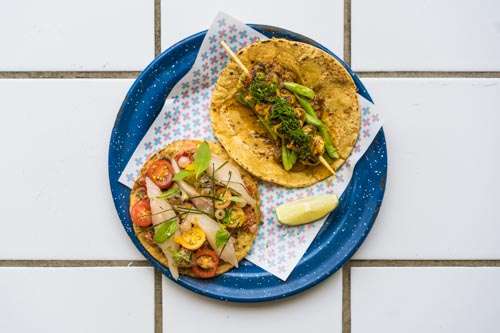 Slagterboderne 8, Copenhagen, Denmark
Hija de Sanchez in Kødbyen (the Meatpacking District) is the second location of Rosio Sanchez's taqueria. Located in a brick and mortar building in a vibrant part of town, this is a great summer hangout for tacos, aguas frescas (fresh juices), and paletas (ice pops).
Prolog Coffee Bar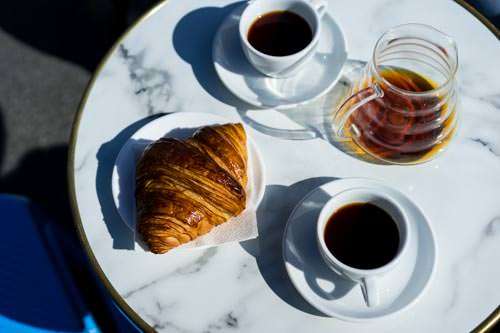 Høkerboderne 16, Copenhagen, Denmark
Prolog Coffee Bar is the hottest place for specialty coffee in Copenhagen – rumored to be a favorite place of the man himself, René Redzepi, to get his daily caffeine fix and croissant.
Sanchez Cantina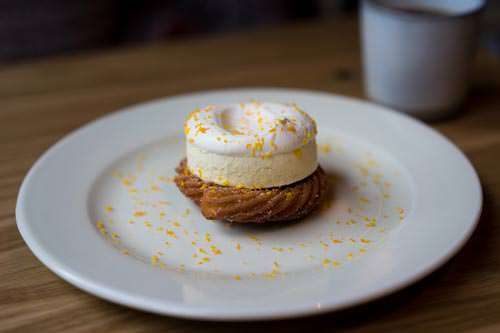 Istedgade 60, Copenhagen, Denmark
Rosio Sanchez's sit-down restaurant, Sanchez Cantina, is home to the most authentic Mexican food you'll find in Scandinavia. The weekend brunch is packed with locals and tourists alike, clambering over the breakfast tacos and chilaquiles. If you come at night, you'll get to taste the "dirty carnitas" tacos with a melted cheese crust inside the tortilla (our favorite!) and Rosio's signature open-faced churro, topped with vanilla parfait, mezcal negroni cream, and orange zest. Sweet, bitter, smoky, and all kinds of delicious – Anders thinks it's one of the best desserts in the world!
Isted Grill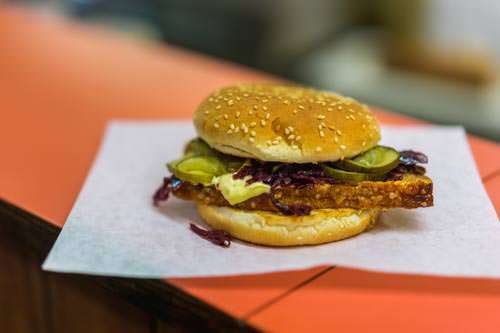 Istedgade 92, Copenhagen, Denmark
Your best option for late night food in Copenhagen is the famous Danish flæskesteg sandwich, a juicy pork belly sandwich with pickles, red cabbage, and mayo. Isted Grill on Istedgade in Vesterbro is the local favorite spot to get this Danish specialty – open until 2am most nights, and 4am on Saturdays.
Gorda Empanadas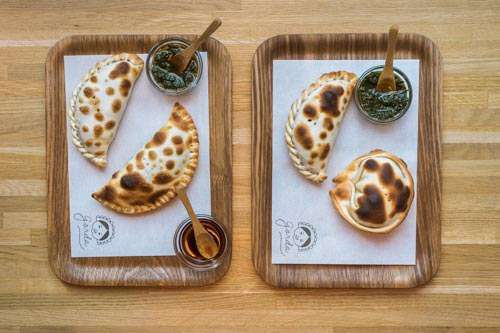 Enghavevej 5, Copenhagen, Denmark
If you're starting to crave Latin flavors after days of feasting on smørrebrød and New Nordic cuisine, head to Gorda. Chef Gonzalo's cozy Vesterbro shop sells all different kinds of homemade Argentinian empanadas. They're small, street-food sized, so you can try a few flavors (we recommend three per person) – our personal favorites are the braised beef, the caramelized onion and cheese, and the caprese (which tastes like pizza!). Each empanada flavor is folded with a different design, so you can tell them apart. Be sure to order some of the chimichurri sauce on the side! And definitely save room for the dulce de leche flan.
Lidkoeb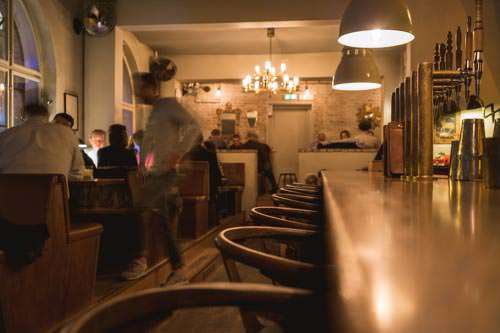 Vesterbrogade 72B, Copenhagen, Denmark
There's a cozy cabin hidden in a back alley in Vesterbro that houses one of the coolest cocktail bars in Copenhagen. In warm weather, you can enjoy your frozen daiquiri in the open-air courtyard, and during the cold season you can drink your boozy slushie inside by the fire. Cocktails at Lidkoeb change seasonally, but the fun vibe and friendly staff ensure this is a cool place to hang year-round.
VinSuperNaturel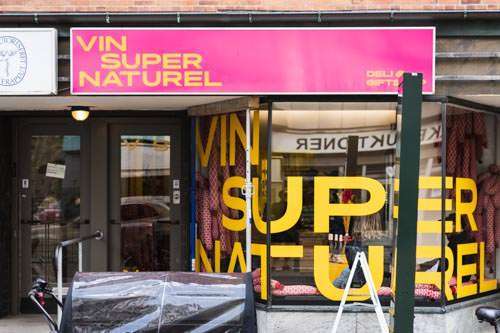 Gl. Kongevej 41, Copenhagen, Denmark
The coolest new natural wine shop in Copenhagen has opened in Vesterbro with an incredible selection and some of the best prices in town. You can often find the more rare producers in stock here, like Anders Frederik Steen, Gabrio Bini, Momento Mori, and La Sorga. And, if you're not based in Copenhagen, you can shop VinSuperNaturel's whole selection on their online store!
Affiliate Link
Central Hotel & Café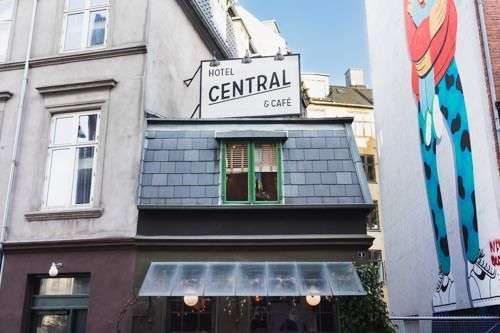 Tullinsgade 1, Copenhagen, Denmark
How can you not fall in love with the charm of the world's smallest hotel? With just one room, located above an associated coffee shop, Central Hotel & Café is one of the coolest places we have stayed. Getting back to your little room after a long day in Copenhagen is pure "hygge." Enjoy breakfast at the retro café Granola, which is owned by the same group.
Hart Bageri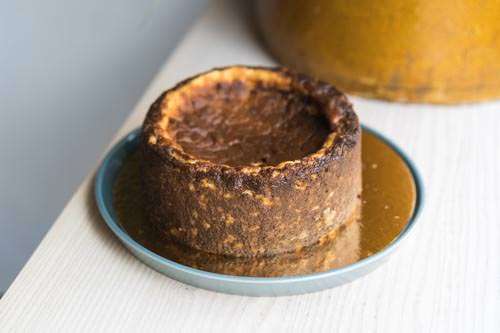 Gl. Kongevej 109, Copenhagen, Denmark
Richard Hart, formerly of Tartine Bakery in San Francisco, joined forces with René Redzepi of Noma to open a sourdough bakery in Copenhagen. In addition to bread, they also serve a variety of incredible pastries that change seasonally. We loved the "salad bowl" (a savory pastry with béchamel sauce, roasted mushrooms, and greens), but our absolute favorite is the "cardamom bun", which is more like a cardamom kouign amman with sticky, buttery croissant layers. Hart Bageri also serves international dessert favorites like a Basque cheesecake, Italian Panettone for Christmas, and Danish Kransekage for New Year's Eve.
Surt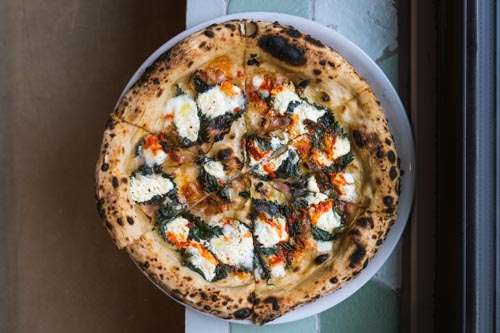 Bag Elefanterne 2, Copenhagen, Denmark
Pizzaiolo Peppe Oliva helped Christian Puglisi open Bæst before branching out to open his own pizza joint with his brother in Carlsberg Byen. "Surt" is the Danish word for "sour" – all of the dough here is handmade daily from a sourdough starter, and the fluffy/crispy crust is somewhere between a Neapolitan and Roman style. These extremely thin pies are topped with seasonal toppings from small-scale farmers, such as leeks, mushrooms, and herbs.
Mao Bao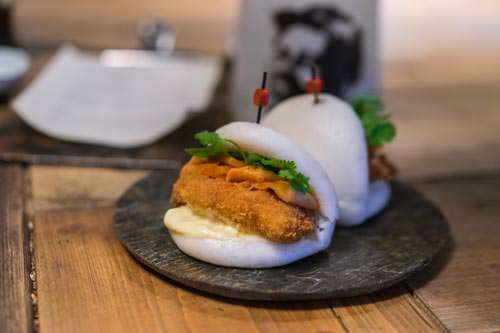 Skyttegade 5, Copenhagen, Denmark
Mao Bao is a permanent takeover/pop-up restaurant located in the cocktail bar Sidecar. They serve some of the best and most authentic gua bao (steam buns) in Copenhagen, in addition to other Taiwanese snacks.
Rødder & Vin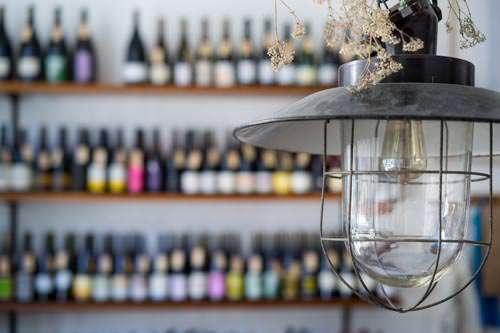 Ravnsborggade 8, Copenhagen, Denmark
Rødder & Vin is a tiny shop in Nørrebro selling natural wines and root vegetables – exactly as the name promises. Self-taught sommelier Solfinn Danielsen always has a glass of something delicious ready when curious customers come by to study his four shelves of carefully selected bottles. Look for some of our favorites like FruktStereo (cider), Garo'Vin and Anne et Jean-Francois Ganevat. If the wine shop isn't open, it's probably because Solfinn has moved two doors down to his wine bar Rødder & Vin:Bar.
Pompette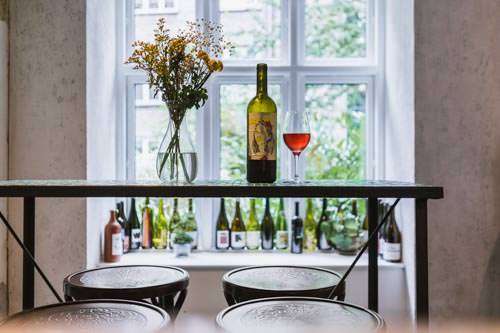 Passionate wine lover Martin Ho's wine bar and bottle shop in Nørrebro just might have the biggest selection of natural wine in Copenhagen. Only about 10% of his collection is actually on display, so if you're looking for something in particular just ask Martin. His cellar is stocked with thousands of rare bottles including boxes and boxes of Tschida, a whole bunch of Bini, and the entire Gut Oggau family. The name Pompette means "tipsy" in French, and this super cool hangout definitely has a Parisian vibe, especially with bistro-style seating on the street. There's cheese, charcuterie, bread, and other snacks if you're looking for something to nibble.
Bæst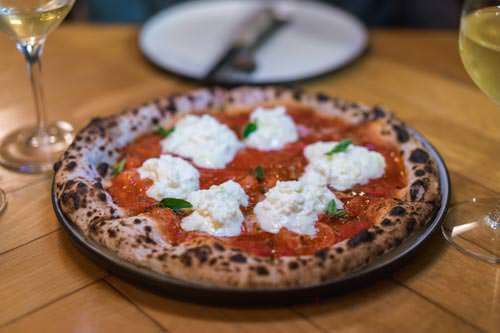 Guldbergsgade 29, Copenhagen, Denmark
Bæst is an authentic Italian pizzeria by Relæ chef Christian Puglisi. They make their own charcuterie, fresh cheeses (ricotta, mozzarella, and burrata) and make sourdough in their bakery, Mirabelle, located just next door. The pizza here is the best in Copenhagen – bouncy, fluffy dough topped with fresh farm ingredients. Our favorite is their take on the Margherita pizza, with the option of adding stracciatella cheese. In our opinion, adding stracciatella is never optional, it's a necessity!
Relæ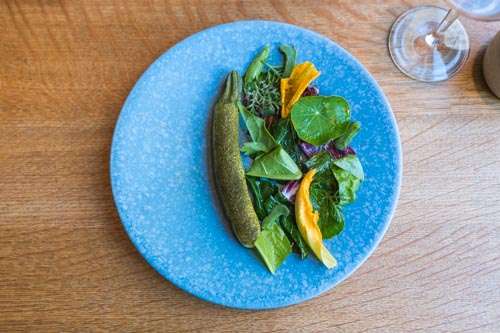 Jægersborggade 41, Copenhagen, Denmark
Relæ is a New Nordic restaurant from Italian chef and Noma alumni Christian Puglisi. Head chef Jonathan Tam has a unique style of cooking and follows Puglisi's philosophy of being as close as possible to 100% organic and sustainable. While not an easy task, Puglisi and his team have made great strides with initiatives like their Farm of Ideas as well as their Seed Exchange program, which have both involved the global food community and helped spread knowledge about these topics to the industry. These efforts awarded them a top score in the 360 Eat Guide in 2019.
Manfreds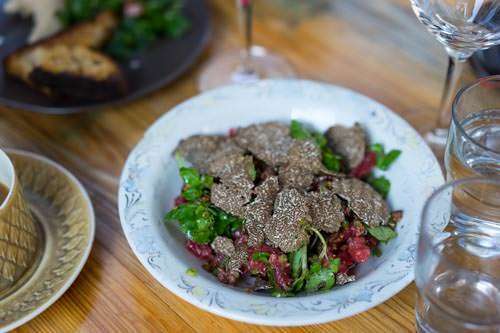 Jægersborggade 40, Copenhagen, Denmark
Manfreds is the casual sister of restaurant Relæ, located right across the street on Jægersborggade in Nørrebro. Ironically enough, this natural wine bar is the world's only vegetable-focused restaurant famous for its raw meat. The signature beef tartare comes with a mustard emulsion, cress, and crispy rye.
Coffee Collective Jægersborggade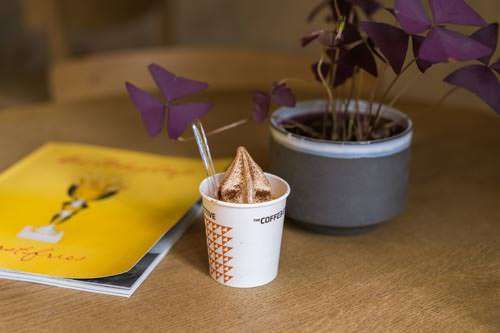 Jægersborggade 57, Copenhagen, Denmark
Jægersborggade is the original location of the Coffee Collective – a collaboration of baristas who run six high-quality coffee bars in Copenhagen. Klaus Thomsen and his team have set the standard for how a Danish light roasted coffee should be made. Don't miss out on their espresso soft serve when it's available during the summer. Visit the other locations at Torvehallerne, Bernikow, Godthåbsvej, Sankt Hans Torv, and inside the Telefonkiosken at Norreport Station.
April Coffee Store & Showroom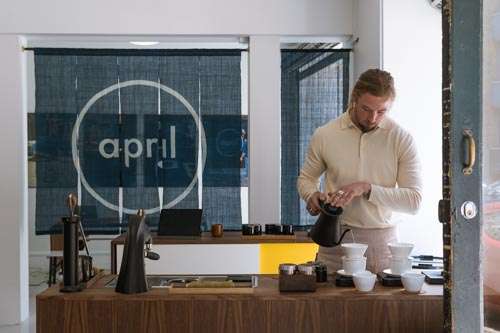 For the past four years April Coffee only operated as a roastery, but now award-winning coffee brewer Patrik Rolf has his own shop in Østerbro. The sleek, sophisticated space feels much more like a designer store or an art gallery than a coffee shop. Drop in to sample April's full range of high-quality products from pour-overs to espresso-based drinks, and buy innovative brewing gear for travel.
Leckerbaer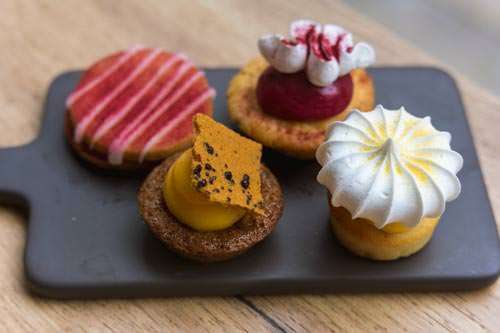 Ryesgade 118, Copenhagen, Denmark
Leckerbaer is a small pastry shop in the Østerbro neighborhood run by a husband and wife team. While a few seats are available in the café, you can also take their cookies, cakes, and ice cream to go. Top-quality ingredients mixed with true passion and a keen eye for aesthetics have resulted in some of the best tasting and looking sweets in Copenhagen (and on Instagram).
Pasteur
Trianglen 7, Copenhagen, Denmark
Østerbro's coolest wine bar is all organic, with a focus on Jura wines. Although the small, cozy vibe might suggest otherwise, they actually have a full kitchen. So, in addition to the usual charcuterie, bread, cheese, and other snack suspects, you can eat a full meal here, or you can just drink bottle after bottle of the good juice. Some of our favorite producers on the list include Lammidia, Frank Cornelissen, Matassa, and Christian Tschida.
Østerberg Ice Cream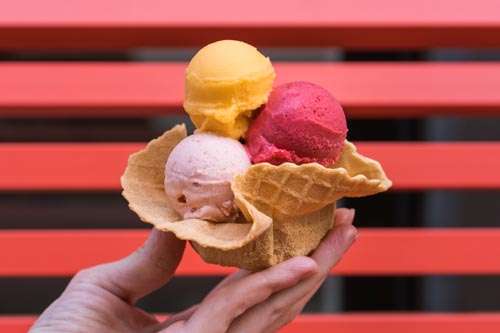 Rosenvængets Allé 7C, Copenhagen, Denmark
Østerberg Ice Cream is a small artisanal ice cream vendor in the Østerbro neighborhood. Everything from the cone to the cream is homemade, created with top-quality ingredients and a whole lot of passion. Founder Catherine Østerberg's dad owns an exotic fruit import company, which means you can enjoy exciting flavors like dragonfruit, tamarind, and jackfruit. Of course, they also serve classics like vanilla, chocolate, and hazelnut.
Juno the Bakery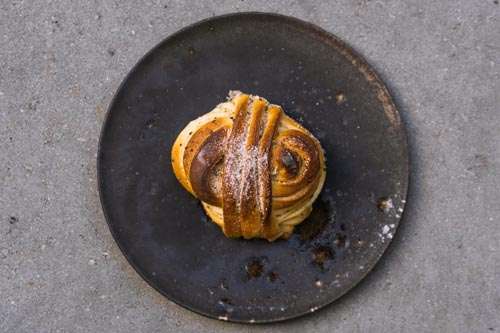 Our favorite pastry in the world is not found in Paris, the viennoiserie capital of the world, but in Copenhagen. Juno has perfected the art of pastry – their croissants are buttery, laminated things of beauty. But perhaps their most impressive treat is the "kardemummabulla" – a traditional Swedish pastry that is often dense and heavy, but here is transformed into a light and airy miracle of a cardamom bun. It's fluffy and buttery and oozing with cardamom and sugar, but not in a syrupy sweet way. But don't leave without trying their almond croissant – it's the best we've ever had. It's like biting into a warm cookie, still soft and somewhat raw on the inside, with croissant layers on the bottom, warm almond filling, and then an amazing texture of sliced almonds on top. Life-changing! The best part? Juno bakes their pastries all day long, so they never sell out, and they're pretty much guaranteed to be warm and fresh from the oven.
At the Counter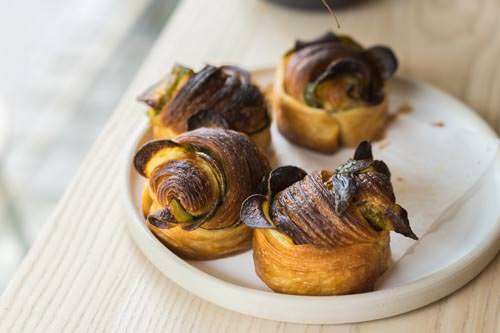 The new location from Juno Bakery is located just a block away from their original outpost. There's more seating here, and you can order more brunch items, like their croissant breakfast sandwich with bacon, egg, and cheese, or the potato and leek croissant. Of course, you can snag one of their signature cardamom buns here, too!
Geranium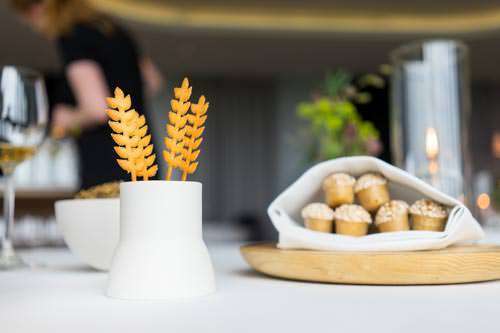 Per Henrik Lings Allé 4, Copenhagen, Denmark
Head chef Rasmus Kofoed is one of the world's most decorated chefs, and the only person ever to win bronze, silver, and gold in Bocuse d'Or, the prestigious French cooking competition. Together with sommelier Søren Ledet, he runs the three Michelin-starred Geranium in a remarkable location on the top floor of Copenhagen's main football stadium. Geranium is, without a doubt, one of the world's most beautiful dining experiences. You feel almost as if you're attending a ballet rather than a meal, with the servers floating around the dining room in complete synchronization, as if part of a choreographed dance. But, unlike other restaurants of this caliber, it never feels stuffy or overly formal – the friendly team at Geranium makes you feel relaxed and at ease. Chef Kofoed's unique interpretation of New Nordic cuisine is simultaneously precise and poetic, food art on a plate. It's no surprise that Geranium has climbed to no. 5 on the world's 50 Best Restaurants list – it's one of our favorite restaurants in the world.
Jordnær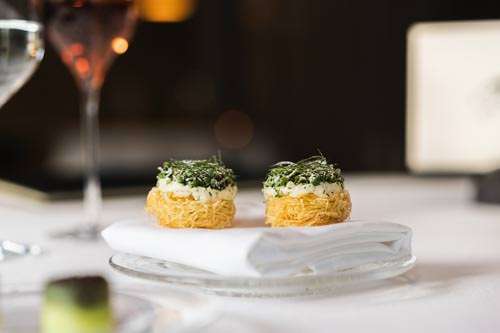 Gentoftegade 29, Gentofte, Denmark
Unlike the New Nordic restaurants in central Copenhagen who serve their tasting menus in very relaxed settings, Chef Eric Vildgaard's two Michelin-starred restaurant Jordnær is the picture of elegance. Located just 20 minutes outside of the city in the suburbs of Gentofte, Vildgaard has transformed the ground floor of an old inn from the 17th century into a modern setting for Nordic fine dining, complete white tablecloths and a classical wine list. The tasting menu changes seasonally, but you can expect to see a focus on Scandinavian seafood accompanied by creamy sauces, often topped with a healthy amount of luxury ingredients like caviar and truffles.
Søllerød Kro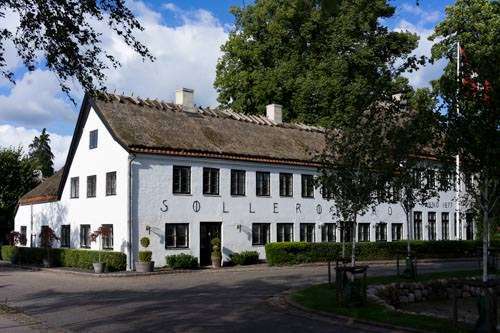 Søllerødvej 35, Holte, Denmark
Sit back, relax, and let Jan Restorff (one of the world's best restaurant hosts) pamper you at Søllerød Kro, a one-Michelin starred restaurant outside of Copenhagen. Stepping into the old inn is like entering a different era completely, but with food that has a modern appearance despite its classical setting. That's thanks to the talented Chef Brian Mark Hansen, who will take any excuse to add some luxury ingredients to the plate. His series of caviar servings is the stuff of legends, including the signature "caviar en surprise." At first glance, you think it's an entire can of caviar, but once you break through the top layer of fish eggs you realize there's a treasure underneath: a celeriac cream panna cotta mixed with seasonal seafood.
Recommended Museum
Louisiana Museum of Modern Art
Gl Strandvej 13, Humlebæk, Denmark
Located about an hour train ride from central Copenhagen in a breathtaking location on the harbor is one of the most gorgeous museums we've ever been to. At Louisiana, you can browse the over 4,000 works of modern art in their collection, immerse yourself in the magic of a Yayoi Kusama infinity room, and take a walk in the waterfront sculpture park.