Oslo City Map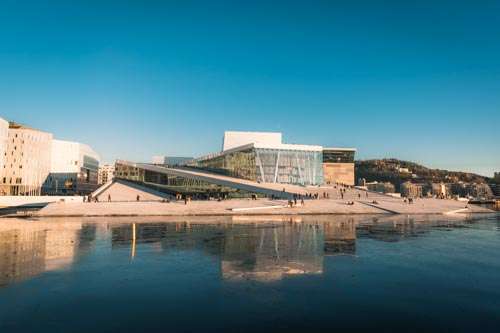 Oslo is the capital of Norway and home to the greatest selection of restaurants in the country. The success and spread of the New Nordic cuisine, combined with chefs gathering inspiration from all over the world, has led to a revolution of the Oslo food scene. Unlike the other Scandinavian capitals, the city is more about affordable and accessible places, and less about fine dining and white tablecloths (there are exceptions; see Maaemo and À L'aise). Sustainability is another big focus area for many restaurants, with Rest leading the way with their zero waste ideology. Oslo is also Scandinavia's coffee mecca, much due to the influence of pioneers like Tim Wendelboe.
In this city map, we have gathered all our favorite spots to create the best restaurant guide to Oslo. You will find coffee shops, wine and cocktail bars, bakeries, fine dining restaurants, and casual eateries. Navigate the map easily either by scrolling through the list on the right or by clicking the points on the map. Places are listed in geographical order.
Maaemo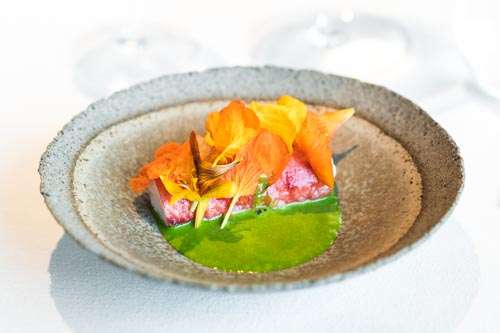 Dronning Eufemias gate 23, Oslo, Norway
Maaemo is the restaurant which truly has put Oslo on the culinary map of the world. Esben Holmboe Bang's philosophy includes only organic Norwegian ingredients, prepared in the New Nordic style. A fine dining establishment that fits perfectly into the category of a three-Michelin-starred restaurant: exceptional cuisine, worth a special journey. The pride of Norway.
Koie Ramen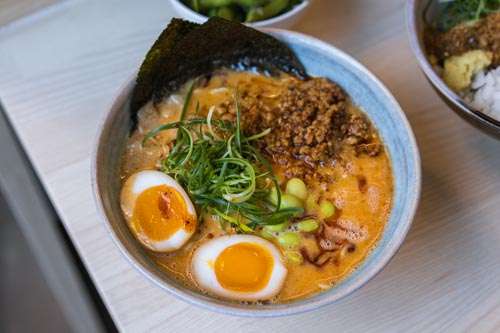 Koie Ramen was the first proper ramen shop in Oslo when it opened in 2017. The word Koie means "come home" in Japanese, suggesting that everything is home-made and authentic. Broth and noodles are certainly made in-house. Choose between shio, shoyu, miso, and tonkotsu base. Don't miss the chicken karaage!
Vaaghals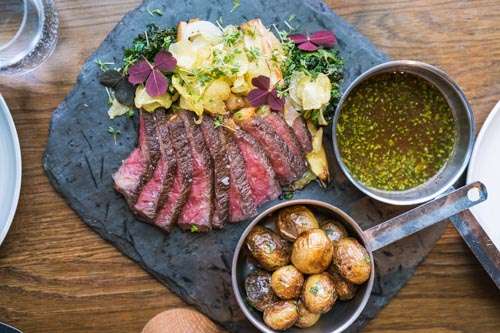 Dronning Eufemias gate 8, Oslo, Norway
Vaaghals is the place to go for hearty Norwegian cooking. Traditional, yet modern dishes based on dry aged meat, seasonal seafood, and vegetables. Rustic presentations that are meant to be shared. Equally good for lunch as dinner and with a cool location in the new Barcode area.
Code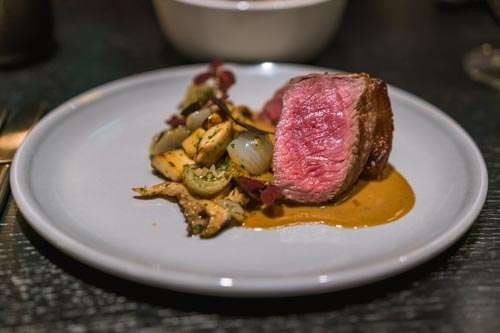 Dronning Eufemias gate 18, Oslo, Norway
Barcode's most ambitious new restaurant is Code, the brand new playground of chef Christer Rødseth, located just a few doors down from Vaaghals. The food here leans more classical, with dishes like onion soup and whole roasted duck, but the ingredients are all Norwegian and everything has a modern feel to it. A few of our favorite dishes on the menu are the beef tartare, the lobster roll, the mountain trout, and the crab risotto. Save room for the freshly baked financiers, served with warm chocolate and vanilla dipping sauces.
Brutus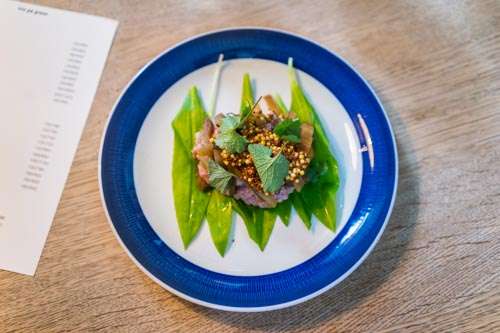 Eiriks gate 2, Oslo, Norway
Brutus is a New Nordic bistro serving only natural wines. Located in the trendy Tøyen district with an interior of wood, exposed brick wall, and concrete. Enjoy comfort food by a young, talented Icelandic chef. Trust the sommelier's recommendations or ask for a visit to the wine cellar.
Gurken Gurken Gurken Gurken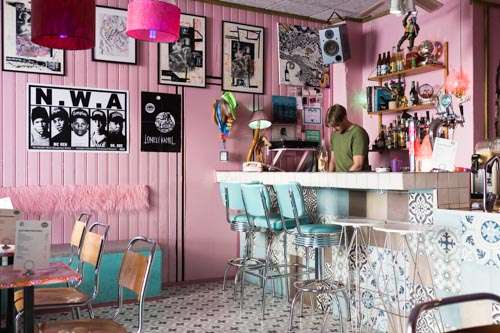 Eiriks gate 2 C, Oslo, Norway
Gurken Gurken Gurken Gurken is the next door neighbor and sister bar to restaurant Brutus. It was opened by the same guys a few months after the eatery, once the venue became available. This is the place to go before and/or after your meal at Brutus to drink even more natural wines or their specialties, which are natural ciders and Piña Colada slushies.
The Golden Chimp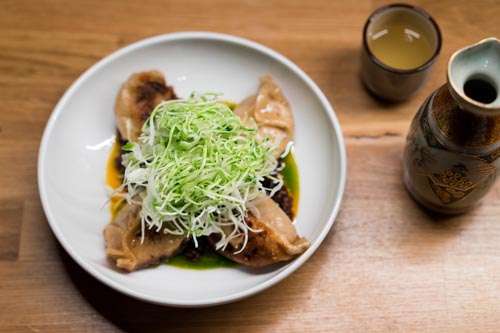 Heimdalsgata 37, Oslo, Norway
The Golden Chimp is the latest project of former Hitchhiker head chef Jan Robin Ektvedt. His love for Asian cuisine, in particular, street food, has brought him to further delve into the world of dumplings and create a concept based around that. Reserve a seat downstairs for a set menu that features more than just dumplings, or drop by their upstair area for a simpler selection and natural wines.
Rest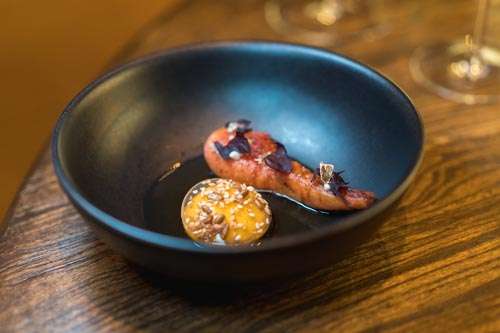 Kirkegata 1-3, Oslo, Norway
"Rest" means leftovers in Norwegian, and that's exactly what the chefs at restaurant Rest are using in their tasting menu. Chefs Jimmy Øien, Mads Revheim-Skjolden, and Christopher Christiansen work from a strict zero waste philosophy and use ingredients that no one else wants. Leftovers. Waste. Parts of an animal that are typically not used. Parts of a fish that are often thrown back into the ocean. Ugly / imperfect produce. It's one of the most sustainable restaurants we've been to, and one of the tastiest too. One man's trash is another man's treasure, and Rest makes gold out of food that otherwise would've gone to waste. Even the plates and ceramics here are made from leftover clay!
Sentralen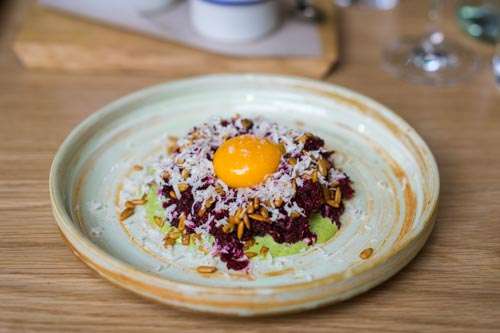 Øvre Slottsgate 3, Oslo, Norway
Sentralen is a casual brasserie by renowned Norwegian chefs Even Ramsvik and Tom Victor Gausdal. It's a great lunch and dinner spot with a wide selection of dishes that can either be shared or enjoyed alone. You can order half portions if you want to experience more from the menu.
Einer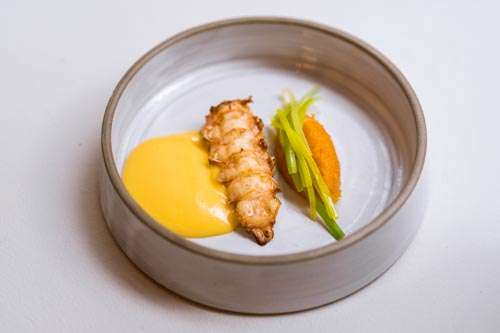 Prinsens gate 18, Oslo, Norway
Chef Svein Trandem and his partner in wine Sara Johansson previously worked at Maaemo before branching out to start their own spot in 2018. Seasonal Nordic ingredients are celebrated here as you select either the "Animalia" or the "Botanica" (vegetarian) tasting menu (4 or 6 courses). They serve lots of our favorite natural wines in the restaurant, as well as underground in their wine bar Einbar.
Einbar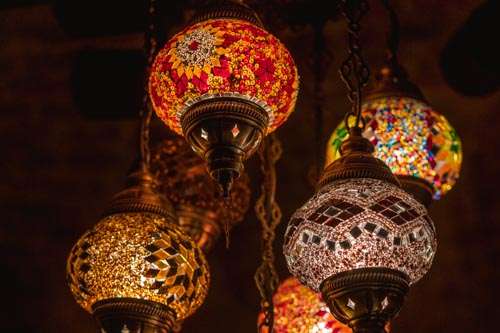 Prinsens gate 18, Oslo, Norway
Einer's little sister has a similar philosophy of cooking, but the bar menu leans much more casual than the tasting menu upstairs. Seasonal offerings are based on local ingredients, and might include dishes like a creamy king crab roll, celeriac dumplings, a black garlic koji tostada, and beet ravioli. Gabrio Bini, Michael Gindl, Gut Oggau, Frank Cornilessen are some of the stars on their natural wine list.
Stockfleths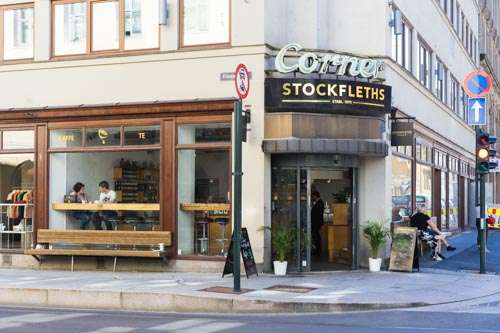 Prinsens gate 6, Oslo, Norway
Stockfleths is the only high-quality chain of coffee bars in Oslo, and the oldest group in Norway – dating back to 1895. Some of the best baristas in the country started their training here, including Tim Wendelboe. Stockfleths operates ten stores in total, with seven of them situated in Oslo. Their flagship store is at Prinsens gate in Kvadraturen.
Esaias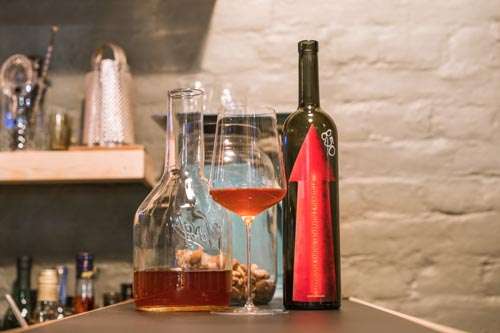 Dronningens Gate 27, Oslo, Norway
There's a new natural wine bar in Oslo! Located right next-door to Bacchus Spiseri, Esaias Vinbar has an amazing selection of some of our favorite producers, including Gut Oggau, Serragghia. During the day, drop by for a Gladbakst pastry and a coffee.
Svanen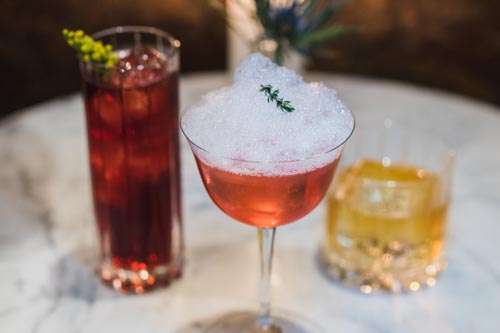 Karl Johans gate 13, Oslo, Norway
Theatercaféen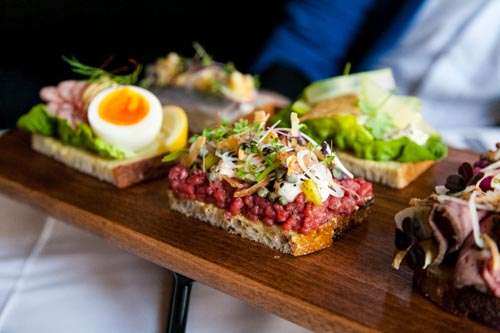 Stortingsgaten 24/26, Oslo, Norway
Theatercaféen is an institution in Oslo. Few places have such a loyal clientele and so much history in the walls. Built, and later refurbished, in the beautiful Art Nouveau style, the café and restaurant date back to the year 1900. Executive chef Stig Drageide has raised the quality of the open-faced sandwiches to a level more similar to Renaa Matbaren in Stavanger and Aamanns in Copenhagen.
Omakase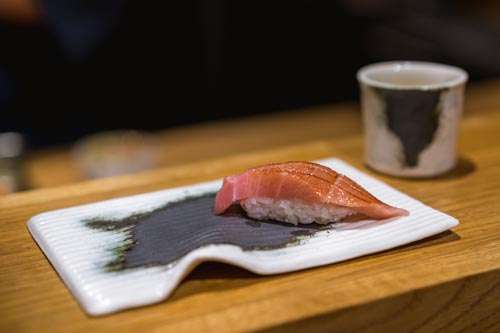 Ruseløkkveien 3, Oslo, Norway
Omakase Oslo is a branch of the lauded, one-Michelin-starred Sabi Omakase in Stavanger. Located at Vikaterrassen, where the World Sushi Champion 2017, Vladimir Pak, along with his co-chef Mark Jayson Subia, serves edomae-style sushi with top quality Nordic produce. Enjoy an exclusive sushi omakase menu with drink pairings at a 15-seat bar counter.
Sponsored Content
Hotel Bristol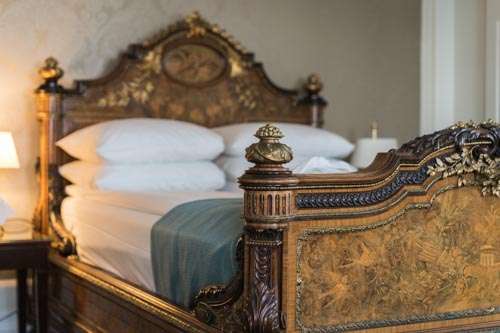 Kristian IVs gate 7, Oslo, Norway
The venerable Hotel Bristol is a historic hotel in Oslo, dating back to 1920. It's one of the few remaining hotels of its kind and, perhaps, the only one in Oslo that has kept its original charm. Designed by architect Finn Rahn, one of the more spectacular features of the hotel is the Moorish Hall, which today is known as "Vinterhaven" (the winter garden) and "Bibliotekbaren" (the library bar). Go here for the classic "smørbrød" (open-faced sandwiches), incredible artisan pastries, the city's best hot chocolate, and the afternoon tea experience. Enjoy a full tasting menu at Bristol Grill and a nightcap at Bristol Bar. Sleep in a room where the famous dancer Josephine Baker stayed regularly, work out in a state-of-the-art gym, and experience the luxuries of old-school hospitality.
Katla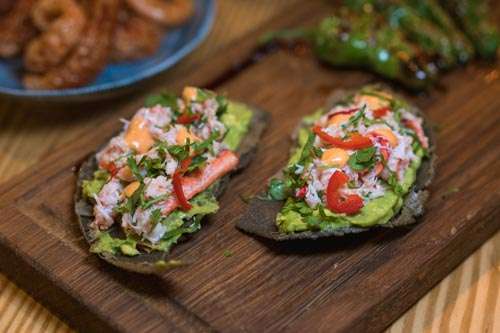 Universitetsgata 12, Oslo, Norway
Nordic ingredients meet Japanese and Mexican techniques and flavors at Katla – the new restaurant from the former head chef at Pjoltergeist, Atli Mar Yngvason. What used to be my favorite restaurant is Oslo closed down, but Atli has returned to the scene again and continues to cook amazing food. This time, he has an open fire in the kitchen and a much larger space.
Fuglen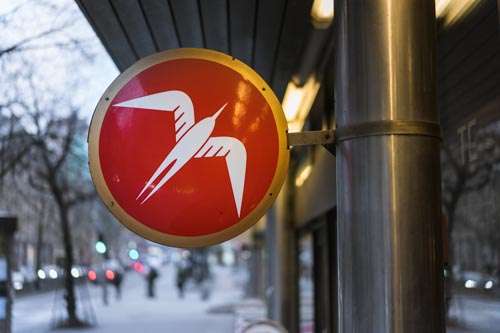 Universitetsgata 2, Oslo, Norway
Fuglen is a coffee bar by day and cocktail bar by night. This unique venue is worth a visit for anyone interested in vintage Scandinavian design. Most of the interior is originally from the 1950s or 1960s, and all the furniture and decorations inside the café are for sale. Fuglen even has a sister café in Tokyo, Japan. Check also their newly opened roastery in Gamlebyen.
Happolati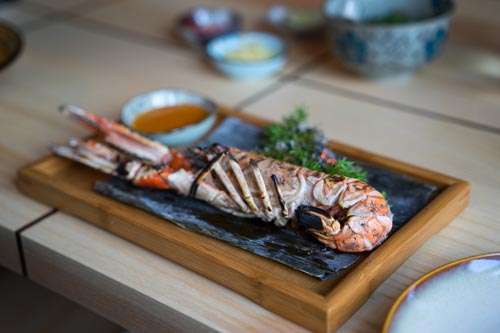 St. Olavs Plass 2, Oslo, Norway
Happolati is located at St. Olavs Plass in the former venue of restaurant Ylajali, but with completely revamped and modernized interior design. Enjoy a casual gourmet meal inspired by Asian street food, but with Norwegian ingredients and a Nordic presentation-style.
Izakaya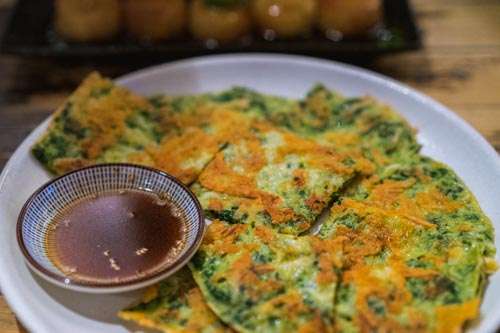 St. Olavs Gate 7, Oslo, Norway
Izakaya, as the name indicates, is a small Japanese-style eatery near St. Olavs Plass. At this hole in the wall bar and restaurant, you can go for just sake and cocktails, or you can order small dishes from an ever-changing menu. Classics include Korean pancakes, soba noodle salad, and gyoza. No reservations, just show up.
Stykke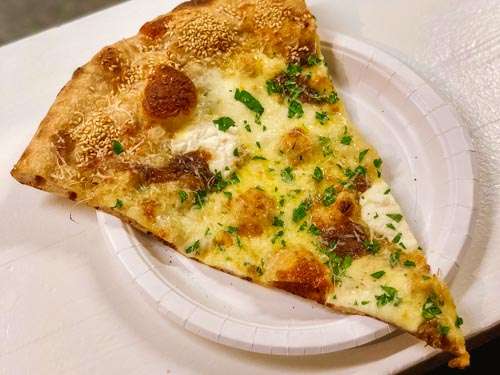 After a trip to NYC, two pizza lovers were inspired to bring a New York slice shop to Oslo. They use good, honest produce and developed a solid dough recipe that pays tribute to their New York pizza heroes, while still giving it their own mark. Our favorite is the White Pizza, inspired by Best Pizza in Williamsburg, which comes topped with ricotta, mozzarella, caramelized onions, and parsley.You can find Stykke inside the minigolf course, Oslo Camping!
Himkok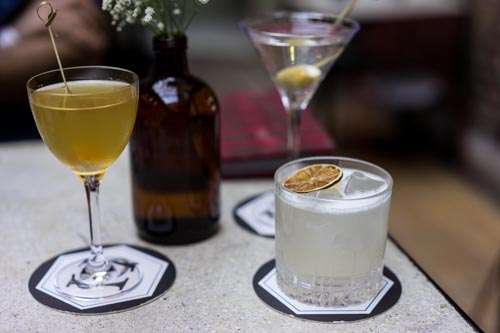 Storgata 27, Oslo, Norway
Himkok was the first Oslo bar to make it onto the world's 50 best bars list (currently no. 20), and with good reason! A speakeasy bar with multiple themes: a prohibition era cocktail bar downstairs, a huge "taptails" bar upstairs, an al fresco restaurant in the backyard, and a cider bar in another patio. Brace yourself for good service and tasty drinks!
Imperial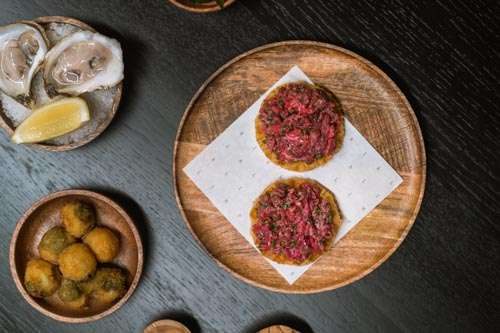 Youngs gate 9, Oslo, Norway
Maaemo alumni Luke Henderson and Jefferson Goldring have joined forces to open Oslo's coolest new wine bar – The Imperial. You'll struggle to find better bar snacks than this anywhere – we loved Luke's variation of beef tartare, served on a delicious potato waffle with jalapeño cheese. A reimagined British gastropub classic dish of Scotch eggs was another standout – this modern version uses small quail eggs, thus allowing more room for meat. The eggs come wrapped in venison meat, breaded with panko and deep-fried – the result is juicier than any version we've tasted previously. Another favorite dish was the "hash browns" – long, meticulously layered sticks of potato (a potato mille-feuille, if you will), topped with a sprinkle of salt and vinegar. They were crunchy on the outside and moist on the inside, with a sinful layer of fat.
Andre til Høyre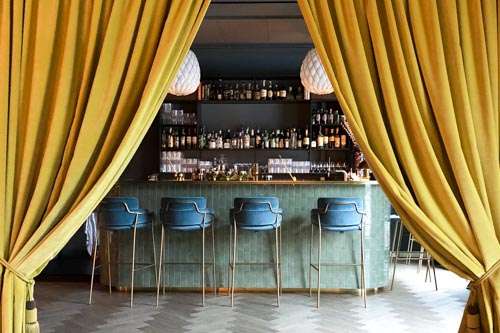 Youngs gate 19, Oslo, Norway
Andre til Høyre is a wine and cocktail bar that is part of the new Youngskvartalet at Youngstorget. Wines are enjoyed in the kitchen room around a large concrete counter section. Head over to the beautifully designed bar and slick living room lounge area in the next room for some sublime cocktails.
Illegal Burger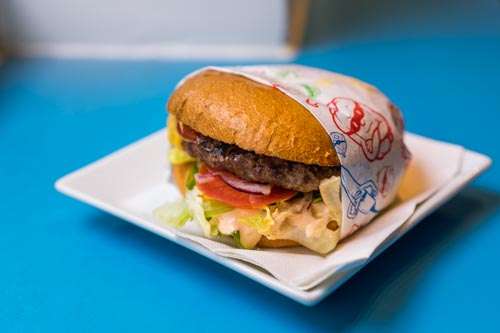 Møllergata 23, Oslo, Norway
llegal Burger is a favorite burger bar among Osloites. The burger is juicy, the bread doesn't get soggy, the flavors are mostly consistent and the potatoes are always crispy. Queue up in their tiny venue in Møllergata or the new and bigger restaurant at Grünerløkka. Get no. 5 on the menu – Gourmet.
Torggata Botaniske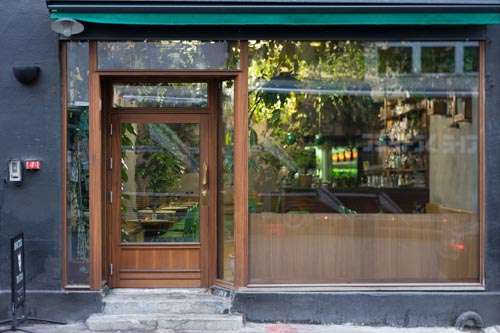 Torggata 17 B, Oslo, Norway
Torggata Botaniske is a botanical cocktail bar. Even the space is like a greenhouse with vines growing all over the ceiling and climbing up the walls. Drinks (often green) are made with herbs that are grown in-house.
Arakataka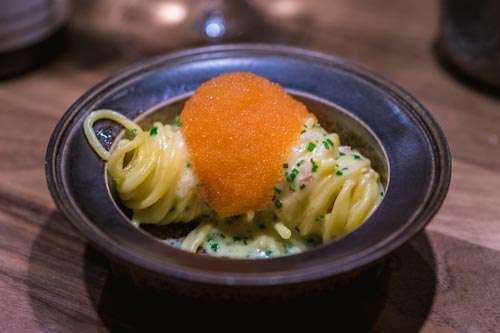 Mariboes gate 7, Oslo, Norway
Arakataka has been the budget gourmet of New Nordic restaurants in Oslo for a decade. My favorite part is the food bar, a no reservation zone, where you just grab a seat at the bar. A dedicated chef makes all of the luxurious, but affordable snack-sized dishes right in front of you.
Bar Lardo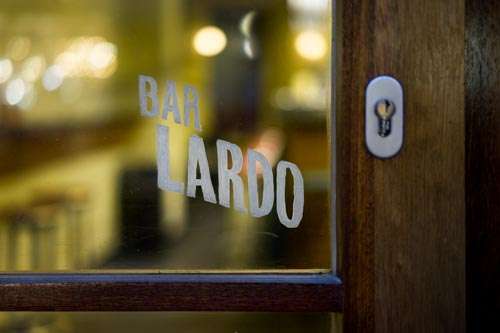 Møllergata 38, Oslo, Norway
Bar Lardo is a tiny bar serving mostly natural wines. In addition, they offer charcuterie from Indre Oslo Matforedling, cheese and pickles. The venue can be hard to spot in Møllergata as there is no clear sign to indicate the narrow entrance area. Peek inside and look for colorful bottles on the wall.
Ille Brød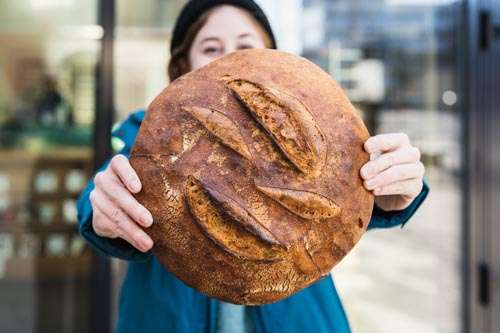 Lakkegata 53, Oslo, Norway
Across multiple countries and continents we've tried countless loaves, and the best we've ever tasted is from Ille Brød in Oslo. This small bakery's sourdough bread is so good that we always stop here first whenever we are in town. Bread first, everything else second. We are total breadheads and are constantly on the lookout for great sourdough bread – Ille Brød makes theirs using local, heirloom, and ancient grains. Do yourself a favor next time you are in Norway's capital and taste it.
Trattoria Popolare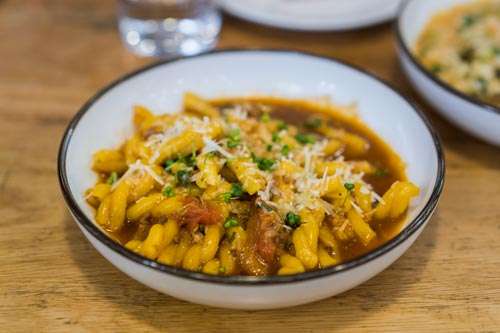 Trondheimsveien 2, Oslo, Norway
Probably the best and most consistent Italian restaurant in Oslo. Trattoria Popolare has a great location at Ruth Reeses Plass in front of Schous Bryggeri. In the summertime, you'll have to fight for a table in the sun here. Signature dishes include ravioli with oxtail, cannelloni with confit duck, and spaghetti caccio e pepe.
Le Benjamin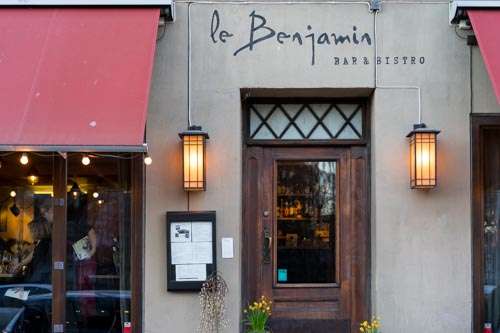 Søndre gate 6, Oslo, Norway
Le Benjamin is the best French bistro in Oslo and a popular industry hangout. This rustic eatery serves classic French dishes, using local and seasonal produce. When in season, don't miss the langoustine with garlic butter, the pigeon, or the witch flounder with spaghetti, beurre blanc, and caviar. Tarte Flambée is a classic that's always on the menu. Book early if you want a table! Bar seats are limited.
Territoriet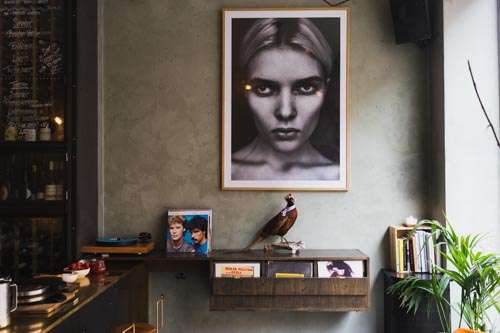 Territoriet is my favorite wine bar in Oslo. The Coravin system allows for more than 300 wines by the glass. Let the knowledgeable and service-minded sommeliers behind the bar counter guide your choice, whether you prefer conventional or natural, or the new and old world of wine. Just sit back, relax, and listen to the vinyl record playing in this cozy yet elegantly designed space.
Hyde
A new Pjoltergeist is back to haunt Rosteds gate 15 B in Fredensborg – the address that was the home of my all-time favorite restaurant in Oslo. It's the same venue, with a similar concept, a former Pjoltergeist chef in the kitchen, but new people behind the bar. The name is Hyde. As before, you shouldn't get fooled by the casual, low-key setting, or the loud music, because the level of cooking will surprise you. Matthew North, a British chef who worked at Pjoltergeist under Chef Atli Mar Yngvason, uses just a few quality ingredients for each plate and manages to create harmonic dishes packed with flavor that leave you wanting more with every bite. His style of cooking draws on several cuisines, it involves a lot of spice, salt, fat, and umami, and there's a good balance between vegetables, meat, and seafood. Hyde is bound to become an industry hangout and a favorite among foodies in Oslo, just like its predecessor.
Nektar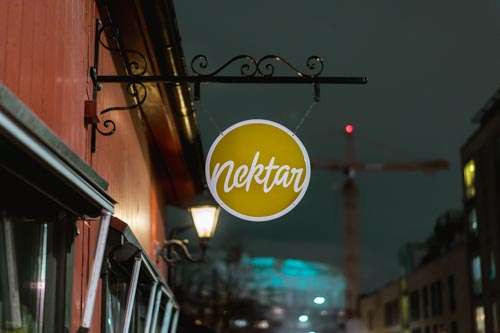 Fredensborgveien 42, Oslo, Norway
Hrimnir Ramen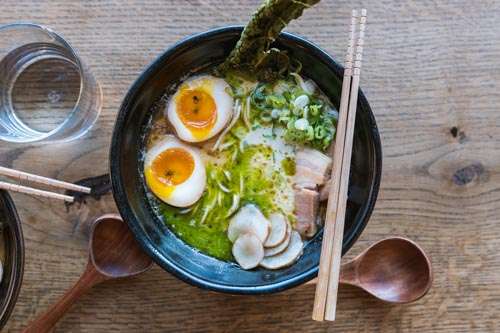 Maridalsveien 9A, Oslo, Norway
One of our favorite bowls of ramen in the world is actually in Oslo! Hrimnir Ramen specializes in a Nordic style of ramen, opting to use local ingredients like Jerusalem artichoke and hen instead of more traditional Japanese ingredients. Kaitlin's go-to order is the "Høne Paitan," served with hen breast, pickled Jerusalem artichoke, a coffee shoyu-marinated egg, ramson, and blackened kale in a creamy broth. Anders loves the spicier version of this bowl, which comes with pork belly chashu, pickled sunchokes, spicy miso-peaso-ryeso broth, spring onions, and, of course, Hrimnir's signature handmade noodles.
Mathallen
Mathallen is Oslo's food hall with a mix of restaurants, deli shops, and bars. Some of our favorites include Solberg & Hansen, a combined coffee shop, concept store, deli, and showroom, as well as the city's best butcher – Annis Pølsemakeri. Don's miss out on the pulled confit chicken sandwich from Stange either.
Hitchhiker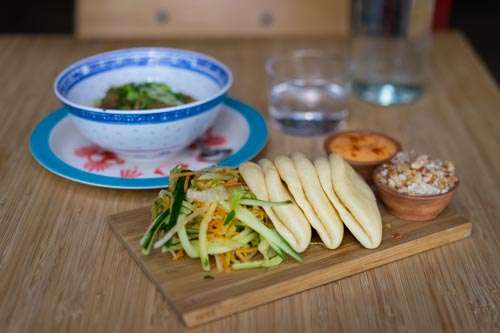 Hitchiker is a street food restaurant that draws inspiration from all over the world – just like a traveling hitchhiker. The restaurant is located in Oslo's food mecca – Mathallen. Eat ramen or okonomiyaki for lunch or taste your way through the entire menu in the evening.
Kontrast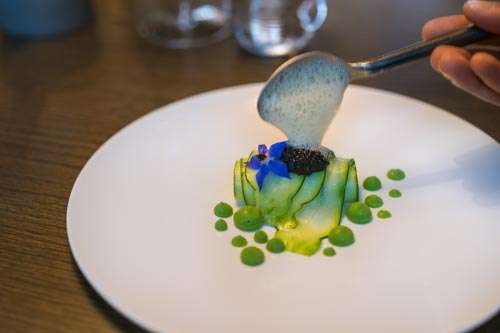 Maridalsveien 15 A, Oslo, Norway
Enjoy a marvelous meal at restaurant Kontrast in Oslo, where Swedish chef Mikael Svensson has held one Michelin-star since 2016. Svensson and his team delivers a solid tasting menu with New Nordic flavors and elegant-looking presentations.
Nedre Foss Gård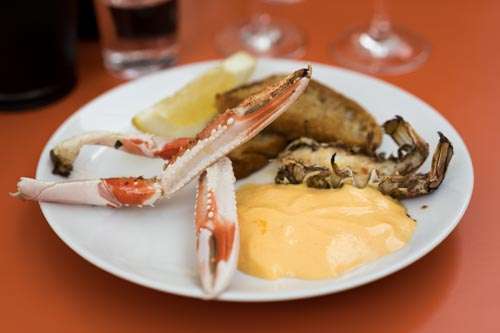 Nordre gate 2, Oslo, Norway
The Phoenix has risen from the ashes. After a tragic fire in 2016, Nedre Foss Gård is finally back in business. Now, with a larger selection of food and drink options than ever before. Inside the stunning restaurant as well as the inner courtyard, you can enjoy Nordic-style brasserie food. Upstairs is a brewery and snack bar, Nedre Foss Gård Bryggeri, and downstairs you find a natural wine bar – Radegast. In the patio, during the summertime, you can enjoy Lebanese meze and drinks.
Tim Wendelboe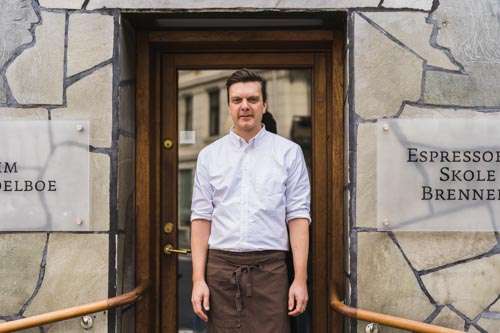 Grüners gate 1, Oslo, Norway
Tim Wendelboe is Norway's most internationally acclaimed barista. Ever since he won the World Barista Championship in 2004 he has dominated the industry. His small and elegantly-designed coffee bar in Grünerløkka is a tourist destination for coffee lovers from all over the world. There is nowhere in town where you get a more consistent quality of coffee, whether it's a milk-based espresso drink or Aeropress-brewed black coffee.
Focacceria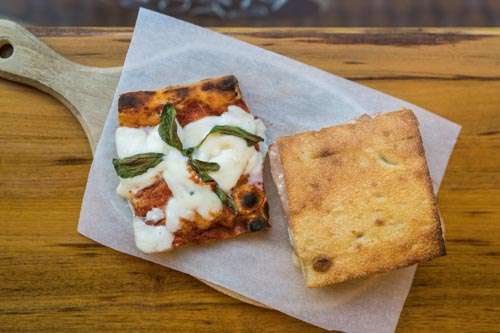 Markveien 34, Oslo, Norway
Focacceria is one of Oslo's hidden gems. Located next door to the wildly popular Villa Paradiso pizzeria in Markveien in Grünerløkka is this little hole-in-the-wall shop which specializes in focaccia. In our opinion, Focacceria is endlessly more interesting than its famous big brother. Don't miss out on the focaccia sandwich with truffle mortadella if it's available.
Skaal Matbar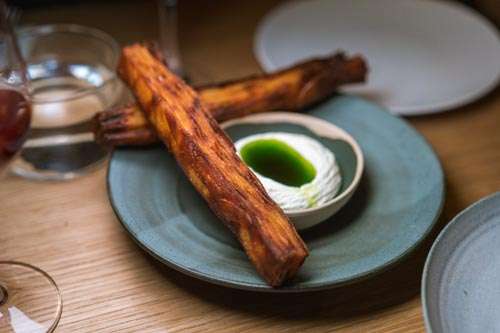 Skaal Matbar opened in November 2019 and quickly became Oslo's hottest new restaurant. Since it's walk-in only, people line up outside until they can get a table – that is unheard of in Norway! Skaal is a food bar (a restaurant with a bar vibe) so you can pop by for a drink, a snack, or have a full meal. Some of the highlights on the menu include Skaal's layered potato "fries" with whipped crème fraîche and dill oil, and the grilled cheese with cheddar and jalapeños. Chef Matthew Webber also creates incredible vegetable-focused dishes like deep-fried eggplant with hummus and jalapeño salsa, and parsnip with apple, yogurt, and black sesame seeds.
Haralds Vaffel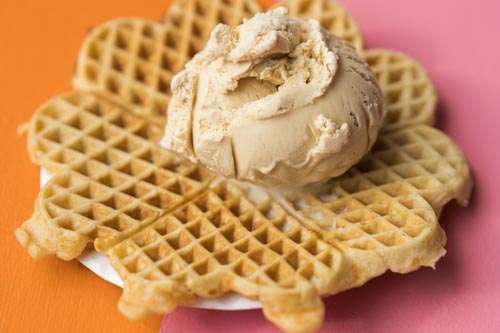 Olaf Ryes Plass 3, Oslo, Norway
Jonathan Larsson started selling waffles out of his apartment window at Harald Hardrådes plass in Gamlebyen. The stall was quickly shut down by the food authorities, but reopened as soon as Larsson made sure to follow a few bureaucratic regulations. Today, the waffle lover has his own brick and mortar shop at Olav Ryes Plass at Grünerløkka, in cooperation with the ice cream brand Ice Crime. Jonathan has a genuine wish to make the Norwegian waffle more known in the world, and you'll find bold combinations like blue cheese and bacon and toppings like brown cheese ice cream on the menu.
Dapper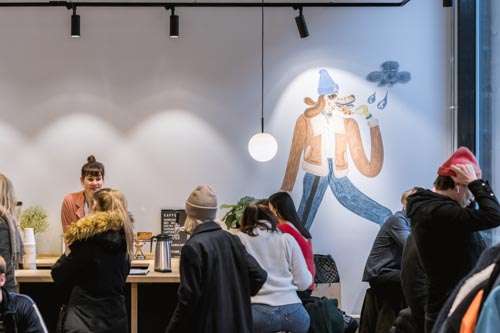 Nordre gate 20, Oslo, Norway
Part clothing store, part coffee shop, and part natural wine bar, Dapper has quickly become one of the coolest places to hang in Grünerløkka. By day, you can enjoy the best pastries in Norway (delivered by Gladbakst bakery) and by night you can trade in your coffee cup for a glass filled with fermented grape juice.
Bon Lío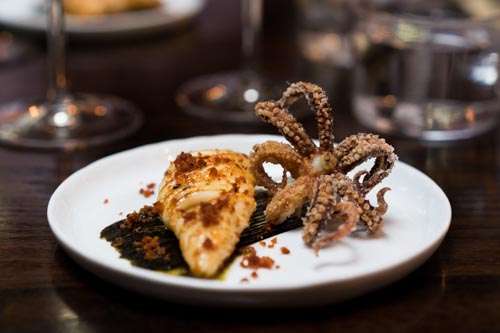 Sofienberggata 17, Oslo, Norway
The owner and head chef of Bon Lío, Cato Pedersen Wara, lived in Spain for some years, where he got his inspiration for this Spanish-style tapas-restaurant. A twelve-course menu is mandatory if you book a table, which you really should, because chances of a free drop-in seat are small.
Hot Shop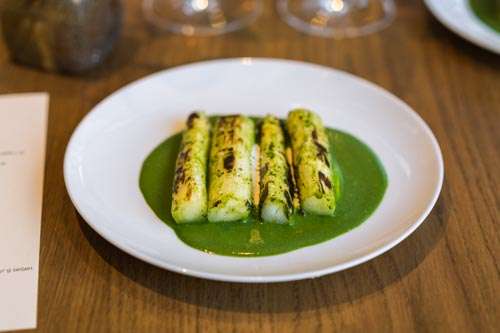 Københavngata 18, Oslo, Norway
Hot Shop was a former sex toy shop on a corner in Oslo. When a restaurant decided to take over the space, they kept the cheeky name, and Hot Shop was born. You won't find any toys here, though – just simple Scandinavian food, cooked well. We enjoyed white asparagus in a parsley and spinach sauce, a mussel dip with chicory "chips", Norwegian scallops, brill, duck with a baked leek, and a milk ice cream dessert with black currant.
Dæl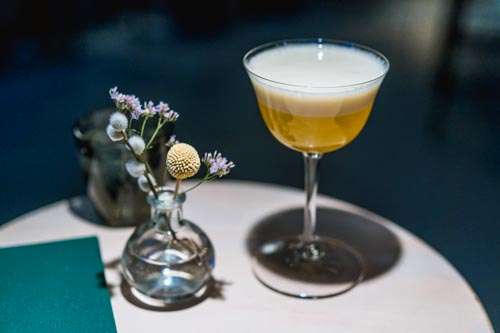 Bass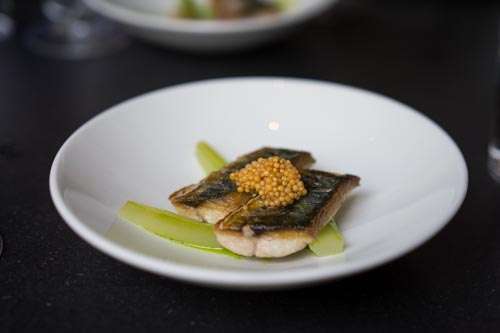 Thorvald Meyers gate 26 C, Oslo, Norway
Bass is a modern bistro in the northern part of Grünerløkka with a naked interior design dominated by concrete and plywood. Order small plates to share while you sit in the bar drinking natural wines. Don't miss the chicken karaage or tartaco.
Supreme Roastworks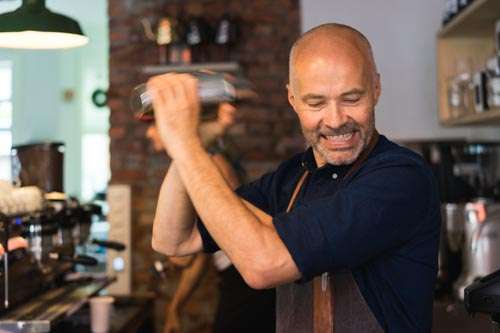 Thorvald Meyers gate 18, Oslo, Norway
Supreme Roastworks is the morning coffee dealer for a major part of Grünerløkka and a popular meeting spot during the day. Despite a slight hipster vibe, you can expect great service and always superb coffee. Ask for the daily special if you're in a rush, or take a seat and enjoy a delicious V60 brew.
Tranen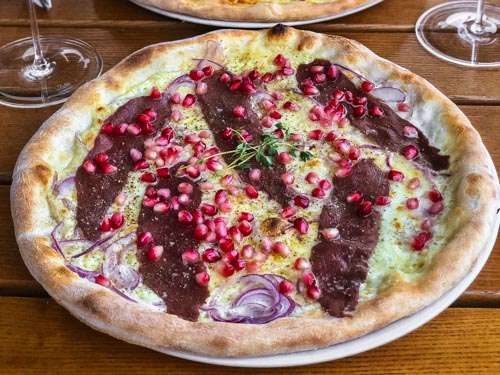 Waldemar Thranes gate 70, Oslo, Norway
Tranen, a restaurant by Åpent Bakeri and Lofthus Samvirkelag, serves the best pizza in Oslo. In addition, this bakery by day and pizzeria by night always offers a good ambiance and a great selection of natural wines. Also Polish natural wines, just ask the restaurant manager Magick.
Merkur Bar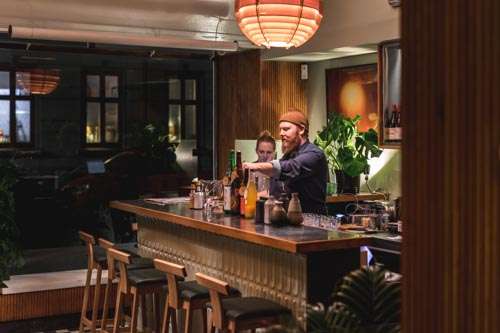 One of Oslo's finest cocktail bartenders, Benjamin Lee, has teamed up with Alexander Kloster-Jensen, the owner of the wine bar and bicycle repair shop Rouleur at St. Hanshaugen, and opened Merkur Bar on Bjerregaards gate. In a beautiful venue with original interior from the 1930s, they serve a selection of sake and natural wines.
Smalhans
Waldemar Thranes gate 10 A, Oslo, Norway
Smalhans is a casual neighborhood restaurant at St. Hanshaugen. Go here for simple lunch dishes in the morning, the daily special in the afternoon (4 PM - 6 PM) or the full tasting menu in the evening. You can also just drop by and sit in the bar, which has a separate menu and only natural wines.
Java
Ullevålsveien 47, Oslo, Norway
Java is one of Oslo's finest coffee bars, which sometimes morphs into an evening wine and snack bar. Situated in the busiest and most beautiful area of St. Hanshaugen, it's one of the best places for sipping hand-brewed coffee and do some people watching. Don't miss the weekend brunch!
Kolonialen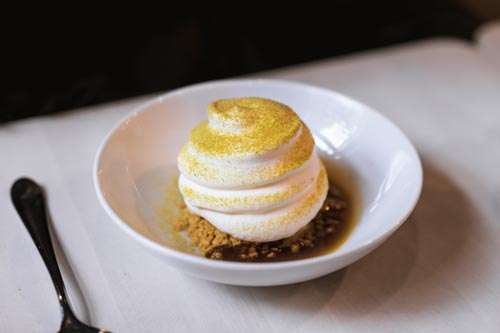 Sofies gate 16, Oslo, Norway
Kolonialen at Bislett is an upscale, yet informal, neighborhood bistro by the former co-founder of Maaemo, Pontus Dahlstrøm. The food is quite classic, based around high quality, organic Norwegian products, but with international influences. Make sure to book early as the place is wildly popular among locals.
St. Lars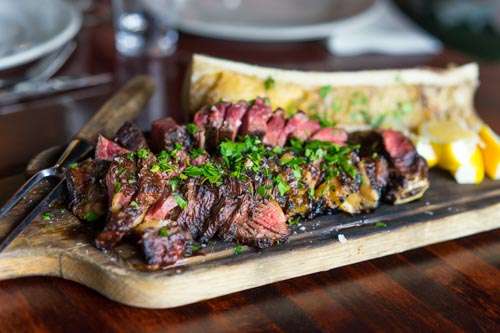 Thereses gate 45, Oslo, Norway
St. Lars is the ultimate meat restaurant in Oslo. Rock and roll chefs work in a tiny kitchen with a 900 °C open fire. They'll serve you horse tartare, proper homemade hamburgers and côte de boeuf with an unhealthy amount of béarnaise sauce. Don't miss out on the amazing, crispy suckling pig around Christmas time.
Fyr Bistronomi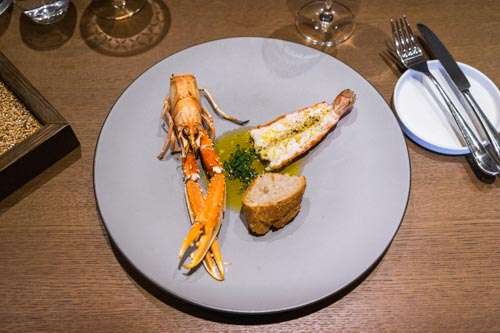 Underhaugsveien 28, Oslo, Norway
Fyr Bistronomi is a casual bistro serving food at a high gastronomic level – hence the name. Head chef Sebastian Myhre's cooking, with his background from restaurants like three-Michelin-starred Per Se in New York, is technically flawless, with solid flavors, and great balance. Enjoy everything Josper-grilled!
Stallen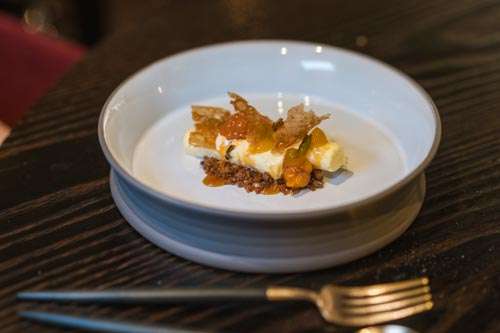 Underhaugsveien 28 Stallbygning, Oslo, Norway
One of the most exciting restaurant openings in Oslo last year was Stallen from Chef Sebastian Myhre. This place has been in the works ever since Myhre opened his more casual concept Fyr Bistronomi in 2017. Stallen is actually located in an old stable, hence the name, next door to restaurant Fyr. The elaborate Nordic tasting menu consists of 19 bites, all made with local produce – a lot of it grown by the chefs themselves. Highlights included king crab with caramelized cream, variations on Jerusalem artichoke with an egg custard, and the cloudberry and rye mousse dessert.
Cru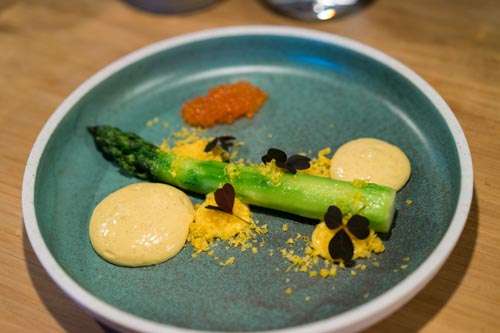 Ingelbrecht Knudssøns gate 1, Oslo, Norway
Since 2015, when Maxwell-Stewart took over the lead, restaurant Cru has served modern British dishes using Norwegian produce. The British-born cook gets a lot of inspiration from his upbringing in Worcester and the English countryside. That is evident in many dishes, like his signature serving of English muffin topped with a langoustine Benedict.
À L'aise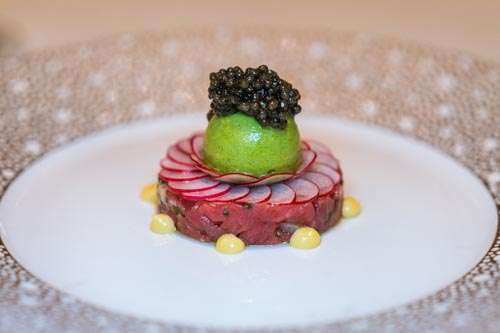 Essendropsgate 6, Oslo, Norway
Restaurant À L'aise is a French-Nordic fine dining restaurant that reintroduced dress code, classic interior, and luxury to Oslo. Chef Ulrik Jepsen is a master of French cooking techniques and Danish plating aesthetics. He's fearless of using butter, truffle and foie gras, but not afraid of flowers and stunning presentations. Try the full tasting menu, or order the canard à la presse!
Gioia Is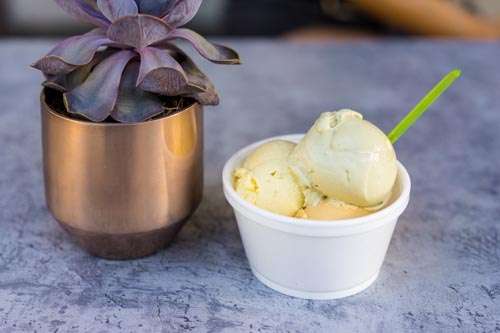 Eckersbergs Gate 41, Oslo, Norway
Gioia Is, located at Frogner, has the best ice cream in Oslo by a good margin. A family-run gelateria shop by the French ice cream maker Pierre Espic and his lovely wife. The flavors are elegant and pure, the texture is smooth and creamy, and the ingredients are all natural. Just the way you want Italian gelato.
Galt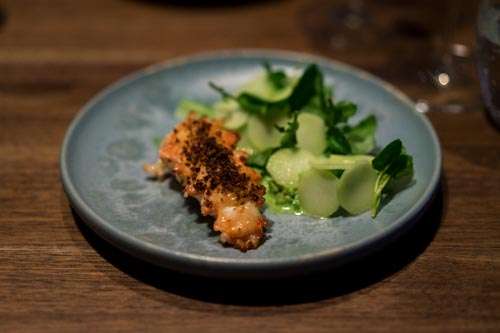 Frognerveien 12, Oslo, Norway
Don't get fooled by the star that he got, he's still just Björn Svensson from the block. Apparently, the Michelin Guide has decided that chef Svensson deserves a star no matter what kind of concept he chooses for his restaurant. Galt is not your typical Michelin-star eatery, however. The service, interior, and even food, is very much casual in style.
Mocca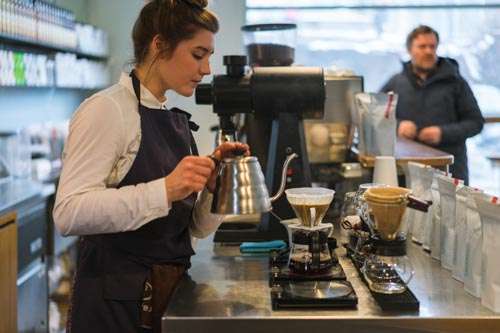 Niels Juels gate 70, Oslo, Norway
Mocca, located at Briskeby, is the sister coffee shop from Java at St. Hanshaugen. Without a doubt, the best spot for a hand-brewed coffee or espresso shot on the west side of Oslo. Don't miss out on their delicous croissants.
Bokbacka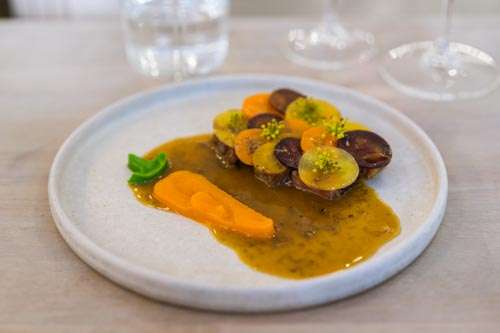 Skovveien 15, Oslo, Norway
Bokbacka is a New Nordic fine dining restaurant at Frogner, inspired heavily by Swedish food traditions and the childhood memories of head chef Simon Weinberg. The best seats are at the bar, where you can watch the chefs work. Trust restaurant manager Alexander Jones' wine recommendations.
Vinoteket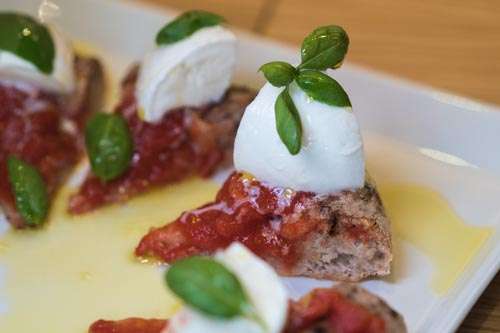 Henrik Ibsens gate 60a, Oslo, Norway
We have a new favorite pizza in Oslo! Vinoteket is a wine bar and restaurant that serves a modern take on the traditional Neapolitan pizza. Pizzaiolo Beiamino Bilali makes the fluffy cornichon-style of pizza that was made famous by the well-renowned Franco Pepe. The sourdough is soft and stretchy, with a thick, tall, airy crust. The toppings are very untraditional and some a bit over-the-top, but always with great quality ingredients, like our favorite – the pata negra and burrata pizza. Vinoteket also has a few Nordic pizzas; for example, one with Norwegian scallops, sabayonne sauce, and truffle, as well as one with løyrom, crème fraîche, and dill. You can actually order a pizza tasting menu here to taste a bigger selection, but for larger groups you might be better off ordering a bunch of pizzas and share.
Palace Grill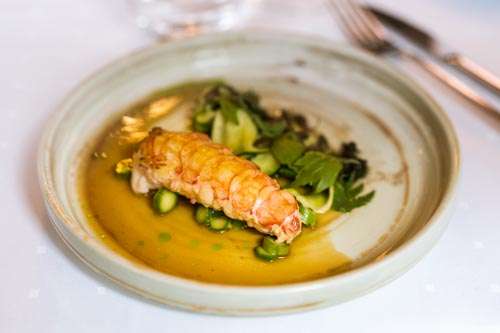 Solligata 2, Oslo, Norway
Aymara Peru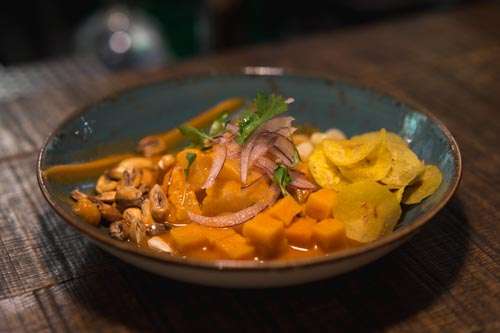 Parkveien 64, Oslo, Norway
Aymara Peru is a casual restaurant situated near Solli Plass that gets its influences from all the different varieties within Peruvian cuisine. Drop by the bar for a pisco sour and some snacks, or book a table to enjoy the full menu. Ceviche, tiradito, and causa – you'll find all the classics.
Strand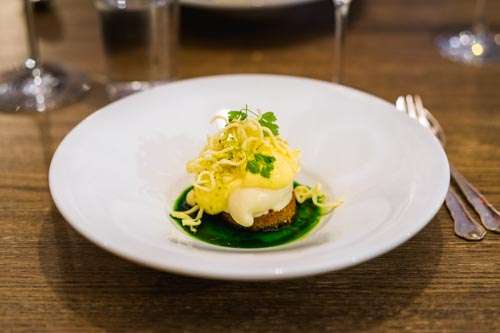 Strandalleen 48, Oslo, Norway
Strand is a hidden gem in the Oslo dining scene, located at Holtet in Bærum on the outskirts of Oslo city. A casual fine dining restaurant with a clear focus on natural food and wine. Strand was the first restaurant of the Lava restaurant group, established by acclaimed chef Tom Victor Gausdal back in 2010.