There has been a silent bread revolution happening in Copenhagen over the last couple of years – a bakery boom if you will – which intensified in 2018 with four new grand openings. What's so unique about this in the Nordics, is that people are actually queuing up to get their hands on the freshly baked goods. While that may be normal for many places in Asia and the U.S., it's not something we see much of here (partly due to the cold weather, which makes it a nightmare). All over Copenhagen city, new bakeries have popped up – each with a specialty of their own. Østerbro has Juno the Bakery, Nørrebro is home to both Andersen & Maillard and Mirabelle, while Democratic Coffee is found at Vesterbro as well as the Inner City. Frederiksberg just added Hart Bageri, Christianshavn got 108 the Corner, and Refshaleøen sports Lille Bakery. You simply cannot travel to the Danish capital next year without paying a visit to at least a few of these spots.
Lille Bakery
Situated at Refshaleøen – undoubtedly the hottest neighborhood in town at the moment – is Lille Bakery. When you see the surrounding area and building, you might ponder about the strange choice of location. That's before you realize the closest neighbors are restaurant Amass, restaurant Noma, La Banchina, Reffen (Copenhagen Street Food), and soon, the new restaurant Alchemist. Lille Bakery is a great place to have breakfast or early brunch, and you wanna get here early before they sell out of their famed sausage rolls. Don't miss the veggie rolls either, filled with ricotta and seasonal delights. Their brioche bread with mascarpone and pickled plums reminded me of Sqirl in Los Angeles.
Click here to see more photos from Lille Bakery.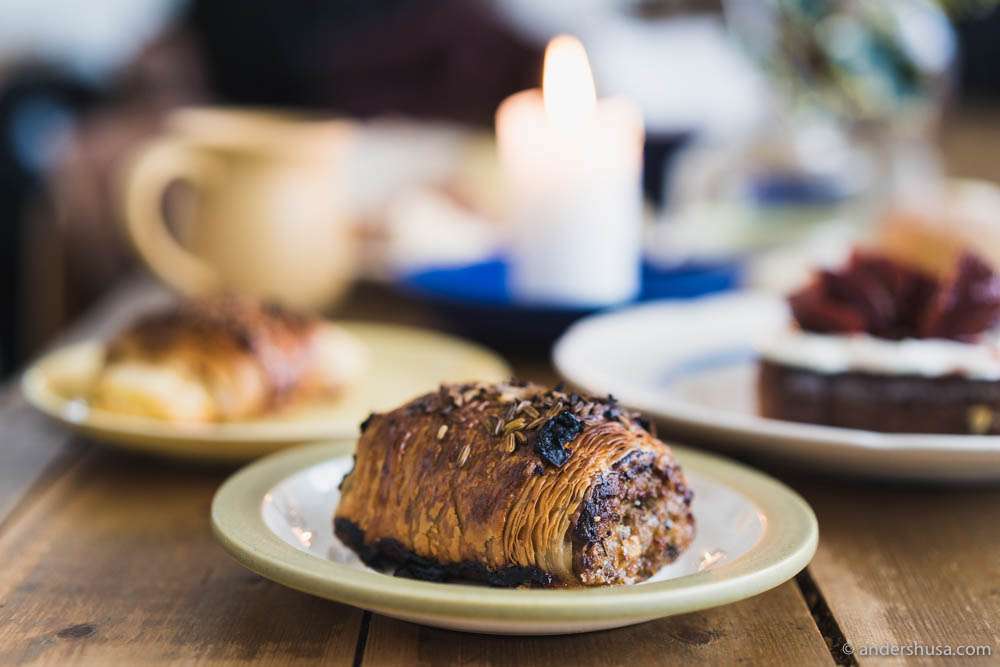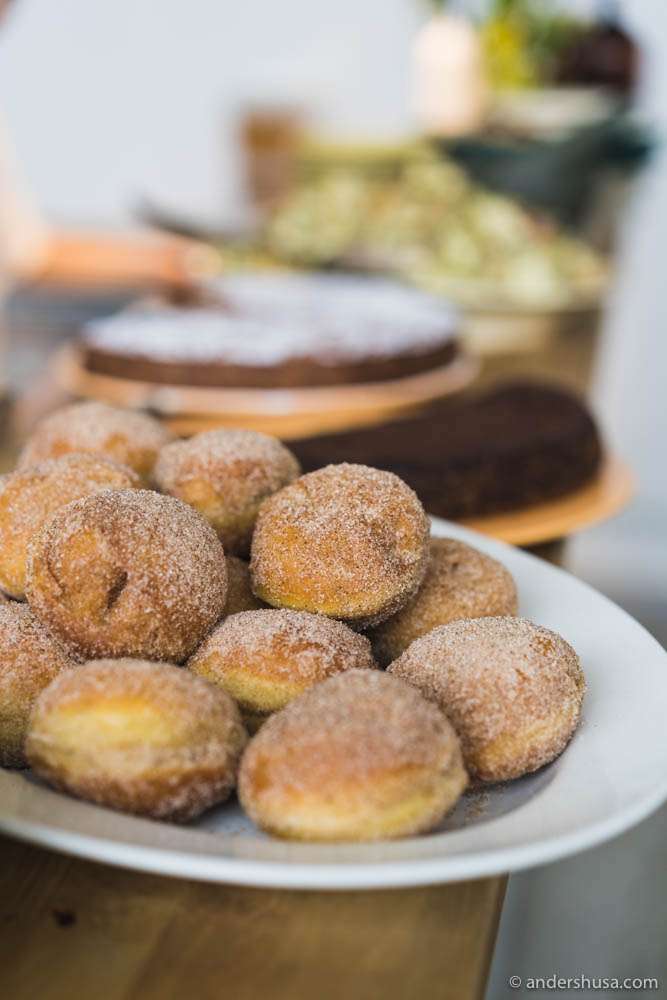 Juno the Bakery
The line was ridiculously long when we lined up to try Juno the Bakery earlier this year. Having read Feinschmeckeren's review of Juno the Bakery (article in Danish) right after the opening in December 2017, I knew I had to get myself here as soon as possible. Sunday morning just before lunch turned out to be a horribly bad idea, however. While we waited over an hour to taste the baked goods, a more typical waiting time here is 20 minutes. Was it worth it, though? Yes! Swedish-born baker Emil Glaser, a former Noma chef, simply bakes the most delicious and perfect looking croissants in town. Layered and crunchy on the outside, and airy, gooey, and buttery on the inside. Other specialties of his are the cardamom buns, packed with flavor, and, when in season, the Swedish semla  – sweet roll with almond filling and whipped cream.
Click here to see more photos from Juno the Bakery.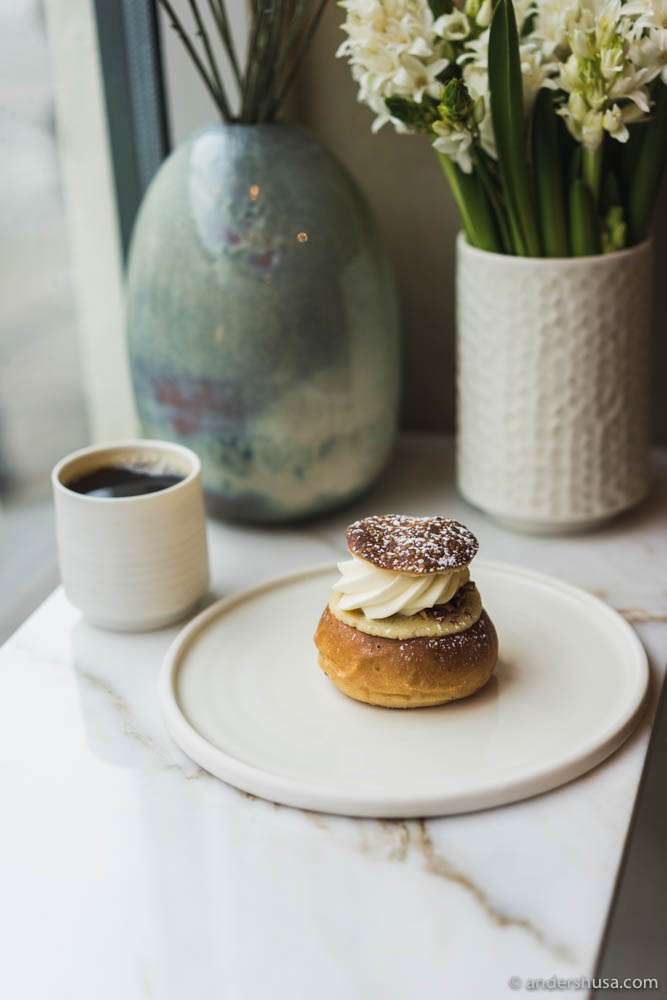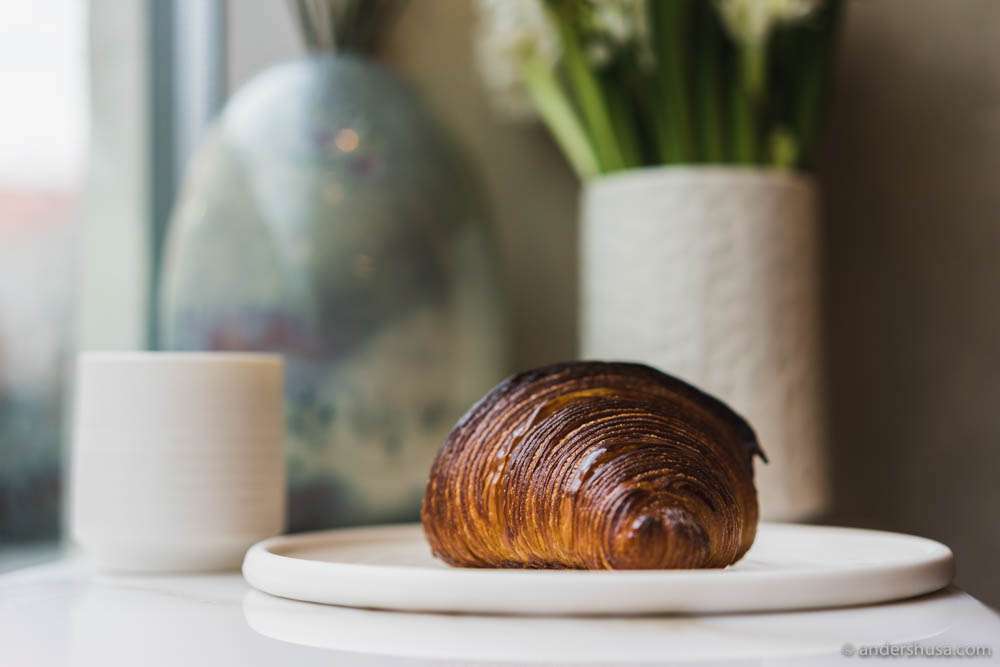 Andersen & Maillard
Another Noma alumni, the pastry chef Milton Abel, opened up his combined bakery and coffee shop at Nørrebro in February this year together with Hans Kristian Andersen. Their espresso-glazed croissants and sleek interior design quickly gathered a crowd outside Andersen & Maillard. Since then, they've added one Instagram-worthy item after the other, from a croissant acting as the cone for an espresso soft serve (made from the leftover milk from the coffee bar) to a chocolate-swirl croissant (filled with more chocolate) that looks like it has been 3D-printed to perfection. How do they make those impeccable chocolaty twists?!
Click here to see more photos from Andersen & Maillard.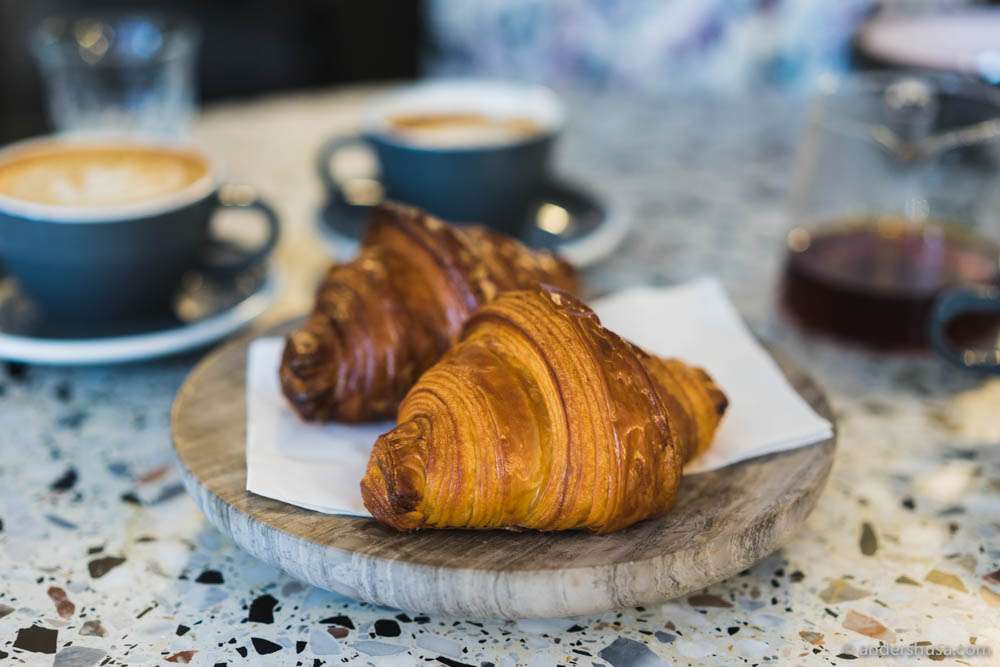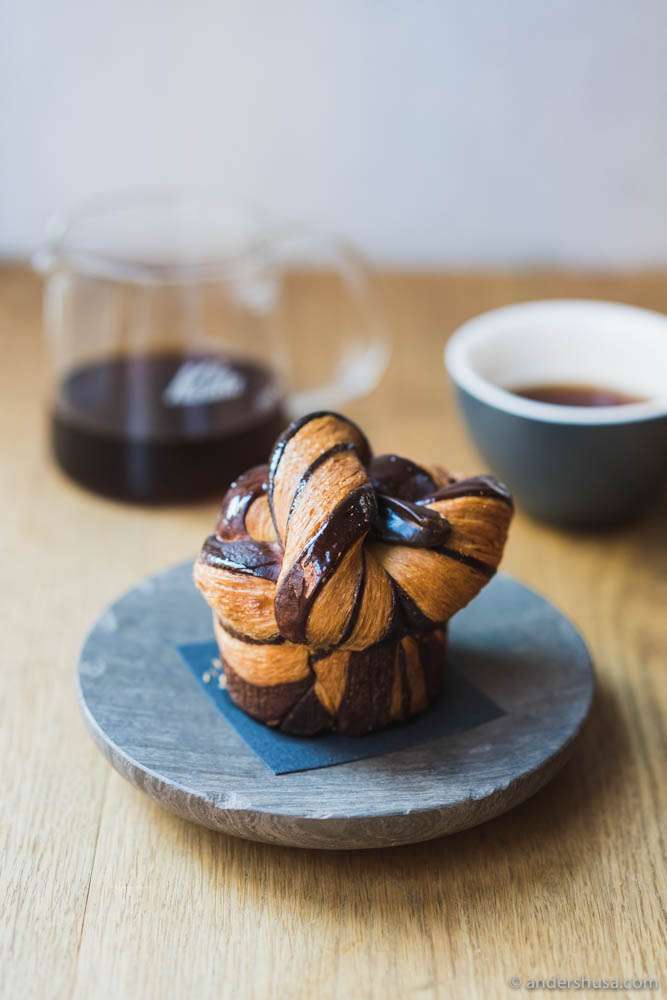 Hart Bageri
Richard Hart is the former head baker at the legendary Tartine Bakery in San Francisco. Somehow, René Redzepi convinced him to start baking the sourdough bread for Noma, which was Hart's main focus throughout the seafood and vegetable season. In September, however, Richard finally opened his own bakery in Copenhagen – Hart Bageri. Needless to say, the queues at Frederiksberg went around the block. On a sidenote, I find it interesting how the only non-Scandinavian baker chose the Danish word bageri, while the others use bakery. At Hart Bageri, you cannot miss the sourdough bread, of course, but make sure to get a taste of the salad bowl as well. It's not as healthy and boring as the name may suggest.
Click here to see more photos from Hart Bageri.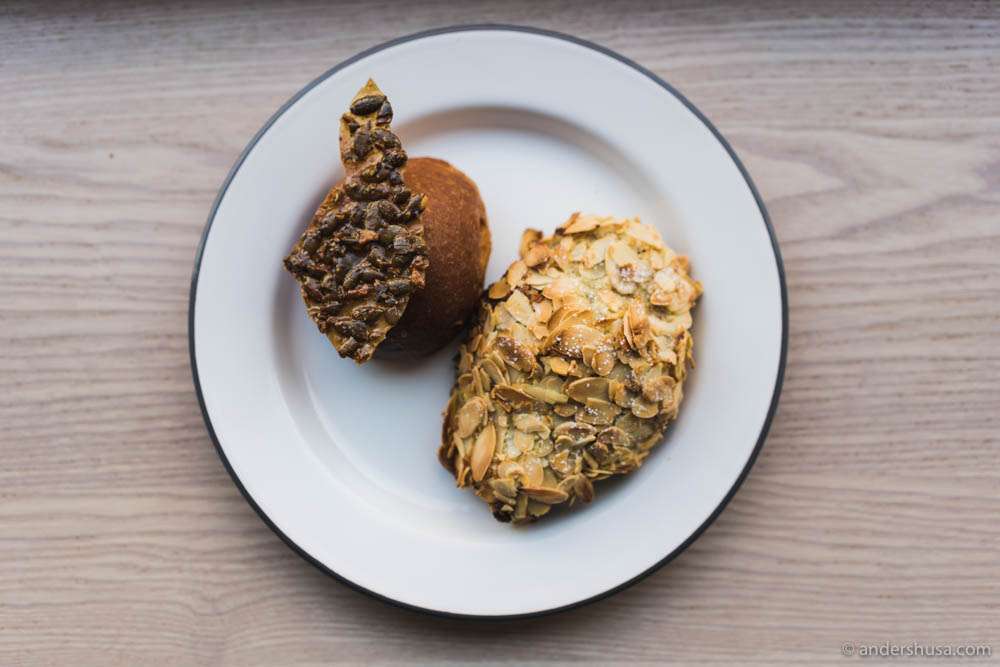 108 the Corner
108 the Corner is a combined coffee shop and wine bar adjacent to the one-Michelin-starred restaurant 108. Open from early morning, serving coffee from the Oslo-based Tim Wendelboe, and baking their own pastries with untraditional glazes like beef garum – a koji fermented beef stock. My personal favorite is the Danish pastry glazed with Swedish blueberries. On the savory side, try their golden egg with caviar, and fresh apple salad with blackcurrant wood oil. Note that the wine bar has some excellent bottles of natural wine on offer and can serve you a decent dinner too, should the restaurant next door be fully booked.
Click here to see more photos from 108 the Corner.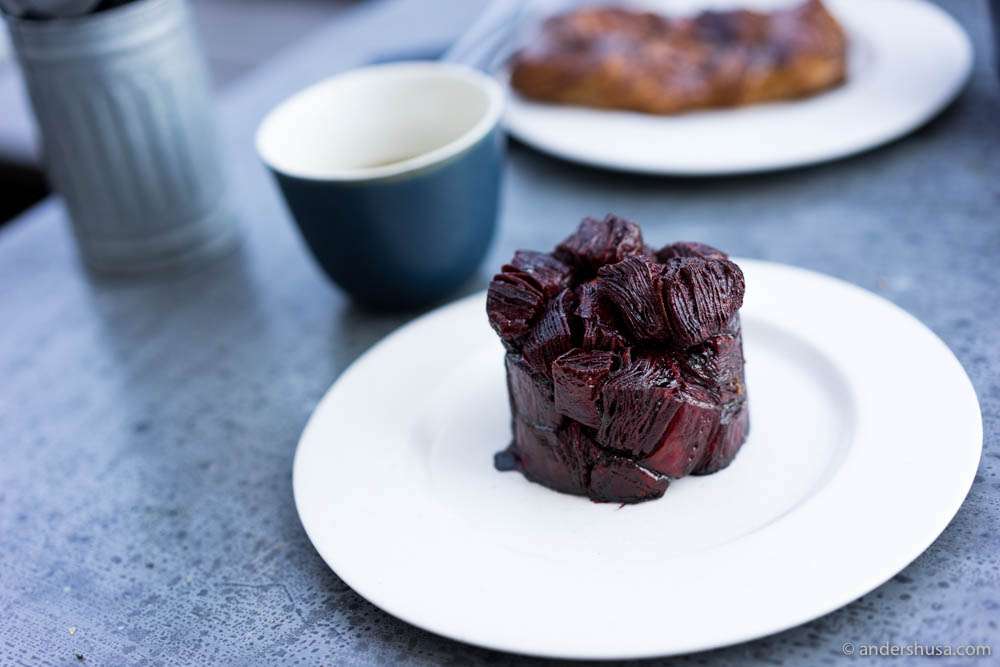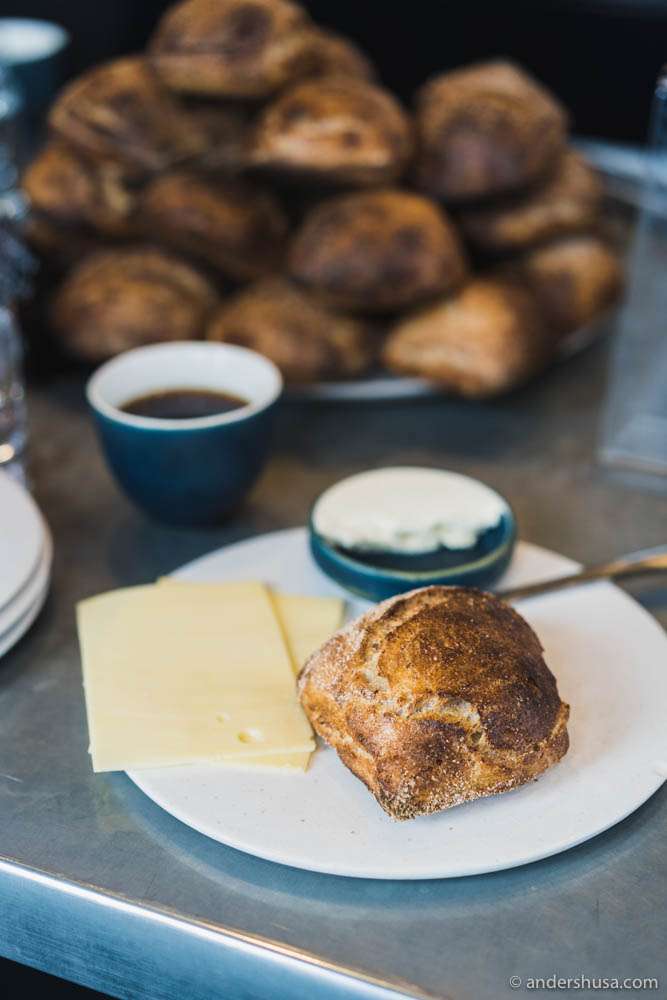 Democratic Coffee
The almond croissants at Democratic Coffee Bar are well-known among foodies in Copenhagen. This library café come hipster hangout has perfected one of the ultimate treats of the pastry world: A multi-layered, super crunchy, mega fluffy croissant, which is twice baked. The second time cut in half and filled with a warm, sweet, gooey cream of sugar and almonds and topped with almond flakes. Your brain screaming for one more piece will battle your arteries crying for a truce.
Click here to see more photos from Democratic Coffee.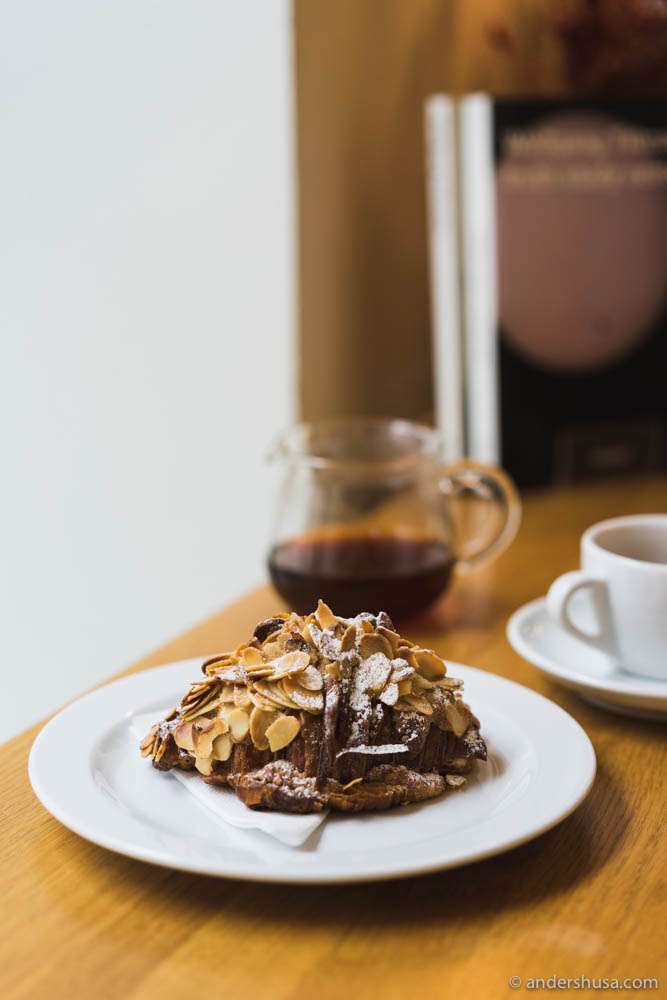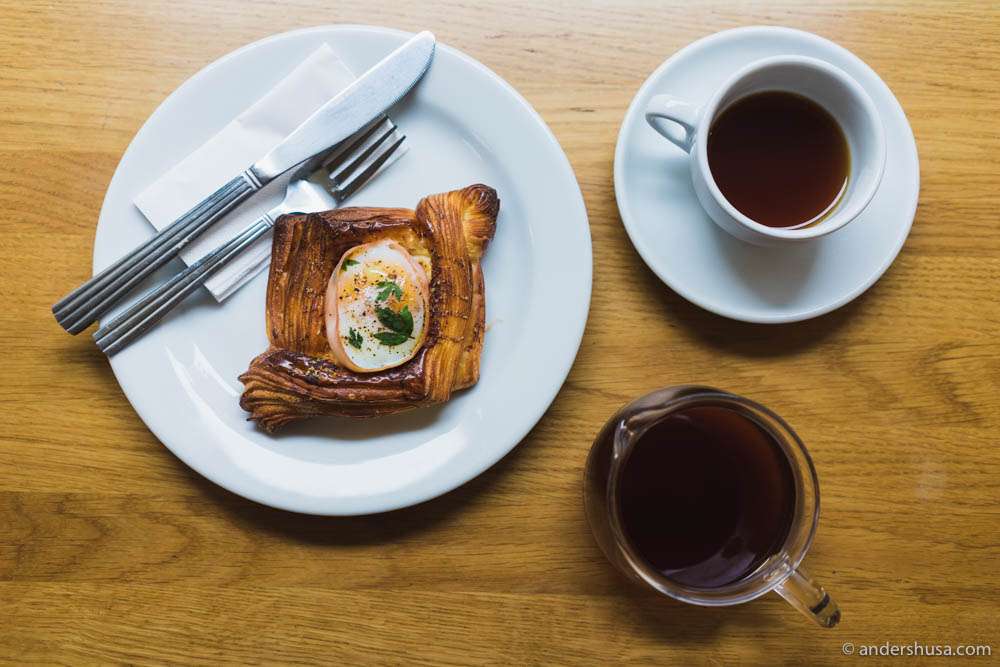 Mirabelle
Mirabelle is an organic bakery and coffee shop that turns into a pasta restaurant for lunch and dinner. As part of Christian Puglisi's restaurant empire, the place supplies sourdough bread, baked goods, and pizza doughs to all their other places like Bæst, Manfreds, and Relæ. The croissants are flaky and layered pieces of crunch heaven!
Click here to see more photos from Mirabelle.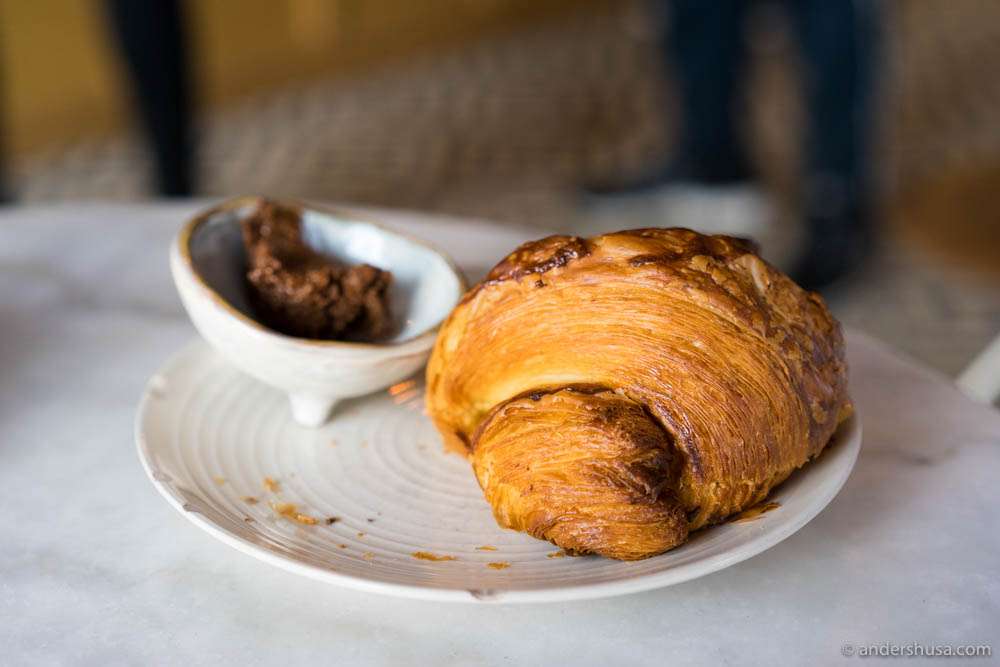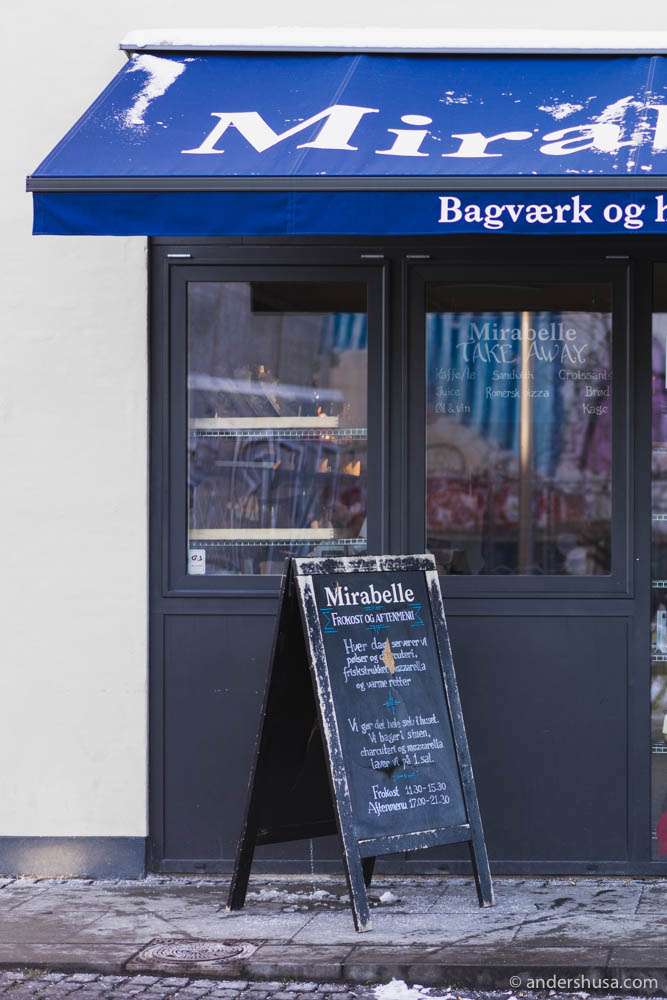 Looking for more great spots for food and drinks in Copenhagen? Check out our city map of Copenhagen!
What is your favorite bakery in Copenhagen? Please leave a comment below.
Follow Us on Social Media
YouTube
Anders Husa & Kaitlin Orr
Instagram
@andershusa
@carnivorr
Facebook
Foodie Stories by Anders Husa
Carnivorr