Copenhagen City Map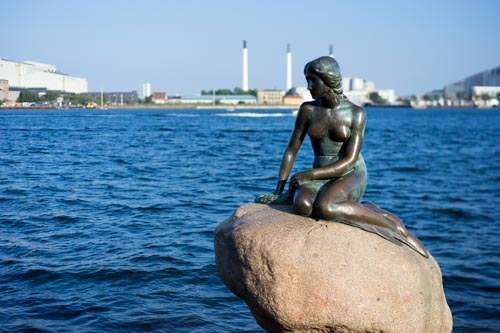 The Danish capital is our favorite city in Scandinavia and where we have chosen to settle down. Copenhagen is also the food capital of the Nordic countries and the cradle of the New Nordic cuisine. You probably won't find a better selection of natural wine anywhere else in the world, in dedicated shops as well as in restaurants.
In this city map, we have gathered all our favorite spots to create the best restaurant guide to Copenhagen. You will find coffee shops, wine and cocktail bars, bakeries, fine dining restaurants, and casual eateries. We have also included some hotel recommendations and attractions. Navigate the map easily either by scrolling through the list on the right or by clicking the points on the map. Places are listed in geographical order.
Alchemist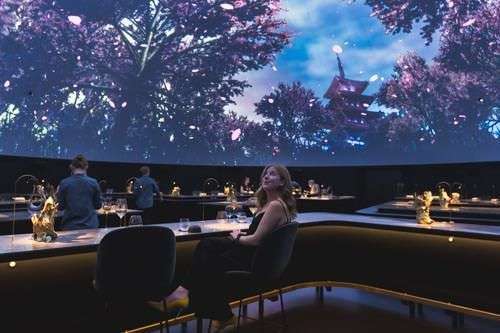 Refshalevej 173C, Copenhagen, Denmark
Enter the world of Alchemist. Part restaurant, part art installation, part think piece on issues like sustainability and food waste – a dining experience like no other. Chef Rasmus Munk's visionary thinking is surely paving the way for a new kind of dining experience, where food meets art and culinary issues are as much on the table as your meal. For example, his dish "Food for Thought" is a comment on how we treat our animals: the foie gras he uses in this dish comes from the only sustainable and organic producer of foie gras in the world, Eduardo Sousa in Spain. Most of your meal at Alchemist takes place inside "The Dome," where the ceiling projections change throughout your dinner, transporting you to other worlds while you eat. During our meal we viewed sakura in Japan, the Northern Lights in a Scandinavian forest, and swam under the sea with jellyfish. Alchemist is definitely one of the most exciting restaurant openings of the year.
Amass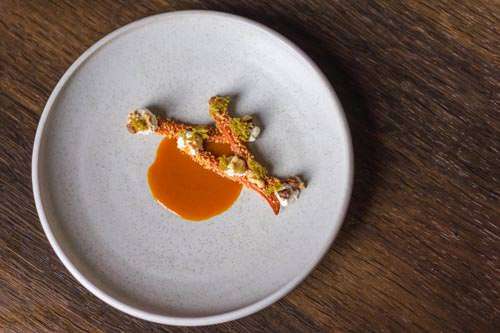 Refshalevej 153, Copenhagen, Denmark
Amass is a New Nordic restaurant by Matt Orlando – an American expat and Noma alumni. Located in an old shipyard building all the way out at the tip of Refshaleøen. The meal, however, is well worth the long journey. Don't miss out on a stroll through their herb garden, or a glass of natural wine seated around the bonfire once it's lit. Amass was named the most sustainable restaurant in Scandinavia by the 360 Eat Guide in 2019.
Broaden and Build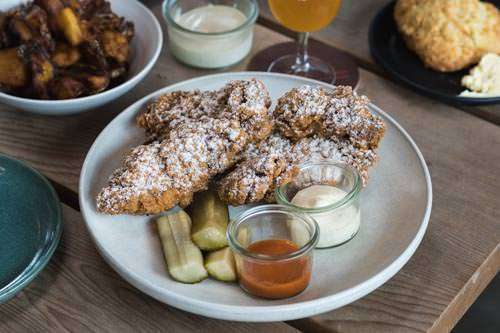 Refshalevej 175A, Copenhagen, Denmark
The new brewery and casual restaurant from the Amass team, located right across the street from the flagship restaurant. We tried the AFC (Amass fried chicken), fried fermented potatoes, barbecue pork, and a sea buckthorn beer. Simple and delicious comfort food!
Lille Bakery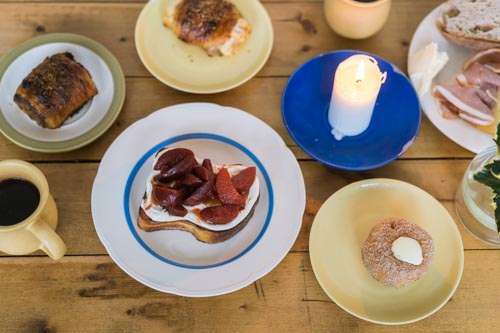 What used to be a food wasteland out in Refshaleøen a few years ago has turned into quite the trendy neighborhood, thanks to the influx of Amass, Broaden and Build, Empirical Spirits, the new Alchemist, and, of course, Lille Bakery. This cozy space specializes in artisanal bread and pastries. On our visit for brunch, we tried a bit of everything – vanilla-filled Berliner doughnuts, sausage rolls, and a buttery brioche French toast topped with mascarpone cream and Mirabelle plums. Lunch options lean a little heartier, with simple dishes like meatballs and smørrebrød.
La Banchina
Refshalevej 141 A, Copenhagen, Denmark
La Banchina is a tiny wine bar, café, and restaurant, located in an old boathouse with a wooden pier along the harbor at Refshaleøen. Particularly in the summertime, this is a small paradise in Copenhagen. Enjoy natural wines, organic food and simple Italian cooking by the waterside.
Noma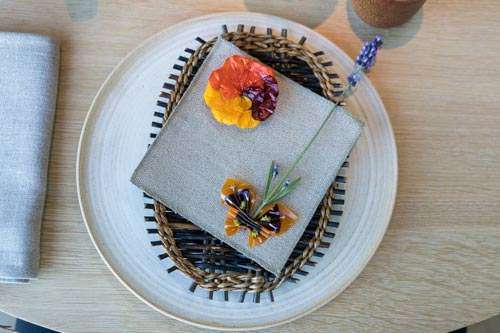 Strandgade 93, Copenhagen, Denmark
Noma is the most famous and acclaimed New Nordic restaurant in the world. Star chef René Redzepi and his team create some of the most innovative and groundbreaking dishes, and the front of house team is second to none.
108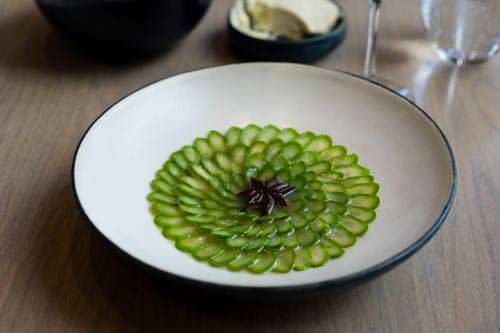 Strandgade 108, Copenhagen, Denmark
Restaurant 108, the little sister of Noma, is a casual New Nordic eatery with an adjacent wine bar and coffee shop. Go here for original pastry with beef garum glacing for breakfast, a glass of natural wine or the amazing evening menu.
The Corner at 108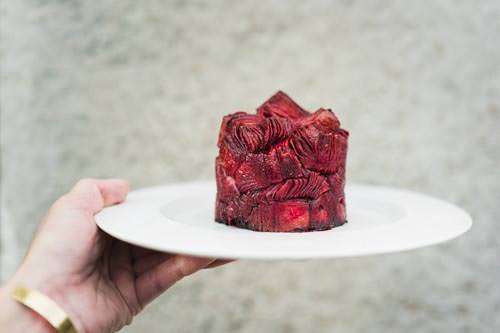 Strandgade 108, Copenhagen, Denmark
Just over the Inderhavnsbroen (the Inner Harbour Bridge) from Nyhavn, connected on "the corner" of restaurant 108, is your go-to place for all-day sipping and snacking. By day, The Corner is a coffee shop serving artisanal, intricately made pastries – the coffee kombucha croissant and the blackcurrant pastry are not to be missed. By night, the space transforms into a bar, with natural wine, cocktails, and small plates on the menu. The house-made sourdough bread is the stuff of legends, but you'd be remiss to skip out on the potato croquettes or the brioche balls with chicken confit.
Barr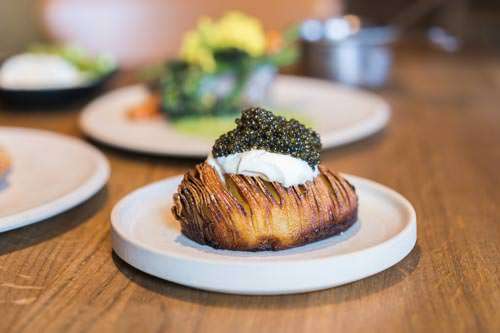 Strandgade 93, Copenhagen, Denmark
If 108 is Noma's sister restaurant, then Barr is the little brother. Teaming up with Thorsten Schmidt, René Redzepi has created a beer-focused bar and restaurant that gets its inspiration from the cuisines of all the countries in the beer-producing countries surrounding the North and Baltic Sea. Eat classic Danish meatballs (frikadeller), German-Austrian schnitzels, or Belgian waffles with Swedish vendace roe (løyromn) and an optional topping of Gotland truffle.
Alice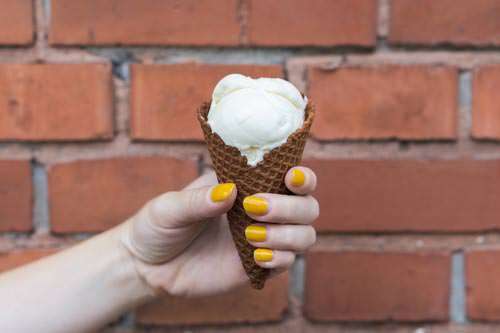 Markmandsgade 1, Copenhagen, Denmark
A cozy little hole-in-the-wall in Amager is serving some of the absolute best pastries and ice cream in Copenhagen. In the summer, their shop is a cafe and ice cream shop. In the winter, their handmade pastries replace the ice cream cones. (But you can still buy ice cream pints to take home year-round!) The milk ice cream is our favorite flavor, and the tonka bean waffle cone is out of this world. Their pastries are just as precise as their ice cream. Daily offerings include an almond croissant, a cinnamon roll, and a flawless butter croissant – moist on the inside, crunchy on the outside, with perfectly layered dough. Although maybe less known than some other pastry shops in town, Alice is worth visiting – it's a hidden gem!
Alouette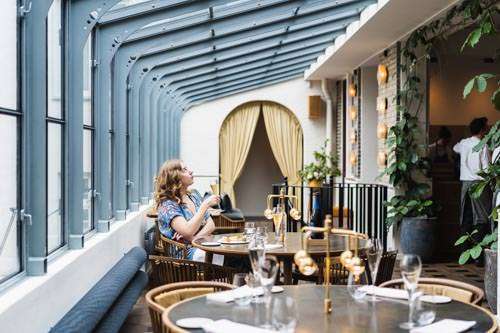 Sturlasgade 14, Copenhagen, Denmark
Through graffiti-adorned concrete walls, up a rusty service elevator reminiscent of the Twilight Zone, down a hallway where rock music and the scent of marijuana seep from band practice rooms is a hidden oasis. Restaurant Alouette, Copenhagen's newest Michelin-starred restaurant, is situated in the unlikeliest of places. A beautiful juxtaposition of grunge and luxury, it's a location that instantly begs the question: are you ready for a culinary adventure? The five-course tasting menu is quick and punchy (and very reasonably priced), unlike other more drawn-out dining experiences. Highlights included the pain au lait with apple and bacon butter and the turbot drenched in chicken sauce.
Il Buco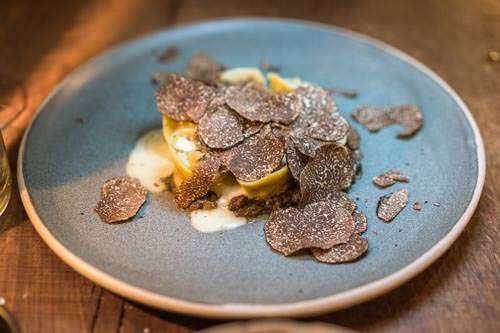 Njalsgade 19C, Copenhagen, Denmark
In a stretch of Islands Brygge that has yet to fully bloom, a cool industrial warehouse space has been converted into a hip Italian restaurant. This is the type of place you want to hang out all day – in the morning, the bakery sells fresh sourdough bread, pastries, and coffee, and at night you'll find delicious bowls of pasta. Like all the other spots from the La Banchina team, you can expect a "hyggelig" vibe with candles and fun music, and a lot of natural wine.
Kadeau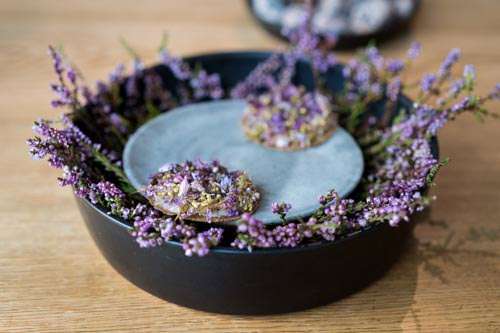 Wildersgade 10 B, Copenhagen, Denmark
Kadeau in Copenhagen is the flagship of the restaurateur trio Nicolai Nørregaard, Magnus Høegh Kofoed and Rasmus Kofoed. This New Nordic fine dining restaurant showcases the ingredients of Bornholm and is one of the best places to eat in Copenhagen.
Rufino Osteria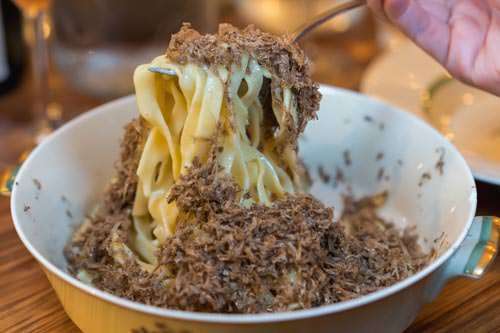 Strandgade 14, Copenhagen, Denmark
Simple Italian food + natural wine = our idea of heaven. Passionate Italians behind the pots guarantees great food on the plates at this underground restaurant in Christianshavn. We dug up two favorite bottles from their all-Italian, all-natural wine cellar – Orange from Abbazia San Giorgio and Susucaru rosé from Frank Cornelissen. Both paired perfectly with our truffle-loaded pastas.
Rosforth & Rosforth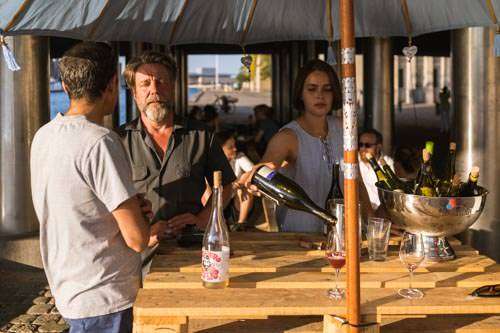 Knippelsbrogade 10, Copenhagen, Denmark
Rosforth & Rosforth, or as locals have affectionately dubbed it "Under the Bridge" is a natural wine shop located, you guessed it, directly underneath Knippelsbro, the large bridge that connects Christianshavn to the city center. Rosforth & Rosforth are pretty much the natural wine importer kings of Copenhagen. They've been importing wine to Denmark since 1994, and in the most sustainable way they could think of – with a sailboat. That's right, each year they import around 12,000 bottles from France aboard an engineless schooner. On Saturdays, Rosforth & Rosforth offers a weekly tasting from varying producers, and in the summer you can enjoy your wine on the picnic benches outside by the river.
Den Vandrette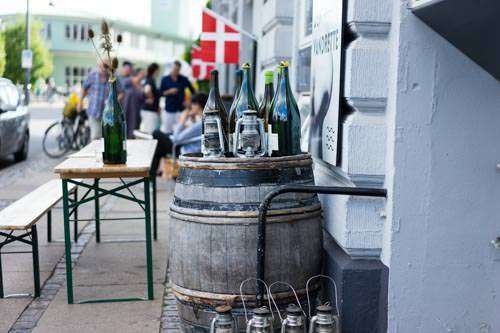 Havnegade 53A, Copenhagen, Denmark
Den Vandrette is a natural wine bar and casual restaurant located near Nyhavn Harbour and Inderhavnsbroen with a view towards Christianshavn on the opposite side of the canal. The bar used to have a large selection of conventional wines (and they may still have some if you ask) until the owners, wine merchants Rosforth & Rosforth, decided to toss them all aboard in favor of organic and biodynamic, wild fermented grape juices.
SEA by Kiin Kiin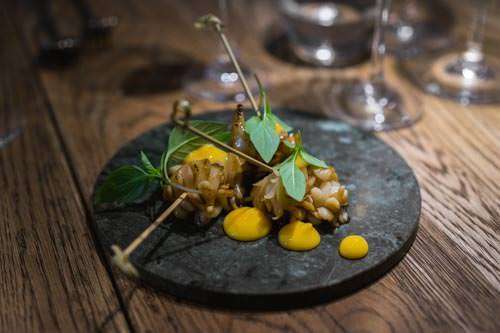 Nyhavn 71, Copenhagen, Denmark
SEA by Kiin Kiin is one of the many casual eateries in the progressive Thai cuisine restaurant empire of Henrik Yde. While less prestigious than the one-Michelin-starred Kiin Kiin, this little brother still delivers at a pretty high level for such an affordable and available place. Try the tasting menu, which starts with a series of snacks, followed by some of the signature dishes from the flagship restaurant. You can also order them à la carte. Go here for lunch or dinner, and eat Michelin-food on a budget!
Winterspring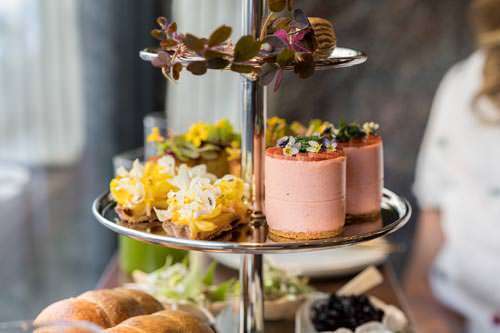 Store Strandstræde 16, Copenhagen, Denmark
This adorable cafe located right behind Nyhavn is way more than just a dessert shop! Winterspring serves an absolutely stunning Nordic afternoon tea, complete with three tiers of brioche buns, sweet pastries, as well as full-sized savory dishes too. We especially loved the cabbage and egg yolk puff pastry shell, and the apple and pickled sea buckthorn dessert.
Admiralgade 26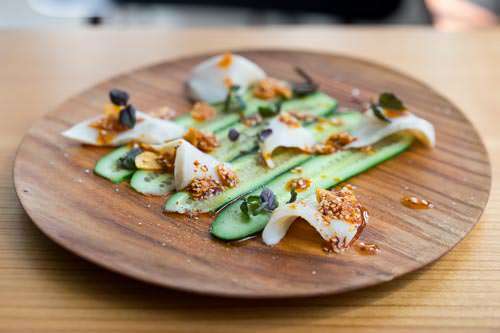 Admiralgade 26, Copenhagen, Denmark
Admiralgade 26 is a Nordic-Japanese restaurant and sister and neighbor to Ved Stranden 10 wine bar. Go here for a traditional Japanese breakfast, a hearty Danish lunch or enjoy the full evening menu in beautiful Scandinavian interior from the early 1900s.
Ved Stranden 10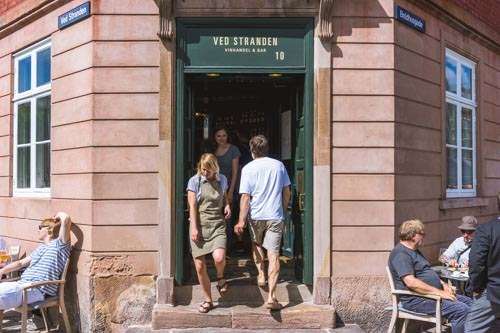 Ved Stranden 10, Copenhagen, Denmark
Ved Stranden 10 is my favorite wine bar in Copenhagen. With its white-painted wooden walls interior and vintage Scandinavian furniture, the old house has a unique atmosphere. In the summer you can sit by the piers along the canal. There's always some snacks on the menu, but if you get really hungry you can walk around the corner to their restaurant Admiralgade 26.
Roxie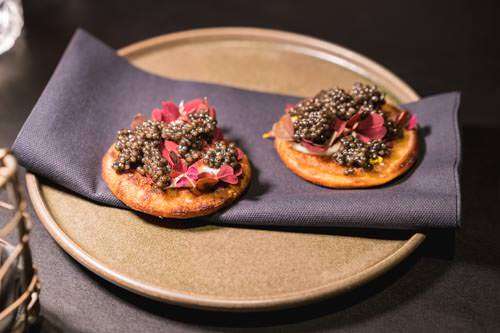 Bremerholm 6, Copenhagen, Denmark
The casual spot from the Kadeau team, located inside hotel Herman K. Here you might find typical Bornholmian dishes like the "palthæsta" pancakes made from leftover porridge and topped with caviar, deep-fried Baltic prawns with yeast emulsion, and, of course, lots of natural wine.
Marchal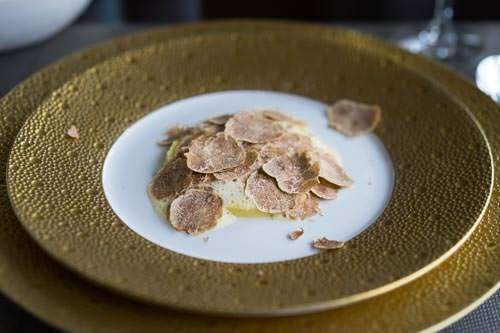 Kongens Nytorv 34, Copenhagen, Denmark
Marchal is a one-Michelin-starred French restaurant situated within the luxurious five-star Hotel D'Angleterre. Head chef Andreas Bagh is one Copenhagen's most talented and underrated chefs, who will spoil you with an overload of truffle, butter, and caviar, but always keeping a balance to the flavors.
Sponsored Content
Hotel D'Anglereterre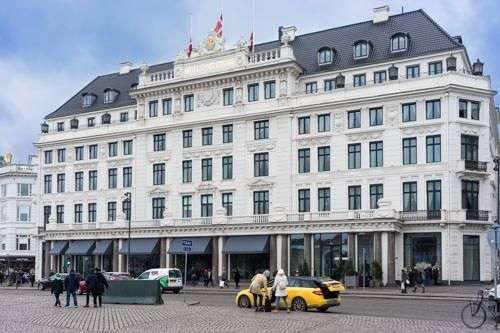 Kongens Nytorv 34, Copenhagen, Denmark
Hotel D'Angleterre is the place to stay in Copenhagen if you are looking for the ultimate in lavish luxury. Spoil yourself with a few nights here, enjoy the spa, order breakfast on bed, and don't miss a lunch or dinner at the hotel restaurant Marchal with one Michelin-star. One of the best-equipped hotel gyms in town, complete with complimentary water bottles.
Geist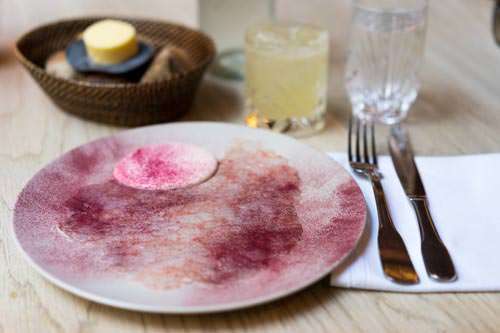 Kongens Nytorv 8, Copenhagen, Denmark
Geist is the crazy and creative brainchild of chef Bo Bech. This is New Nordic cooking with a split personality. Weird combinations of few ingredients usually plated to look amazing in its simplicity.
Palægade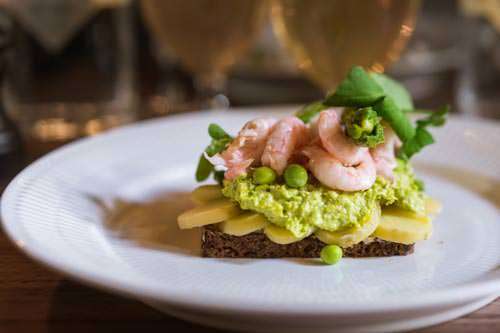 Palægade 8, Copenhagen, Denmark
Restaurant Palægade serves all the classic Danish open-faced sandwiches for lunch and a more modern Nordic-French tasting menu in the evening. A highly experienced front of house takes care of you and make sure you never run out of beer or snaps.
Barabba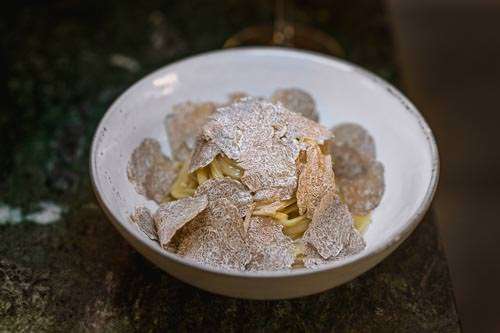 Store Kongensgade 34, Copenhagen, Denmark
Barabba has one of the best natural wine cellars in town (and that's saying a lot considering Copenhagen just might be the natural wine capital of the world). No, really – their collection is so good that we simply could not choose a bottle. So, we had several! Bini, Tschida, The Other Right, Momento Mori, are just a few of the gems we spotted on the shelves here. The stellar wine list, paired with the fact that this is one of the few places open on a Sunday night, makes Barabba a prime industry hangout. Oh, and the food! Barabba's pastas are some of the most sinful in town, loaded with buttery sauces, and often topped with generous amounts of truffles or caviar.
AOC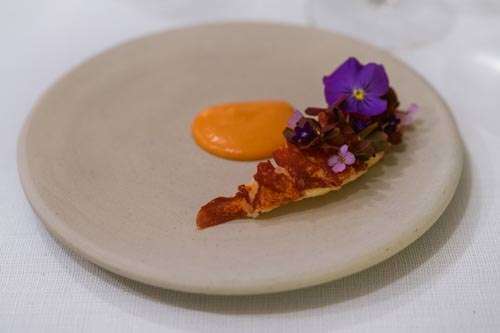 Dronningens Tværgade 2, Copenhagen, Denmark
Restaurant AOC has two Michelin-stars in the French culinary Bible, but isn't receiving as much praise as it should be getting. Enjoy a modern and innovative New-Nordic tasting menu in a 17th-century vaulted cellar that holds all the characteristics of an old-school restaurant. The signature dish, a baked onion with caviar and elderflower sauce, is to die for.
Gasoline Grill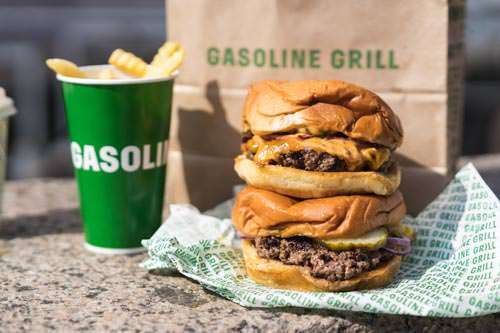 My favorite burger joint in Copenhagen, Gasoline Grill, started out with just one location in the former F24 petrol station at Landgreven. Since then, they have even expanded with a few more locations, but for the true experience, head to the original venue which gave the place its name. The butterburger is the winner on the menu. Greasy and sinful!
Atelier September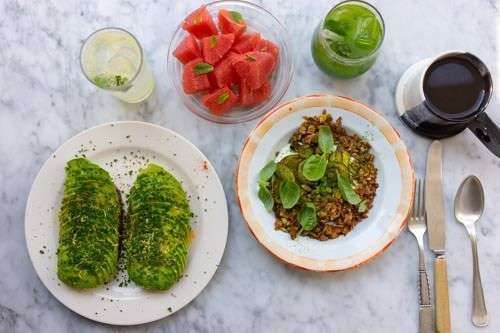 Gothersgade 30, Copenhagen, Denmark
Atelier September is a café in Gothersgade famous for its "avokadomad" – an open-faced sandwich with avocado on rye bread. Go here for more than that, though – don't miss the granola, the fresh grapefruit or the lemonade.
Aamanns 1921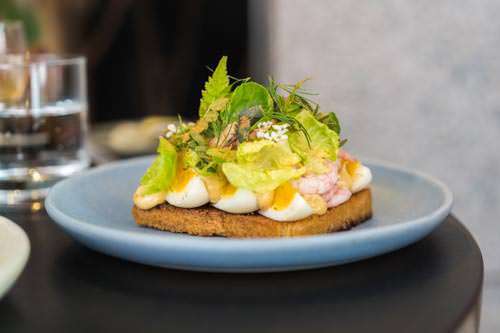 Niels Hemmingsens Gade 19-21, Copenhagen, Denmark
Chef Adam Aamann takes the Danish tradition of the open-faced sandwich to the next level with his modern smørrebrød. It's some of the best smørrebrød weI've ever had, but don't leave without trying the beef tartare with brown butter emulsion, or the apple cake with brown butter ice cream.
Democratic Coffee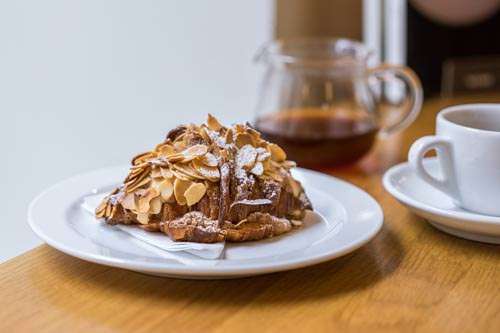 Krystalgade 15, Copenhagen, Denmark
Democratic Coffee Bar is well known for their almond croissants – perfect, flaky, buttery croissants filled with a sticky, sweet, warm almond syrup. Go here for a great cup of coffee in addition to their wonderful pastries.
Schønnemann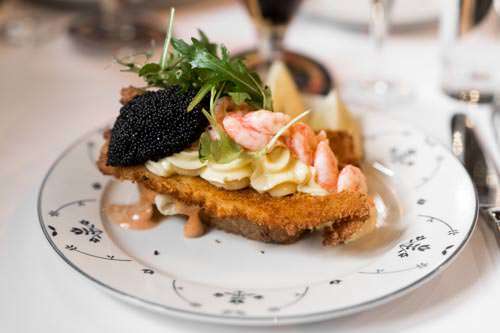 Hauser Plads 16, Copenhagen, Denmark
Schønnemann is perhaps the most well-known location in Copenhagen for Danish open-faced sandwiches. A classical smørrebrød institution with a lot of history in the walls, dating back to 1877, which is only open for lunch! Start from the top of the menu, ordering herring and fried plaice, and work your way through shrimps, salmon, hen salad, and tartar. Wash it all down with hearty amounts of beer and snaps.
Café Det Vide Hus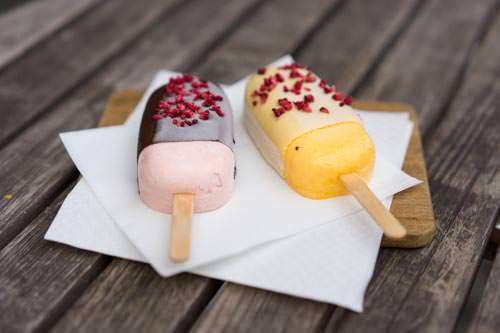 Gothersgade 113, Copenhagen, Denmark
Café Det Vide Hus is a cozy little café in Gothersgade where they sell coffees and croissants – but you mainly want to go there for the handmade ice cream bars during the summer season. Beautifully crafted and deliciously tasting, each ice lolly represents a superhero or action star like Spiderman, Chuck Norris, or the Hulk. Don't be surprised if you find chefs René Redzepi and Torsten Vildgaard sitting by the window and enjoying one together.
Slurp Ramen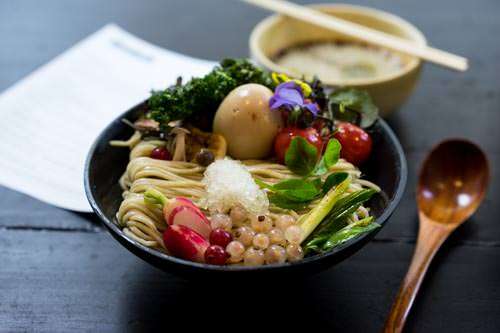 Nansensgade 90, Copenhagen, Denmark
Slurp Ramen is the new noodle star in Copenhagen. In a tiny venue at Nansensgade 90, with a hipster dog as their logo, everything is made in-house and from scratch. These guys are dedicated to making their own noodles and broths, as authentic as possible, but with locally sourced ingredients. In the summertime, the cold noodles are a must-eat!
Sponsored Content
Manon Les Suites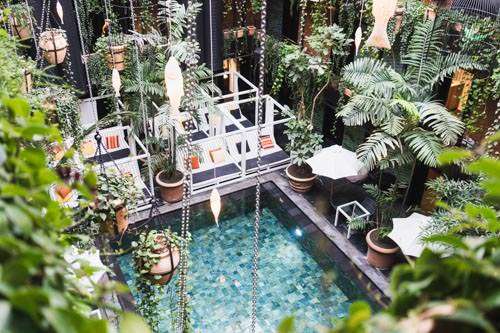 Gyldenløvesgade 19, Copenhagen, Denmark
Manon Les Suites is a hotel unlike any other in Denmark. A Bali-inspired tropical spa in the middle of Copenhagen. A large indoor swimming pool in a courtyard garden is surrounded by balconied apartments. As the name indicates, all 87 rooms of the Guldsmeden-owned lodging facility are suites, meaning that your bedroom is separated from a living room. Our apartment even had a small kitchen in the hallway.
Recommended Attraction
Tivoli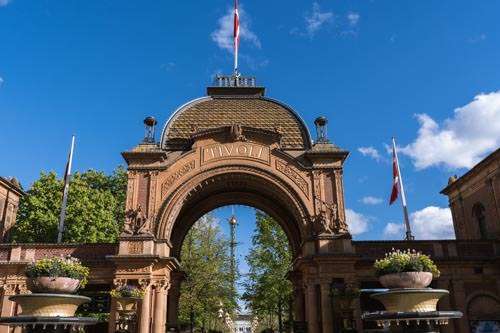 Vesterbrogade 3, Copenhagen, Denmark
Take a day off from the eating itinerary and check out the Danish amusement park that inspired Walt Disney to create Disneyland. There are plenty of rides for the thrill-seekers, but you'll also have a great time just strolling around the charming grounds. Leading up to Christmas, the park is festively decorated and is the perfect place to get in the holiday spirit.
Recommended Museum
Glyptoteket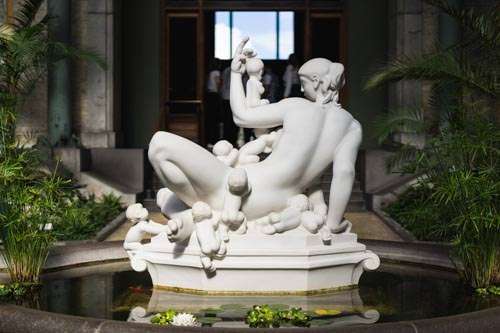 Dantes Plads 7, Copenhagen, Denmark
Glyptoteket is a must-visit art museum in Copenhagen Go here to see the impressive selection of antique stone sculptures from Egypt, Rome, and Greece. Ny Carlsberg Glyptotek is the full name, indicating that the owner is indeed the son of the founder of the Carlsberg Breweries. Whether you are interested in the history or not, the museum is a beautiful place to stroll around for half a day. Prolog Coffee Bar recently took over the operations of their café!
Sponsored Content
Hotel Nobis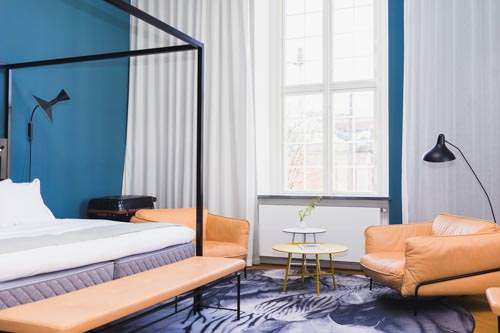 Niels Brocks Gade 1, Copenhagen, Denmark
Hotel Nobis is a brand new upscale hotel that opened in 2017 in the old Royal Danish Academy of Music – a spectacular building that dates back to 1903. Enjoy marvelous architecture and interior design in a centrally located accommodation near Tivoli and Glyptoteket.
Jah Izakaya & Sake Bar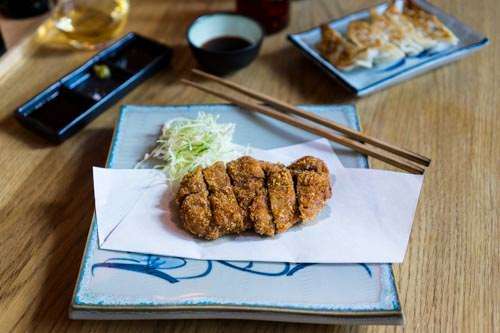 Gasværksvej 21, Copenhagen, Denmark
Jah Izakaya & Sake Bar is a casual Japanese-inspired gastropub and place to drink sake. Located right around the corner from Istedgade – Copenhagen's red light district – the place is decorated as an authentic eatery in Japan and offers a decent selection of drinks and small dishes to eat. Don't miss the gyozas – Japanese dumplings – or tonkatsu – breaded and deep-fried pork.
Sponsored Content
Central Hotel & Café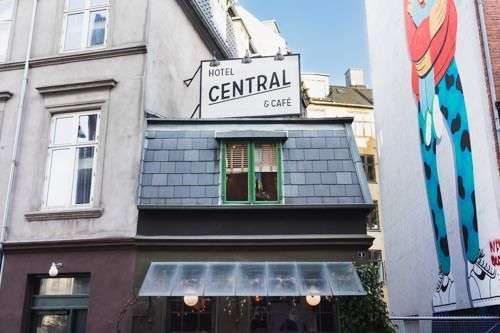 Tullinsgade 1, Copenhagen, Denmark
How can you not fall in love with the charm of the world's smallest hotel? With just one room, located above an associated coffee shop, Central Hotel & Café is one of the coolest places I have stayed. Getting back to your little room after a long day in Copenhagen is pure hygge. Enjoy breakfast at the retro café Granola, which is owned by the same group.
Hija de Sanchez Kødbyen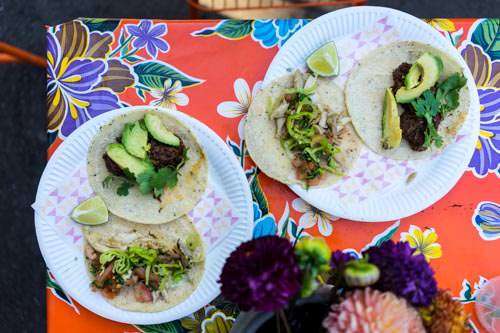 Slagterboderne 8, Copenhagen, Denmark
Hija de Sanchez in Kødbyen (the Meatpacking District) is the second location of Rosio Sanchez' taqueria. Located in a brick and mortar building in a vibrant part of town, this is a great summer hangout for tacos, Aguas Frescas (fresh drinks) and paletas (ice pops).
Prolog Coffee Bar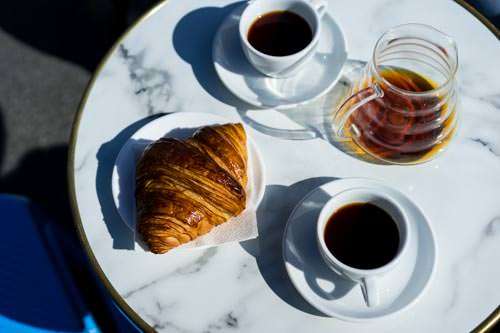 Høkerboderne 16, Copenhagen, Denmark
Prolog Coffee Bar is the newest (and hottest) place for specialty coffee in Copenhagen – rumored to be a favorite place of the man himself, René Redzepi, to get his daily caffeine fix and croissant.
Sanchez Cantina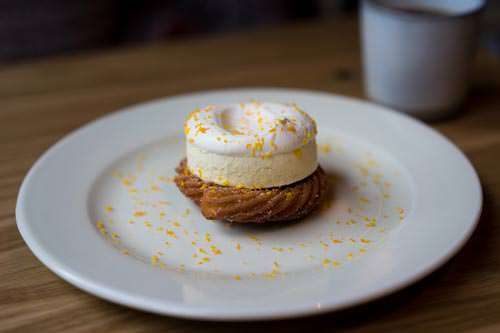 Istedgade 60, Copenhagen, Denmark
Rosio Sanchez's sit-down restaurant, Sanchez Cantina, is home to the most authentic Mexican food you'll find in Scandinavia. The weekend brunch is packed with locals and tourists alike, clambering over the breakfast tacos and chilaquiles. If you come at night, you'll get to taste the "dirty carnitas" tacos with a melted cheese crust inside the tortilla (our favorite!) and Rosio's signature open-faced churro, topped with vanilla parfait, mezcal negroni cream, and orange zest. Sweet, bitter, smoky, and all kinds of delicious – Anders thinks it's one of the best desserts in the world!
Isted Grill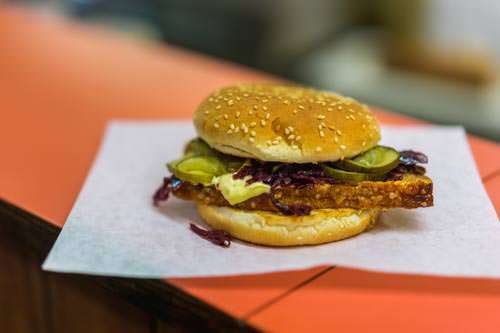 Istedgade 92, Copenhagen, Denmark
Your best option for late night food in Copenhagen is the famous Danish flæskesteg sandwich, a juicy pork belly sandwich with pickles, red cabbage, and mayo. Isted Grill on Istedgade in Vesterbro is the local favorite spot to get this Danish specialty – open until 2am most nights, and 4am on Saturdays.
Ancestrale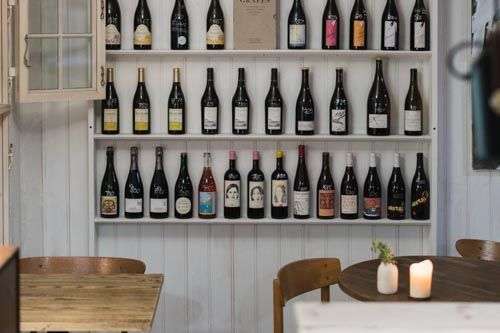 Oehlenschlægersgade 12, Copenhagen, Denmark
Ancestrale is a natural wine bar and neighborhood restaurant in the Vesterbro area of Copenhagen. The menu is simple, and so is the cooking style. You can choose from the à la carte list, with every dish priced at DKK 95, or the full five-course meal at a very generous total of DKK 395.
Gorda Empanadas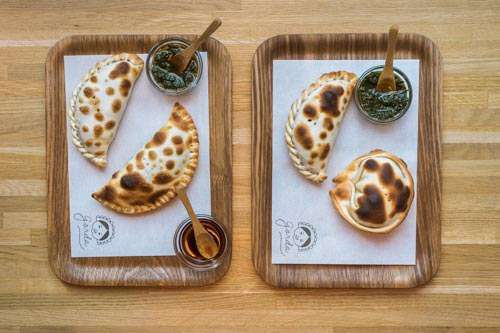 Enghavevej 5, Copenhagen, Denmark
If you're starting to crave Latin flavors after days of feasting on smørrebrød and New Nordic cuisine, head to Gorda. Chef Gonzalo's cozy Vesterbro shop sells all different kinds of homemade Argentinian empanadas. They're small, street-food sized, so you can try a few flavors (we recommend three per person) – our personal favorites are the braised beef, the caramelized onion and cheese, and the caprese (which tastes like pizza!). Be sure to order some of the chimichurri sauce on the side! And definitely save room for the dulce de leche flan.
Kiin Kiin Bao Bao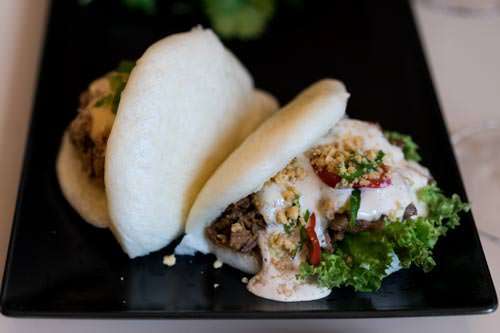 Vesterbrogade 96, Copenhagen, Denmark
Kiin Kiin Bao Bao is a modern Asian tapas restaurant in the Vesterbro area of Copenhagen, but what you really want to go here for is, of course, gua bao. At Kiin Kiin Bao Bao you have to try the classic bao with braised pork, peanuts, and hoisin sauce, as well as the crispy chicken bao with chili mayo and scallions.
Lidkoeb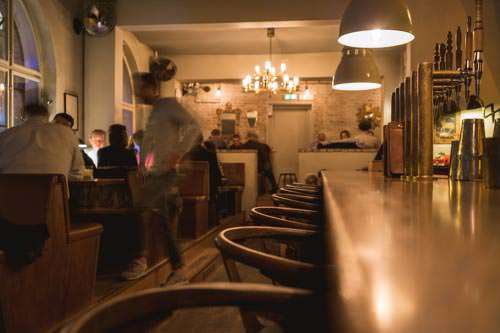 Vesterbrogade 72B, Copenhagen, Denmark
There's a cozy cabin hidden in a back alley in Vesterbro that houses one of the coolest cocktail bars in Copenhagen. In warm weather, you can enjoy your frozen daiquiri in the open-air courtyard, or you can drink your boozy slushie inside by the fire during the cold season. Cocktails change seasonally, but the fun vibe and friendly staff ensure this is a cool place to hang year-round.
VinSuperNaturel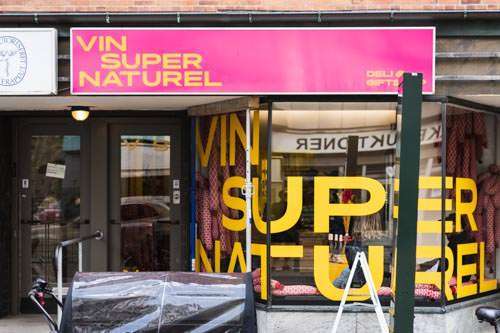 Gl. Kongevej 37, Copenhagen, Denmark
The coolest new natural wine shop in Copenhagen has opened in Vesterbro with an incredible selection and some of the best prices in town. You can often find the more rare producers in stock here, like Anders Frederik Steen, Gabrio Bini, Momento Mori, and La Sorga. And, if you're not based in Copenhagen, you can shop their whole selection on their online store!
Hart Bageri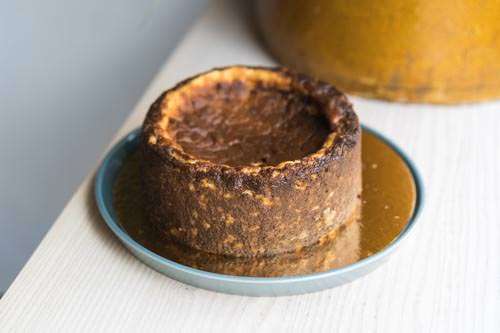 Gl. Kongevej 109, Copenhagen, Denmark
Richard Hart, formerly of Tartine Bakery in San Francisco, joined forces with René Redzepi of Noma to open a sourdough bakery in Copenhagen. In addition to bread, they also serve a variety of incredible pastries that change seasonally. We loved the "salad bowl" (a savory pastry with béchamel sauce, roasted mushrooms, and greens), but our absolute favorite is the "cardamom bun", which is more like a cardamom kouign amman with sticky, buttery croissant layers. Hart also serves international dessert favorites like a Basque cheesecake, Italian Panettone for Christmas, and Danish Kransekage for New Year's Eve.
Mao Bao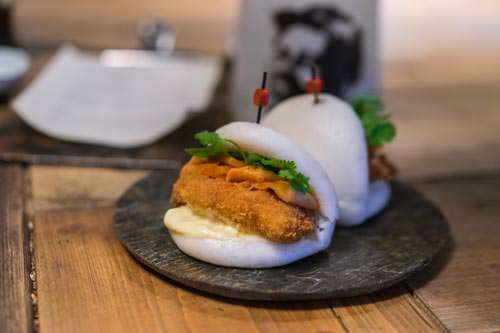 Skyttegade 5, Copenhagen, Denmark
Mao Bao is a permanent takeover/pop-up restaurant located in the cocktail bar Sidecar. They serve some of the best steam buns/authentic gua bao in Copenhagen, in addition to other Taiwanese snacks.
Rødder & Vin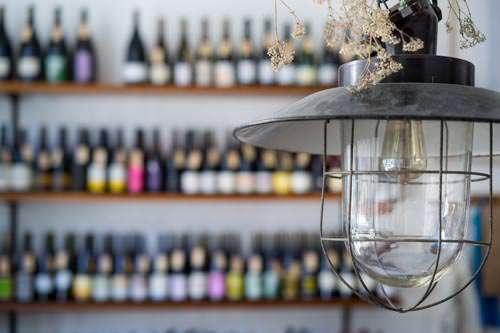 Ravnsborggade 8, Copenhagen, Denmark
Rødder & Vin is a tiny shop in Nørrebro selling natural wines and root vegetables – exactly as the name promises. Self-taught sommelier Solfinn Danielsen always has a glass of something delicious ready when curious customers come by to study his four shelves of carefully selected bottles.
Pompette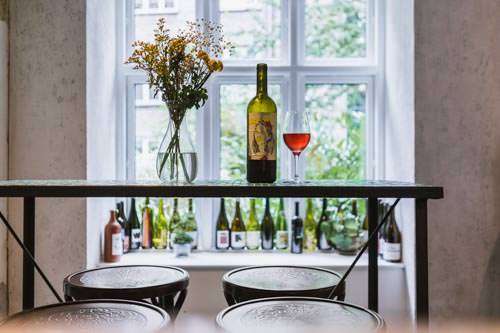 Passionate wine lover Martin Ho's Nørrebro wine bar and bottle shop just might have the biggest selection of natural wine in Copenhagen. Only about 10% of his collection is actually on display, so if you're looking for something in particular just ask Martin. His cellar is stocked with thousands of rare bottles including boxes and boxes of Tschida, a whole bunch of Bini, and the entire Gut Oggau family. The name Pompette means "tipsy" in French, and this super cool hangout definitely has a Parisian vibe, especially with bistro-style seating on the street. There's cheese, charcuterie, bread, and other snacks if you're looking for something to nibble.
Bæst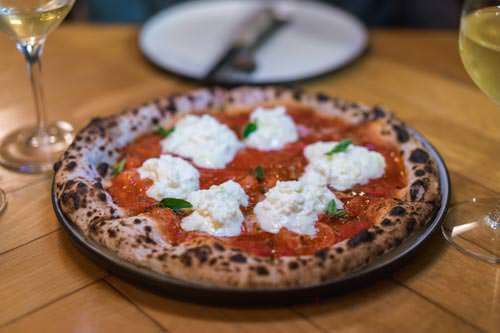 Guldbergsgade 29, Copenhagen, Denmark
Bæst is an authentic Italian pizzeria by Relæ chef Christian Puglisi. They make their own charcuterie, fresh cheeses (ricotta, mozzarella and burrata) and get sourdough delivered from the corresponding bakery next-door – Mirabelle. The pizza is a must-order, of course.
Mirabelle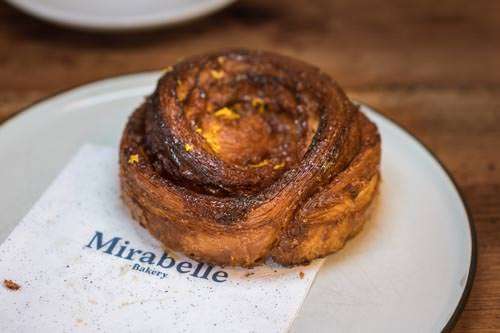 Guldbergsgade 29, Copenhagen, Denmark
Mirabelle is an organic bakery and coffee shop that turns into a pasta restaurant for lunch and dinner. Owned by Kim Rossen and Christian Puglisi, the place supplies sourdough bread, baked goods, and pizza doughs to all their other places like Bæst, Manfreds, and Relæ. The croissants are flaky and layered pieces of crunch heaven!
Relæ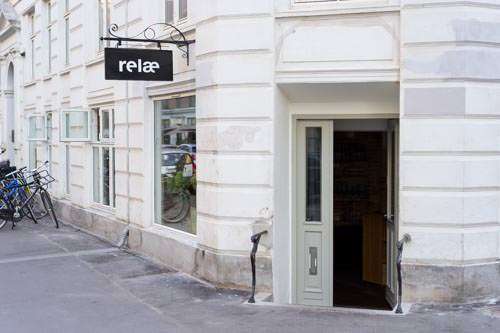 Jægersborggade 41, Copenhagen, Denmark
Relæ is a New Nordic restaurant by Italian chef and Noma alumni Christian Puglisi. It is consistently recognised as one of the best restaurants in the world and the one that works hardest to be as close as possible to 100 % organic and sustainable.
Manfreds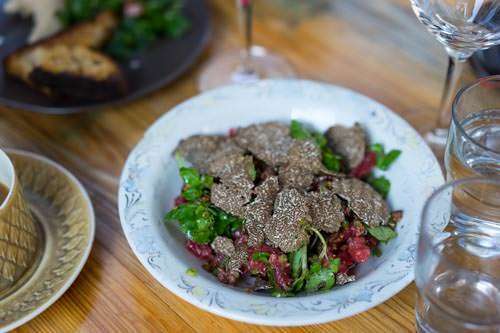 Jægersborggade 40, Copenhagen, Denmark
Manfreds is the casual little sister of restaurant Relæ. They are both located on the vibrant street Jægersborggade in Nørrebro. Go here for the famous tartare or just to enjoy amazing natural wines.
The Coffee Collective Jægersborggade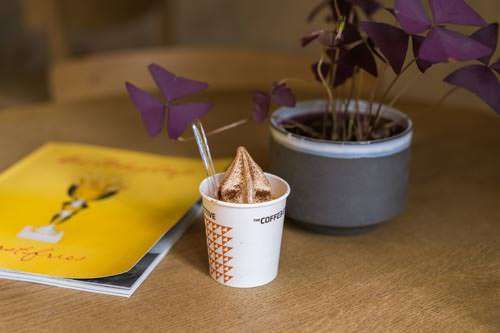 Jægersborggade 57, Copenhagen, Denmark
Jægersborggade is the original location of the Coffee Collective – a collaboration of baristas who run four high quality coffee bars in Copenhagen. These guys have set the standard for how a Danish light roasted coffee should be made.
Leckerbaer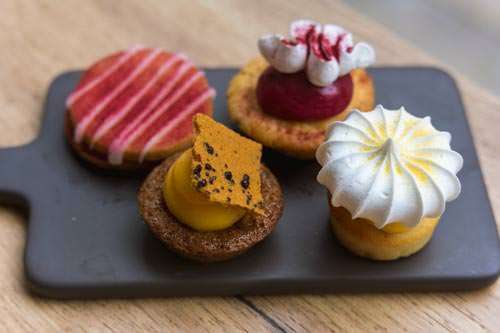 Ryesgade 118, Copenhagen, Denmark
Leckerbaer is a small couple-run pastry shop in the Østerbro area. Have a coffee in the café or buy their cookies, cakes and even ice cream to go. Top quality ingredients mixed with true passion and a keen eye for aesthetics, has resulted in some of the best-tasting and -looking sweets in Copenhagen (and on Instagram).
Pasteur
Trianglen 7, Copenhagen, Denmark
Østerbro's coolest wine bar is all organic, with a focus on Jura wines. Although the small, cozy vibe might suggest otherwise, they actually have a full kitchen. So, in addition to the usual charcuterie, bread, cheese, and other snack suspects, you can eat a full meal here, or you can just drink bottle after bottle of the good juice. Some of our favorite producers on the list include Lammidia, Frank Cornelissen, Matassa, and Christian Tschida.
Østerberg Ice Cream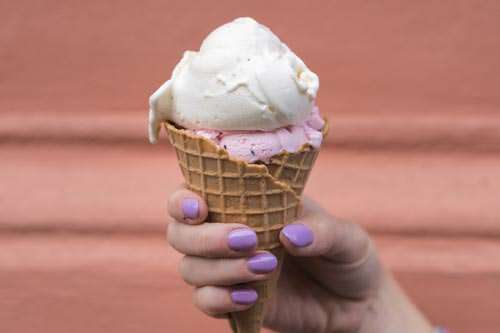 Rosenvængets Allé 7C, Copenhagen, Denmark
Østerberg Ice Cream is a small artisanal ice cream vendor in the area of Østerbro on the East Side of Copenhagen. Everything from the cone to the cream is homemade and created with top quality ingredients and a whole lot of passion. Enjoy exciting flavors like dragonfruit, tamarind, and jackfruit, but also classics like vanilla, chocolate, and hazelnut. This is my favorite frozen dessert shop in town!
Juno the Bakery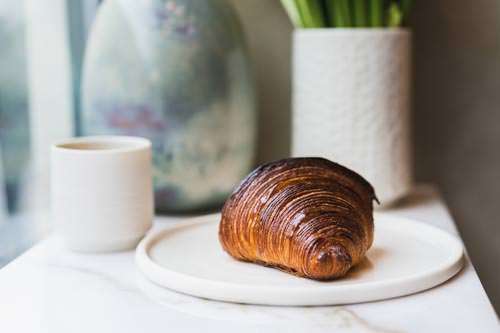 Our favorite pastry in the world is not found in Paris, the viennoiserie capital of the world, but in Copenhagen. Juno has perfected the art of pastry – their croissants are buttery, laminated things of beauty. But perhaps their most impressive treat is the kardemummabulla – a traditional Swedish pastry that is typically dense and heavy, but here is transformed into a light and airy miracle of a cardamom bun. It's fluffy and buttery and oozing with cardamom and sugar, but not in a syrupy sweet way. But don't leave without trying their almond croissant – it's the best we've ever had. Like biting into a warm cookie, still soft and somewhat raw on the inside. Croissant layers on the bottom, warm almond filling, and then an amazing texture of sliced almonds on top. Life changing.The best part? Juno bakes their pastries all day long, so they never sell out, and they're pretty much guaranteed to be warm and fresh from the oven. We'd be lying if we said Juno wasn't a huge factor in our decision to move to Copenhagen.
At the Counter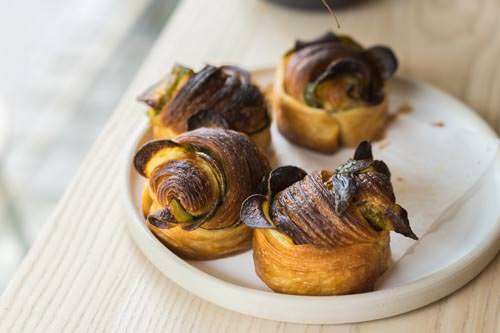 The new location from Juno Bakery, is located just a block away from their original outpost. There's more seating here, and you can order more brunch items, like their bacon, egg, and cheese croissant breakfast sandwich, and the potato and leek croissant. Of course, you can snag one of their signature cardamom buns here, too!
Geranium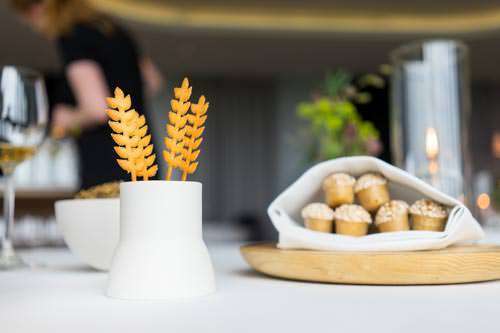 Per Henrik Lings Allé 4, Copenhagen, Denmark
Geranium is located in the 8th floor of Østerbro football stadium with a spectacular view of the city. In addition to holding three stars, head chef Rasmus Kofoed is one of the world's most decorated chefs and have created a mind-blowing New Nordic style of cooking.
Jordnær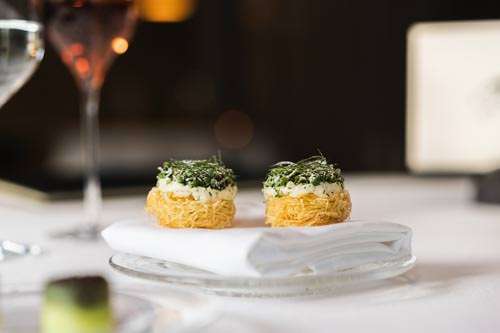 Gentoftegade 29, Gentofte, Denmark
Unlike the New Nordic restaurants in central Copenhagen who serve their tasting menus in very relaxed settings, Chef Eric Vildgaard's one Michelin-starred restaurant Jordnær is the picture of elegance. Located just 20 minutes outside of the city in the suburbs of Gentofte, Vildgaard has transformed the ground floor of an old inn from the 17th century into a modern setting for Nordic fine dining, complete white tablecloths and a classical wine list. The tasting menu changes seasonally, but you can expect to see a focus on Scandinavian seafood accompanied by creamy sauces, often topped with a healthy amount of luxury ingredients like caviar and truffles.
Søllerød Kro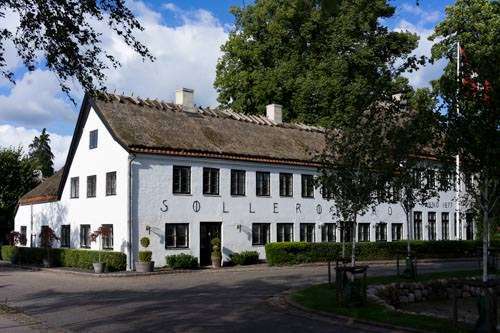 Søllerødvej 35, Holte, Denmark
Søllerød Kro is a one-Michelin starred fine dining restaurant that more than any other place in Copenhagen badly deserves its second star. Let Jan Restorff, one of the world's best restaurant hosts, pamper you in the restaurant, while chef Brian Mark Hansen does his magic in the kitchen. Stepping into the old inn is like entering a different era completely, but with food that has a modern appearance despite its classical setting.
Recommended Museum
Louisiana Museum of Modern Art
Gl Strandvej 13, Humlebæk, Denmark
Located about an hour train ride from central Copenhagen in a breathtaking location on the harbor is one of the most gorgeous museums we've ever been to. At Louisiana, you can browse the over 4,000 works of modern art in their collection, immerse yourself in the magic of a Yayoi Kusama infinity room, and take a walk in the waterfront sculpture park.